You need a social CRM to build better customer relationships and convert more business, but when you think about labouring through another "best of" article you'd rather have a heated conversation with politically-divided family members.
We get it, but here's the thing: You will never be able to make a final decision on a social CRM solely from reading articles. Reading guides like this one is the first step of the process. The second (and final) step is creating a shortlist of potential tools to try.
So the bad news is that this is another "best of" article. But, the good news is that this isn't another watered-down fluffy piece on some tools we randomly chose. We hand-picked these social CRMs and varied our choices to suit different business types. After reading this guide, you should be able to create a shortlist of tools and start some free trials.
By the time you finish reading this guide, you will:
Know which social CRM will fit your budget
Understand which social CRM will help you meet your business goals
Be able to create a shortlist of tools to try out based on the features you need most
We also included a simple comparison chart to help you review the best social CRMs at a glance (for those of you who like the bottom line).
Let's quickly cover what a social CRM is and why you need it (this is important). We will then discuss our chart and give you a rundown of our 10 best social CRM tools.
What is a Social CRM and Do You Even Need One?
If you just started your business journey and have five connections on LinkedIn and no customers, you may not need a social CRM. But, if you are already using a CRM and/or you realize you need an automated way to connect with prospects and customers on social media sites, it may be time to give one a try.
If you are new to the world of CRMs, they organise and manage your customer data, from sales pipelines and deals, contacts, internal and external content, and more. CRMs provide you with the ease to market better and close more deals and sales.
Social CRMs bring customer relationship management to the next level by offering social integration or social media management functionality. This functionality could be built into the tool or available with the integration of a third-party app.
Social CRMs extend beyond simple customer organisation and management by integrating social media data and conversations. This allows businesses to incorporate customer engagement into their marketing strategy to better capture social conversations and data to increase conversions. It's kind of like a CRM on steroids. Social CRMs focus on customer interests instead of just demographic data. Without social features, your CRM is a one-way conversation.
The term "social CRM" is not easily defined, however. Many tools call themselves social CRMs, but they may not offer built-in social integrations. As a result, the lines between traditional CRMs and social CRMs may be blurred, which will make it harder for you to figure out which tool is best for your business.
For the sake of simplicity, we've defined social CRMs as tools that have one or more of these three types of functionality.
1. Social integration (built-in)
When a tool has social integration, it can communicate with external social platforms and share data. For example, you can transfer customer data from LinkedIn and add it to one of your existing CRM contacts. Some tools offer these integrations natively (they are built into the platform). This provides a more seamless experience and less time tinkering to get your desired outcome. Note that when we talk about "social integration" this doesn't include social media management where you can post to your social profiles or manage your social content directly from within the platform.
2. Social integration (third-party apps)
Some tools will require the use of third-party apps such as Zapier and Automate.io to integrate with social platforms. Using third-party apps will require additional money and time to set up, so keep that in mind as you review the social CRM tools. We included two of these CRMs in this article (Pipedrive and Keap) because built-in social integration may not be as important to some as it is to others. It depends on your business goals and your current setup. Note that this functionality does not give you the ability to post to your social profiles or manage its content.
3. Social media management
These tools offer complete social media management, which includes the ability to post and schedule content to multiple social profiles, and engage with your community directly within the platform. This functionality may also include social listening (monitoring your industry for key insights and brand mentions), social analytics, influencer insights, and more depending on the platform's offerings.
Below is a comparison chart for the 10 social CRM tools we discuss in this article, along with the criteria above. When you see "All-in-one traditional CRM," we refer to a traditional system that allows you to import, manage, and organise your contacts directly in the tool and automate marketing tasks (some may also offer customer support features). These all-in-one CRM tools have social features integrated or available as an add-on.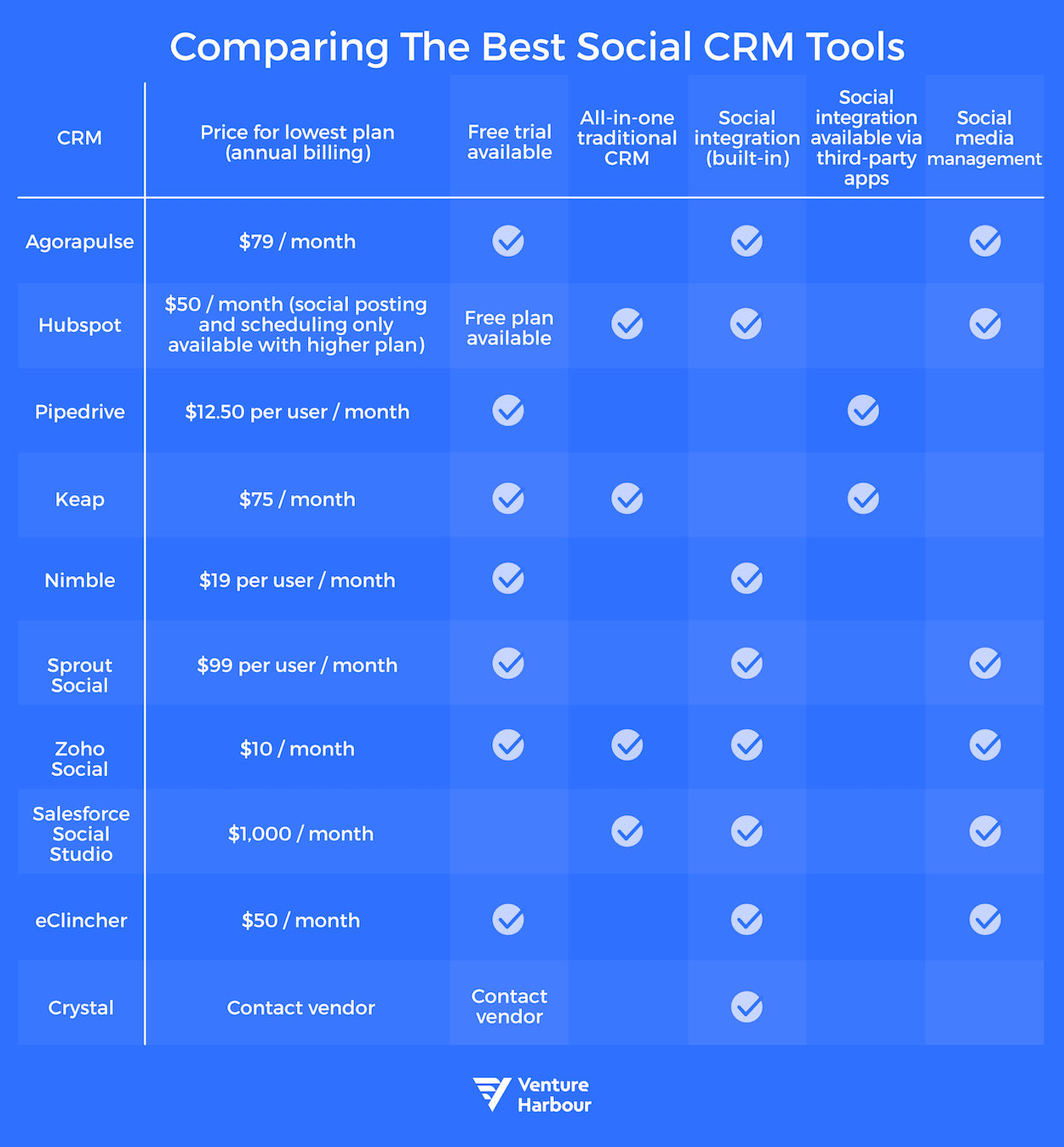 The 10 Best Social CRM Tools
Without further adieu, here are our picks for the 10 best social CRMs. If you use one that is not on this list, please let us know in the comments, and we will review it in more detail.
Best social CRM with social media management and a full-featured starter package
Agorapulse was created strictly for social media management and is known for its feature-rich platform that extends far beyond basic social media management. If you are not looking for an all-in-one CRM, but you want robust social media management features, Agorapulse is one to try.
In addition to social media management and reporting, Agorapulse also has a feature that automatically profiles specific people on social media sites who may be influential to your marketing campaigns. Label and categorise these social profiles to run more targeted campaigns.
With Agorapulse, you can post and schedule content simultaneously. Create content once and publish to multiple social networks. Also, schedule content weeks and months in advance by queuing up posts for future publishing with expiration dates. All of the content lives on a shared calendar for easy access and management.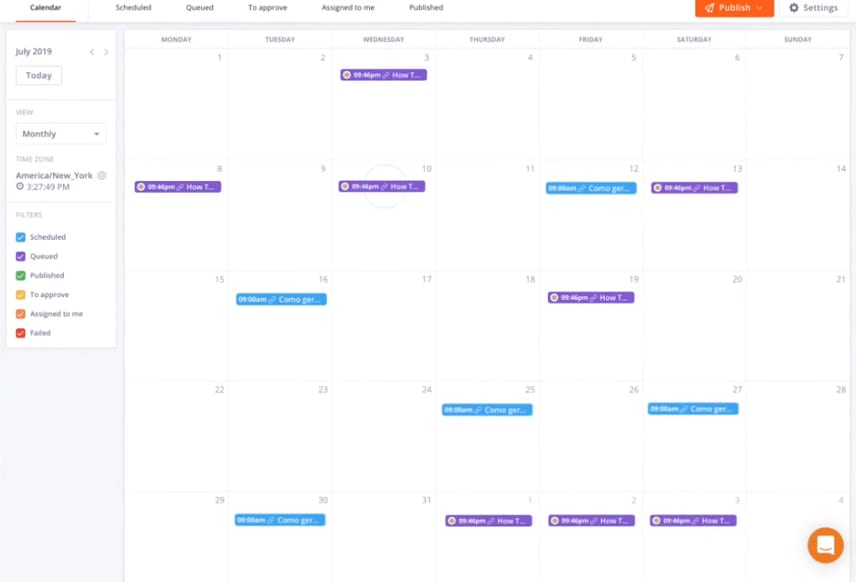 Manage all social posts, comments (from ads as well), direct and private messages directly in the platform. Segmenting is also available with the ability to add custom labels to your highest engagers and categorise them by adding each to a custom segment (ex: customer, ambassador, qualified lead, etc.)
Inbox assistant is an organising system for your messages so you can easily keep track of your activity with features such as saved replies, one-click translations, filters, and more.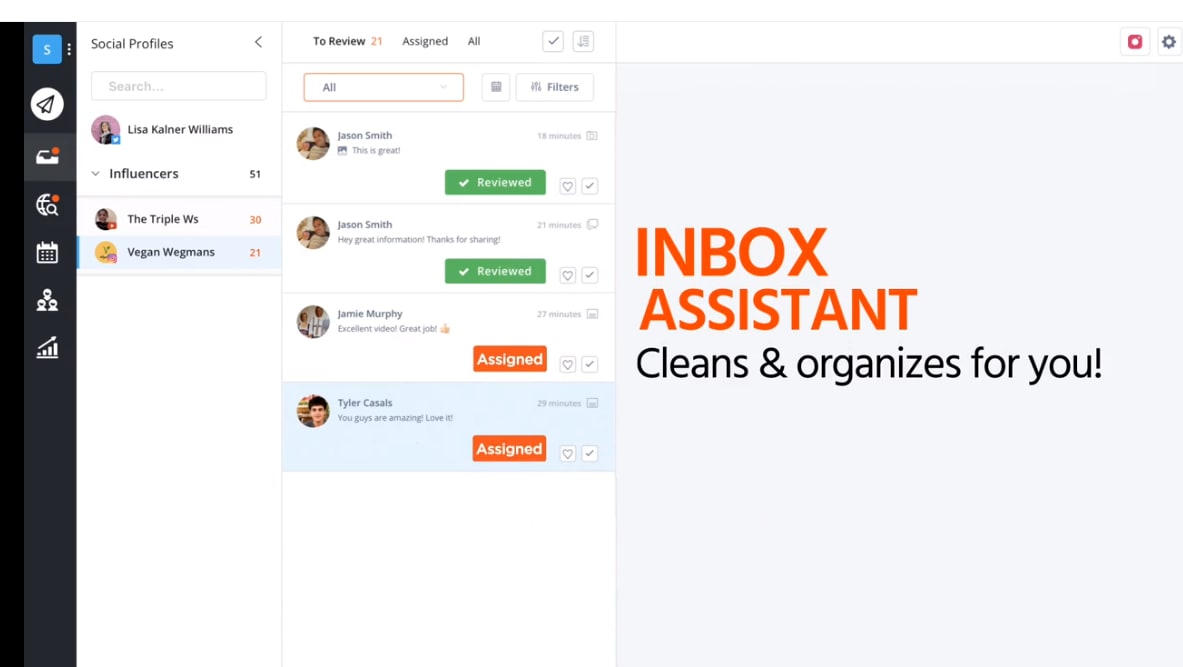 Run competitive analyses with its Facebook Competitors visual report. Agorapulse also just introduced its Power Reports add-on which enables you to create custom social reports and automatically send them to team members at designated dates and times.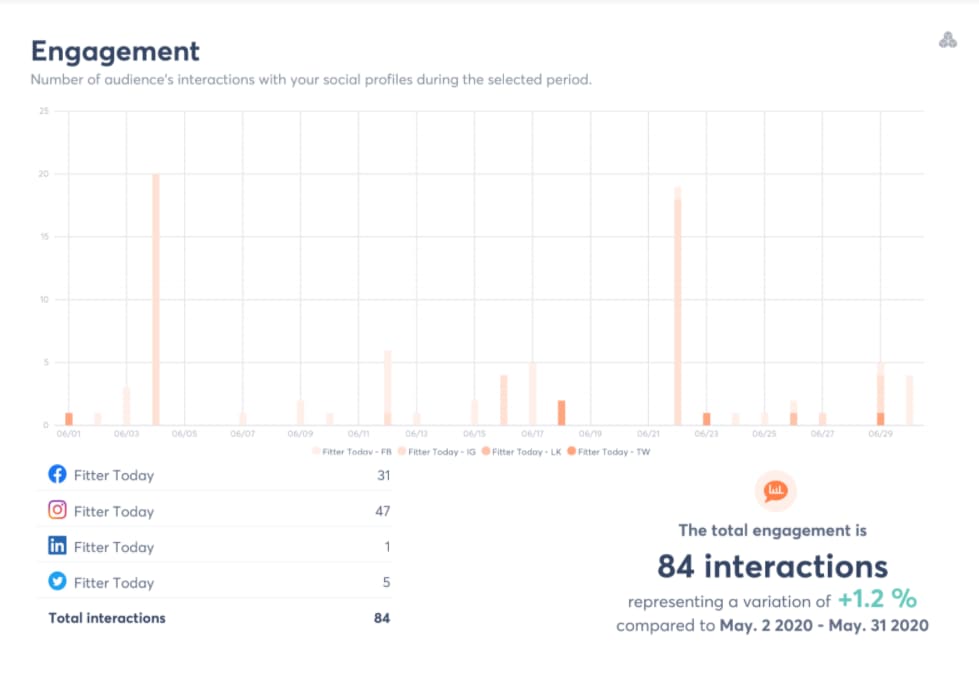 Agorapulse features:
Custom segments and audience labels
Roles and permissions
Social posting and scheduling
Shared calendar view with clients
Social comments management
Automated Inbox assistant
Bulk upload
Publishing insights
Advanced reporting and analytics
Competition analytics
Mobile application
Pricing:
28-day free trial offered
The Medium plan (lowest plan) starts at $79/month billed annually for 10 social profiles and two users. Additional profiles and users cost $15/month and $30/month, respectively. The plan offers features such as inbox assistant, ad comments monitoring, unified calendar, unlimited scheduled and queue posts, permissions, bulk scheduling, custom labels and internal and competitor reporting.
Premium plans start at $159/month, which includes 25 social profiles and four users. Premium packages add on priority support and training, as well as a higher number of active ads allowance and increased time to retain your data on the platform.
We like Agorapulse's full-featured starter package (Medium). It includes all of the features of premium packages except onboarding training, a dedicated account manager and a few other smaller features.
Check out Agorapulse to learn more.
Best social CRM with an intuitive all-in-one CRM and social media management
HubSpot is an all-in-one CRM that enables you to manage all of your contacts as well as your marketing and customer service. HubSpot has been a top-rated CRM for years and continues to garner stellar reviews for its feature stack, robust free plan and intuitive platform. With its social media lead intelligence, sync your social profiles to your existing leads to empower salespeople with more prospect information (a feature offered in HubSpot's traditional CRM).
HubSpot offers social media management features in its add-on product, Marketing Hub. Publish and schedule content to all of your social networks, share content, reply to messages, and more. HubSpot also offers suggestions for the best times to post.
Connect the following social accounts directly to HubSpot:
Twitter
Facebook
Instagram
LinkedIn
YouTube
Track significant interactions by creating keyword monitoring streams so your team can search and access these interactions at any time.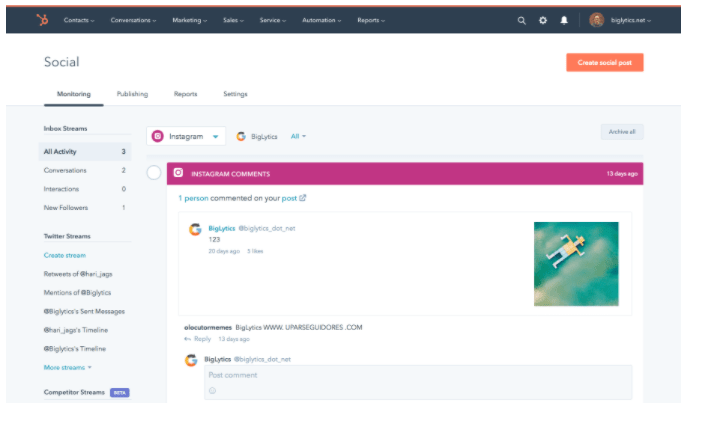 Consult HubSpot's social reports to assess your social engagement successes and areas of improvement. Compare the performance of all of your campaigns and publishing times and access all reporting from one central interface.
HubSpot Social CRM features:
Social posting and scheduling
Social comments management
Custom segments
Bulk upload
Publishing insights
Advanced reporting and analytics
Mobile application
Pricing:
Free plan available
Find HubSpot's social media management features in its Marketing Hub product. The Free plan is limited but offers enough features to try out the platform such as management of Facebook, LinkedIn, Instagram and Google ads, contact management, email marketing, forms, live chat and traffic and conversion analytics.
The Starter plan for HubSpot's Marketing Hub starts at $50/month and includes features such as conversations inbox, team email, live chat, email marketing, list segmentation, landing pages, and ad retargeting. Note that social media publishing and scheduling is only available on the Professional plan starting at $800/month billed annually.
The Professional plan includes additional features such as company scoring, record customisation, phone support, content strategy, social media tools, marketing automation, A/B testing, custom reporting. Social permissions and YouTube integrations are only available in the Enterprise package, starting at $3,200/month.
We think HubSpot is one of the best CRMs on the market because of its easy-to-use interface and feature-rich free plan. But, HubSpot may be overkill if you don't want all of the marketing features available in Marketing Hub or an all-in-one CRM.
Check out HubSpot to learn more.
Best sales pipeline management with social integration via 3rd-party apps
Pipedrive is the first of two CRMs in this guide that uses 3rd party applications to connect its database with social network information. We included Pipedrive because we are big fans of the tool over here at Venture Harbour, and you can still enjoy the benefits of social CRMs even though the integration is not built-in.
Pipedrive is a simple and affordable CRM perfect for generating and managing your leads, sales and pipelines for activity-based selling.
It's not an all-in-one tool like HubSpot or Zoho, but it was created by salespeople, for salespeople, and known for its quick and easy pipeline management functionality.
Pipedrive's drag-and-drop interface includes multiple features such as deal probability, customisable pipelines, leads inbox, chatbot and more.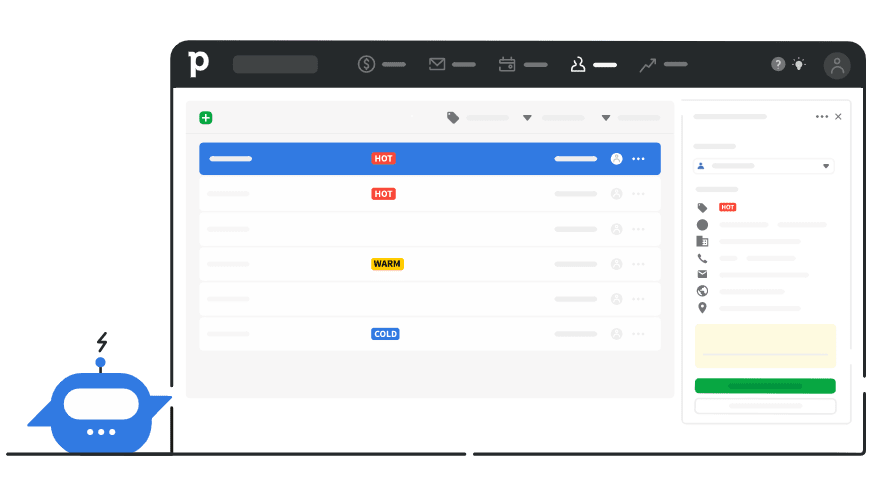 To connect Pipedrive with your social networks, use third-party applications such as Zapier or Automate.io. Set up triggers and actions for each social network and tell the application how to integrate with Pipedrive.
The first step is to set up a trigger. Here are a few suggestions from Zapier: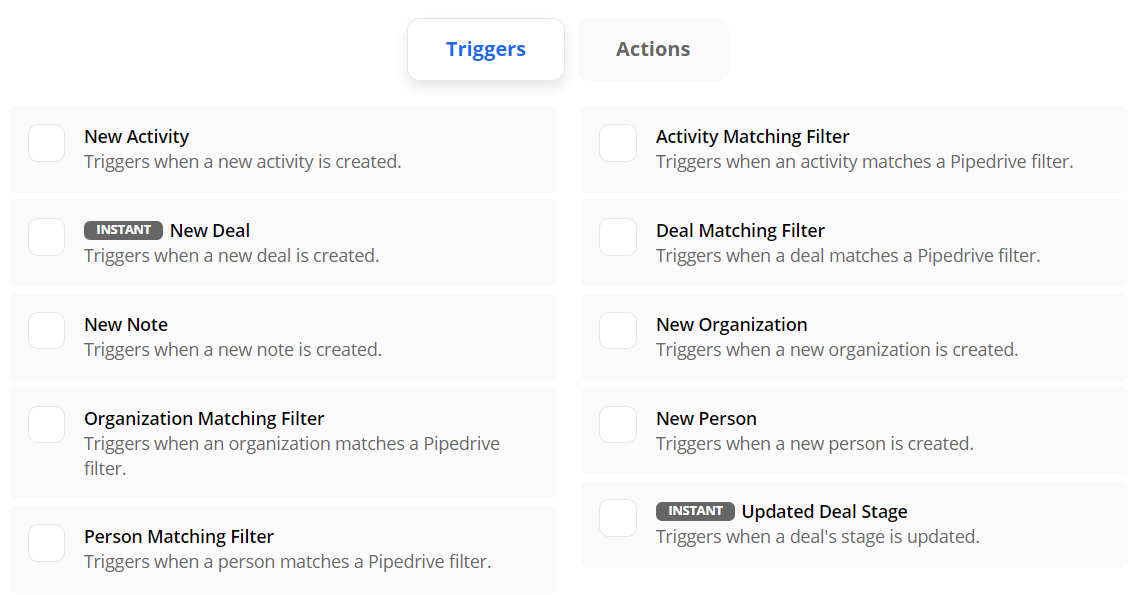 Then, match the trigger with an action: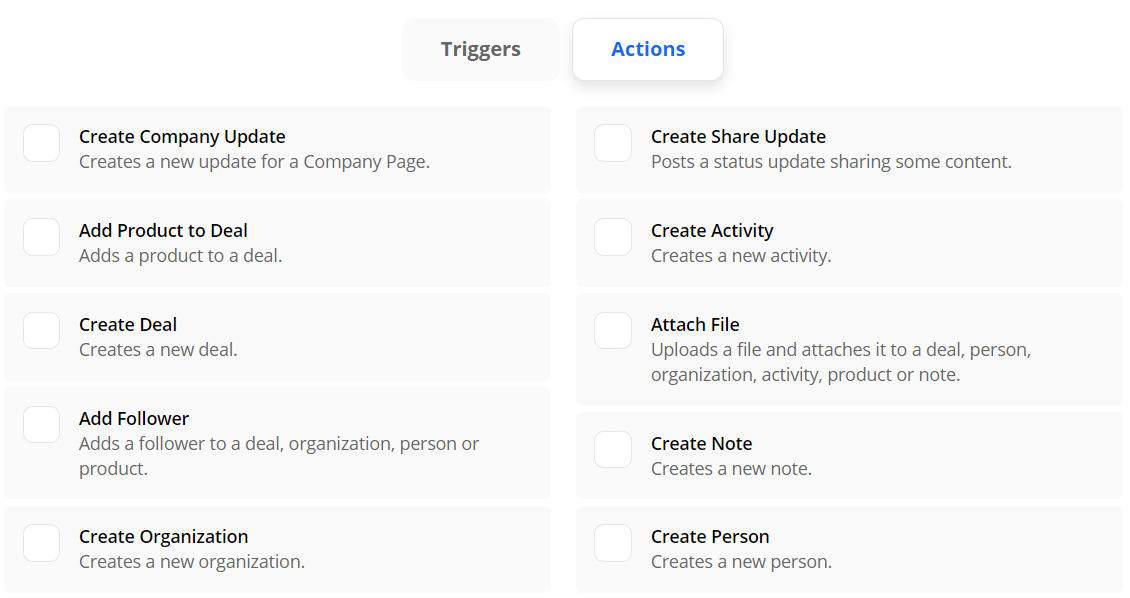 The first of many Zapier actions available when connecting LinkedIn to Pipedrive
For example, set up actions to automatically create a new deal on Pipedrive (action) whenever someone submits a form via your LinkedIn Lead Gen Form (trigger).

With apps like Zapier, set up hundreds of possible automated workflows and customise social integrations to work for you. Zapier also offers automated integrations with 2,000+ apps.
Pipedrive features:
Contact management
Customisable sales pipelines
Customisable reporting
Outbound calls, logging and reporting
AI-powered sales assistant
Lead management and scoring
Sales forecasting
Deal probability and rotting
Mobile apps and integration
Social integration with 3rd-party apps
Pricing:
14-day free trial offered
Pricing starts at $12.50 per user/month billed annually. The Essentials plan includes features such as contact and deal management, customisable pipelines, deal rotting, activity management, web forms, email inbox, basic meeting scheduler, sales assistant, deal reporting and more.
Premium plans start at $24.90 per user/month billed annually. They include additional features such as a products catalogue, group emailing, customisable email templates and signatures, workflow automation, leads reports, custom fields, team management, and more.
To use the social integration features, you also need to purchase a 3rd-party app. Zapier offers a free plan that includes five single-step zaps (automations) for 100 tasks a month. The premium Zapier plans start at 20 zaps and 750 tasks a month and include multi-step Zaps, three premium apps, filters, formatters, and connections via webhooks.
Check out Pipedrive to learn more.
Best all-in-one CRM with social integration via 3rd-party apps
Keap (formerly Infusionsoft) is a robust all-in-one CRM with sales and marketing automation, and customisable campaigns.
Reviewers have labelled Infusionsoft as a hard-to-use tool that requires a learning curve and some coaching to adapt and use. For this reason, the company re-branded Infusionsoft and created a simpler solution for businesses (Keap) that did not have as many bells and whistles and consequently, fewer headaches.
Both Keap and Infusonsoft help businesses track contacts and create conversions with powerful automation, but Keap offers fewer features and a simpler user experience. The original Infusionsoft CRM is still available under the name "Infusionsoft by Keap."
Similar to other CRMs, Keap allows for easy messaging and follow-ups with the organisation to help you track messages and retain and win new business.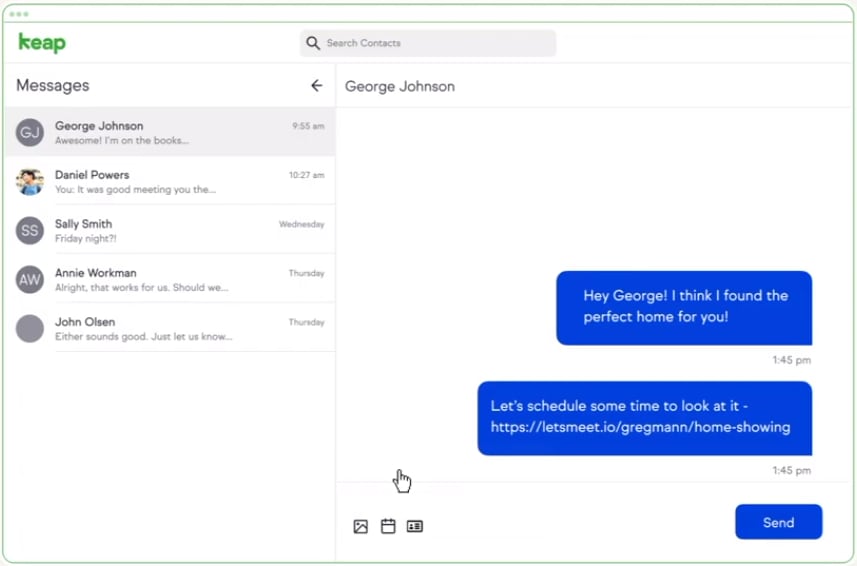 The upgraded version of Keap (Keap Pro) offers email and marketing automation with a landing page builder and customisable web forms.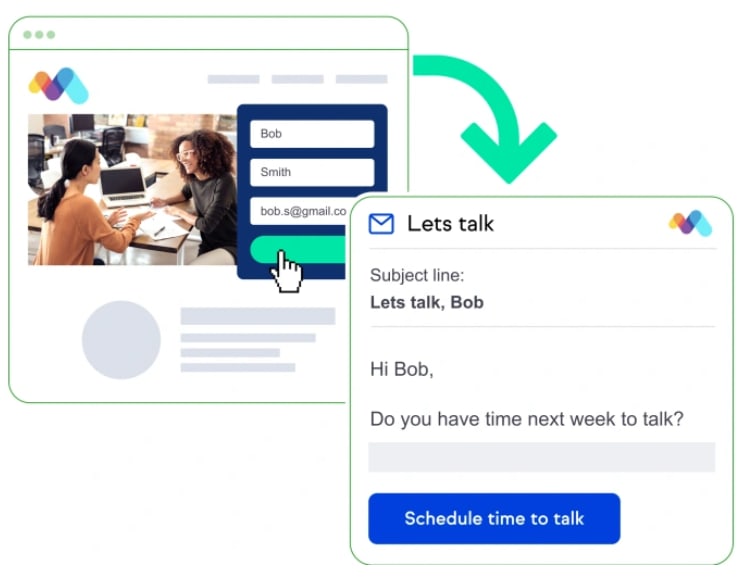 Similar to Pipedrive, adding social CRM features requires third-party apps such as Zapier or Automate.io.
Keap features:
Contact management
Marketing automation
Email automation
Appointment scheduling
Quotes, invoices & payments
Reporting & insights
Multichannel messaging
Pipeline management
Mobile application
Pricing:
14-day free trial offered
Keap's starter plan is Keap Grow and pricing starts at $79/month for 500 contacts and one user. The Keap Grow plan includes contact management and segmentation, quotes and invoicing, appointment scheduling, email marketing, email sync, and simple automations.
Keap Pro is an upgrade to Keap Grow, and pricing starts at $149/month for 500 contacts and one user. Keap Pro adds on features such as landing pages, sales pipeline, A/B email testing, recurring payment invoicing, campaign builder and pipeline automation.
If you want to try Infusionsoft for Keap, the more robust form of the platform, pricing starts at $199/month for 500 contacts and one user. Infusionsoft includes most of Keap's features plus a customisable dashboard, lead scoring, advanced reporting, shopping cart, checkout pages, order forms, and affiliate management.
If you want the features of a social CRM where you can connect Keap with your social contacts and import information along with other automations, you will also need to factor in the price of third-party apps such as Zapier and Automate.io.
Best social CRM with pipeline management and built-in social integration
Nimble is sales pipeline management software with built-in tools to help you leverage the power of social media with a traditional sales pipeline-focused CRM. Nimble isn't a social management tool like Agorapulse. If you are looking for a social media management tool with monitoring and scheduling, this is not the tool for you. Nimble is a sales CRM that powers your sales pipelines with added social functionality to power up your sales prospecting and deal management.
You can see that here with Pipedrive's visual sales pipeline interface, which includes drag-and-drop functionality that integrates all of your collected data into prospect records.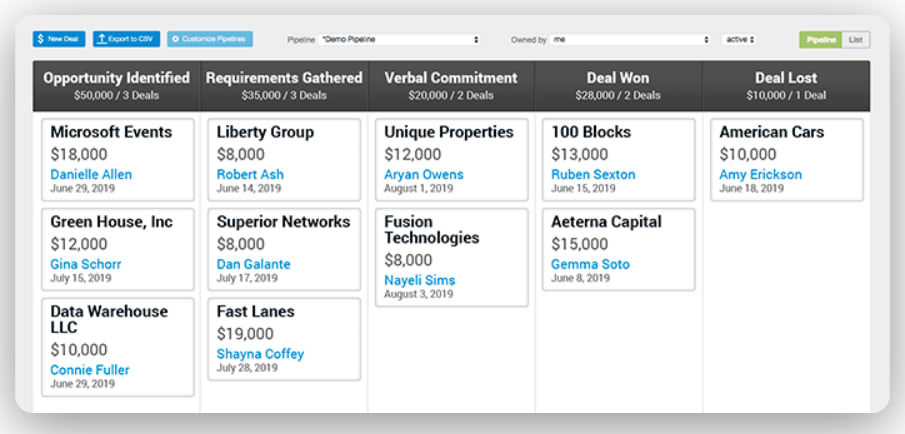 Nimble is best known for its powerful browser extension, Nimble Prospector, that enables fast, automatic updating of social contact data outside of the Nimble platform. Prospector works on websites such as Twitter, LinkedIn, Facebook, Outlook inbox (integrates directly with Microsoft Outlook), Gmail inbox or any 3rd-party cloud-based application.
If you highlight a name on the web, Prospector brings up a current contact record or allows you to create a new one. View interaction history, emails, calendar events, social conversations and more, all from any platform of your choice. Perform multiple tasks with this extension, such as scheduling events, calls, logging activity, and more.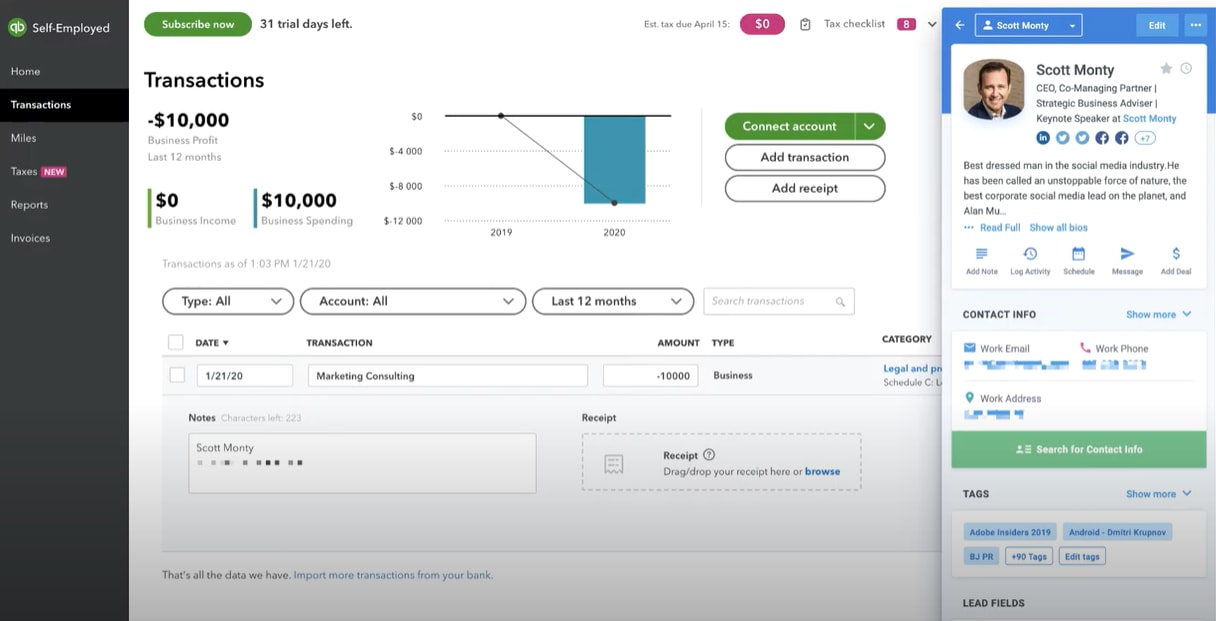 Nimble's dashboard is rich with pertinent data that you want at a glance. Things like your calendar, sales pipeline, sales tasks, upcoming appointments, analytics, email tracking, reminders, social signals and more, live on your main dashboard for easy review and management.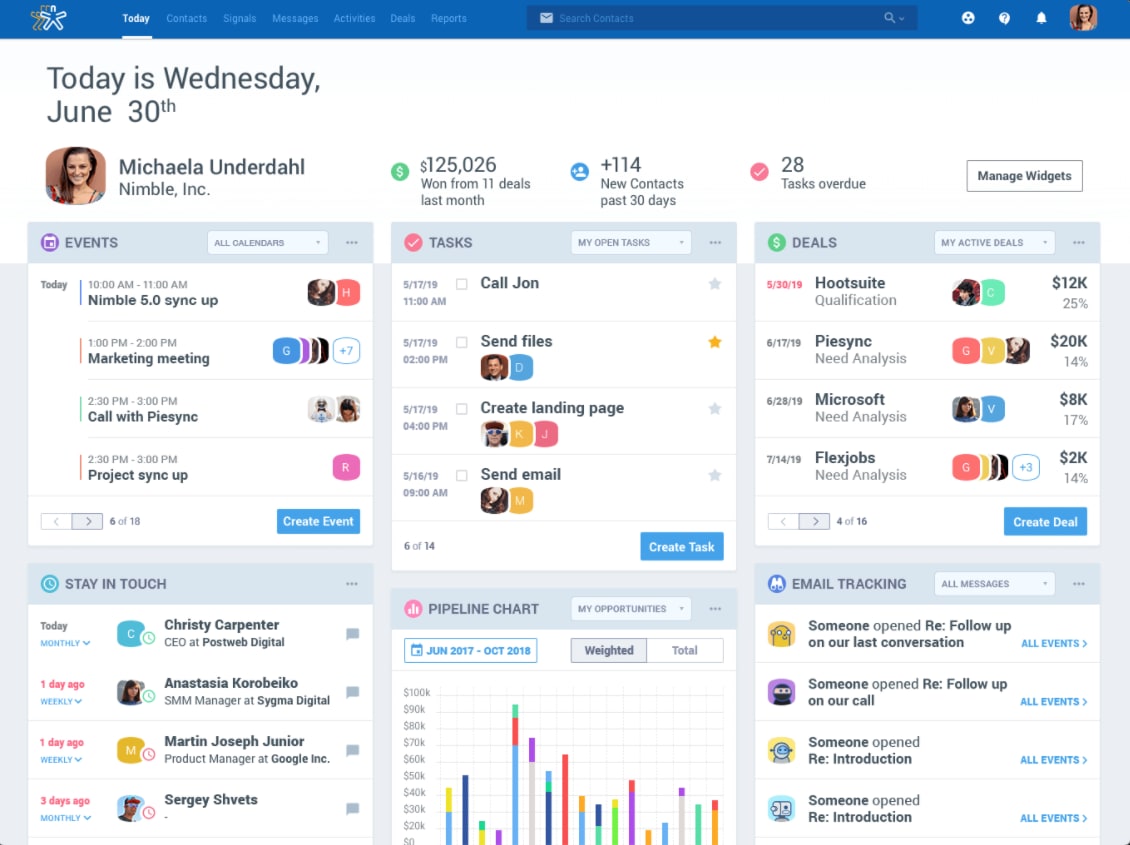 Similar to other social CRMs, Nimble enables you to segment contacts into groups for tagging and easy follow-up and maintenance.
Nimble features:
Sales pipeline management
Sales analytics
Contact segmentation
Browser extension
Data integrated from social networks
Sales forecasting & analytics
Group messaging
Unified dashboard and calendar
Office 365 and GSuite integration
Mobile application
Pricing:
14-day free trial offered
The Nimble Business plan starts at $19 per user /month billed annually and offers all of Nimble's features including 25,000 contacts, contact management, unified message inbox, calendar and email sync, social media signals and profile match, email tracking, pipeline management, and 2GB of storage. As you grow, you do not upgrade to a higher plan but simply pay for more contacts, users, storage, messages and custom fields as needed.
Check out Nimble to learn more.
Best Social CRM for social media management and powerful automation
Sprout Social is a powerful social media automation tool that offers a lot of features. The social CRM offers six different arms of functionality: collaboration, automation, listening, publishing, engagement, and analytics.
Sprout Social integrates with the following social platforms:
Facebook
Instagram
Twitter
LinkedIn
Pinterest
Google My Business reviews
TripAdvisor
Sprout Social's Unified Smart inbox makes it easy to filter, tag, and customise your messages from every social platform, all in one interface. Streamline your team collaboration by organising your incoming messages with keyword and hashtag monitoring or client priorities.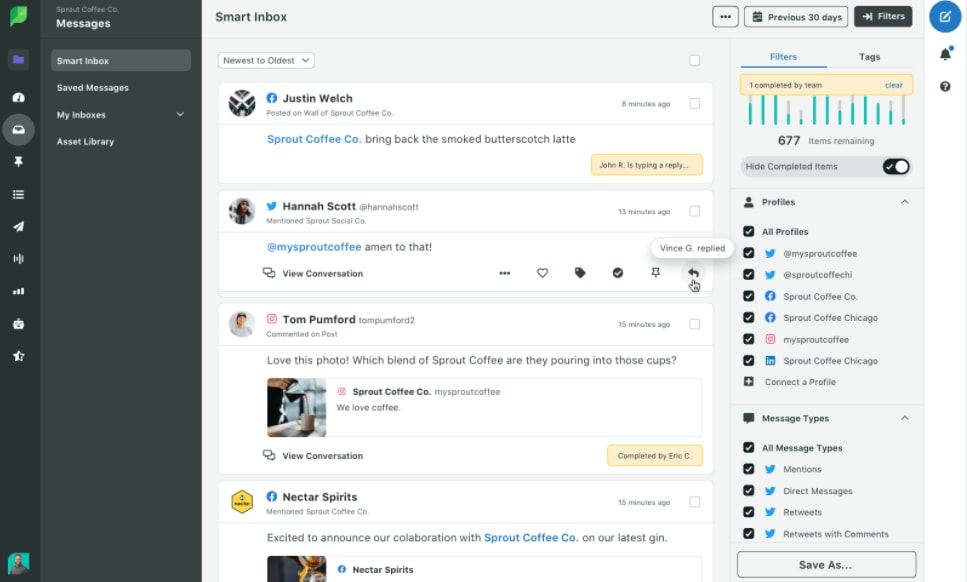 Similar to other social CRM tools, Sprout Social also offers a shared calendar to view and manage all of your activity across networks and marketing campaigns.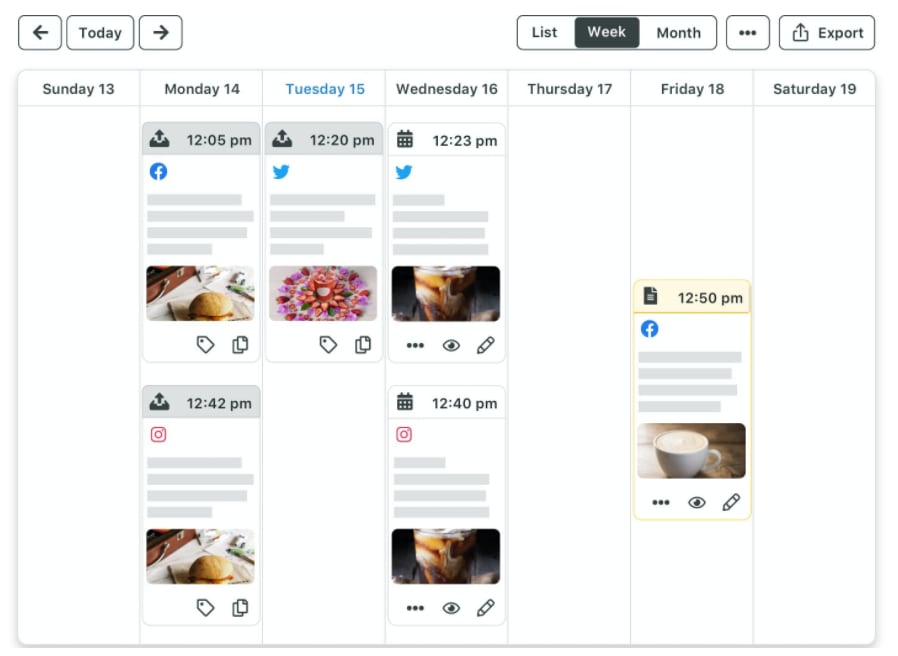 Sprout Social's Suggested Replies feature automatically suggests replies for incoming Twitter messages to reduce the time it takes to create new answers. Additional features include sending automated surveys after customer conversations and measuring NPS® and CSAT scores.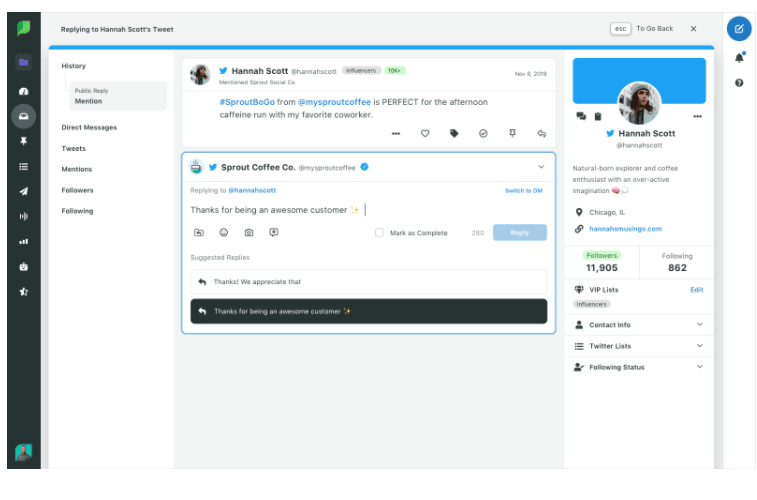 Sprout Social also integrates with Zendesk or HubSpot Service Hub to capture incoming customer-service messages from social media.
Sprout Social features:
Post publishing and scheduling
Social Queuing
Social comments management
Advanced reporting
Unified or shared calendar
Smart insights
Competitive analysis and reporting
Roles and permissions
Social listening
Customised workflow automation
Automated surveys
Bot builder
Unified smart inbox
Mobile application
Pricing:
30-day free trial offered
The Standard plan starts at $99 per user/month for five social profiles. The Standard plan includes features such as all-in-one inbox, publishing and scheduling posts, social calendar, social review management, CRM tools, and paid promotion tools.
Premium plans start at $149 per user/month for 10 social profiles. They include additional features such as competitive reporting, message tagging, custom workflows, paid social reporting, helpdesk integration, chatbots, automated link tracking, twitter surveys and more.
Check out Sprout Social to learn more.
Best Social CRM with all-in-one CRM and social media management
Similar to HubSpot, Zoho offers social integrations that integrate with its CRM (a separate product). When you find prospects on the web, sync your leads with Zoho CRM by importing their data into the CRM to beef up their records.
Zoho has a separate add-on product called Zoho Social. Zoho Social offers all of the features you would expect from a social management tool: the ability to monitor, publish, schedule and measure content success. The tool also provides additional features such as SmartQ which analyses past data and enables you to send posts at the time your audience is most likely to engage with them.
Zoho Social integrates with the following platforms:
Facebook
Twitter
LinkedIn
Instagram
Google My Business
Zoho Social offers a drag-and-drop calendar for easy content management, with the ability to move content around, reschedule, bulk upload and publish right from within the calendar. Filter your view and easily spot content gaps.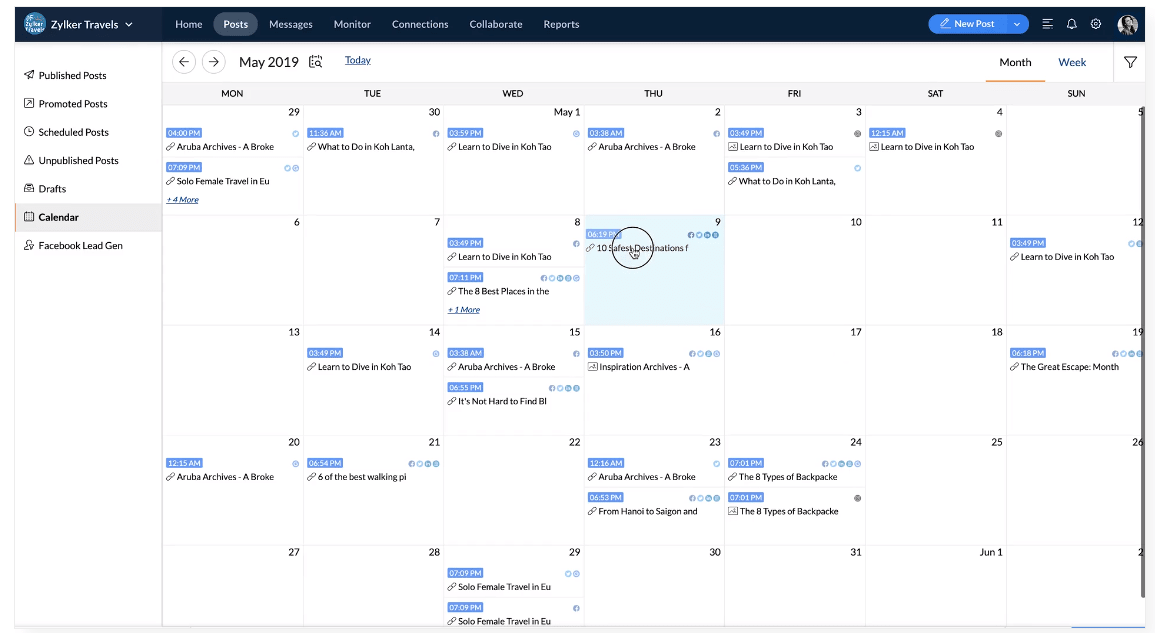 We like Zoho Social's collaboration features allowing teams to discuss content and performance directly in the platforms.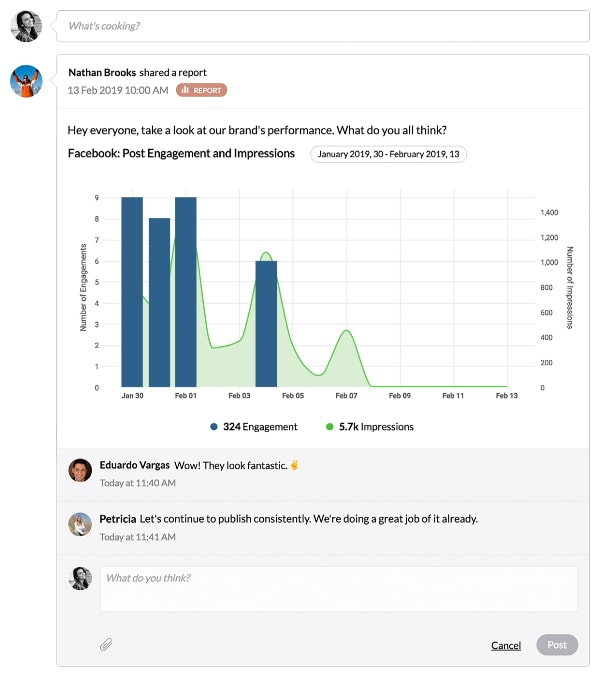 Zoho Social also has a browser extension called zShare, which allows you to curate the best content while you are browsing the web. Pull the content into Zoho Social for immediate sharing or scheduling.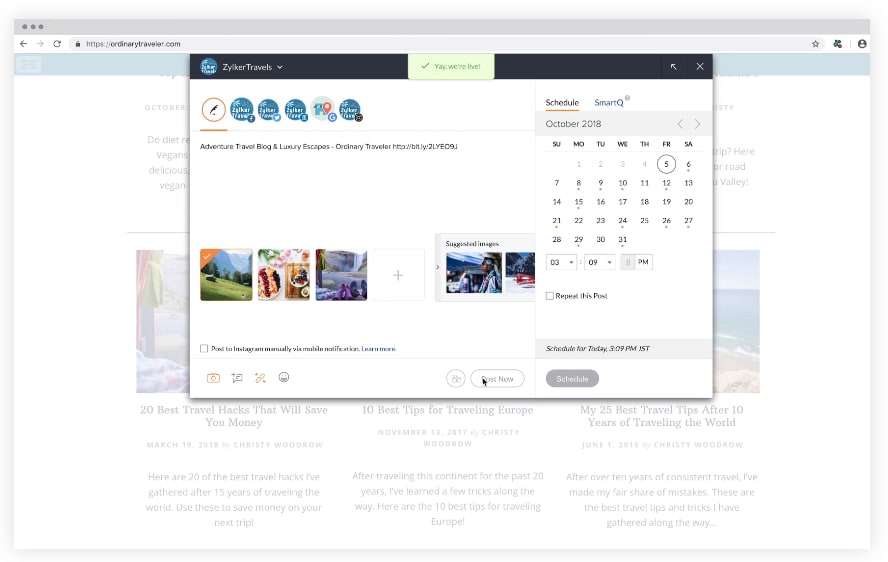 Zoho Social features:
Social publishing and scheduling
SmartQ
Social analytics
Social monitoring
Social comments management
zShare browser extension
Bulk scheduling
Custom audience targeting
Shared calendar
Roles and permissions
Mobile application
Pricing:
14-day free trial of the Professional plan
The Standard plan starts at $10/month billed annually for one brand (seven channels) and two team members. This plan includes social publishing and scheduling, SmartQ, pause/resume scheduling, analytics, social monitoring, Zoho Desk and Zoho CRM integrations, and the zShare browser extension. You can add on more brands and/or team members for $8.33/brand/month and $8.33/member/month billed annually.
Premium plans start at $25/month billed annually for one brand (seven channels), three team members and 10 custom reports/brand (Professional plan). Additional features include publishing calendar, CustomQ, scheduled reports, Facebook lead ads and forms, and more. You can add on more brands and/or team members for $16.66/brand/month and $8.33/member/month billed annually.

Zoho Social does have a limited free plan available that you are automatically grafted into once your free trial ends. The free plan only uses the "Publish now" feature, without scheduling.
Check out Zoho Social to learn more.
Best social CRM with an all-in-one CRM and social media management for small to enterprise-level companies
Arguably one of the most extensive CRMs in the galaxy, Salesforce is known for its customisation potential for businesses to create a solution that works for their needs. Though Salesforce is best suited for large and enterprise-level companies with big enough budgets to handle the customisation and features, it offers a small business track for businesses with lower budgets who still want to try the tool.
With its primary CRM offering, Salesforce offers built-in social integration so you can import your contact's social profile information directly into the CRM. Salesforce also provides Social Studio, its social media management tool that schedules, queues and manages social posts, monitors social activity, runs analytics reports, and provides an all-in-one dashboard to manage all of your social activities. Social Studio is a component of Salesforce's marketing product, Marketing Cloud, an add-on to its CRM with additional costs and setup.
Similar to other social media management tools, Social Studio offers an all-In-one interface so users can respond to external social posts, manage customer service and content in one location.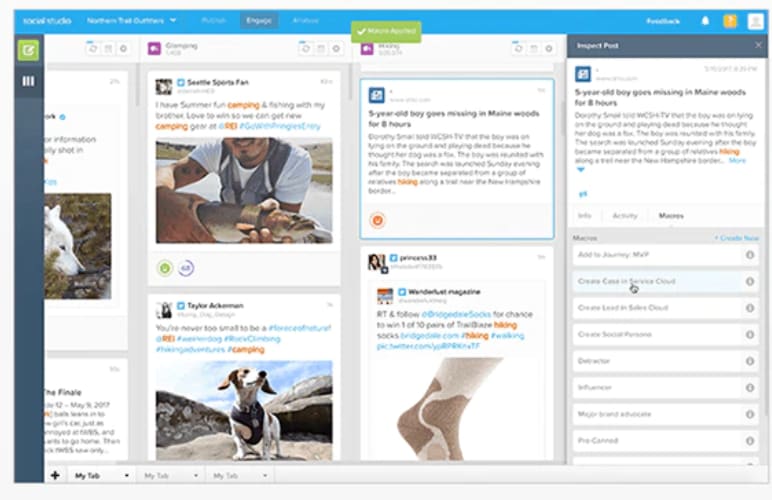 Collaboration is also strong with the ability to review and approve content before it goes live. Create workspaces for teams with role-based access for security.
Salesforce calls its customer engagement interface the Command Center where you can review live displays of your audience engagement, real-time customer feedback and conversations, and other marketing and sales activity. Filter to see the most pertinent information, and monitor in real time.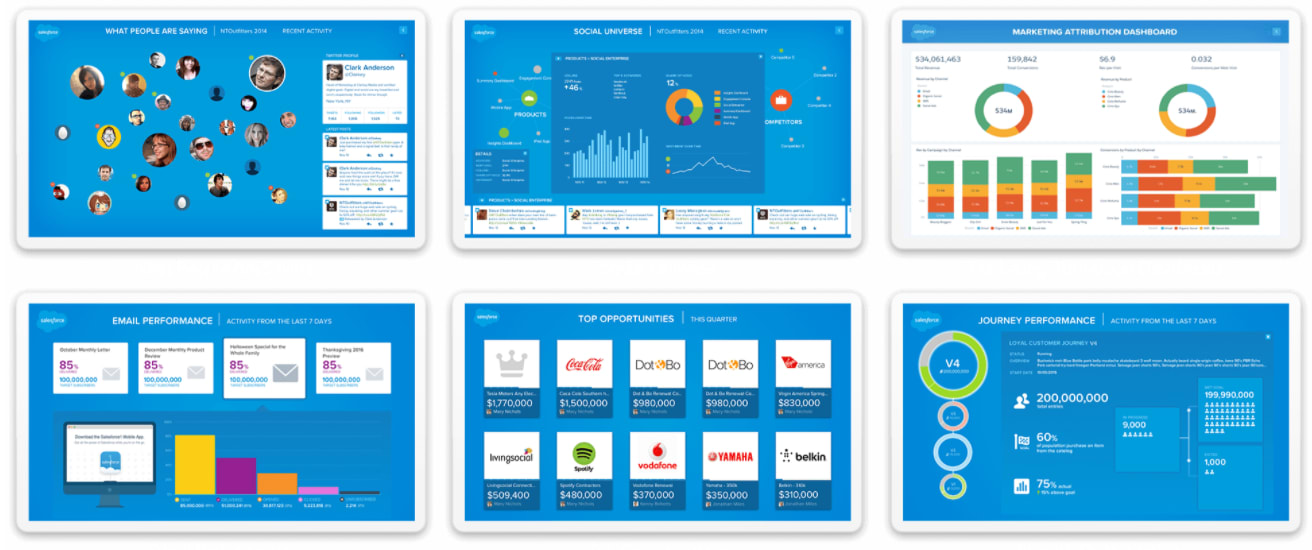 Salesforce Social Studio features:
Social publishing and scheduling
Social listening
Social comments management
Social analytics and reporting
Content management
Roles and permissions
Social advertising
Command Center
influencer scores
Mobile application
Pricing:
No free trial. Contact the vendor for specific pricing.
Salesforce Social Studio's Basic plan starts at $1,000/month billed annually for 20K monthly mentions and two users. It includes Salesforce CRM integration, brand listening and community engagement, monthly mentions, influencer scores, custom filtering and more. Post publishing is available on the Basic plan for an additional $500/month.
Premium plans start at $4,000/month billed annually for 250K monthly mentions and 10 users with additional feature upgrades such as content publishing, post automation and third-party app partner access.
Salesforce Command Center and Premier Success cost an additional fee on all plans.
Check out Salesforce to learn more.
Best social CRM with social media management and a larger number of social channel integrations
eClincher is a social CRM tool similar to Agorapulse and Sprout Social in that its primary offering is social media management. Though reviewers mentioned it is not as "pretty" as other tools in its class, it packs a punch for a reasonable price. The tool offers the standard social management features as the previous tools we discussed, such as scheduled posting, unified inbox, social monitoring, analytics, auto-publishing and more.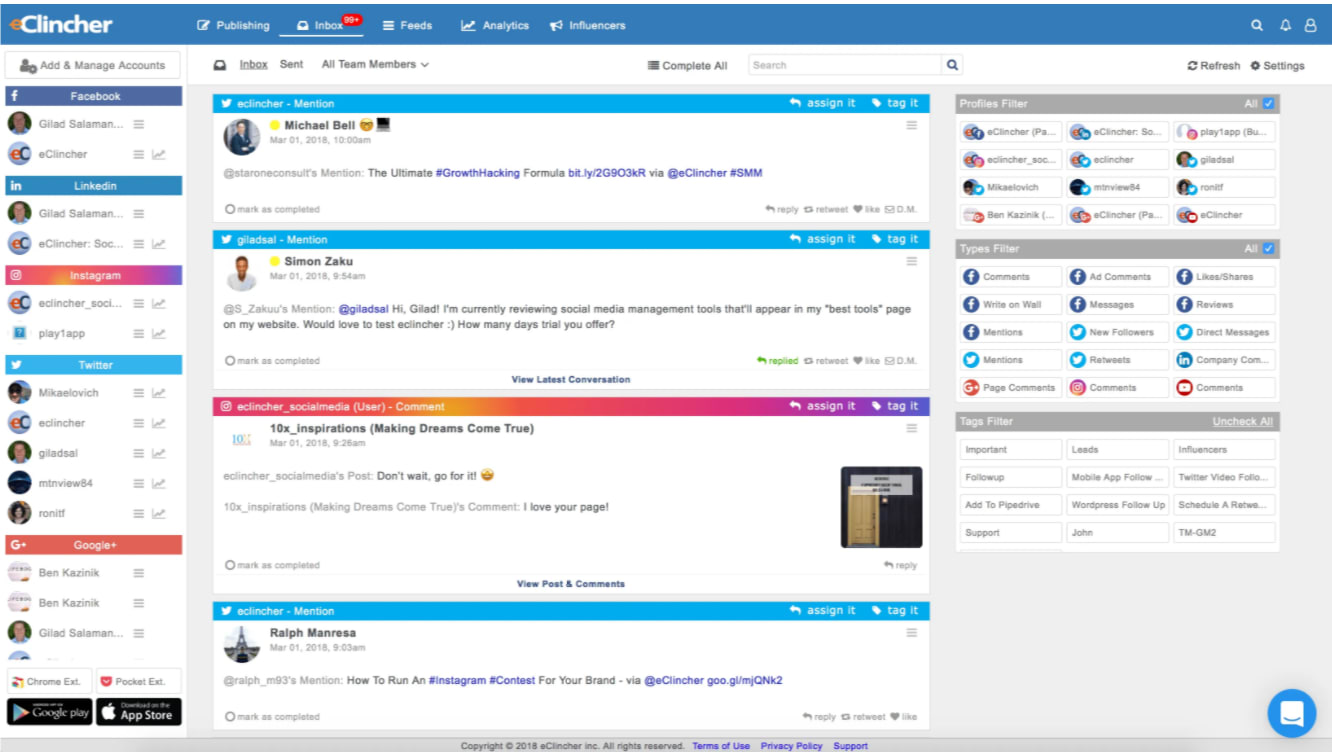 One of the standouts with eClincher is the number of social media sites it integrates with:
Facebook (ads, pages and profiles)
Instagram (personal and business)
Twitter
YouTube
LinkedIn
Google My Business
Yelp
TikTok
Pinterest
Google Adwords
Google Analytics
Additional features offer the ability to find content to post with eClincher's real-time live social feeds, or take advantage of the suggested content feed, a curation of content based on your hashtags and keywords.
eClincher's features:
Post publishing and scheduling
Calendar
Social queuing
Unified Social Inbox
Integrated RSS Feeds
Social Monitoring
Competitor Analysis
Campaign Tracking
Content management
Mobile application
Pricing:
14-day free trial offered
The Basic plan starts at $50 /month billed annually for 10 social profiles and one user. It includes the social inbox/CRM, unlimited scheduling and content management, scheduler, suggested hashtags, autopost, suggested content feeds and more.
The Premium plans (Premier and Agency) start at $102 /month billed annually and add on features such as external users and post approvals, shared calendars, competitor benchmarking, media library, team collaboration, and upgrades to the Basic features (10 suggested content feeds instead of three).
Check out eClincher to learn more.
Best social CRM with Personality AI and built-in social integration
Crystal isn't as well-known as some of the other social CRMs we discussed here. Still, we thought it was worth a mention because of its innovation in sales, marketing, recruiting and leadership using Personality AI.
Crystal relies on the DISC and other popular personality assessments to power communication and prospecting. It offers a Chrome extension that showcases a prospect's personality as you browse their profiles on LinkedIn. It's like having a personal coach giving you personality-based advice for all communication so you can more easily close deals by building stronger connections with prospects.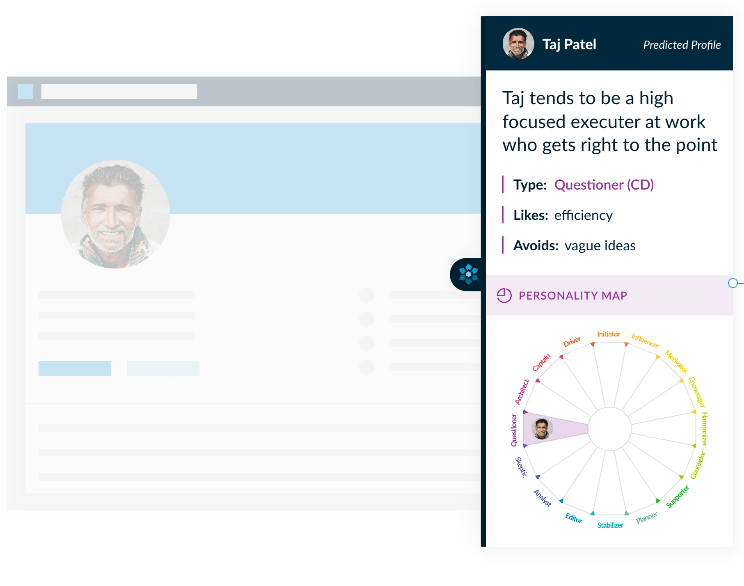 Take your personality-driven social CRM one step further and create team playbooks so your sales representatives have more confidence and can quickly build rapport with clients during meetings.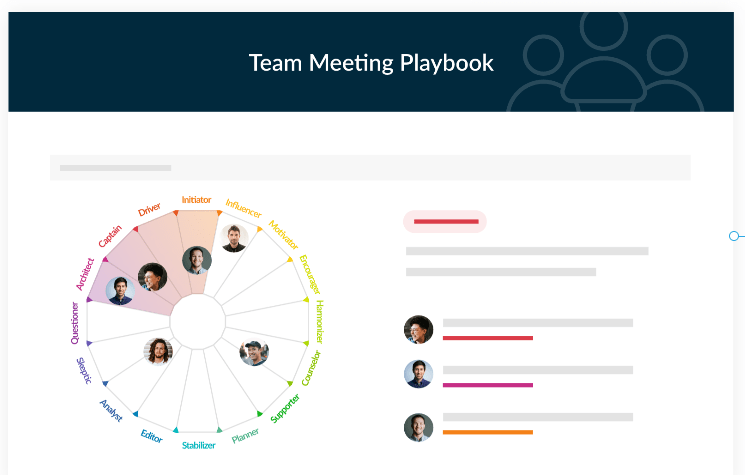 Also, use Crystal for more effective hiring and interviewing and to help your clients if you are a coach.
Crystal is also valuable for marketing departments creating customer personas for specific targeting to fuel their marketing with personality-based insights.
Crystal features:
Personality-based AI predictions and insights
Personality-driven Chrome extension
Hiring and coaching insights
Customer personas
Playbook creation
Pricing:
Crystal allows you to sign up for free but pricing is not available until you contact them.
Check out Crystal to learn more.
How to Choose the Best Social CRM: The Selection Process
It can be daunting to figure out which social CRM is best for your business. As a first step, we recommend you whittle down your choices by asking yourself the following questions:
Do you want an all-in-one CRM? (If you want to eventually grow into an adopting an all-in-one CRM solution for your business, this may be the best option)

If yes, do you want the social integrations to be built-in, or are you OK with using third-party apps? If you want built-in, go with HubSpot, Salesforce or Zoho. If you are OK with using third-party apps, Keap is one to try.
Do you also want social media management features? Go with HubSpot, Salesforce, or Zoho.

If you don't want an all-in-one CRM, do you need sales pipeline management?

If yes, do you want the social integrations to be built-in, or are you OK with using third-party apps? If you want built-in, go with Nimble. If you are OK with using third-party apps, Pipedrive is a great option.

If you don't want an all-in-one CRM and prefer just social features…

Do you want the social integrations to be built-in, or are you OK with using third-party apps? If you want built-in, go with Agorapulse, Nimble, Sprout Social, eClincher or Crystal (Crystal works primarily with LinkedIn).
Do you want social media management features? Go with Agorapulse, Sprout Social, or eClincher.
Here's the comparison chart again to help you evaluate your answers and review pricing for each solution: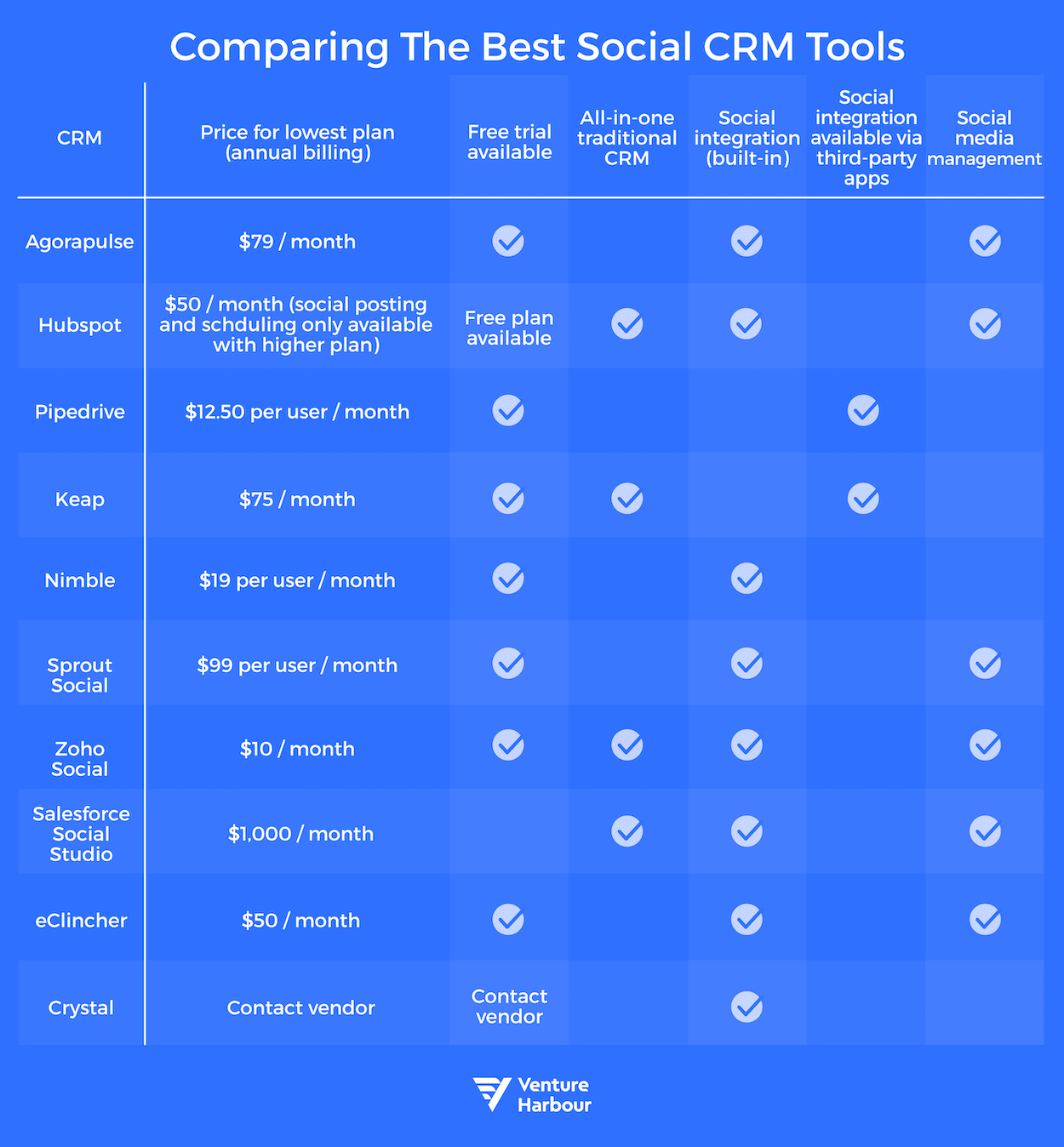 After you select a few social CRMs based on the answers to your questions, check pricing and then take a few for a test drive. That's the best way to evaluate the best social CRM tools. You may also find that even though you don't want an all-in-one CRM, it may be the most cost-effective. Weigh cost vs benefit and test drive as many as you can.
Here are links to the tools again:
When you test drive each social CRM, take note of the following as you evaluate:
Cost vs. potential return on investment
Alignment with your business goals
Ease of use
Ability to scale (if this aligns with your goals)
Integration with your current profiles and accounts
Organisation potential and efficiency
A social CRM will level up your marketing and help you capture the conversations and engagement that is happening outside of your brand. Whichever solution you choose, expect to increase your reach and conversions as you better understand the people you serve. Happy choosing!