We are now forever enveloped in the cloak of computerisation, and so the phrases "there's a Tool, Plugin or App for that" are being used more and more frequently amongst us. Phrases so engrained in our collective psyche they're undoubtedly being uttered between kids and co-workers alike thousands of times over throughout the world this very minute.
But the fact is there are so many cleverly crafted applications out there built with the sole intention of assisting us in our day-to-day professional tasks. It's becoming increasingly difficult to decipher good from bad, the laborious time wasters from the helpfully efficient, and recognise on face value the salt from the sugar, without tasting them first.
Coming from a sales background, I've carried over some habits and tools that I was using, into my day-to-day digital marketing activities. So whether you're an old hand digital musketeer looking for new tools, or straight out of the blocks, here are a handful of sales tools that I personally find useful for SEO and content marketing:
PipeDrive CRM
I've never been an advocate of the term 'sales CRM' as this insinuates that they're to be used purely for sales purposes. A CRM is simply a management resource that can be tailored to all manner of requirements. A combination of to-do-list, meets notepad, meets calendar, meets diary, meets accounting Excel spreadsheet.
In the analytical world of digital marketing, having a centralised CRM system can prove an invaluable information pool with quick and easy report functions for a number of different aspects of your business.
CRMs, such as Pipedrive, my preferred choice, can be used for managing outreach and lists of potential sites for infographic distribution, white papers, blog and so on. And in so doing provides you with an overview of the progress you're making securing the contacts at each of these sites. You can use them to create and save your own 'wishlists' of people you want to make contact with as you think of them, as inevitably, with ever increasing workloads, we're not always able to react immediately when a good idea pops into your head.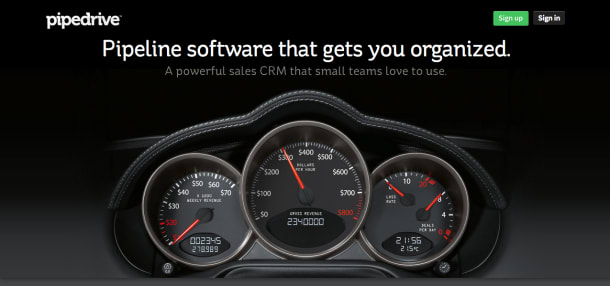 You can then track the progress, but more importantly the demographics of all of these factors. So over time, as the lists grows, these can be filtered to fit specific criteria, making your life progressively easier as you grow older!
Rapportive
The Rapportive Gmail plug-in isn't just for 'nosy parkers' who want to see a photo or know the location of the recipient they're mailing. Although admittedly it's a nice touch! It personalises an otherwise sterile form of communication, as emails so often are!
For example Marcus Taylor emailed me this morning, and this is what I got aside his mail:
It can also be a useful tool for confirming the email addresses of people you're not already in direct contact with which can be hugely helpful when trying to approach potential new customers.
This can be ascertained when you open a new mail and slide the cursor over the email address you've keyed, as the contact persons details and social feeds associated with their email address will pop up on the right hand side of the mail (provided the email address is currently valid of course!). Thus through trial and you can 'work out' unknown email addresses quite easily!
For example: if you know the email structure of a particular organisation, which with a little rummaging around online you can find for most companies, lets say you found 'info@ventureharbour.com' in the contact form of a website.
You now know more or less that the root domain for their email is '@ventureharbour.com'.
You can then search using different methods (Linkedin's usually a good starting point) for the current person in charge of a department at the company you want to approach. Using me as an example, you find the name Andy Hoskin.

Once you have the name, through a process of elimination try different combinations like 'andy.hoskin@, andy-hoskin@, andyh@' in an open mail. When you get to just 'andy@ventureharbour.com' and my profile appears…Viola! You know the mail you're sending is going to my valid address and thus I'll receive it.
Yesware
Knowledge is power, right? This handy little email add-on keeps a running tally on the progress of your emails, or lack there of. It provides you with quick and non-invasive pop-ups regarding the status of emails you've sent or published and provides insightful read receipts, containing timings and recipient locations.
I use this predominately as a sales prospecting tool but it's also useful for day-to-day activities too. For example if you've emailed some information across to a partner or colleague and want to discuss it with them further, it's pointless calling 10mins after you've hit the send button if the intended recipient is tied up in a meeting and hasn't read it yet. Yesware provides a simple notification once the email has been read and in so doing, effectively prompts you at the best time to call. Therefore cutting down on precious time spent waffling into an empty answer phone.

It can also be used to create email templates and set reminders for follow ups along with a chunk of analytical report facilities. I won't waffle on about these though as their use will very much depend on the user but there are a lot of additional functions which certainly shouldn't be overlooked.
Feedly
The most successful business development people are the ones that have intimate knowledge of their markets. Feedly has in many ways filled the void after the demise of Google Reader as a widely used RSS reader. While strictly speaking not a 'sales tool' per se, it allows you to display all the most useful feeds, blogs and social updates in easily digestible snippets making it a lot less time consuming to keep on top of the latest market updates and industry articles. It offers a multitude of ways to personalise, by filtering feeds, and can be pretty smart with suggesting additional content too. Created to read like an online magazine, its easy to use and can be tuned as great source of real time industry information!

Final thoughts
I'm sure many of you will already have your own, or preferred, tools and plugins which you've cultivated over the years to suit individual needs. As I stated originally though, these are just a few that I personally find useful and so I thought I'd collate a short list of suggestions for anyone out there seeking some inspiration, or perhaps just a change of desktop scenery!
TMXTFH6AA9YR
Image Credit: Worldbank