Chrome is the world's most popular web browser, powering almost 70% of internet sessions, according to data from StatCounter.One of the biggest strengths of Google's browser is its extensive library of extensions that allow you to add extra functionality and make the web a more powerful tool.In this article, we're looking at some of the best Chrome extensions for productivity so you can complete a whole bunch of tasks without leaving the browser.
Which tools are we looking at in this article?
In this article, we've got 30 of the best chrome extensions that will help you boost your productivity. And, as this is a fairly long list to scroll through, I'm breaking these extensions up into the following four categories.
Improving focus:
Serene: Combine dozens of productivity tools using a single platform.
Rescue Time: Block websites and apps that are getting in the way of your workflow.
News Feed Eradicator: Block your Facebook News Feed.
Todobook: Replace your Facebook News Feed with a Todo list.
Forest: Gamify productivity by growing digital trees every time you complete a task.
TimeWarp: Block websites with redirects, quotes or timers.
Noisli: Play
Task management:
Todoist: Create and manage tasks in-browser.
Win the Day: Set goals, track habits and use focus tools in Chrome.
Any.do Extension: Manage tasks as you browse the web.
ClickUp: Five productivity features rolled into one extension.
Toggl Button: Integrate Toggl with Chrome and activate in-browser.
TrackingTime: Manage projects, track working times and measure productivity.
Clockify: Track time from anywhere on the web with one click.
Content creation/planning:
Pocket: Save web pages for viewing later with a single click.
Evernote Web Clipper: Clip, annotate, highlight and store parts of a webpage.
Grammarly: Automatic spelling and grammar corrections/suggestions.
Airstory: Capture text and images from web pages to use as research or sources for your own content.
Diigo Web Collector: Bookmark pages, capture text, screenshot and annotate content.
Just Read Premium: Turn web pages into text-only documents with a single click.
Google Dictionary: Instant definitions for words you highlight.
Panda 5: Replace the new tab page with all your favourite websites.
Save to Google Drive: Does exactly what it says.
Pixlr Editor: A free, in-browser alternative to Photoshop.
Faster browsing:
OneTab: Save open tabs into a list for later to save memory.
Adblock Plus: Block obtrusive ads.
The Great Suspender: Suspend open tabs after a set period of time to save memory.
LastPass: A free password manager extension.
Pushbullet: Connect all of your devices and manage messages inside Chrome.
Chrome Remote Desktop: Access other computers and allow others to access your machine securely.
Some of the extensions listed in this article are standalone add-ons and most of these are completely free. Others integrate third-party apps with Chrome and you'll have to pay for the third-party app for the extension to function.All of this will be stated as we look at each extension.
Improve your focus with these Chrome extensions
First up, we've got some of the best Chrome extensions that will help you improve your focus and get more done in the working day.
Serene is designed specifically for remote teams that combines some of the most proven productivity features into a single tool – all of which are a click away with the official Chrome extension.
You can block distracting websites/apps, plan your daily tasks, work in short power sessions and automatically silence your phone during focus sessions.Serene aims to give you all the tools you need to improve focus, increase productivity and get more done with a single piece of software.
RescueTime is a lot like Serene's website and app blocker feature that stops you accessing distractions like Facebook and emails that interrupt your workflow.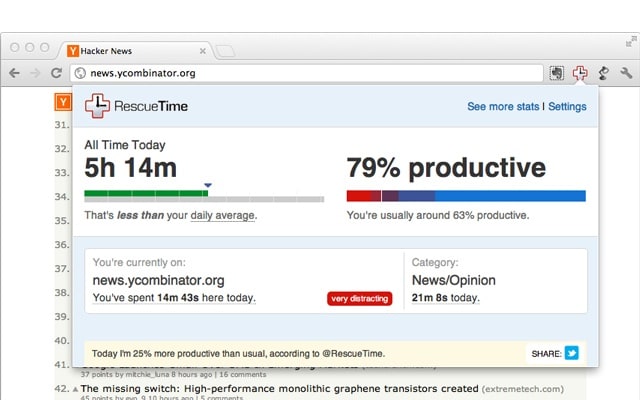 RescueTime's extension means you can activate the tool with a single click and update your block list form within the Chrome browser.One thing that sets RescueTime apart is that it tracks your behaviour and scores your productivity. This data is presented in reports, which you can use to see where your productivity is suffering and put fixes in place – a great feature, as long as you're happy with the app tracking your actions.
The News Feed Eradicator plugin is a simple tool that blocks the News Feed in Facebook and replaces it with an inspirational quote.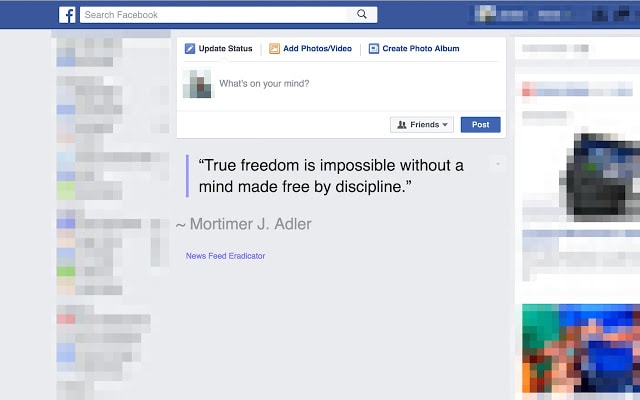 You can still access the social network and use key functionality, such as sending messages or searching for contacts – something that can be important for many remote workers (journalists, for example).But you won't find yourself getting lost in your News Feed for hours when you should be replying to that work message instead.
Todobook is a lot like the News Feed Eradicator in concept, except it replaces your Facebook News Feed with a to-do list.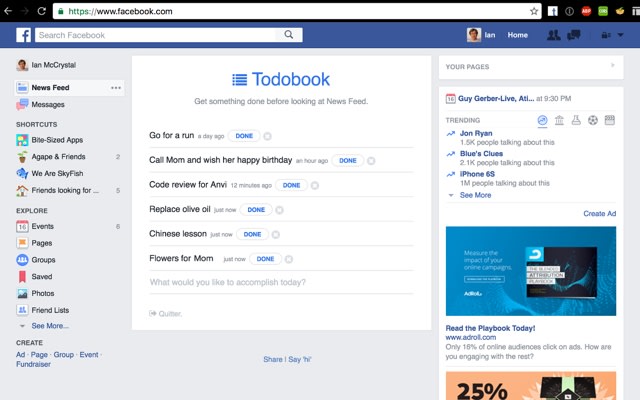 Once again, you keep all of the core functionality of Facebook but you won't get stuck looking at your friends' holiday pictures and wondering why everyone else seems so satisfied with their lives (they're not anyway).
Forest is unlike any other productivity app you'll come across. Instead of blocking access to your most distracting websites, it encourages you to
choose
to stay away from them.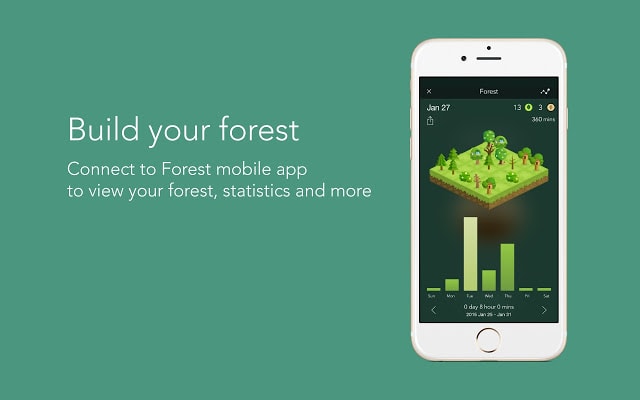 Every time you plant a seed in Forest, a digital tree starts to grow over the next 30 minutes. If you resist the urge to visit the websites on your blacklist, your tree will thrive; if you give in to the temptation, your tree will wither.The more you avoid the websites on your list, the larger your digital forest will grow.
Timewarp is another website blocker extension for Chrome and it uses a concept called wormholes to restrict your access.
There are three types of "wormholes" you can create using Timewarp:
Redirect: Takes you to a more productive site which you specify.
Quote: Shows your most motivational quote.
Timer: Displays the time you've spent on the site today.
When you try to access any of the sites on your lists, you'll be kindly reminded that there are more important things to be getting on with.
Noisli allows you to listen to playlists designed to increase focus while you work.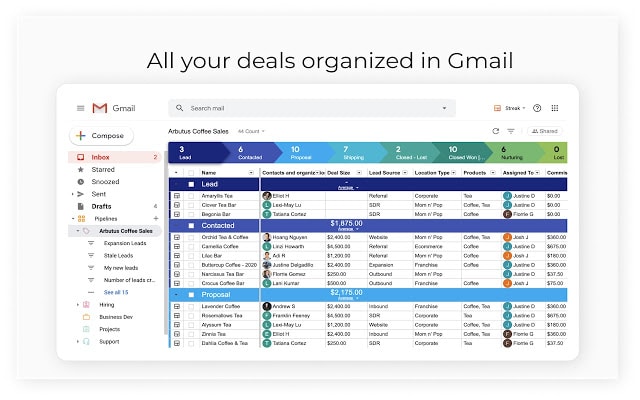 You can listen to existing playlists on the platform or create your own by choosing from an archive of sounds that includes rain, waves, birds and an extensive collection of soothing sounds.You can even create your mix by layering sounds together.
Manage tasks with these Chrome extensions
Next, we're looking at the best Chrome extensions for managing tasks and projects.
Todoist is one of the most popular task management apps, turning the classic to-do list concept into a work management tool.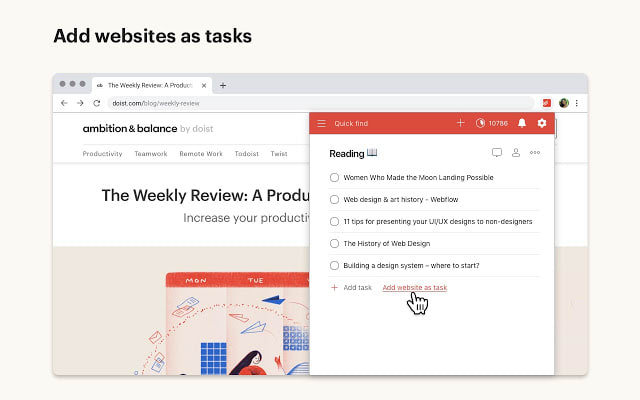 With the Chrome extensions, you can access Todoists key features within a few clicks, checking off tasks as completed, creating new tasks and managing existing ones, for example.If you're looking to manage your workdays on a task-by-task basis, Todoist is definitely worth a look.
Win the Day turns your Chrome browser into a task management and productivity platform.

The visual design might be a little crude but the functionality of this extension is solid. You can create goals, add deadlines, set daily targets and measure progress – all from within the browser.
Any.do is another impressive task management app and one of the best mobile experiences I've come across in this niche.
The web app creates a seamless cross-device experience and the Chrome extension provides access to key functionality without ever needing to open the app.This is how cross-device experiences are meant to feel.
ClickUp's Chrome extension primarily acts as a task management tool but it also packs in a few extra productivity features to help you get more done.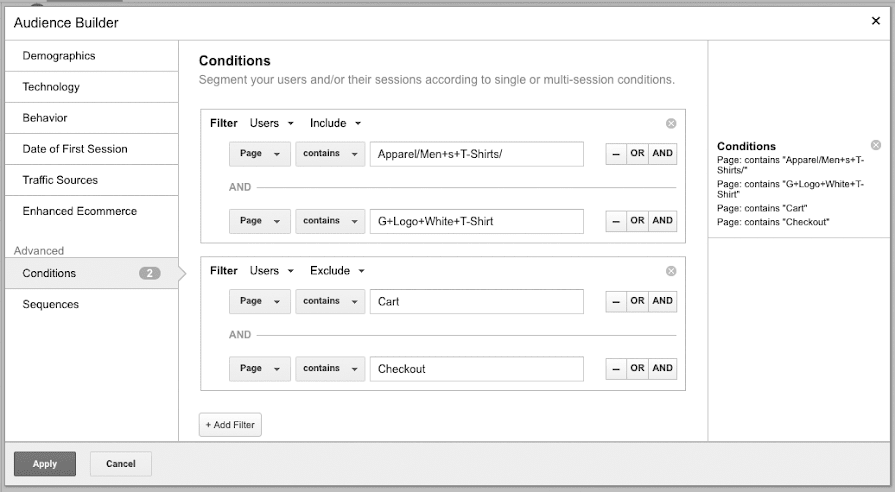 Aside from creating tasks, you can also save websites, take and edit screenshots, email tasks to contacts and use the built-in notepad to jot down anything important.You can also use the extension to activate ClickUp's time tracking feature from within Chrome.
Speaking of time tracking, it wouldn't be right to ignore Toggl and its Toggl Button extension.
With Toggl Button, you can activate Toggle's timer and productivity tracking with a single click.Now, there are plenty of tools available that will track your productivity in Chrome but Toggl's integration with apps like Trello, Asana, Todoist and hundreds of other tools gives you advanced insights into where you're spending your time.
TrackingTime is primarily a task management tool with integrated time tracking features.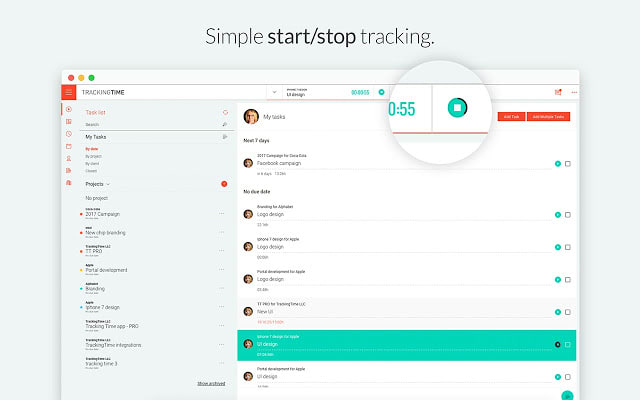 Using the Chrome extension, you can create tasks and sub-tasks, activate time tracking, and leave comments on tasks without navigating to the web app.
Clockify is the most direct rival to Toggl among these productivity tools and its Chrome extension also brings key functionality to your browser.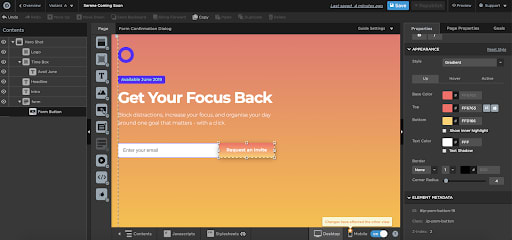 If you're a fan of the Pomodoro Technique (working in 25-minute sessions followed by a five-minute break), you might be interested to know that Clockify comes with a built-in Pomodoro timer, which you can activate via the Chrome extension.One of my favourite features of this extension, though, is that you can start/stop the timer from anywhere with the shortcut Ctrl+Shift+U on Windows or Cmd+Shift+U on Mac.
Create content faster with these Chrome extensions
In the digital age, most of us are content creators to some extent and producing quality content takes time. So you could use all the help you can get with these productivity tools to create content faster.
#15: Pocket
Pocket allows you to save web pages for viewing at a later date and this is still one of my favourite content research and planning tools.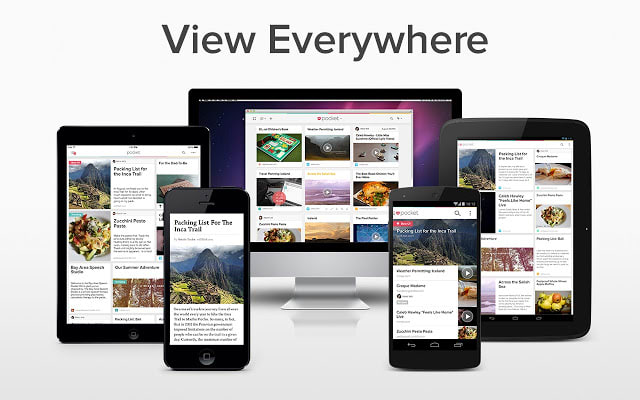 Whenever you come across a piece of content that might be useful later, simply click the Pocket icon in your browser and save it for the right time.I can't tell you how many searches produce content that's not quite relevant to what I'm looking for in the moment but will clearly be of use later – and Pocket keeps useful content one click away.
Evernote Web Clipper allows you to screenshot any page or snippet of a page and highlight sections or annotate with notes.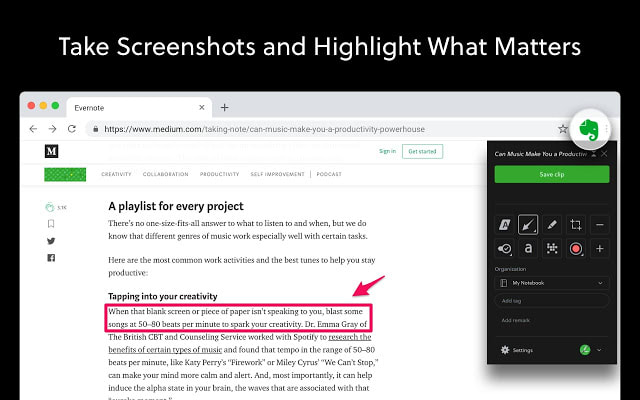 Rather than saving content for later, this is a great tool for active research when you're trying to compile a body of information and resources to build your own content around.This is especially useful for larger pieces of content that require a lot of citations, evidence, examples or stats.
Grammarly is the first automated spelling and grammar checker that I've ever considered good enough to recommend using.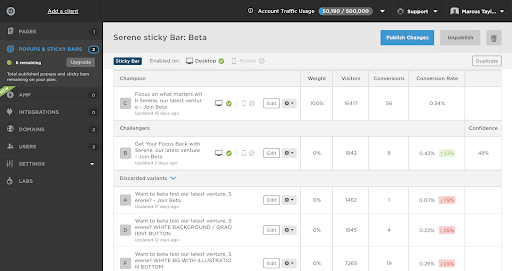 Don't get me wrong, it's not going to fix all of your writing problems but it is good enough at catching basic spelling and grammar mistakes (not to mention typos) that it does reduce the amount of time you (or, ideally, someone else) spends on proofreading and editing.
Airstory is a research tool that allows you to highlight text and save it notes for later use.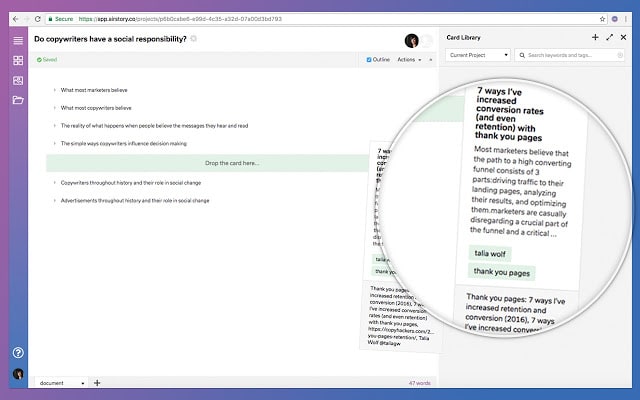 All you need to do is highlight text in the browser, right-click on the highlighted text and then save it as a note in Airstory. You can also highlight multiple pieces of text as you scroll down the page and save them as a single note, including any images that are relevant.Within a few clicks, you've created notes that only include the information you need.
Diigo combines a lot of the features we've seen from the other productivity extensions we've looked at in this section.
Much like Pocket, you can save web pages for viewing later. You can also take screenshots and annotate them in a similar way to Evernote Web Clipper.Something else you can do with Diigo is share pages and resources, making this a great tool for content teams that need to collaborate on pieces.
#20: Just Read Premium
Just Read Premium is a Chrome Extension that turns web pages into plain text files in the browser.
If you ever find yourself trying to read web pages overloaded with ads and crappy layouts, Just Read removes all the distractions for you.Simply click the extension button and the page will be converted into a simple text format so you can focus on actually reading the content.
The Google Dictionary Chrome extension allows you to highlight words in the browser and get instant definitions.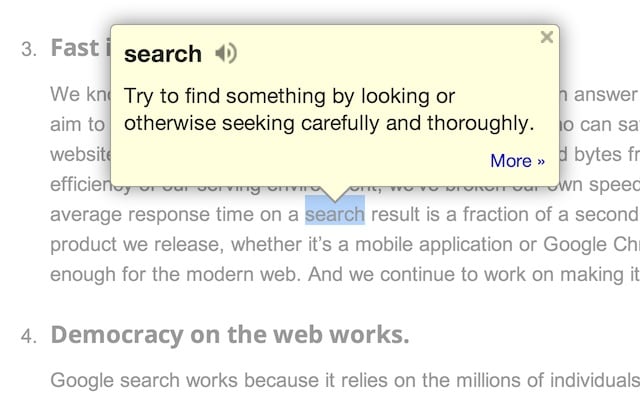 Dictionaries are important for any serious research project and having an extension that automates the looking-up process is a major time saver.This is probably the simplest Chrome extension in this article but also one of the most useful.
Panda 5 turns the new tab page into a portal of all your favourite websites.
If you constantly find yourself accessing the same bunch of websites for work, research or projects, Panda 5 makes these accessible every time you open a new tab.Once again, simple but very useful.
Save to Google Drive is a Chrome extension built by the Google Drive team itself.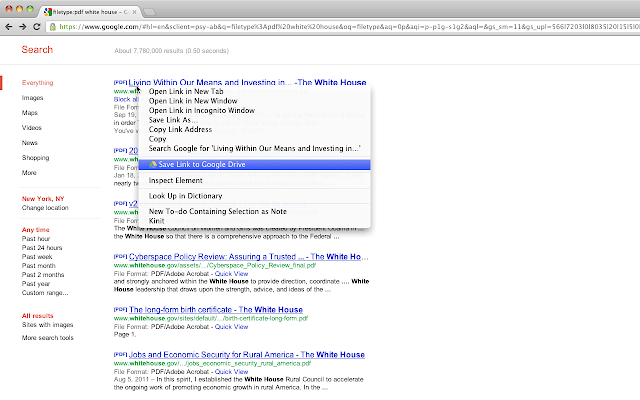 As the name suggests, this extension allows you to save web content to Google Drive with a single click. You can save documents and images, as well as HTML 5 video and audio.
Pixlr Editor is a free photo editor that opens in the browser. Essentially, it's like a simple version of Photoshop that you can use in Chrome without any native software.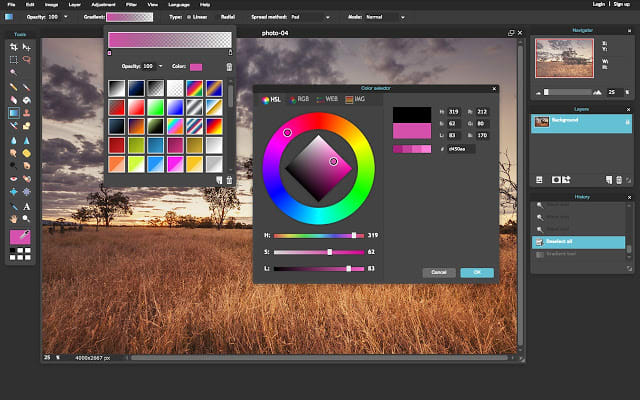 Pixlr might not match Photoshop's native desktop app in terms of functionality but it is a capable tool for most photo editing needs. Crucially, you can create and edit layers in Pixlr, which opens up a lot of possibilities for advanced photo editing.For a free, in-browser tool, I have no complaints at all.
Browse faster with these Chrome extensions
One of the biggest technical problems with the Chrome browser is that it suffers from some speed and CPU issues. I've switched browsers in the past due to this but ended up turning back to Chrome as my default browser every time.Luckily, there are a number of extensions that will help you speed up Chrome and relieve CPU stress.
The OneTab Chrome extension allows you to save all of the tabs within a browser window into a list, which you can access and reopen at a later date.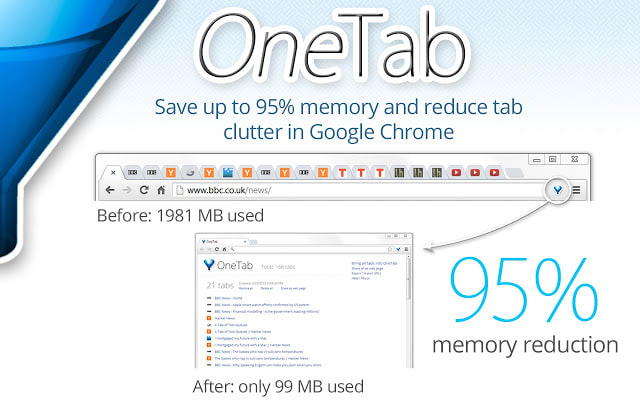 If you're anything like me, you could have dozens of Chrome tabs open at any time and this is a serious performance killer. OneTab is a great solution if you find yourself leaving a bunch of tabs open that you don't need now but you want to keep them accessible for later.
I think Adblock Plus was the first Chrome extension I ever downloaded and it was the first one re-downloaded when I came back to Chrome.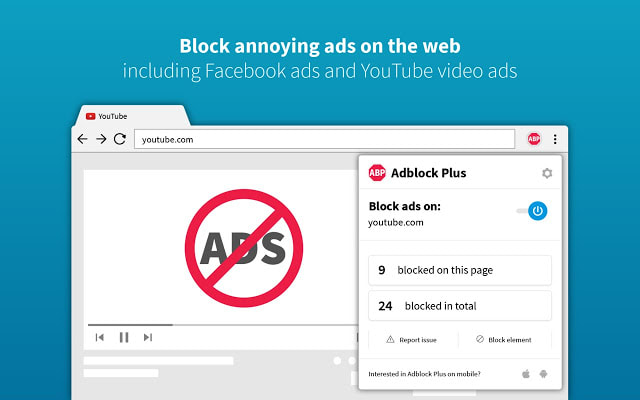 There is a genuine issue with the web in terms of how websites are able to monetise and a lack of options outside of advertising, especially for publishers.Unfortunately, though, the vast majority of ad implementations are highly intrusive and, until this changes, ad blockers are going to remain highly popular.
#27: The Great Suspender
The Great Suspender was an extension I only discovered while I was researching for this article but it has remained installed and activated ever since.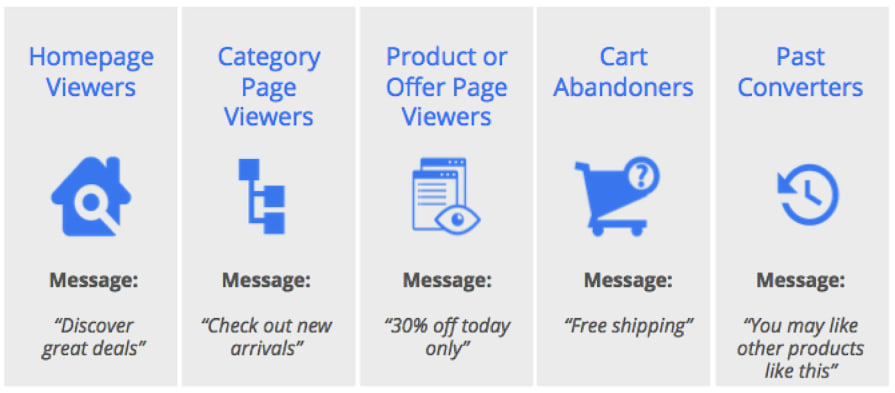 Earlier, we looked at OneTab, which allows you to save open tabs as a list and temporarily close them. Now, The Great Suspender automatically kills pages after they've been inactive for a set period and automatically reloads them once you navigate to them again (you can also turn aromatic reloading off).Chrome becomes a much faster browser and so does your computer without so much of its CPU being hogged up by active tabs.
We all know we
should
have unique and equally complex passwords every platform we sign into but who on this planet is going to remember all of these?It's not as if a notebook or online document filled with all of your passwords is any better for security.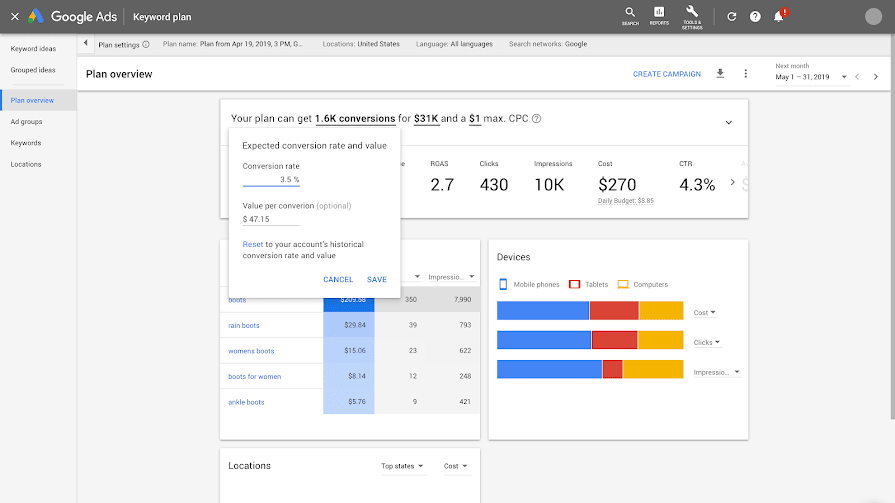 With LastPass, you don't need to remember your passwords or find a way to securely store and access them.Essentially, LastPass allows you to store all of your usernames and passwords securely and access everything with a single password via LastPass.Problem solved.
Pushbullet brings all of your messaging into Chrome so you can keep the conversations going without navigating between different apps.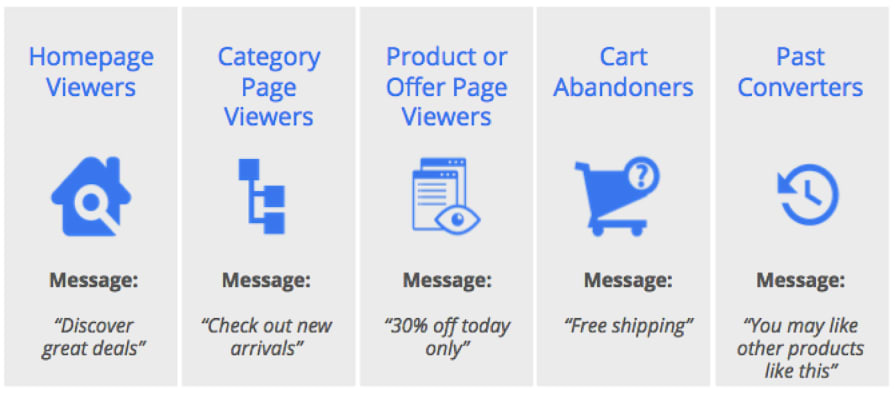 You can send and receive SMS messages from your computer and chat via popular apps like WhatsApp, Kik and Facebook Messenger.If streamlined communication is important for your workflow, then Pushbullet could be a crucial tool. For me, personally, messaging tends to get in the way of my progress but I understand this doesn't apply to everyone.
#30: Chrome Remote Desktop
Chrome Remote Desktop allows you to access other devices securely over the internet.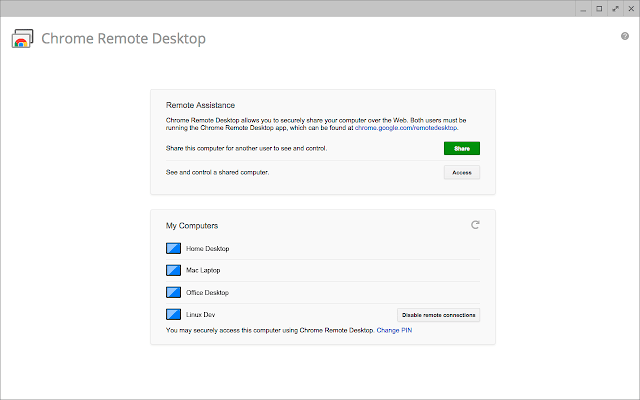 With this extension, you can access other people's devices, allowing them to access your own. This can be crucial for remote teams when you need technical support to fix a problem with your computer or help someone else who's having problems with their own.The last thing you want is these issues bringing a remote team to a standstill.
Which are your favourite Chrome extensions?
Having used all of the Chrome extensions in this article, I've currently got around half a dozen of them active in my browser right now and probably another half a dozen or so installed for use when I need them.For the ultimate productivity extension, I would have to recommend Serene because it packs so many scientifically-backed productivity features into a single tool.That being said, some of my favourite Chrome extensions are the simple ones like Pocket, Toggl Button and The Great Suspender.