In a typical 8-hour day, how many hours do you spend actually being productive? If you're anything like the average worker, it's probably a lot less than you would like to admit.
Two separate studies – one carried out by the Bureau of Labor Statistics (US) and another by VoucherCloud (UK) – both find the average worker spends just two hours and 53 minutes being productive during an 8-hour day.
Even if we round this up to three hours per day, this still means most of us are spending more than five hours per day, over 25 per week and more than 100 hours every munch underachieving.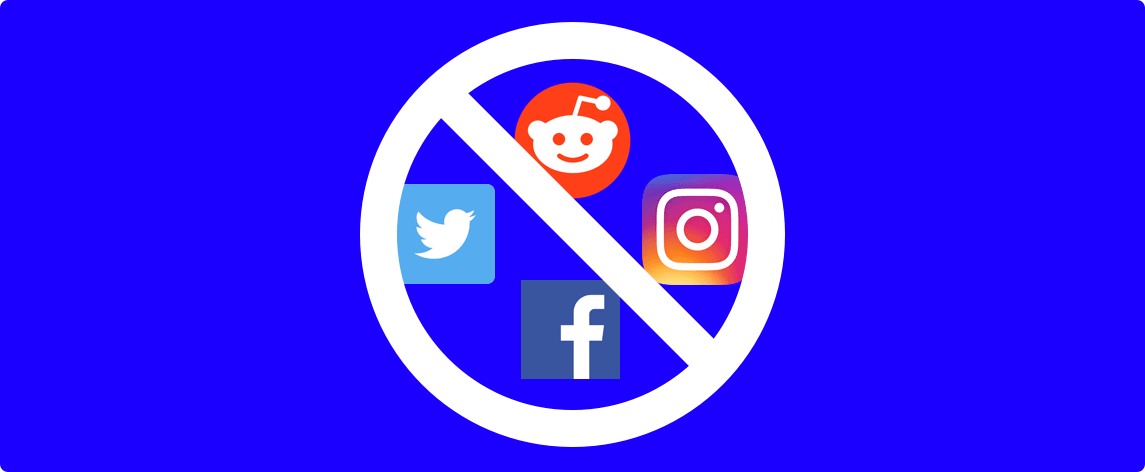 In other words, these findings suggest we're only productive for less than 37% of an 8-hour working day and there are plenty of other studies with similar conclusions.
Any entrepreneur is going to weep into their coffee at that kind of statistic and things are even worse for business owners tallying up the total amount of wasted hours between all of their employees.
Clearly, we've got a productivity problem on our hands but what's keeping us from hitting targets consistently?
What's keeping us from being productive?
This is a difficult question to answer on a personal level because – let's face it – we're good at lying to ourselves and believing what we want to believe.
A study by VoucherCloud asked 1,989 UK full-time office workers about their daily working habits and found the top ten distractions keeping them from getting things done were:
Checking social media – 47%
Reading news websites – 45%
Discussing out of work activities with colleagues – 38%
Making hot drinks – 31%
Smoking breaks – 28%
Text/instant messaging – 27%
Eating snacks – 25%
Making food in office – 24%
Making calls to partner/ friends- 24%
Searching for new jobs – 19%
What a surprise [sarcasm warning], social media is the biggest distraction (47%) and reading news websites comes in at a close second (45%). In fact, five out of the top ten workplace distractions ranked in this study involve the internet or phone apps.
So this gives us a good idea of what the average office worker might be getting up to throughout the working day and if you're running a business with office-based employees, you're looking at one of the biggest barriers to productivity.
The good news is there are various apps you can use block out these distractions and we're going to look at ten of the best of them in this article.
What are the top website & app blockers?
Below are the tools we're going to review & compare in this article.
| Tool | Platform | Price | Blocks |
| --- | --- | --- | --- |
| Serene | Mac | Free | Sites & apps |
| Freedom | iOS, Android, Mac, Windows | $2.24/mo | Sites & apps |
| Y-Productive | Mac, Windows | €6/mo | Sites & apps |
| Focus | Mac | $9.99/mo | Sites & apps |
| Zero Willpower | iOS Safari | $1.99 | Sites |
| Mindful Browsing | Chrome browser | Free | Sites |
| Cold Turkey | Mac, Windows | $25 | Sites & apps |
| StayFocused | Chrome browser | Free | Sites |
| RescueTime | iOS, Android, Mac, Windows | $9/mo | Sites |
| 1Focus | Mac | $0.99/mo | Sites & apps |
While still in private beta, Serene is a free MacOS application built by our team that helps you focus on what matters by encouraging you to set one goal a day and then break your day up into distraction-free sessions.
We built Serene because after growing tired of many of the existing tools that only solved a piece of the puzzle – we wanted something that in one click would enable us to get focused.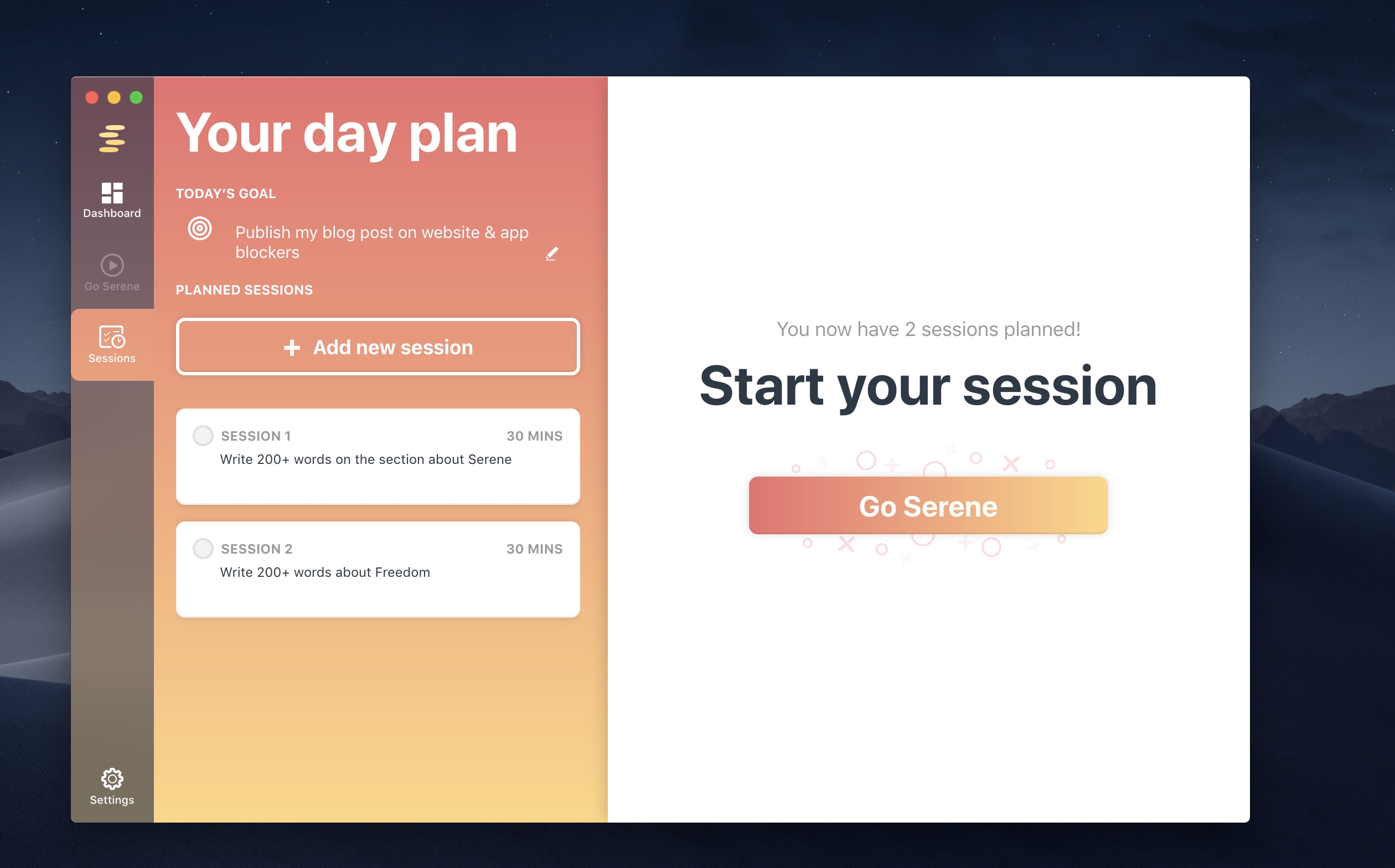 When you 'Go Serene' (start a session) a few things happen: First of all, a countdown timer appears in the Serene app, soothing focus music starts playing, and any distracting apps will be closed and blocked until your session ends.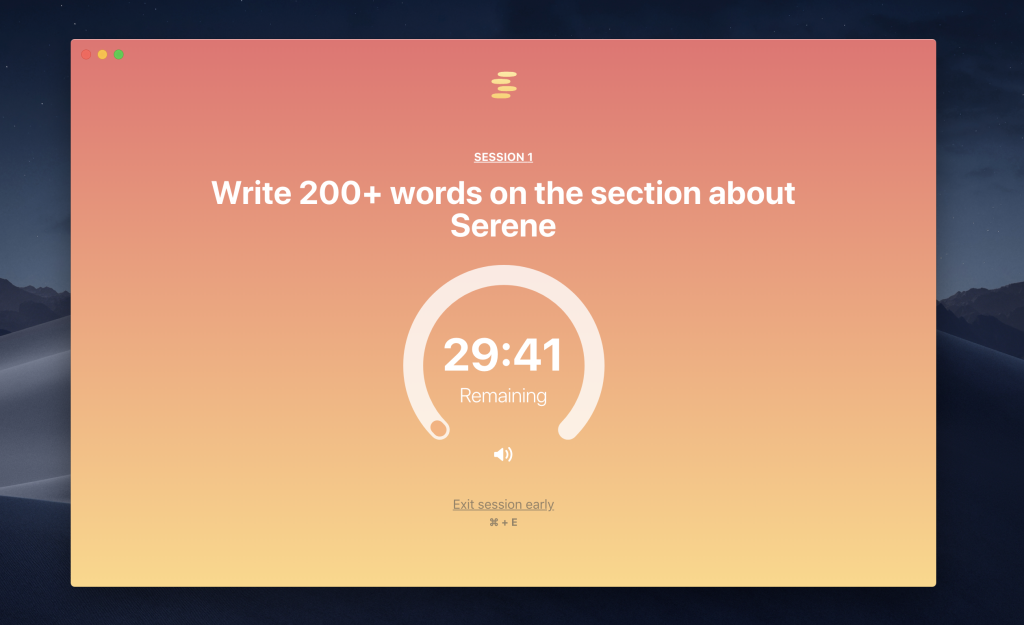 If you install the browser extension, then you will also be blocked from visiting any distracting websites on your blocklist while you're in a Serene session. As you can see from the screenshot below, Serene also gently reminds you of what you should be working on instead.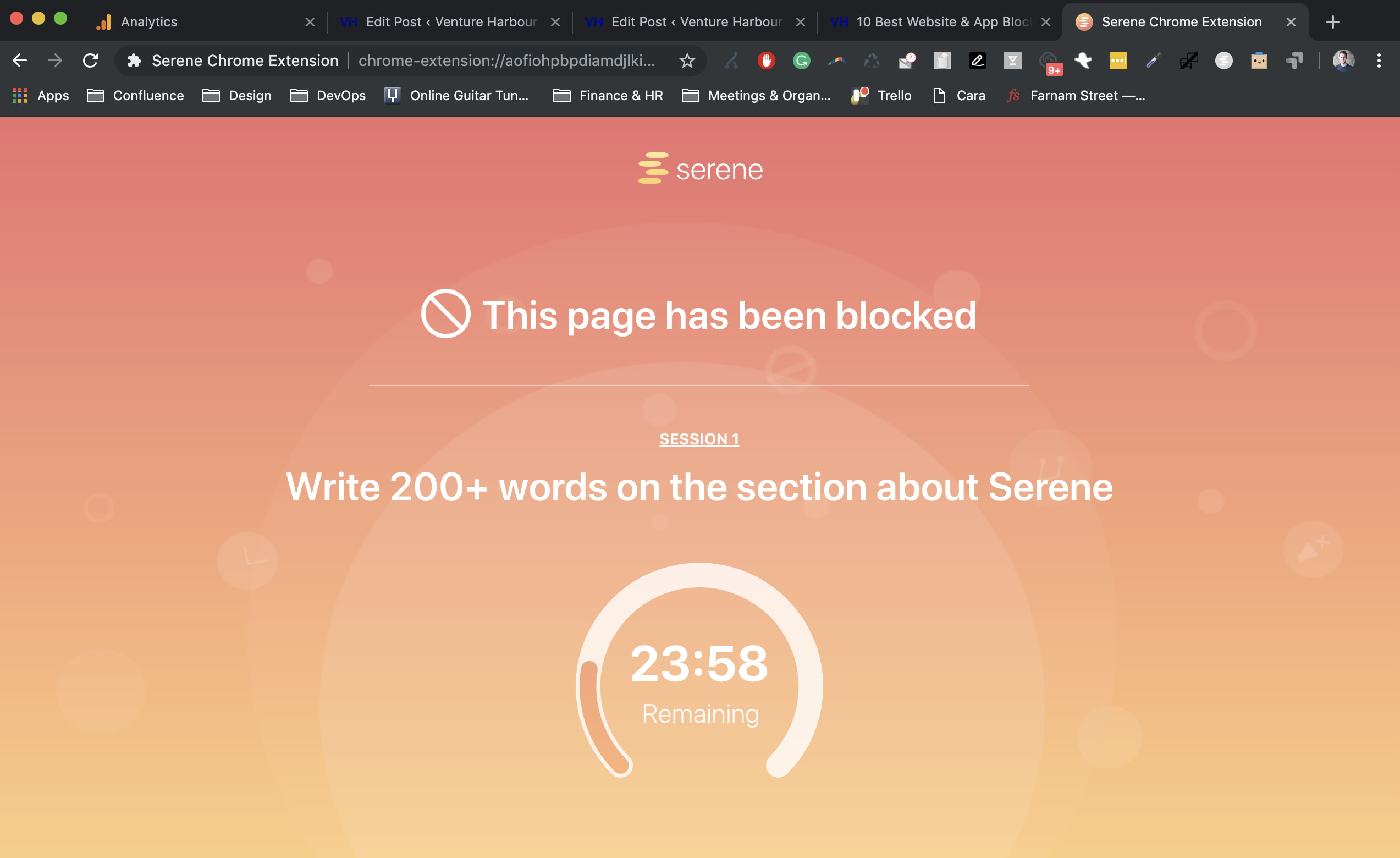 As mentioned, Serene is currently in private beta. If you're interested in trying it out – feel free to join the beta here and I'll send you a link to try it out shortly.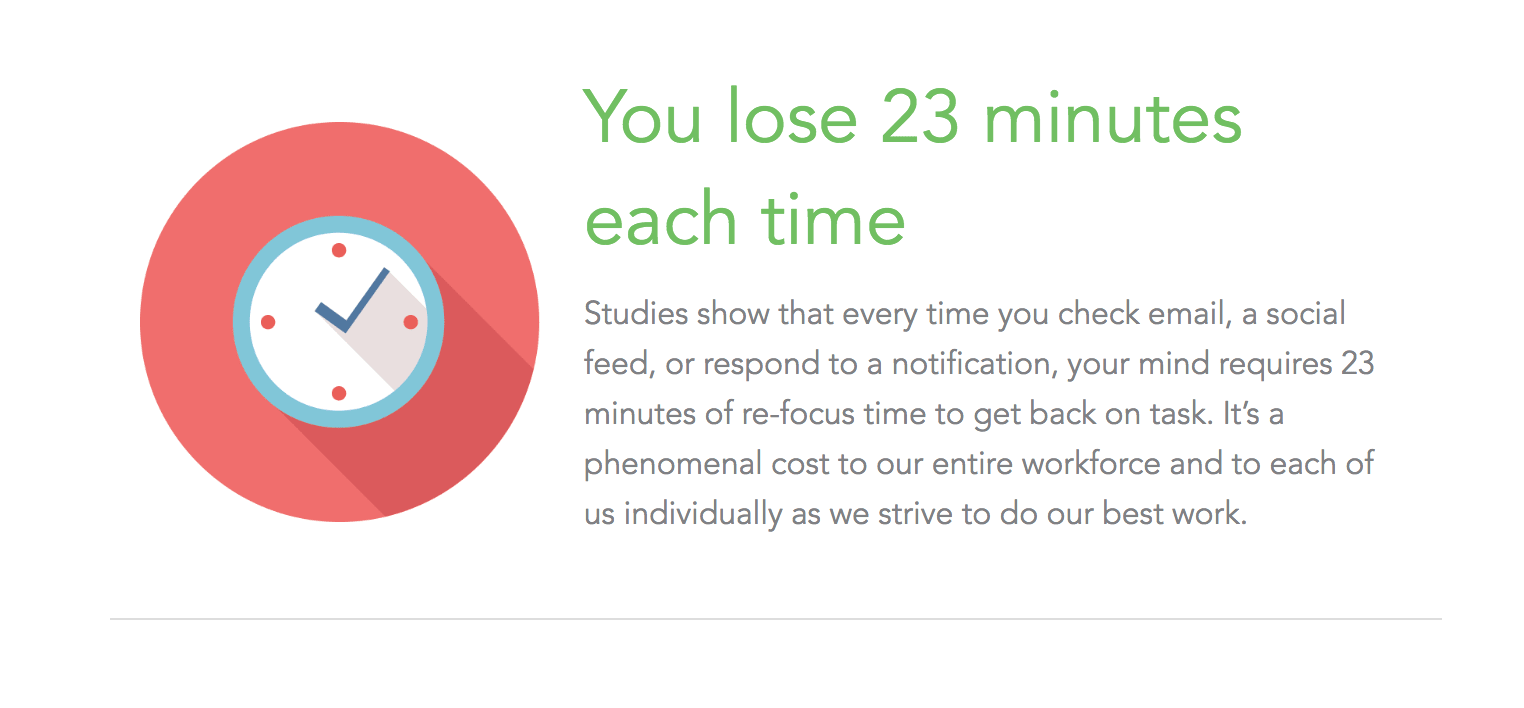 According to Freedom, you lose 23 minutes every time you check an email, open up social media, respond to a notification or any other distraction gets in the way of your workflow. That means just five emails throughout the day could end up costing you almost two hours of productivity and a 2007 study from Microsoft backs this theory up.
This is the concept behind Freedom – a productivity app that lets you block distracting websites and apps so you can keep doing what matters most.
Features:
Block websites: Block an unlimited number of distracting websites so you can focus on what matters.
Block apps: Block time-wasting apps—from email clients to social media and games.
Block the internet: Block the whole internet with the click of a button.
Blocklists: Select websites and apps from Freedom's preset lists or create an unlimited number of custom lists to suit your needs.
Sync blocks across devices: Block distractions across all of your Mac, Windows, Android, and iOS devices.
Scheduling: Start a block on the fly or schedule blocks in advance that will begin automatically. You can also create recurring blocks to help make productivity a habit.
Locked mode: Prevents you from ending a block session ahead of schedule.
Pricing: $129.00 one-off fee, $2.24-$6.99/month, free trial available
What do Freedom users say?
"They say the secret to happiness is freedom…I have found the secret to freedom is to be disciplined. The Freedom app disciplines me when I don't have the human strength to do so, allowing me the freedom to focus on what really matters when my work is done." – Maura Chanz; Actress, Artist, Entrepreneur and Founder of Tribe
"Freedom is an essential tool in my work. I use it to block myself off distracting sites like Facebook and Twitter in the morning to help me get my most important work done early in the day and to cut myself off in the evening so I have time to shut down and unwind." – Taylor Pearson, Author and Entrepreneur
You can read more customer stories over at the Freedom website.
Y-Productive isn't just a website and app blocker tool, it's a fully-featured productivity application that tracks the amount of time you actually spend working, what's keeping you from making progress and allows you to block out the distractions.
Y-Productive says we get distracted at least 40 times per day but research shows this number is actually much higher in the digital age. Y-Productive promises to help you become more productive within a few days by pinpointing your distractions and removing them from the working day.
Features:
Behaviour Analysis: Y-Productive logs your web and desktop activities as "Productive" or "Unproductive", tracks time spent on websites or apps and counts the number of your distractions.
Focus Mode: Block distracting websites with built-in automatic website blocker on Safari, Firefox or Chrome.
Activities Categorisation: Build a personal working environment that best fits your needs.
Projects: Allocate your tasks under relevant projects and get the summarized statistics of your work.
Productivity Reports: Get summarized insights covering your performance and time spent on tasks or projects by days, weeks or months.
Pricing: €59 one-off fee, €6-€7/month, free trial available
What do Y-Productive users say?

Y-Productive scores 4.5/5 from 58 reviews on Capterra and most users praise the platform's tracking, reporting and blocking features. Some users mention usability concerns but there are just as many (or more) who say the learning curve is easy or non-existent.
"It's common for us all to underestimate the time that tasks will take; Y-Productive shows actual time expended. This can be fed back into future project plans giving more realistic timeframes and costs. Y-Productive is also good for spotting areas where efficiencies can be (or should be) introduced and to ensure that sufficient time is spent on important tasks that may not be urgent." – Capterra review by Colin M, Consultant
"I used Y-Productive for a couple of days to get a first-hand experience, and I liked it. However, maybe I'm used to Timing, or indeed Y-Productive lacks some of the functionality I use every day, I felt it's not ready for me yet. Nevertheless, as I previously said, I liked what I saw, and I'm looking forward to giving it another drill once my Timing subscription ends." – Capterra review by Martiín C, DevOps Engineer | Deviget LLC
You can read more Y-Productive reviews by heading over to Capterra.com.
Focus is a Mac-only tool that blocks apps and specific URLs, meaning you can block applications, websites and even specific pages of sites. You'll also be greeted by inspirational quotes if you stray onto one of your blacklisted pages, which should give you the motivation you need to get back on track.
Alternatively, you can create your own quotes or simply tell yourself to get your lazy ass back to work before that deadline kicks you in the butt.
The drag and drop functionality makes it easy to build your block lists and the break time feature is a nice addition, too. In terms of features, Focus has got a lot going for it but I've heard some complaints about bugs and functionality.
Features:
Targeted Blocking: Block entire applications, whole websites or even specific pages.
Scheduling: Set your block lists to run at specific times and schedule breaks for when you've earned a good rest.
Progress Tracker: See how much time you've saved with your app blocker by generating custom graphs and setting new productivity targets.
Customizable Quotes: When you try to visit a blocked site or application, Focus will show you a grey screen with an inspirational quotation. Choose from Focus' extensive catalogue of motivational quotes, or set it to feature one of your own.
Break mode: Take breaks after long sessions or disable them entirely if you're going all out.
Drag & Drop: Quickly add and remove websites to Focus by dragging and dropping them onto the menubar icon.
Global hotkey: Instantly get in the zone from any application with a global hotkey you can configure (by default it's control+option+command+f).
Pricing: $9.99/month or $99.99/year
What do Focus users say?
The latest version of Focus has been reviewed 15 times on MacUpdate with a score of 3.5/5, down from its overall score of 4/5 (including reviews for previous versions).
Users are generally positive about the application but some users report performance issues.
"Just discovered this over the last few days – highly recommended. Can block websites and applications – optional hardcore mode prevents re-access. Trial version available, developer is responsive and app is under active development." – MacUpdate review by tadpole-angel
"Couldn't figure out how to set it up on a schedule. And it caused my browsers to behave erratically. When I'd try to visit a black-listed site, I'd get literally dozens of Focus tabs with the little quotes on them, instead of just turning the ONE tab I'd tried to use for Reddit into a Focus message. It might work for others, and might work better on a newer OS (I'm on El Capitan), but it was more confounding than helpful for me." – MacUpdate review by Robio
You can read more Focus reviews over at MacUpdate for more user feedback.
Zero Willpower is about as straightforward as a website blocking app could be. You're limited to Safari browser on iOS and you can't block apps but this might give you the additional blocking you need in addition to one of the tools we've looked at that only work on laptops/desktops.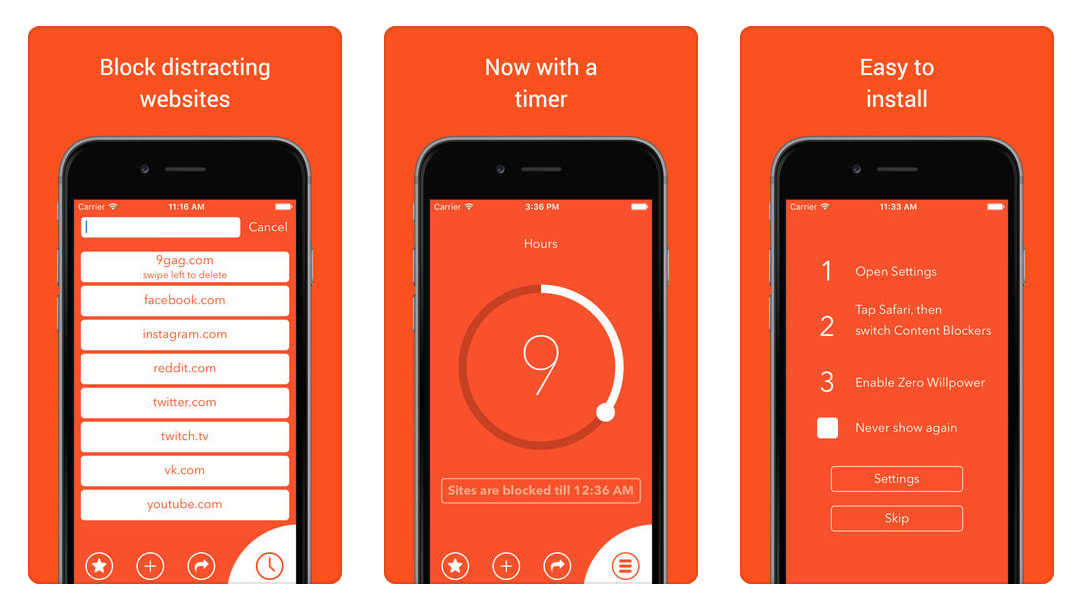 Features:
Website blocking: Block websites on iOS Safari browser.
Pricing: $1.99 one-off payment
What do Self Control users say?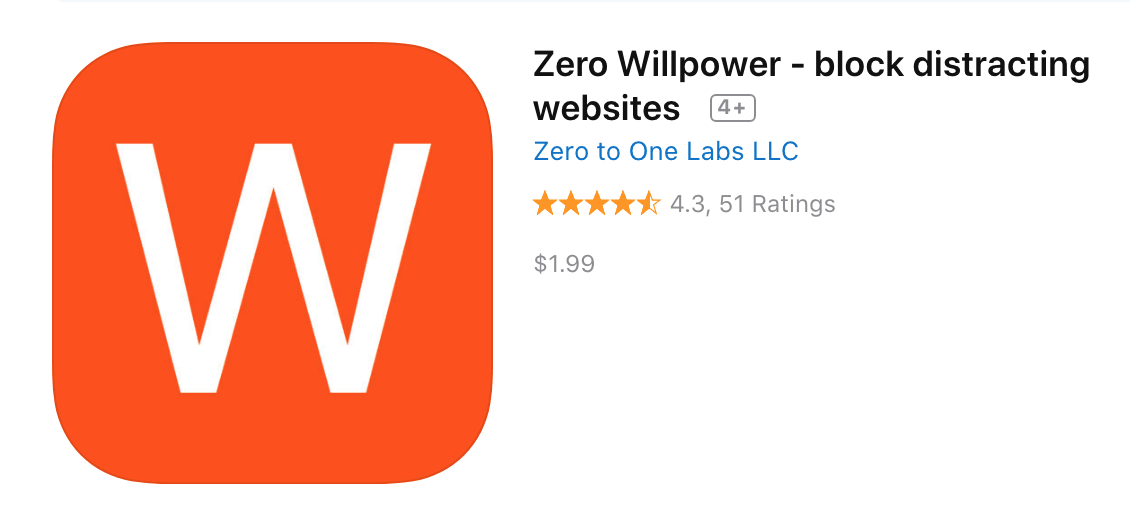 Zero Willpower has a score of 4.3/5 from 51 reviews on iTunes and most of the negativity revolves around the fact it's only available for Safari browser.
"Mmmm… a little bummed. I use Chrome on my phone and was hoping to get the website list blocked, but didn't see the disclaimer at the bottom of the app description that this app on works for Safari. It works great for Safari, so the app gets 3 stars. But, since I paid $2 for this thing, it lost stars for not blocking sites on the superior web browser app." – Ursalarose, Zero Willpower user
"Best and Unique Blocking Technique! So we know the app can block websites for 1-24 hours, which is how many other website blockers work. The genius part is that the websites stay blocked after the timer is up. The trick is that during the timer, you do not have the option to unblock websites, while after the timer, you have that option. It's amazing how many distractions you avoid by having the websites be blocked by default!" – Zero Willpower user
Mindful Browsing is a free, open-source extension for Chrome that aims to help you reign in your online activity and become more productive. It doesn't actually block you from any websites; instead, it asks if you're sure you want to proceed to the sites on your list.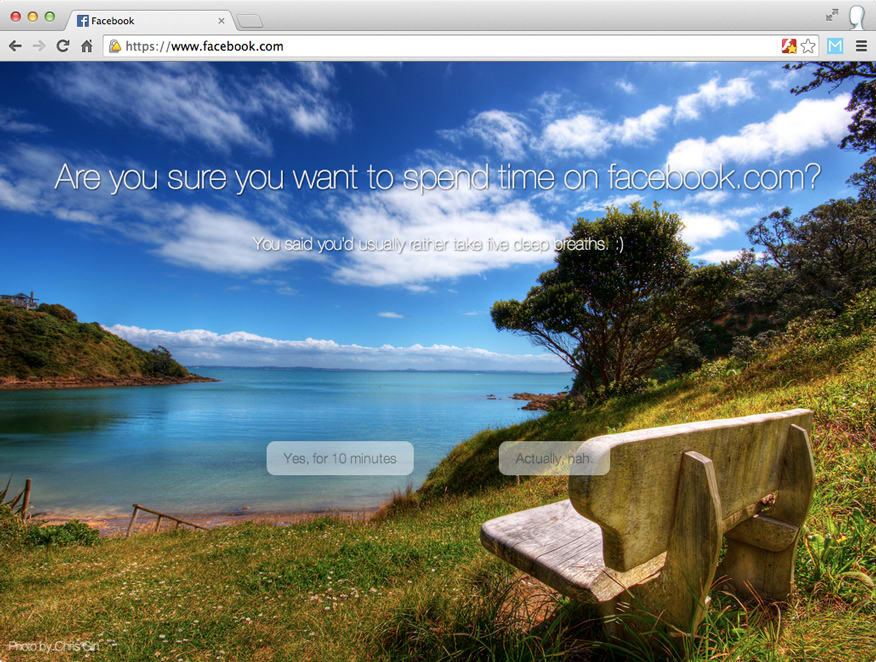 You can also create a list of activities you would rather be spending your time on and the extension will remind you about that project you're supposed to be finishing or that language you promised yourself to learn.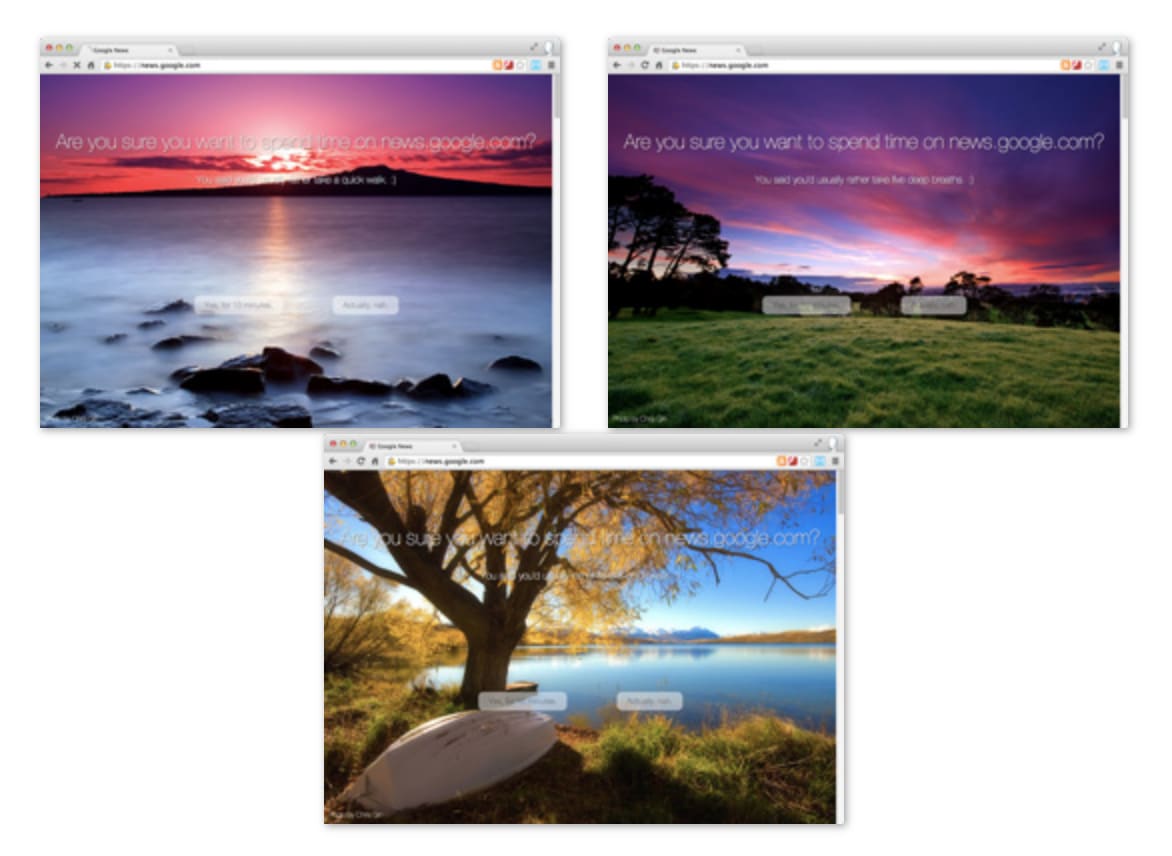 Then it's up to you to decide whether you click the "Actually, nah" button to stay away or "Yes, for 10 minutes" to proceed. If you click through to one of your listed sites, Mindful Browsing will remind you after 10 minutes that you should probably be up to something else.
It's a simple piece of software but it might give you that little dose of self-restraint you need to stay away from those time-wasting sites without blocking them out entirely.
Or not.
Features:
Website interruptions: A page asks you if you're sure you want to proceed to websites you've listed as potential time-wasters.
Reminders: Mindful Browsing will remind you after 10 minutes on listed sites that you might want to get back to the task at hand.
No tracking: Mindful Browsing doesn't track your online activity.
Open source: You have full access to the code so you can confirm you're not being tracked.
Pricing: Free
What do Mindful Browsing users say?

Mindful Browsing has a score of 4.6/5 from 29 reviews on Chome Web Store and there's a lot of praise for the extension. Users appreciate the simplicity and open-source nature of the extension although there are some feature requests – simplicity is always a tricky balance.
"does exactly as it states.. and gives you that nudge to do something else.. like take a walk or a glass of water, rather than keeping eyes glued to the screen.." – Joyce Nkambi, Mindful Browsing user
"Exactly what i was looking for! This extension reminds you to do things you love instead of browsing which only drains your happiness in the long run. So next time you'll try to go to facebook and "Like" your friends boring photos, you'll have a second chance to draw, play an instrument, learn a language or write a book." – A Google User, Mindful Browsing user
There are plenty more reviews of Mindful Browsing on its Chrome Web Store page and it costs nothing to try it out for yourself.
Cold Turkey is an affordable, feature-rich website and app blocking tool for both MacOS and Windows. For desktops and laptops, it's a great choice but you have to do without functionality on your mobile devices, which leaves a lot of room for time-wasting on your mobile instead.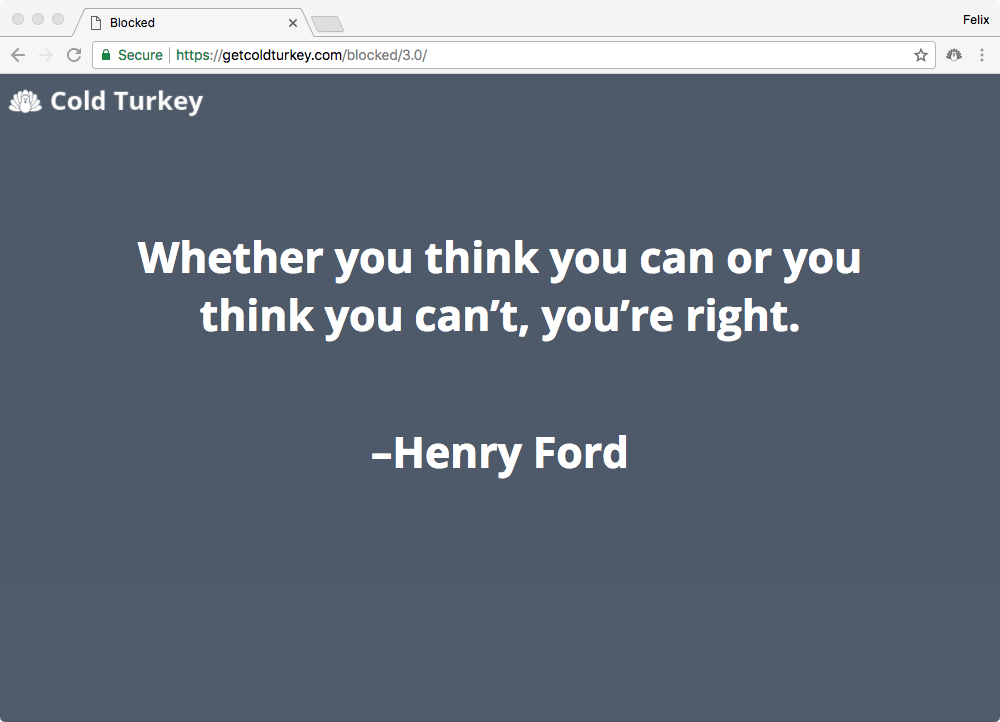 There's a free version that still allows you to block an unlimited number of websites but most of the advanced features are reserved for the paid version, which is still incredibly affordable at a one-off $CAD25 payment.
Features:
Website blocking: Unlimited website blocking on both free and paid versions.
Block applications: You can also block those applications taking your attention away from the task at hand.
Block the web: You can also block the entire internet if you want to work "offline" without killing your connection.
Whitelists: Block the entire web except for those on your list of exceptions.
Frozen Turkey: Lock your computer for a set duration for fixed breaks away from the screen.
Motivational block pages: Featuring motivational quotes to encourage you back to work.
Statistics: Keep track of your biggest time-wasters and refine your lists.
Breaks and limits: Set break times to unlock access to sites on your list or add time limits, allowing you a specified amount of time on them instead of blocking them entirely.
Pricing: Free or $CAD25 one-time payment
What do Cold Turkey users say?
Cold Turkey doesn't have review profiles on sites like Capterra or Trustpilot but you can find reviews of the platform on TechRadar, PCWorld and CISDEM – all of which are highly positive.
"Cold Turkey is the most effective distraction-blocker around, working as a firewall to deny access to specific websites in all browsers. It comes equipped with a preset list of notorious time-thieves, including Twitter, Facebook, YouTube and BuzzFeed, which you can customize with your personal procrastination destinations. Cold Turkey also lets you create new blocklists, which can be activated individually." – Cat Ellis, TechRadar
"When Cold Turkey is active, you are truly locked out of those sites: Opening a different browser (or a private session) won't help. Neither will restarting your computer or killing the ColdTurkey process (it doesn't even run in the background, so there's nothing to kill). And if you try to do something clever like tamper with the HOSTS file to disable blocking, ColdTurkey may detect that and lock you out of your distracting websites for a whole week." – Erez Zukerman, PCWorld
You can read those review in full for more info but the best way to get an idea of what Cold Turkey can do is to try out the free version for yourself.
StayFocused is a Chrome extension that offers some pretty powerful blocking capabilities for a freebie. You can't block apps and you're limited to Chrome browser but this does give you cross-device website blocking, as long as you're signed into Google Chrome and have the extension activated.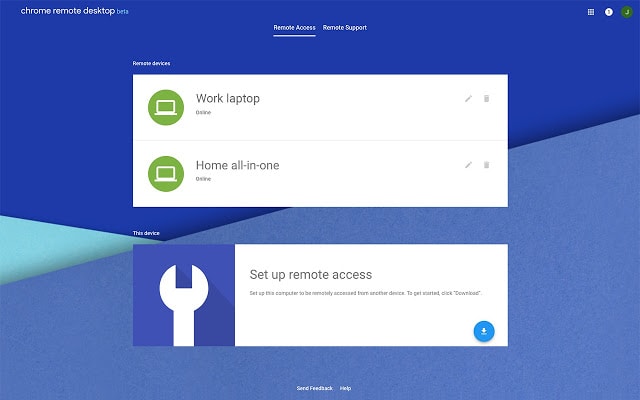 You can block the entire web, specific websites or individual pages. Alternatively, you can block the entire web and create a list of exceptions if you want to use a limited number of sites and block everything else out.
The time limit feature allows you to spend a certain amount of time on blocked sites (e.g.: 10 minutes) but you can set this to "0" to completely block out your listed sites – it all depends how strict you want to be with yourself.
Features:
Website blocking: Block the entire web, all websites except those on your exceptions list or only sites on your Blocked Sites list.
URL blocking: Block entire sites, specific types of content or pages.
Time limits: Limit the amount of time you spend on blocked sites by setting a timer.
Scheduling: Block sites instantly, after your time limits are reached or schedule a specific time.
Pricing: Free
What do StayFocused users say?

StayFocused has a score of 4.5/5 from 7,028 reviews on Chrome Web Store. Some users would like to see more features, others appreciate the relative simplicity – you'll have to decide for yourself.
"I love this extension. Dev(s) have a great sense of humor (such as redirecting you to a website on procrastination when you try to add time for yourself with less than 3 minutes on the clock LOL). I honestly rated this because it made me laugh and showed that it was different than standard productivity apps." – Tyler Baillif, StayFocused user
"I literally just installed this extension, and I love it. I'd kill to see an android version of this – most of my procrastination happens on my phone. You've probably heard this a million times before, but make it happen, pleeeeeeeease?!" – Ramya K P Shenoy, StayFocused user
There are thousands of more reviews you can read on Chrome Web Store and it costs nothing to give it a test run if you're interested.
RescueTime is essentially a productivity reporting tool mixed with a website blocking application. You can't block applications with RescueTime but you can at least see how much time you're spending on them to get an idea of what your biggest time wasters are.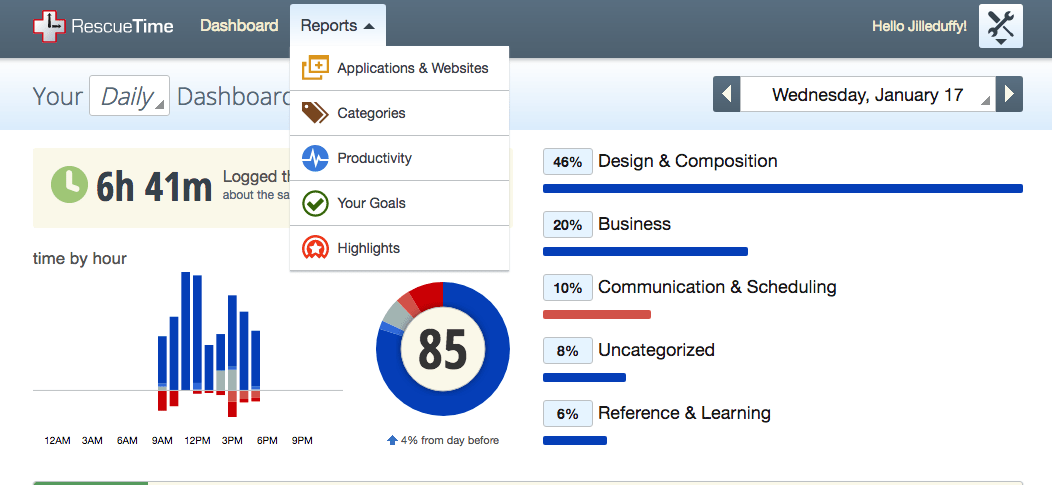 You can block websites, though, even if the functionality isn't as advanced as some of the other tools we've looked at. Really, it's the reporting features that make RescueTime stand out as a tool to help you identify productivity killers. You're still going to need a certain amount of self-restraint – especially if you're wasting too much time on apps like Slack.
Features:
Website blocking: Block distracting websites to stay focused.
Tracking: Track your time on websites and applications
Goals: Set goals such as only spending 1 hour per day on emails to help you keep on track.
Alarms: Set alarms to want you when you've spent too much time on certain sites.
Reports: Show you how much time you've spent on different websites and applications, how productive you're being and how many goals you're achieving.
Offline activity: Schedule time for offline activities so this doesn't impact your productivity score.
Pricing: Free version, $9/month or $72/year premium version
What do Find Focus users say?

RescueTime has a score of 4.5/5 from 55 reviews on Capterra and it's got an equally impressive reputation on G2Crowd, GetApp and PCWorld.
"RescueTime is a sanity saver! Being a salaried employee working remotely, it's hard to track your time when your workload is constantly heavy and changing. Tracking how long I spend on certain applications and getting rid of distractions is so easy with RescueTime. It's not expensive at all for Premium and is worth every penny!" – Capterra review by Christian M, Interface Analyst
"Quietly Working in the Background to Keep You on Track. Awesome app especially if you think you might be losing time randomly. It's a good way to show which sites or apps should really be blocked or to show how long you are actually working." – Capterra review by Verified Reviewer, Designer
1Focus makes it easy to block websites and apps on Mac device and it fits in seamlessly with the OS experience. Sadly, there's no version for iPhone at this stage, which means you don't get that cross-device functionality but it's a capable blocker all the same.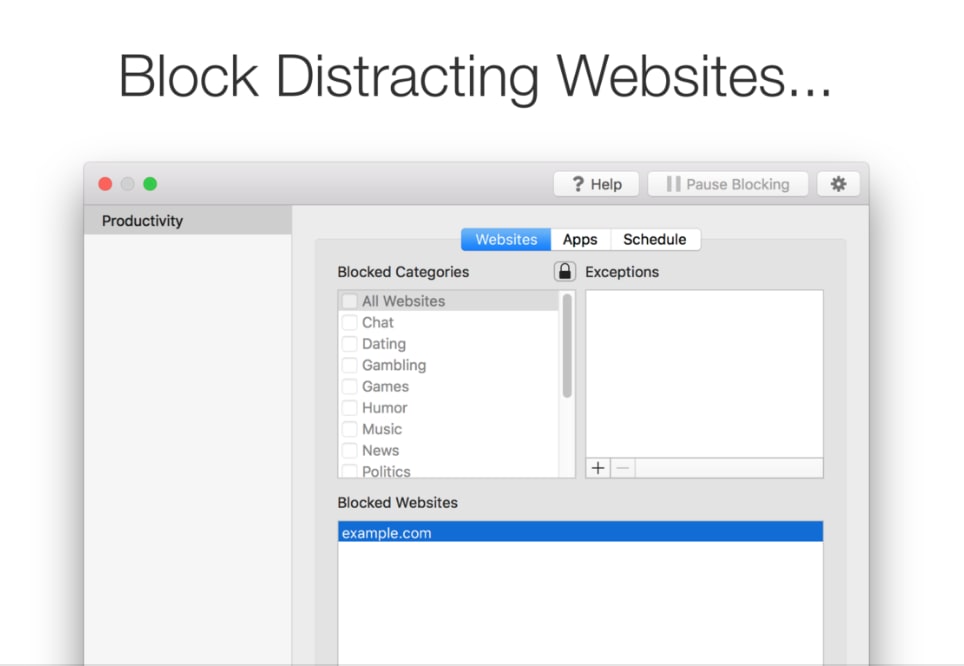 There's a free version which gets you all of the basic features and the paid version is only $0.99/month if you want the ability to block sites by category, schedule recurring blocks and/or block all sites and apps that aren't on your list of exceptions.
Features:
Website blocking: Block specific websites in Safari, Google Chrome and Opera.
Block apps: Block apps such as web browsers and games that are keeping you from working.
Time limits: Allow the use of blocked sites and apps for a limited amount of time.
Pause: Optional pause function for when you really need to use a blocked site or app.
Website categories: Block websites by category (pro version only).
Recurring blocks: Schedule recurring blocks – for example, Monday-Friday – for greater control (pro version only).
Exceptions: Block all websites and apps except for those you specify (pro version only).
Pricing: Free version, paid version $0.99/month
What do 1Focus users say?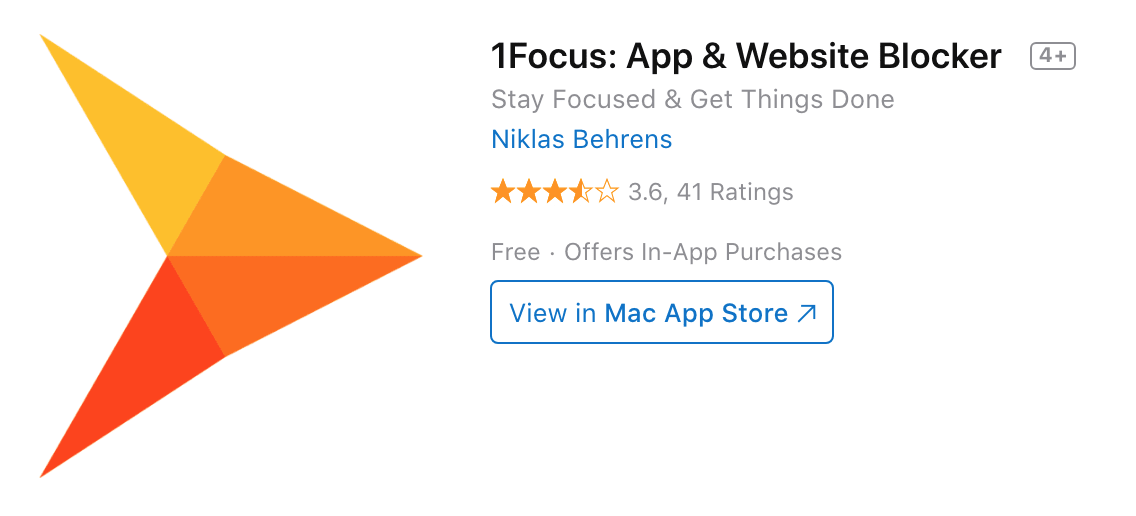 1Focus currently has a score of 3.6/5 from 41 reviews on iTunes and most of the feedback is good although some users seem to be confused about the functionality. Much of this appears to be user error, though.
"Everything I wanted and more! I have had this app since the beginning, and it has always been what I needed. Furthermore, the developer is one of the best individuals I have worked with. During one of the updates, he switched to every app was allowed except ones you chose; I wrote him asking for the original design, and he sent me the original software in an email to ensure I had the app I wanted. Talk about customer service." – Fireflyfitness, 1Focus user
"Does what it says it does. I've noticed a trend with those leaving negative reviews – they are all from people who can't seem to figure out basic concepts and simple software. This app is about as straight forward and easy to use as it gets, and does exactly what it says it does. It's beautiful. It's super light weight. And I like how when it blocks a website, it'll take you to a page with a motivational quote of some kind about perseverance – which I thought was pretty cool. I'm currently working to finish my bachelor's degree and this is the only thing that has actually helped me stay motivated and on task." – Widemind, 1Focus user
You'll find more feedback on iTunes and you can try the free version of 1Focus to see how you get on with the app yourself.
How productive can you really be?
We've looked at tools that can block sites and apps across all of your devices and some that only work for desktop or mobile – both free and paid for every kind of budget. It might take some time to best tool/mix of tools for your workflow and preferences but I'm sure you can become a more productive person by trying out the apps in this article.
The only question remaining is how productive can you really be when all of the distractions are blocked out?