Email marketing is the most profitable channel for eCommerce brands. According to Omnisend, email marketing generates an average of $40 for every $1 spent – an impressive 3,900% ROI. That's almost twice as much as SEO ($22.24), which is the second-most profitable digital channel for online stores.
But eCommerce email marketing involves a lot of work. To achieve the kind of ROI email marketing is capable of, you need the right tools to maximise returns while minimising the manual workload involved.
Whether you've just launched your online store or are looking to maximise growth through email marketing, we'll help you find the right tool for you.
What are the best email marketing options for eCommerce?
At Venture Harbour, we objectively review and test hundreds of email marketing tools as part of our annual review of the best email platforms.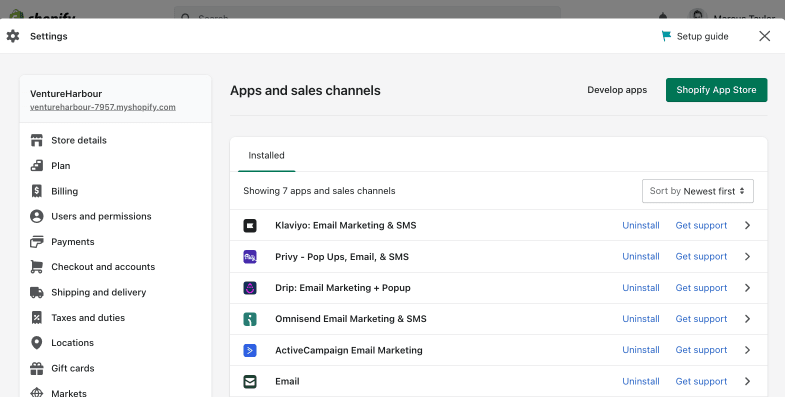 As an eCommerce brand, your list of options quickly narrows down to five email marketing tools that have deep integrations with the main eCommerce platforms like Shopify, Magento, BigCommerce, WooCommerce, etc.
Based on our extensive analysis, the five email marketing systems that provide the key features eCommerce brands need:
These all have deep eCommerce integrations and specialist features for campaigns like cart abandonment and product recommendations.
Who needs eCommerce email marketing software?
If you're using an eCommerce platform like Shopify or WooCommerce, you should get some basic email marketing features included. For example, Shopify has its own Shopify Email app and WooCommerce includes a simple email system, which you can enhance with extensions.
How good is the Shopify Email app?
The Shopify Email app is fine for new eCommerce businesses just starting out. It allows you to create email campaigns visually and segment email lists to target specific audiences. The segmentation features are pretty powerful but the app is lacking in terms of automation features and A/B testing.
The email templates are pretty uninspiring, too, and the email builder is quite glitchy.
What we like:
One-click automation templates – Because there's no need to set up integrations, you can 'turn on' automation workflows without any backend setup. Any sales driven by email marketing are automatically attributed to the correct emails or automations. While other tools make this setup easy, it does feel like magic having this all working without any additional work.
Segmentation – Shopify allows you to build segments by building logic-based queries. While this won't be everyone's cup of tea, it's extremely powerful and makes building highly-targeted audiences very easy.
Where they could improve:
More automation templates – Shopify offers six automation templates. Six! That's 494 less than the next tool on our list.
Email template designs – The Shopify email templates feel like they've been put together as an afterthought, and lack the design finesse of those offered by the other five tools.
No A/B testing – Perhaps the biggest giveaway that Shopify's email offering is a bit of an afterthought is the lack of one of the most important features for optimising email campaigns.
It's glitchy – The email designer can get glitchy with parts of the page jumping off the screen as you type and sometimes needing to refresh the page to unstick the editor.
How good is WooCommerce for email marketing?
As standard, WooCommerce comes with a basic email system that you can access in the back end of WordPress. You'll find it under WooCommerce > Settings > Emails.
You can create and send basic emails to customers and use triggers to automatically send emails at key events: purchases, cart abandonment, etc. You can also select customers and send emails to groups but you don't get any real segmenting features.
This means you basically have to do everything manually.
Thankfully, you can add more functionality to WooCommerce's email system with extensions. The AutomateWoo extension is a good place to start, costing $99 per year, which works out at $8.25 per month. It's good value at this price point but it still lacks the advanced features of the tools we're looking at in this article.
What we like:
Triggers – You can set triggers to automatically send eCommerce emails to customers.
WooCommerce extensions – You can enhance WooCommerce's default email system with extensions (at a cost).
Where they could improve:
Features – Even with extensions like AutomateWoo, you're not getting a complete email marketing system.
Automation – A lack of automation features requires you put a lot of manual work into email marketing.
No A/B testing – You're not getting any analytics or testing features to optimise your campaigns.
WordPress interface – Managing emails in WordPress' dated back-end system is a pain.
The built-in email systems on platforms like Shopify and WooCommerce are fine for the newest eCommerce companies. However, if you want to generate real ROI from email marketing, you need a more advanced system. Above all, you want a platform that helps you create campaigns quickly and run them automatically across the whole customer cycle.
Otherwise, you'll simply never find the time to manage a complete email marketing strategy.
Now, let's take a look at our first eCommerce email marketing tool.
ActiveCampaign ranks #1 in our annual email marketing platform review. It's also the top-rated marketing automation tool on G2 with an average score of 4.6/5 from 9,799 customer reviews. It's a similar story on Capterra with an average score of 4.6/5 from a smaller collection of 2,100 reviews.
In other words, this is one of the most reputable email marketing systems currently available.
Crucially, ActiveCampaign's platform is built around its customer relationship management (CRM) system. This is where you store all of your customer data. You can build in-depth profiles of contacts and use this information to power your email marketing campaigns.
For example, you can create campaigns for contacts that spend above a certain amount every year. Alternatively, you can target customers who usually spend a lot but haven't made a purchase in a while. Taking this even further, you can personalise email campaigns based on customers' purchase habits, frequency, and any other data point you have stored in the CRM.
ActiveCampaign turns customer data into your most profitable asset.
ActiveCampaign is one of the most powerful marketing automation systems available. You create advanced automation workflows using multiple triggers, conditional logic and personalisation to deliver relevant messages at every step of the customer journey.
You don't need to create all of the workflows yourself, though. ActiveCampaign comes with an extensive library of automation workflows that you can use and edit to suit your own needs.
The drag-and-drop automation builder makes it easy to visually create workflows and edit templates from the library. We're yet to find another email marketing platform that gives you this much freedom to automate campaigns to almost every customer action imaginable.
Pricing
ActiveCampaign plans start from $29/month but you need to sign up for the Plus plan to start accessing its best eCommerce features. For the Plus plan, pricing starts at $49/month for up to 1,000 contacts. Pricing is determined by the number of contacts in the CRM and you can find more information on ActiveCampaign's pricing page.
What we like:
Easy to use – ActiveCampaign is easy to learn for new users with minimal training, thanks to excellent usability and UX design.
Email automation – You can automate advanced email campaigns across the whole customer journey using conditional logic, predictive content, intelligent insights, customer scores and plenty more features.
Reasonable cost – While not the cheapest system we're looking at today, ActiveCampaign is one the most advanced and significantly better for money than comparable email marketing platforms.
Where they could improve:
Reporting – ActiveCampaign has improved this aspect of its system over the years but the other tools in this article still do a better job of visualising reports for email campaign performance.
Who should use ActiveCampaign?
ActiveCampaign is the best eCommerce email marketing tool if you want to maximise ROI. If you're serious about email marketing and you want to achieve the biggest results with minimal input, this is the platform for you.
ActiveCampaign's powerful automation technology allows you to run entire campaigns on autopilot. Many email marketing platforms help you automate campaigns around single triggers or a basic set of combinations. However, ActiveCampaign gives you complete freedom to automate campaigns on almost any combination of trigger and target contacts on any data point.
You can get started with a free trial of ActiveCampaign using the form below.
Omnisend is the first email marketing platform we're looking at that's designed specifically for eCommerce companies. The key benefit of this is every aspect of the platform is designed for online stores. In this regard, the biggest advantage over ActiveCampaign is Omnisend's reporting features.
Without needing to set anything up, you get eCommerce-focused reporting that's ready to use from day one. This includes deliverability insights, showing how many of your emails make it into customers' inboxes. Deliverability is such an important metric for email marketers that it's frustrating more platforms don't provide these insights.
Aside from deliverability, you can also view interaction metrics to track open rates, engagement, CTRs and conversions – all from the same dashboard.
Omnisend is a pretty good system for email automation, too, although it's no match for ActiveCampaign (few tools are). Even still, Omnisend includes a library of workflow templates covering the most common eCommerce interactions. As a result, it's fast and easy to set up automation for cart abandonment, purchase confirmations, order status updates and other interactions.
You can't automate full campaigns like can with ActiveCampaign or personalise messages to the same extent.
If you try out both tools, you get a sense of how capable they are from their automation builders. ActiveCampaign allows you to create significantly more complex automation with multiple triggers, conditions and variables. With Omnisend, you're going to create more basic automation but its relatively simple builder will help you do the basics faster.
If you want the most powerful eCommerce email marketing system, ActiveCampaign is the clear winner. However, if you want a slightly simpler system that helps you cover most of the customer cycle as quickly and easily as possible, Omnisend makes a strong case for itself.
Pricing
Omnissend's free plan is one of the most generous currently available for eCommerce companies. It covers you for up to 250 contacts and allows you to send up to 500 emails per month. You can also send up to 500 web push notifications and 60 SMS messages to contacts.
You get access to most of Omnisend's features on the free plan, too.
If you can deal with these limitations, you're getting an impressively powerful multichannel system for free. Obviously, you'll need to upgrade to a paid plan once you exceed these limitations but you'll be ready to invest in more growth by this stage.
The Standard plan starts from $16/month for 251-500 contacts and the Pro plan from $59/month – also for 251-500 contacts. Pricing increases in increments of 500 contacts with the Standard plan jumping up to $20/month for 501-1,000 contacts, $25/month for 1,001-1,500 contacts and so on.
You can see how much Omnisend will cost you for different contact list sizes on the company's pricing page.
What we like:
Reporting – You get eCommerce focused reporting that's ready to use from day one.
Deliverability – Omnisend offers a range of features to maintain high deliverability, including email warm-up (sending emails gradually to improve your sender reputation) and insightful reports to monitor your deliverability and reputation.
eCommerce content blocks – Omnisend offers lots of content blocks to integrate products and discounts directly into your email campaigns. Their form templates also include a range of creative ways to engage visitors – such as with a wheel of fortune.
Where they could improve:
A/B testing limitations – While you can add splits in automation sequences, we weren't able to set a goal to run effective A/B tests within an automation sequence.
Templates – The templates are visually underwhelming.
The campaign builder – Performance is a little sluggish compared to the other tools we've tested.
Who should use Omnisend?
Omnisend is great for new and small eCommerce companies looking for a free or affordable email marketing system. It's also great for companies with larger email lists, too. Once you get into the more expensive Omnisend plans, it starts to offer great value for money.
In fact, it offers better value for money than both ActiveCampaign and Klaviyo (the next system we're looking at) for equivalent list sizes
The downside is that Omnisend can't match ActiveCampaign's most advanced email marketing and automation features. Once you've automated everything you can with Omnisend, it's difficult to increase your email marketing ROI with your existing resources. Let's be clear, this is still one of the best email marketing systems available but ActiveCampaign's automation features will take you further.
Klaviyo was one of the first companies to provide an email marketing system specifically for eCommerce companies. Like Omnisend, the focus on eCommerce can make it easier to set up basic campaigns faster. Likewise, Klaviyo also does an excellent job with reporting – in fact, it does even better than Omnisend.
The platform uses predictive analytics to forecast revenue predictions. It also sets benchmarks for you to target, based on the performance of your eCommerce rivals. These provide meaningful targets for you to hit with your email marketing campaigns and make it easier to attribute revenue to them.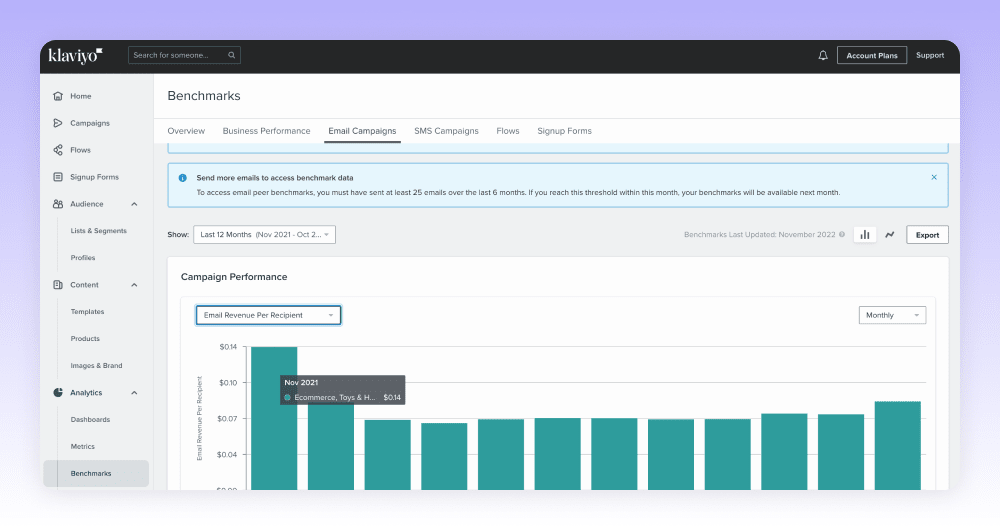 Klaviyo's campaign builder is more intuitive than Omnisend's, too. In terms of UX design, both builders are similarly impressive but Klaviyo's provides smoother performance. The email templates are designed to an even higher standard, too.
The thing is, Onmisend would win this comparison against most competitors but Klaviyo really excels here. If an intuitive email builder and quality templates are priorities for you, Klaviyo will win a lot of bonus points.
At the same time, it loses some points when it comes to automating campaigns. Overall, Klaviyo comes pretty close to Omnisend, allowing you to automate the most common eCommerce interactions. However, its automation templates are a little simplistic and it certainly can't compete with ActiveCampaign.
Pricing
Klaviyo also offers a free plan for up to 250 contacts and 500 emails per month. It also allows you to send up to 150 SMS messages per month, far more than the 60 messages Omnisend's free plan gives you.
That being said, unlike Omnisend, Klaviyo doesn't support web push notifications at all.
Also, keep in mind that Klaviyo is more expensive than both Omnisend and ActiveCampaign for comparable list sizes. This is the biggest drawback with Klaviyo's paid plans, especially if you're also considering Omnisend.
In fairness, Klaviyo offers the more usable system and its reporting features are a real step up from both Omnisend and ActiveCampaign.
It all comes down to how much you're willing to pay for these. If you're comparing this platform with Omnisend, Klaviyo makes a stronger case for itself. However, if you're weighing it up against ActiveCampaign, it's more difficult to recommend Klaviyo when, overall, you're getting more from ActiveCampaign at a lower price point.
What we like:
Email templates – These are some of the best eCommerce email templates we've seen.
Benchmarks – Klaviyo sets tangible targets for you to hit, based on the performance of similar eCommerce companies.
Predictive forecasts – Intelligent insights model when a customer is likely to buy from you, or how much you're likely to make in a future month enabling you to better allocate your time and budget.
Where they could improve:
It's expensive – Klaviyo brings some powerful features to the table but you have to for the privilege.
Automation – The range of automation actions are simplistic and lacking sophisticated automation actions such as split testing paths.
Email campaign editor – A tad basic and it offers only one eCommerce-specific content block (a list of products from a product feed).
Who should use Klaviyo?
Klaviyo is best for larger eCommerce companies that will benefit the most from its predictive insights. At the same time, it could be a solid option for high-turnover retailers with smaller teams. If you don't have in-house design expertise, Klaviyo's campaign builder and templates could save you from hiring external designers.
Drip specialises in eCommerce email marketing and lead generation with email capture forms and popups. In many ways, it's the simplest platform featured in this article so far but this may benefit newer and smaller eCommerce companies.
If you want a platform that will help you do the basics as quickly as possible, Drip could be ideal.
The campaign editor helps you create emails, web forms and popup designs from a single tool. You can use and edit Drip's templates to create campaigns faster or build your own from scratch.
The editor is quite basic but the templates are pretty good and Drip has kept them updated over the years. This means you can create basic campaigns remarkably quickly, even if you don't have much experience with email marketing.
Drip's simplicity may be limiting for larger or more experienced eCommerce companies but the platform provides an excellent option for newcomers.
As expected, the biggest limitations reveal themselves once you start to automate campaigns. Again, the automation builder is pretty basic and you can only select from a limited number of actions. The platform includes 20 basic automation templates but many of these are duplicates for different eCommerce platforms.
For example, there are five templates for Shopify websites and the same five are available for WooCommerce. You can build your own workflows using the editor tool but, again, you're limited to what you can automate.
If automation is a priority, you'll probably want to look eslewhere.
Pricing
Drip runs a simple pricing model with one plan, starting from $39/month for up to 2,500 contacts. This increases to $49/month for up to 3,000 contacts, $69/month for up to 3,500 contacts and so on.
You can send unlimited emails every month and you get access to all of the platform's features. The simple pricing model means you don't have to worry about feature restrictions or upgrades – you only pay more for larger contact lists.
You can find out how much Drip will cost for your current email list on its interactive pricing page.
What we like:
Simplicity – Everything about Drip is simple, possibly too simple for larger or experienced eCommerce users, but a great option for newcomers.
Where they could improve:
Templates – While the templates included are quality, we would like to see more of them and more eCommerce-specific options.
Campaign builder – The workflow UX could improve with drag-and-drop editing and enhanced functionality.
Content blocks – More eCommerce content blocks in the email campaign builder.
Who should use Drip?
Drip is most suitable for new and small eCommerce websites. If you want a simple, affordable system that makes the basics as easy as possible, Drip is definitely worth trying. Likewise, if you're new to email marketing and you want an easy entry point, this will get you off to a good start.
Just keep in mind that limited automation means you'll only drive so much growth. The good news is that, if you do outgrow Drip, it'll happen at a point where it's still easy to switch to another system. You won't be tied down by thousands of automation workflows or segmented lists that are a nightmare to migrate.
Privy isn't a complete email marketing system in the same vein as the other tools we've looked at today. The product first launched as a conversion tool for capturing leads with popups, banners and coupons. However, the company has expanded its product over the years to include more email marketing features.
Now, it just about makes a case for being a standalone email marketing tool for the newest and smallest eCommerce stores.
That being said, most companies will be better off using Privy alongside a more comprehensive email marketing system. In fact, the company itself recommends doing this. So we suggest using Privy as an extension of your email marketing system for capturing more leads and building bigger email lists.
In terms of email marketing features, Privy now includes an email builder and its own library of templates. The templates aren't particularly inspiring but perfectly usable for basic campaigns. The email builder isn't too sophisticated, either, so you probably won't be winning any awards for campaign design.
Realistically, Privy's builder and templates are only an upgrade if you're coming from the built-in email features of WooCommerce. Even the Shopify Email app gives you a better builder and audience segmentation than Privy.
However, Privy's strengths lie in its conversion and email capture tools (popups, banners and coupons).
Unsurprisingly, automation isn't much of a strong point with Privy, either. There's no automation builder at all and, instead of true workflows, the platform's version of "automations" are simply autoresponders.
In most regards, this is the weakest email marketing system we've looked at today. However, Privy is an excellent tool for building email lists and you can't do anything in email marketing without contacts on your list.
It's particularly effective for new and smaller eCommerce companies looking to capture their first email leads. For obvious reasons, these are the companies least likely to need advanced email marketing features.
Pricing
Privy offers a free plan for up to 100 email contacts – ideal for building your first email list. You get full access to the platform's popup features on this plan but you don't get any of its email marketing features. This is no loss on a free plan designed for companies building their first list of contacts, though.
Pricing for the Starter Plan starts from $30/month for up to 1,500 contacts. You can send unlimited emails on this plan and you also get full access to Privy's email marketing features.
The Growth Plan starts from $45/month for up to 2,000 email contacts and 75 SMS contacts.
You can visit Privy's pricing page to find out how much it will cost you for your current list.
What we like:
Conversion tools – Pre-built popup templates improve conversion rates for key eCommerce actions (cart abandonment, cross-selling, etc.).
Reporting – Privy tracks the revenue generated from each campaign or popup built in the platform.
Where they could improve:
The overall email marketing offering – Privy isn't far from being a full eCommerce marketing platform but it's let down by a basic email and automation platform.
Template designs – They're visually lacking and require external design support.
Lack of automation templates – While Privy doesn't offer workflow-style automations, the lack of templates means you have to build from scratch.
Who should use Privy?
Privy is best for new eCommerce businesses building their first email marketing list. The platform's conversion tools will help you capture email leads, build your first list and convert more website visitors into customers.
Once you've got your first email marketing list, you've got a decision to make. You can either try out Privy's email marketing features to see how much of an impact you make. Or, you can integrate it with a more complete email marketing system and use Privy to grow your contact list.
Choosing the right email marketing tool for your eCommerce store
Choosing an email marketing system is always a commitment. Selecting the right platform for your needs depends on multiple factors. You have to consider your budget, email marketing goals and the growth stage of your business. If you're a relatively new eCommerce business, don't be afraid to try out different systems early on, though.
It's easier to change systems early in the growth journey than it is once you've got a more sophisticated email marketing strategy. As a newer or smaller company, you'll need to change systems at some point anyway.
For larger or growing eCommerce companies, it's a question of finding a system that will keep driving growth and increasing ROI.
Compare pricing
| Tool | Monthly price for 2,500 contacts | Monthly price for 10,000 contacts | Monthly price for 100,000 contacts |
| --- | --- | --- | --- |
| ActiveCampaign | $49 | $139 | $559 |
| Omnisend | $35 | $115 | $720 |
| Klaviyo | $60 | $150 | $1,380 |
| Drip | $39 | $154 | $1,199 |
| Privy | $45 | $150 | $780 |
Our verdict
For new and small eCommerce companies, we recommend starting out with a simple, affordable solution like Drip or Privi's free plan – or both. These will help you build a list of contacts and get your email marketing strategy off the ground. By the time you outgrow this setup, you'll be ready to upgrade to a more capable system and your email marketing strategy won't be advanced enough to make the upgrade painful.
Once you're ready to get more serious with email marketing, we recommend moving over to something like ActiveCampaign or Omnisend. Omnisend is the more affordable option but it's also less capable with marketing automation so you'll outgrow the platform faster.
Keep in mind that upgrading from Omnisend to ActiveCampaign will be more challenging. So, if you want to invest in an email marketing system for life, ActiveCampaign is probably worth the extra initial cost.
FAQ
Is email marketing good for eCommerce?
Yes. Email marketing is the highest-RIO channel for eCommerce companies. The problem is, email marketing involves a lot of work so eCommerce companies need an email marketing platform capable of automating as much of their strategy as possible.
What is the best email marketing platform for eCommerce?
ActiveCampaign is the best overall email marketing platform for eCommerce companies. Its advanced marketing automation system can run full campaigns on autopilot, allowing you to run high-volume strategies without the manual workload.
What are the main types of email marketing for eCommerce?
For eCommerce companies, the most important email marketing strategies include: transactional emails, cart abandonment, cross-selling and customer retention. However, a complete email marketing strategy incorporated a much wider combination of campaign types, powered by data insights, testing and personalisation.