Marketing tools are designed to help your business grow by making your strategies more effective and easier to execute. They're an investment and the basic principle of any growth tool is that it should empower you to earn more profit than you spend on using it.
As long as you're getting enough ROI from your marketing tools, they're paying for themselves.
The problem for smaller businesses, startups and bootstrap ventures is that you don't always have the budget required to make the initial investment. Without the available funds, you can't get the tools you need to hit your growth targets.
Luckily, there are plenty of free marketing tools that can give you the initial leg up – as long as you know where to find them. In this article, we look at 30+ of the best free marketing tools around, which will help you get wheels in motion and start building up enough budget to invest in more serious growth platforms.
What tools are we looking at in this list?
If you type something like "best free marketing tools" into Google, most of the articles you'll find simply list a bunch of tools that aren't free, are no longer free, only offer free trials or provide free plans that are no use to anyone.
This is not one of those articles.
In this list, we're looking at marketing tools that are either completely free or offer free plans that genuinely help you grow your business to a point where you're ready to start paying for more advanced features.
All of the companies listed in this article understand that it's in their interests (and yours) to give you the tools you need to get over the initial growth hump – for free.
Once you get over this first barrier, your business is naturally in the position where it needs to start investing more to make more. You outgrow the limitations of free software, have enough budget to take that next step and you're more likely to spend your money on the tools you know and trust.
The more you succeed, the more these software providers succeed.
To make this article as digestible as possible, I'm breaking it down into the following six categories:
Planning & reporting: Free tools that will help you research, plan and optimise your marketing strategies.
Lead generation: Capture more leads and turn more visitors into potential customers.
Conversion optimisation Increase conversion rates, generate even more leads and improve the effectiveness of your marketing strategies.
Email marketing: Turn more leads into paying customers and then nurture them into repeat buyers.
Search marketing: Increase your search presence and bring more prospects to your website.
Social media: Grow your social audience, generate more traffic and build brand awareness.
In each category, we look at around 4-6 free marketing tools and explain exactly what you get in return for, well… nothing. And for the tools that offer both free and paid plans, we specify which features are available free version and any limitations they come with.
That should give you a free tech stack that covers most of your marketing needs and achieves enough early growth to take your business to the next level.
Free planning & reporting tools
Key features:
Extensive analytics: Google Analytics is one of the most advanced reporting and analytics platforms around – and it's completely free.
SEO insights: Improve your search ranking from user reports.
Audience insights: Learn more about your website visitors, calculate customer lifetime value and view cross-channel reports.
Google Ads reports: Get deeper insights into your paid advertising strategy with enhanced Google Ads reporting.
Conversion reports: Set conversion goals, measure conversion rates and track user actions across your website.
Funnel analysis: Track your sales funnel performance, diagnose issues and turn more leads into paying customers.
Data visualisation: Simple data visualisations to help you gain insights faster.
If there's one free marketing tool that needs no introduction, it's got to be Google Analytics. I guess I don't need to say much about this one other than state the obvious: as a free analytics platform, Google delivers far more than any other provider on the market and it's staggering what you can achieve with this tool.
The only real downside is that you do need some technical skills to truly get the most out of Google Analytics. Setting up user tracking, conversion goals and funnel reports is more complex in Google Analytics than some paid alternatives. But, with a bit of time – or some help from a GA expert – you can build a 360-degree view of what's happening on your website.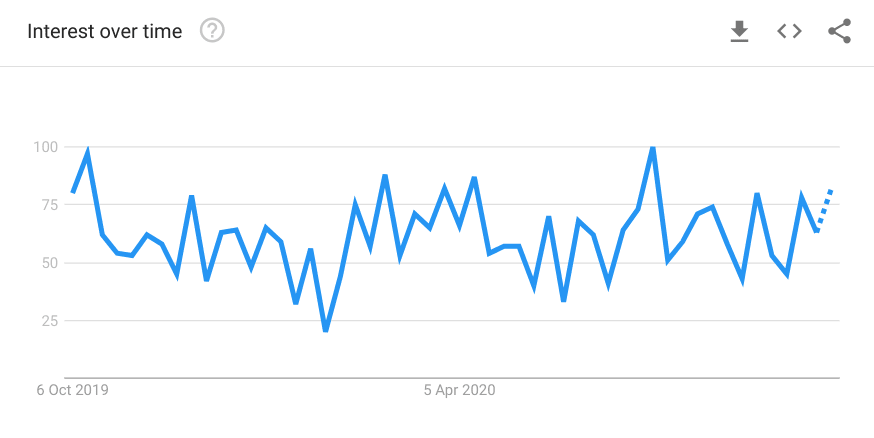 Key features:
View search interest: See how interest in keywords, topics, related queries and related topics have changed over time.
Compare trends: Compare multiple keywords, queries or topics to see how interest relationships evolve.
Regional segmentation: View worldwide data with the options of segmenting by region, country and city.
Trending searches: See which topics are trending in Google Search at any one time.
Annual reviews: View the search trends for previous years dating back to 2001.
Google Trends is such an underrated tool. I suspect this is because, at a first glance, it looks like a second-rate keyword research tool – but this isn't what it's designed for at all.
Instead, Google Trends is more like a search interest tool that you can use to measure, track and compare search trends over time. This allows you to spot emerging trends, predict downward trends, view seasonal variation, compare changes in interest against major events (e.g.: the coronavirus outbreak), monitor interest in your competitors, find untapped niches and all kinds of other insights.
How you use these insights is up to you. You might use them to find new content ideas, predict how much need or interest there is in a new product idea, determine which marketing campaigns to prioritise or research the pain points and use cases of your product.
Google Trends may not provide the most in-depth data but you can absolutely use it to inform key marketing and business decisions.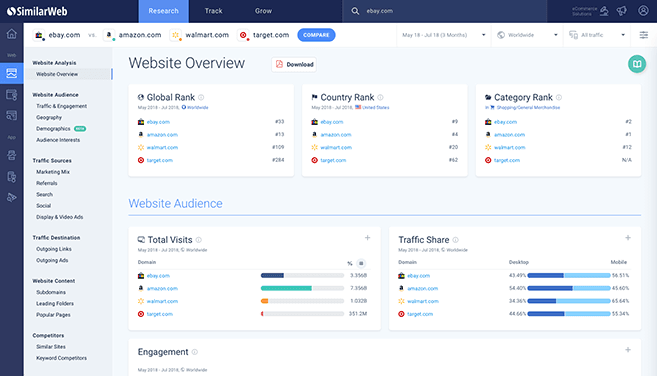 Key features:
Competitor insights: Learn from your rivals' successes and failures.
Discover new opportunities to capture more partners, leads or affiliates.
Identify trends: Discover emerging trends, new competitors and market shifts.
Consumer intent: Understand the purchase intent and customer journey of your target audience in greater detail.
SimilarWeb is our first paid tool that offers a free plan with limited features. You can use the platform to gain insights on your competitors, find new marketing opportunities, access benchmarks for your marketing channels, carry out keyword research and a range of other crucial marketing planning activities.
On the free plan, you're limited to five results per metric, one month of mobile app data and three months' web traffic data – enough to give you an early boost against some low-lying competition.
Free lead generation tools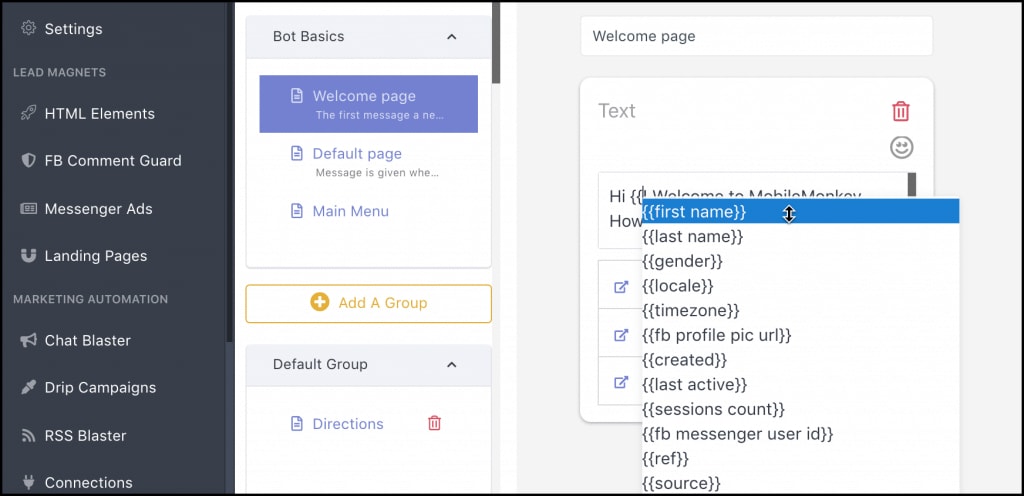 Key features:
Multi-channel bots: Build a single chatbot for your website, Facebook Messenger and SMS.
Chatbot templates: Build bots faster using MobileMonkey's library of templates.
WordPress plugin: Easily add bots to WordPress websites with the official MobileMonkey plugin.
Facebook Lead Generator: Automatically capture emails and phone numbers from Facebook users.
Hot Lead Alerts: Automatic alerts tell you when leads deserve your attention.
Live Chat Takeover: Take over the conversation as soon as you receive an alert.
Bot analytics: Track performance and improve your bots with built-in analytics and reporting.
MobileMonkey is a chatbot and conversational marketing platform that allows you to instantly connect with website visitors, Facebook Messenger users and customers across every channel.
The company currently offers a Free Forever Edition that allows you to capture an unlimited number of leads, instal bots on an unlimited number of Facebook Pages and web pages, run drip campaigns and target users with browser notifications.
The key limitation on the free version is that you can only send 1,000 messages per month but this should be more than enough to get you started and paid plans start at $14.25/mo, which instantly doubles your send credits.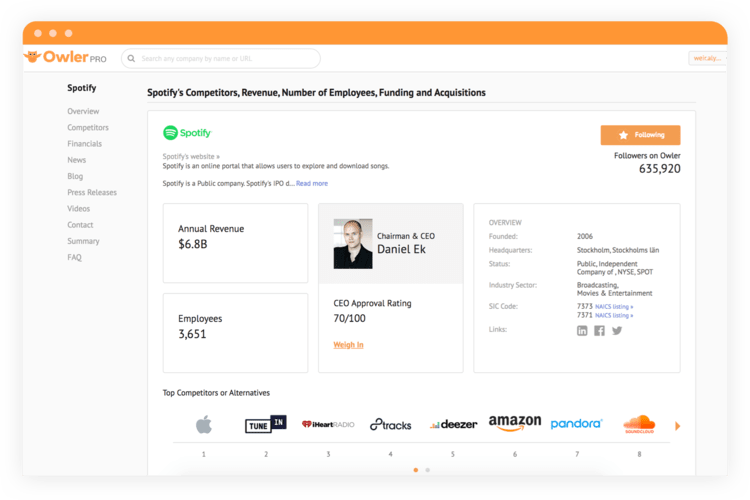 Key features:
Company data: See data for 10 companies per month on the free plan.
Competitive data: See data for the top three competitors in your niche.
News & alerts: Track five companies for all the latest news and updates.
Paid plans: Access more data, advanced searches and premium features on paid plans.
Owler could easily fit into the planning and analytics section of this article as a competitor research tool but it's so much more than that. This is a business intelligence platform that not only gives you competitor insights but also helps you pinpoint target companies as potential clients.
So this is very much a lead generation tool and it also fits nicely into the account-based marketing (ABM) category.
On the free plan, you get access to company data from 10 businesses per month and competitive data for the top three competitors in your niche. You can also track five companies to receive news updates and alerts to keep you in the loop about key events in your industry.
Once you outgrow the free version of Owler, paid plans start at very reasonable $99/year, which gives you access to company data for 50 companies per month and competitive data for 10 competitors, plus news and alerts for 25 companies. On the Pro plan ($420/year), you get unlimited company data, competitive data, news and alerts for the equivalent of $35/month.
Key features:
Web scraping: Automatically scrape and extract data from any website.
Code-free: Scrape websites without coding any custom scripts.
Click-to-scrape: Collect data from a website or multiple websites with a single click in your web browser.
Scrape 200 pages per run on the free version of ParseHub.
40-minute scrapes: Scrape 200 pages in 40 minutes on the free plan.
14-day retention: Retain data for 14 days after the initial scrape.
ParseHub is a free web scraper that allows you to collect data from websites without writing any code. All you have to do is open up a website, open up the ParseHub app and click to scrape the data from any site, including JavaScript pages, AJAX elements, forms and dropdown menus.
There are paid versions of ParseHub, starting at $149/month, and these speed up the time it takes to scrape 200 pages of data and how many pages you can scrape in a single run. On the free version, you can capture 200 pages of data in 40 minutes but this is cut down to only 10 minutes on the Standard plan ($149/month) and two minutes on the Professional version ($499/month).
For smaller businesses and startups, though, the free version of ParseHub helps you compile a good chunk of data for nothing.

Key features:
Hello Bars: Place unintrusive Hello Bars across the top or bottom of your website to convert visitors without hampering the user experience.
Popups: Add a range of other pop-up types to your site – from modals and sliders to page takeovers and alert bells.
10 pop-ups per site: Add 10 pop-ups to your website on the free version of Hello Bar.
5k views: Up to 5,000 views per month on the Hello Bar's free plan.
Unlimited subscribers: Capture an unlimited number of subscribers on all Hello Bar plans, including the free version.
Device targeting: Set targeting options to show specific pop-ups to users based on the device they're using (other targeting options available on paid plans).
A/B testing: Run one live A/B test at any time on the free version of Hello Bar.
Hello Bar puts unintrusive banners and pop-ups on your pages so you can place CTAs across your website with minimal impact on the user experience.
Paid plans start at $29/month but the free version allows you to place up to 10 bars/pop-ups on your website with up to 5,000 views per month. Better yet, there's no limit on the number of leads you're allowed to generate from your pop-ups, which opens up a lot of potential from this free tool.
You can also target users based on their device and have one A/B test running at any one time, allowing you to improve results of individual pop-ups.
Paid plans give you unlimited pop-ups, advanced design options, unlimited A/B testing and more advanced targeting options.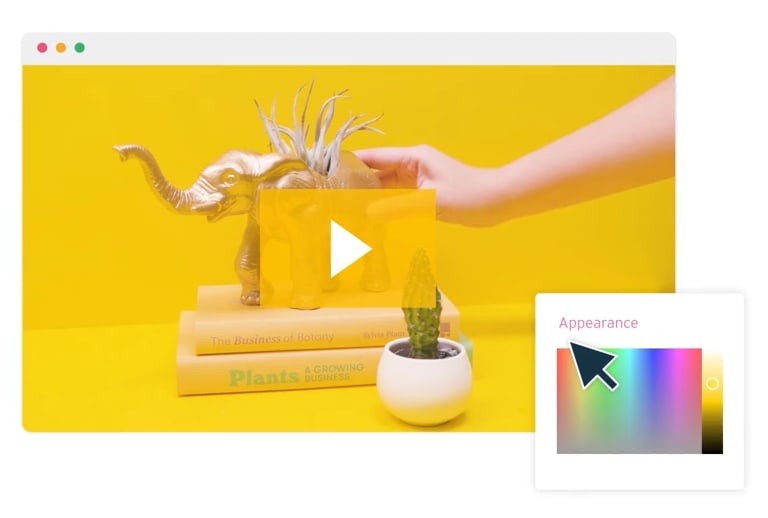 Key features:
Fully customisable player: Change the player's colour, add a call to action, and more.
Easy embedding and sharing: Put videos on your site, send 'em in an email, or share on social media.
Interactive video tools: Engage your viewers with interactive links displayed right on your videos.
Embed three videos anywhere on the free version of Wistia.
Unlimited users: Invite who you want, set permissions, or use passwords.
Advanced video analytics: Track how your viewers interact with your videos with analytics.
A/B testing: Test videos to compare performance and maximise your video marketing efforts.
Wistia is one of the most popular self-hosting video platforms, allowing you to retain control over your video content in a way YouTube doesn't. It also provides you with tools to help you generate leads from your video and keep users on your site, rather than encourage them to click through to another platform or watch footage from other publishers.
On the free plan, you can host up to three videos to embed anywhere, manage one Wistia channel to share your videos via public links and collect up to 250 channel subscribers. You can also run A/B tests on your videos on the free version of Wistia, which should get you off to a good start with your video marketing efforts.
Paid plans start at $99/mo, allowing you to host more videos, add your own branding and other features, depending on which plan you sign up to. Aside from the limited number of videos, though, the free version doesn't cripple features or restrict you in any great way.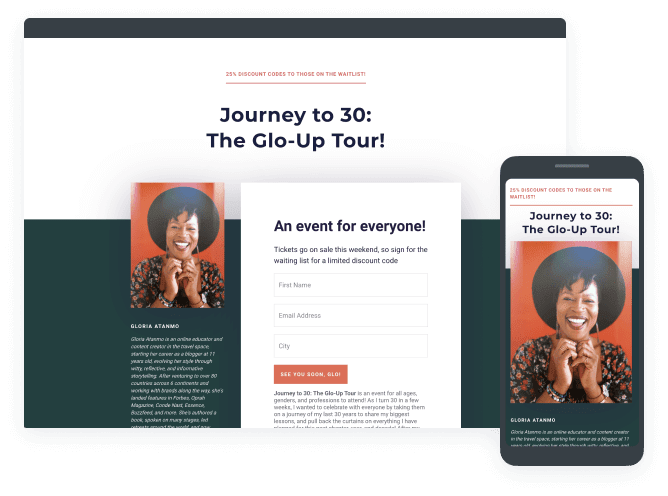 Key features:
Unlimited landing pages: Build an unlimited number of landing pages to capture leads and build your online business.
Unlimited forms: Create an unlimited number of forms to convert visitors into leads.
Unlimited traffic: Welcome unlimited visitors to your landing pages and show your forms without restrictions.
Manage 1,000 subscribers: Manage up to 1,000 subscribers from within ConvertKit and send emails to increase engagement.
Subscriber tagging: Tag high-value leads to prioritise them in your email marketing strategy.
ConvertKit is designed for small businesses and solopreneurs who want to do what they love for a living or turn their bright ideas into viable businesses.
So it only makes sense that the company offers a valuable free version of its software to help new businesses and the smallest of ventures get on their feet.
On the free plan, you can create unlimited landing pages and forms to capture leads, no traffic limits to restrict the number of visitors you can welcome, email marketing campaigns and subscriber tagging to send targeted emails to audiences types.
The only limitation is that you can manage up to 1,000 subscribers, no more.
Paid plans start at $29/monthand these bring some valuable automation features to the platform but you're going to have to pay $49/monthonce you have more than 1,000 subscribers to manage and the pricing only increases from there.
Crucially, though, ConvertKit's pricing scales gradually, meaning you only pay more in proportion to generating more business. And the generous free plan gives you every chance of getting your online venture off to the best possible start.
Free conversion optimisation tools
Key features:
A/B testing: Run A/B tests and A/B/n tests on your website.
Multivariate tests: Test multiple elements on the same page to see which combination achieves your goals most effectively.
Create personalised experiences to drive more conversions and maximise lead generation.
Visual editor: Create new variants of a page without recoding your site every time.
Google Analytics: Google Optimize natively integrates with Google Analytics so you can run tests against your business objectives and gain a greater level of insights.
5 experiments: On the free version of Google Optimize, you're limited to running five experiments at any one time.
Google's excellent suite of free marketing tools also includes the conversion optimisation platform, Google Optimize. Once again, this is a highly capable piece of software that offers an impressive array of CRO features and testing capabilities – as well as seamless integration with Google Analytics and other Google platforms.
Once again, the only real issue is that setting up and managing tests in Google Optimize isn't as straightforward as some of the paid options available. For example, platforms like VWO make it easy to create and manage experiments within an excellent user interface but it takes a little longer to figure things out in Google Optimize.
The main limitation on the free version of Google Optimize is that you can only run five experiments at any one time – although you can create additional experiments as drafts.
That said, there aren't many (or any) free website optimisation platforms that allow you to run advanced tests in the same way as Google Optimize.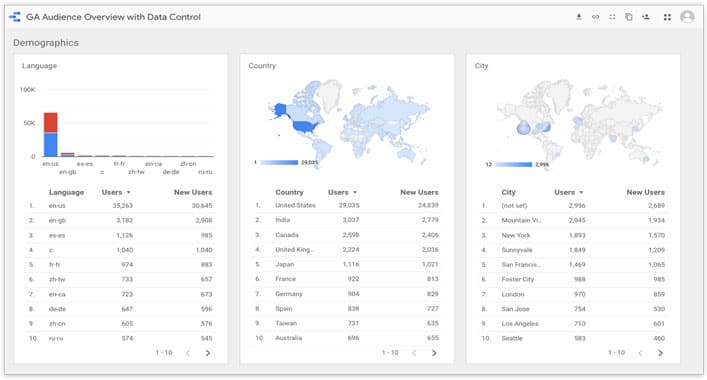 Key features:
Data visualisation: Turn data into visualisations that reveal greater insights and build valuable reports.
Data exploration: Explore data faster either by using SQL queries or visually without writing any code.
Calculations: Create custom calculations with your data and visualise the outcomes.
Interactive visualisations: Create interactive data visualisations and reports for external audiences, such as clients and executives.
Real-time collaboration: Invite team members to collaborate on visualisation and reports with real-time editing and sharing.
Google integrations: Full integrations with Google Analytics, Google Ads, Campaign Manager, Sheets, YouTube and every Google data source you could ever need to visualise.
Your marketing strategies are only as good as the data that powers them but digits and figures will only get you so far. To inform smarter marketing decisions, you need to extract insights from your data and humans aren't particularly good at seeing patterns in spreadsheets or raw datasets.
Instead, we're visual creatures and this is why it's so important for us to format data in charts, graphs and other visualisations.
Google Data Studio helps you to create such visualisation so you can get more from your data and communicate findings through reports. By integrating with Google Analytics and hundreds of other data sources, you can bring all of your data into this platform, explore it to find insights and create visualisations to hone in on new findings or show them to third parties.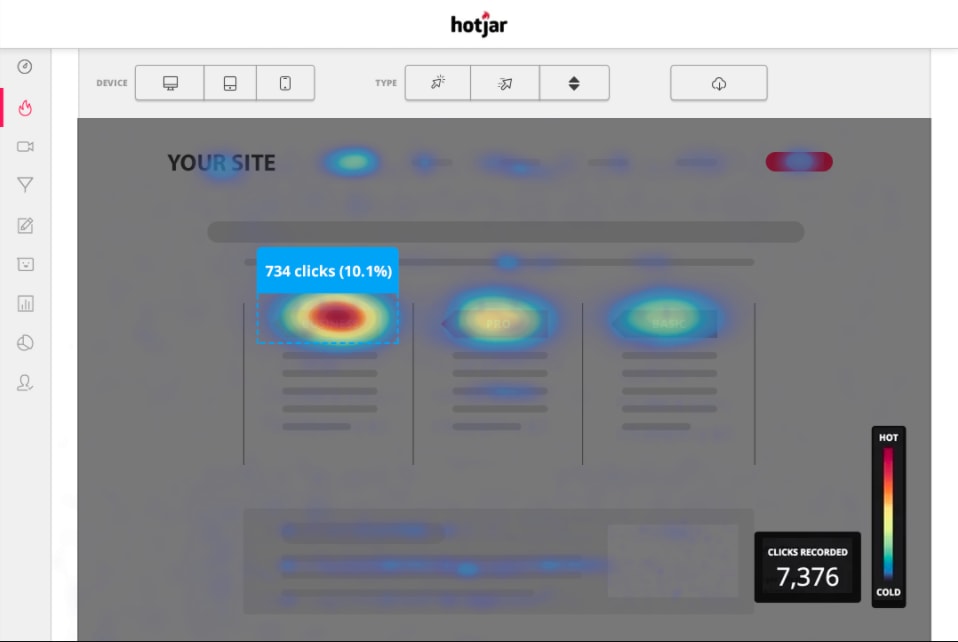 Key features:
Heatmaps: See which elements users are clicking on your pages and where they scroll to build a picture of how they interact with the most important parts of your website.
Visitor recordings: Record visitor sessions to reveal UX issues users are experiencing.
Surveys: Collect feedback directly from your users by placing surveys on your site.
Feedback: Ask users for feedback on specific elements or pages to assess their effectiveness.
2k daily page views: Collect data from up to 2,000 page views per day on the free version of Hotjar.
Limited reports: Manage up to 300 recordings and three heatmaps, funnels, forms, polls and surveys.
Unlimited team members: Provide access to every member of your team across on all Hotjar plans.
Hotjar helps you understand what users are getting up to on your website so you can fix UX issues and optimise for conversions. With heatmaps, you can see which elements on the page users are clicking while scroll maps confirm whether they're reaching the most important parts of your pages.
The free version of Hotjar allows you to collect data from up to 2,000 page views per day with limited reports – more than enough to get your conversion optimisation strategy off the ground. Paid plans start at $39/month but it shouldn't take before Hotjar starts paying for itself by lifting your conversion rates.
Key features:
Analyse page speed: Measure page speed across your website using page load time, total page size and the number of server requests.
Compare results: View your pages' performance in comparison to average results on GTmetrix.
Location testing: Measure loading times from locations around the world to see the impact of server location and CDNs on your page speed.
Alerts: Set alerts based on a variety of conditions to receive warnings when performance drops below tolerance.
Data from the likes of Google and Unbounce shows that loading times are one of the biggest conversion killers, which means taming page speed should be one of your top CRO priorities.
GTmetrix will help you get there by providing in-depth speed reports for your pages, including page load time, total page size and the number of server requests per page load.
By optimising these three key metrics, you can significantly reduce loading times and improve your chances of converting every visitor. GTmetrix also provides contextual feedback, giving you hints on how to optimise your pages – perfect, if you're not too familiar with the factors that influence page speed.
Key features:
Five-second tests: Get feedback from real users who see your page for just five seconds and answer questions to reveal what they can remember.
First-click testing: See which elements users first interact with on your pages.
Preference tests: See which variants users prefer and find out why they have this preference.
Design surveys: Collect user feedback about your pages and test elements.
Analyse impressions: Discover how users perceive your designs after a short exposure and spot trends with word cloud visualisations.
Getting feedback from real-world users is invaluable but, generally, expensive and time-consuming. UsabilityHub is a software provider that aims to make user testing easier but we're not here to talk about its paid software.
Instead, we're interested in one of the free tools it has to offer: the five-second test. This allows you to show a web page to real-world users for five seconds only. Afterwards, they'll be asked questions about what they can remember – simple stuff like what the page was about and what the headline said.
The idea is that effective landing pages should be clear, concise and memorable. Essentially, if users can't remember a great deal about your page, then you need to rework it.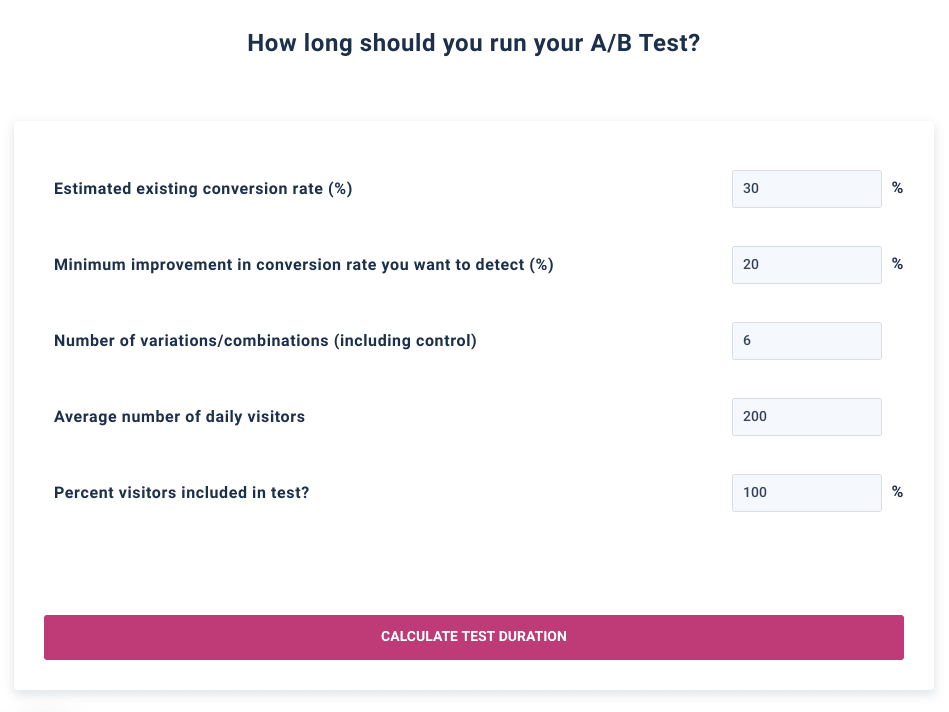 Key features:
Determine test length: Use VWO's A/B Split & Multivariate Test Duration Calculator to figure out how long your tests should run.
Statistical significance: Get an estimate of how long it will take for your tests to achieve statistical significance.
VWO is another company that offers paid conversion optimisation software – one of the best on the market, in fact. However, much like UsabilityHub, it also offers a number of free tools and its A/B Split & Multivariate Test Duration Calculator is something every marketer can use for their CRO campaigns.
One of the most important principles in conversion optimisation is running experiments long enough to reach statistical significance. This tells you that your results are reliable and helps rule out the skew of variables. VWO's free calculator helps you calculate how long you need to run your tests to achieve such results.
The company also offers another free tool, its A/B Split Test Significance Calculator, which you can use to check that your results are statistically significant once the test has run for its target duration.
Free email marketing tools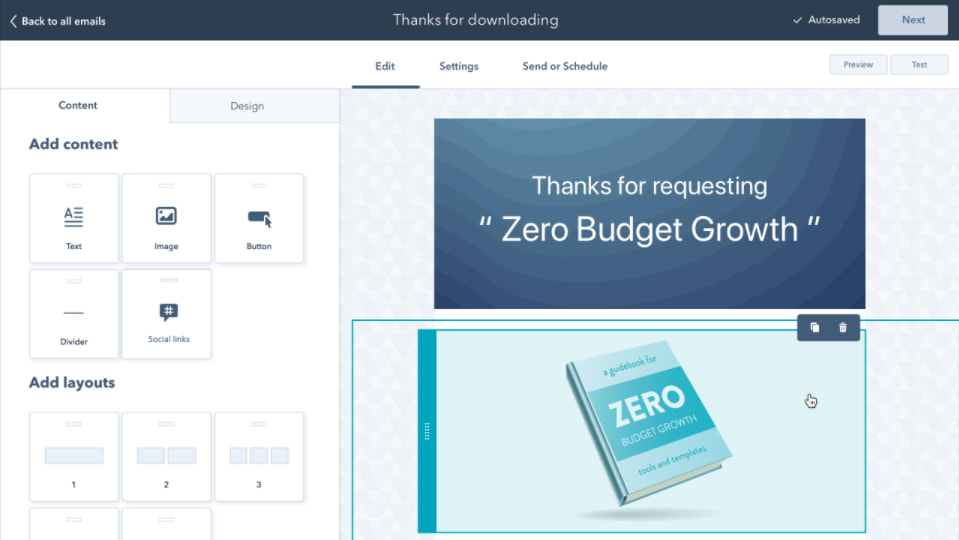 Key features:
Free CRM: Fully-featured CRM platform where you can store data for up to one million contacts.
Email marketing: Build and send bulk emails to engage up to 1,000 leads on the free version of HubSpot Marketing.
List segmentation: Create segmented email lists to deliver more relevant messages to users, based on their interests.
Landing pages: Create landing pages to generate more leads from your inbound marketing strategies.
Forms: Build forms to convert users when they land on your page.
Live chat: Generate leads from your web pages using HubSpot's free live chat system.
HubSpot is one of the top marketing software providers in our industry and it also offers some of the best free tools available right now – most notably its impressive, free CRM platform.
With a free HubSpot account, you can also manage email marketing campaigns, create segmented lists, build as many landing pages as you need, add unlimited forms to your pages and implement live chat on your website.
That's a lot of marketing muscle and you can even store data for up to one million contacts on the free version of HubSpot's CRM. The big limitation is that you can only send emails to up to 1,000 subscribers on the free version of HubSpot Marketing but this is a common threshold for email marketing software.
If all goes well, it won't be long before your business is ready to pay for larger email marketing campaigns, especially with all of the tools and features crammed into the free version of HubSpot.
Key features:
Email marketing: Build and send emails to up to 1,000 contacts on Mailerlite's free plan.
12k emails per month: Send up to 12,000 emails every month on the free plan.
Email automation: Automate your email campaigns to guide leads across the buying process without manual interactions at every touchpoint.
Advanced segmentation: Create highly-specific segmented lists to improve relevance and convert more leads.
A/B testing: Test your email campaigns to improve results.
Website builder: Build a free website and create up to five landing pages (or unlimited sites and landing pages for $10 per month).
Unlimited traffic: Welcome unlimited visitors to your website without worrying about traffic limitations.
While HubSpot is geared more towards corporate and enterprise businesses, Mailerlite is designed specifically for smaller businesses, entrepreneurs and digital ventures.
The free version of Mailerlite also offers a generous range of features, including email automation, advanced segmentation and A/B testing – all of which are often reserved as paid features on email marketing software.
There are limitations, of course, and the 1,000 subscriber limit applies once again. You can send up to 12,000 emails every month on the free plan and it's worth noting that the Mailerlite logo will appear in the footer of your emails (this is removed on paid versions).
Paid Mailerlite plans start from just $10/month, which makes this one of the most affordable marketing platforms around and the pricing brackets increase incrementally so you're never caught out with an excessive bill, even if you do upgrade to paid plans.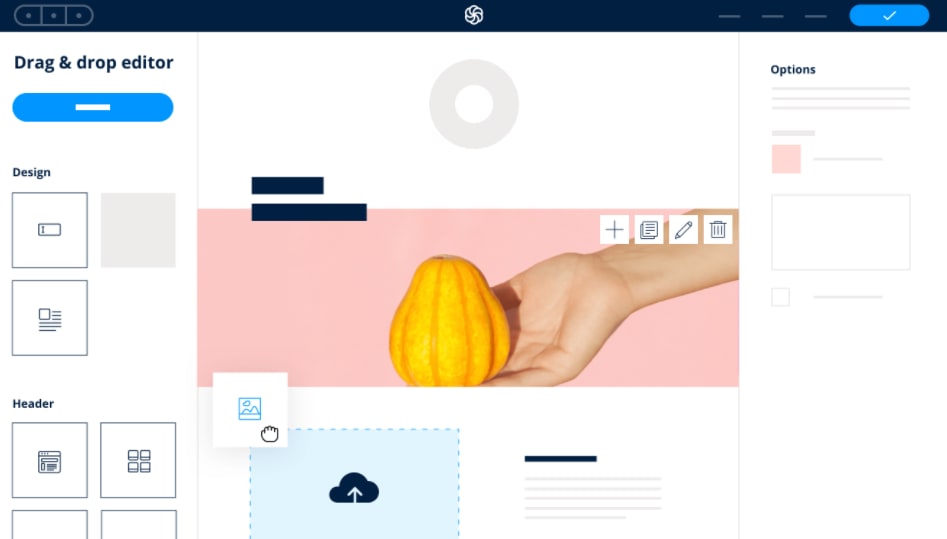 Key features:
Email marketing: Create and send email campaigns to an unlimited number of contacts on the free version of Sendinblue.
Unlimited contacts: All Sendinblue plans allow you to have unlimited contacts on your account.
300 emails per day: Send up to 300 emails per day on the free plan.
Transactional emails: Send transactional emails to receive payments and encourage purchases via users' inboxes.
Free CRM: Manage your contacts using Sendinblue's free CRM.
Advanced segmentation: Refine your email lists using advanced segmentation to deliver more relevant campaigns.
Personalisation: Personalise email and SMS marketing campaigns.
Chat: Add a chat window to your website to generate more leads from your pages and provide basic customer support.
We've been using Sendinblue here at Venture Harbour for many years now, mainly for one feature: its excellent transactional emails. When we first started using the platform. It was a relatively simple piece of email marketing software but it's matured and expanded a great deal since then.
Now, it's a fully-functional marketing system in its own right and the free version of its software offers an impressive range of features.
Most notably, you can send emails to an unlimited number of contacts on Sendinblue's free plan so you're not automatically bumped up onto a paid plan once your email list gets too large. Instead, you're limited to send up to 300 emails per day, which works out at around 9,000 per month.
There are a few notable features missing on the free version, though. For example, the landing page builder and A/B testing are both reserved for paid plans, which start at $25/month.
Key features:
Email marketing: Capture more e-commerce leads and turn customers into repeat buyers.
15k emails per month: Send 15,000 emails per month on the free version of Omnisend.
Website tracking: Track user behaviour on your website (data is only stored for one month on the free plan).
Segmentation: Create five segmentation lists on the free plan.
Forms: You can have three active sign-up forms at any one time.
Popups: Target users with exit-intent forms and pop-ups.
Landing pages: Create landing pages using Omnisends native builder.
Omnisend's free plan also allows you to have unlimited subscribers and you can send up to 15,000 emails per month before upgrading to a paid version. You also get email automation features, SMS marketing, website tracking, segmentations, pop-ups, forms and a landing page builder.
In terms of pure features, Onmisend offers one of the most compelling free plans and paid versions start at $16/month.
The paid versions of Omnisend also bring powerful features that you can't always find elsewhere. The company's key selling point is omnichannel marketing with a heavy influence on bridging email marketing, social media, paid advertising and mobile marketing – something worth keeping in mind if you're going to benefit from these features in the future.

Key features:
Email marketing: Create and send emails using Benchmark's builder, templates and email campaign management tools.
Send 250 emails per month on the free plan.
Drip campaigns: Create drip campaigns to automatically send emails over specified periods of time.
Basic segmentation: The free version of Benchmark comes with basic segmentation options to help you target specific audiences with more relevant messages.
Forms & surveys: Create forms to capture leads and get feedback from polls and surveys.
Reporting: You get full access to all of the reporting features available in Benchmark on the free plan.
Benchmark wants to help you "stop wasting time on email marketing and get back to business". Once again, there's no limit on the number of contacts you can have but you are restricted to sending 250 emails a month on the free plan, which is a heavy limit.
However, you do get a lot in the way of features, including automated drip campaigns, a form builder, polls and surveys, live engagement reports and heatmaps. Sadly, the landing page builder isn't available on the free plan, though, and the 250 monthly email limit means you're quickly going to outgrow the free plan.
That said, Benchmark's free plan is a great way to get to grips with a wide range of email marketing features and strategies before your campaigns start making serious traction.
Key features:
Email marketing: Create and send emails using Mailjet's Advanced Email Builder.
Unlimited contacts: All Mailjet plans allow you to have an unlimited number of contacts on the system.
6k emails per month: You can send up to 6,000 emails every month on the free plan with a daily limit of 200 emails.
Advanced statistics: Get in-depth email campaign performance insights from Mailjet's native reports.
Mailjet offers a far more generous 6,000 per month email limit but you're also restricted to sending 200 per day. You don't have to worry about any contact limits, though, which is always a bonus and you get full access to Mailjet's excellent email builder and advanced reporting on the free version.
Paid plans start at $9.65/month, which lifts your email limit to 30,000 per month (with no daily limit) and removes all Mail jet branding from your emails. Upgrade to the Premium plan ($20.95/month) and you get A/B testing, marketing automation and segmentation to boost your campaigns.
Key features:
Create clickable subject lines: Type in your subject line to get a score and feedback on how to improve it.
Power words: See which words in your subject line tend to increase opens and which ones might reduce them.
Letter casing: Find out which words should be capitalised.
Subject line length: Optimise the number of words and characters in your subject line to maximise open rates.
Previews: See how your subject line will appear in popular email clients on desktop and mobile.
CoSchedule is a marketing management platform but the company also offers a number of free tools. As you can probably guess from its name, CoShedule's Email Subject Line Tester helps you write better email subject lines so you can increase open rates and engagement.
All you have to do is type your subject line into the online tool and you get a free analysis. The report scores your subject line and highlights words that are proven to increase open rates – as well as any proven to decrease open rates.
You'll also get feedback on the length of your subject line, the use of any numbers, inclusion of power words and a preview of how your line will appear in popular email clients.
You can retype or edit your subject lines to get a new score and access previous reports by clicking on them in the "Subject Line History" tab at the top of the page.
This is a great tool if you're new to email marketing and 100% free.
Key features:
Email countdown timers: Create email countdown timers to incentivise conversions.
No branding: Add timers to your emails for free without any branding or watermarks.
Pro plans: Create unlimited timers and unlock greater customisation with pro plans starting from $9/mo.
With Sendtric, you can add countdown timers to your emails. All you have to do is fill out the form on the website's homepage, click the "Generate" button and then copy and paste the subsequent code to your HTML email template.
You can do all this for free with no watermark or Sendtric branding on your emails. There are paid versions of the tool but these mainly open up more customisation and design options.
Free search marketing tools
Key features:
Check indexability: Confirm that Google can find and crawl your website.
Fix indexing problems: Resolve indexing issues and request re-indexing of new or updated content.
Search data: View Google Search traffic data for your site: how often your site appears in Google Search, which search queries show your site, how often searchers click through for those queries and more.
Alerts: Receive alerts when Google encounters indexing, spam, or other issues on your site.
Link reports: Show you which sites link to your website.
Troubleshoot: Solve issues for AMP, mobile usability and other Search features.
Google Analytics integration: With Google Search Console and Google Analytics, you have access to all of the data you need for technical SEO
Google Search Console is our final free marketing tool from the world's biggest search engine and it's just as crucial as Google Analytics for any website owner.
Search Console gives you access to essential reports that help you maintain and optimise your site for ranking properly in Google Search. You can identify and fix indexing problems, gain insights into how your site and pages rank and integrate with Google Analytics to build a full picture of your performance in search.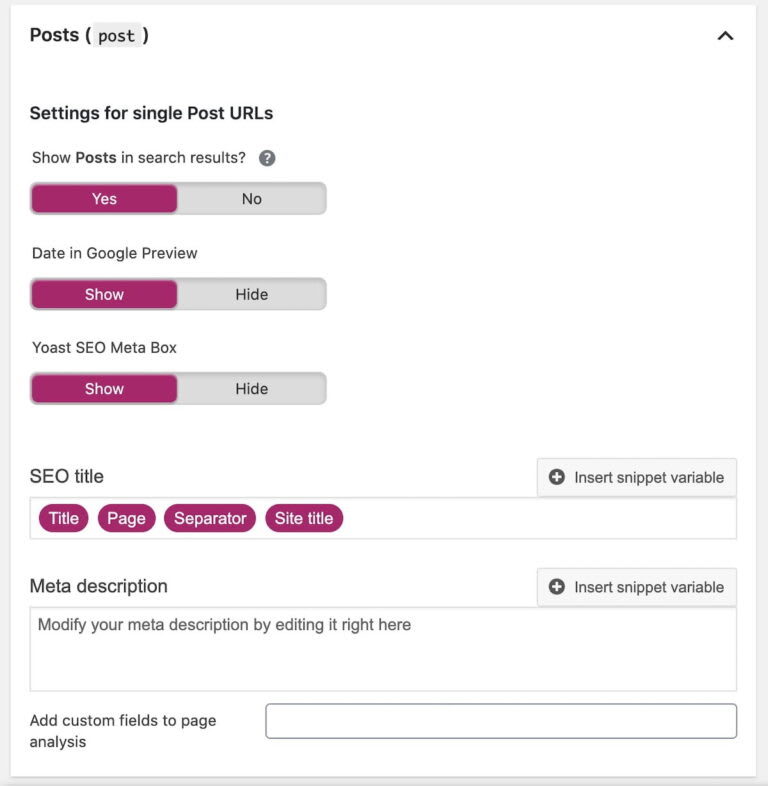 Key features:
Easy optimisation: Optimise WordPress pages without editing any HTML code – simply complete the fields added into the WP interface by Yoast's plugin.
On-page SEO: Cover the on-page SEO essentials by following the steps laid out by Yoast.
Feedback: Get feedback from the plugin on SEO essentials, such as keyword density, heading optimisation and content structure.
Learn the essentials: Learn the basics of on-page SEO by doing it for yourself.
Google preview: See what your post will appear like in Google Search.
Content updates: Yoast automatically alerts you when your best pages need updating to keep them relevant.
Easy rich results: Create rich results without adding any code or Schema markup to your pages.
If you're running a website on WordPress, Yoast SEO is one of the first plugins you should install. This simple add-on turns the WordPress interface into an easy, on-page SEO tool that guides you through all of the essentials you should have in place before hitting the publish button.
There are dedicated fields for specifying your keywords, optimising meta descriptions, creating more effective titles and using the right structure in your content.
There is a paid version of Yoast SEO, which costs you a one-off $100 fee, but the free version is highly capable in its own right.

Key features:
Backlink reports: See which sites link to your domain and specific pages.
LInk types: Distinguish between dofollow and no-follow links pointing to your site.
Top performers: See which pages and content types are generating the highest number of links.
Link quality: Assess the quality of links coming back to your website.
Link growth: Measure the growth/decline of backlink profiles for your site and specific pages.
Ahrefs is one of the most popular SEO software tools around and its famed backlink checker is an essential for any marketer. The free version of the tool aims to give you an idea of what paid Ahrefs plans have to offer but it's valuable as a standalone tool.
You type in your domain or the URL or a specific page to see all the links pointing back to you. The report reveals the domain ranking of your site and tells you how many backlinks you have, as well as the total number of unique domains pointing to you and the percentage of links that are dofollow.
You can then check through the top 100 links and check the domain rank and URL rating (UR) for each one. This helps you evaluate the quality of links your content is earning and weed out any low-quality links that need to be taken off your profile.
Key features:
Find broken links: Crawl a website instantly and find broken links (404s) and server errors. Bulk export the errors and source URLs to fix or send to a developer.
Audit redirects: Find temporary and permanent redirects, identify redirect chains and loops, or upload a list of URLs to audit in a site migration.
Analyse page titles & metadata: Analyse page titles and meta descriptions during a crawl and identify those that are too long, short, missing, or duplicated across your site.
Discover duplicate content: Discover exact and near-duplicate content, duplicated elements such as page titles, descriptions or headings, and find low content pages.
Review robots & directives: View URLs blocked by robots.txt, meta robots or X-Robots-Tag directives such as 'noindex' or 'nofollow', as well as canonicals and rel="next" and rel="prev".
Visualise website architecture: Evaluate internal linking and URL structure using interactive crawl and directory force-directed diagrams and tree graph site visualisations.
Google integrations: Connect to the Google Analytics, Search Console and PageSpeed Insights APIs and fetch user and performance data for all URLs in a crawl for greater insight.
Screaming Frog is another big name in the search marketing industry and its SEO Spider software remains a popular tool for technical SEO. The free version gives you plenty of features to keep your website in good order but you're limited to a 500 URL crawl limit.
This should be more than enough to optimise the most important pages of any website, though.
Screaming Frog's SEO Spider helps you find broken links, optimise page titles and metadata, audit your hreflang attributes, identify duplicate content and visualise your website structure.
A paid license costs $149 per year, allowing you to crawl unlimited URLs, schedule reports and use a range of additional features. For large websites, the paid version is probably the way to go but, for most businesses, the free version of Screaming Frog's SEO Spider is all that's needed.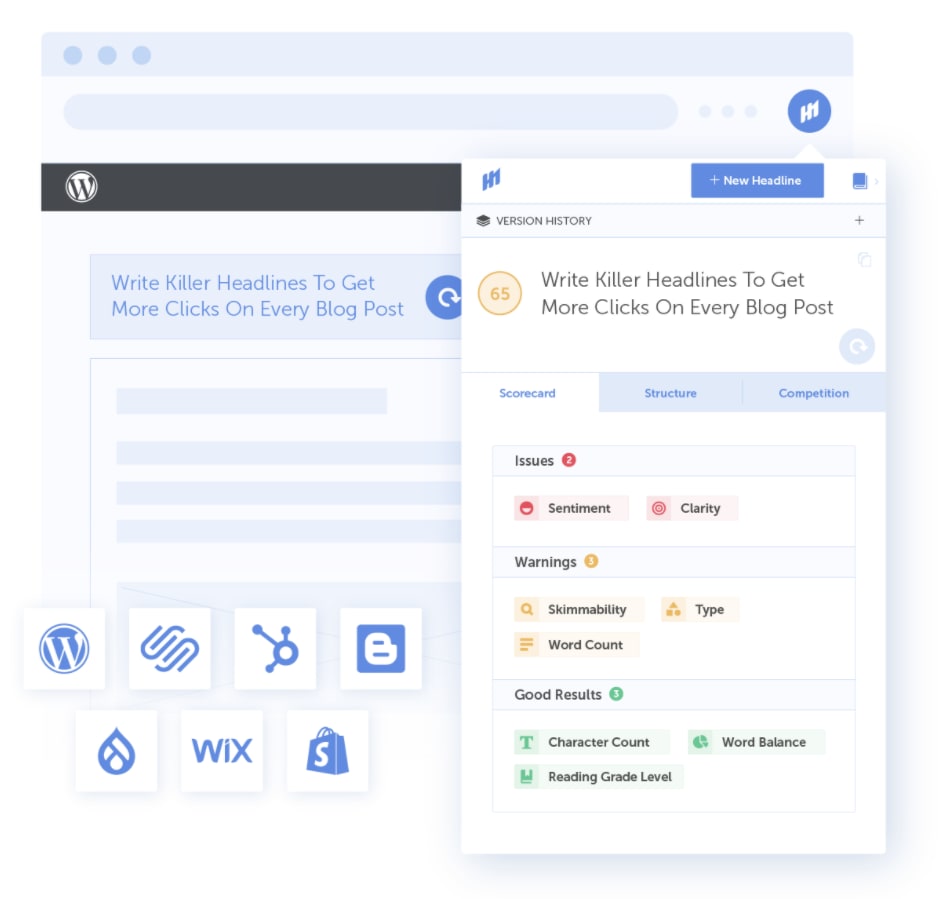 Key features:
Analyse headlines: Type in your content headlines to score them and get feedback.
Word balance: Captivate your audience with the right word balance.
Emotion: Encourage more clicks and engage readers by making your headlines more emotional.
Readability: Ensure your headlines are readable, skimmable and easy to understand.
Power words: Include enough power words to grab attention and inspire action.
Headline length: Check that your headlines are the optimal length for search engines and readability.
Free Chrome extensions: Test headline ideas instantly with the free Chrome extension.
Another free tool offered by CoSchedule is its Headline Optimizer, which works in exactly the same way as its email subject line tester that we looked at earlier.
Simply type in your headline idea and you'll get a report analysing the effectiveness, including the use of common words, emotional phrases, power words and headline features known to increase CTRs.
You can also install the free Chrome extensions to instantly check headline ideas from your browser.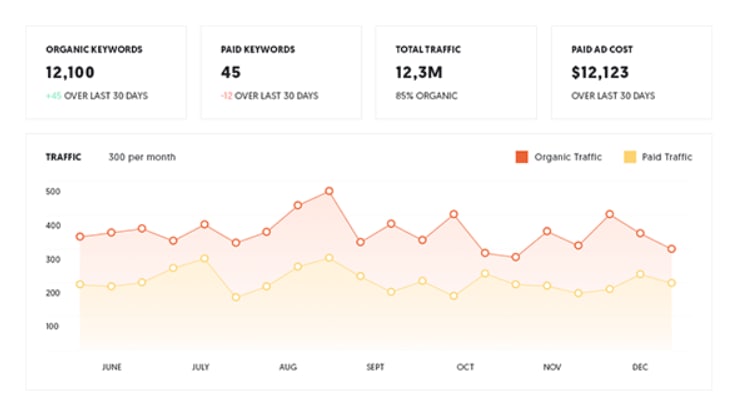 Key features:
Domain Overview: Get insight into the strategies that are working for others in your market so you can adopt them, improve them, and gain an edge.
Top SEO pages: discover which of your competitor's pages are ranking for popular organic keyword phrases and which ones are loved by sites like Facebook.
Keyword suggestions: generate a list of keywords for you based on what is working for your competitors and based on what people are typing into Google.
Content ideas: Dive deep into the top-performing content pieces for any given keyword so you can write about topics that people are actually interested in.
Backlink data: See the exact content in your space that people are linking to and approach them for collaboration.
UberSuggest is an all-in-one SEO platform that aims to help you bring more traffic to your website. On the free plan, you're limited to five searches per day but you get a good offering of metrics and reports, including an overview of domain performance, your best-performing pages, keyword suggestions and content ideas.
In fact, the free version offers more insights now than it used to although the price of paid plans has also increased. You can currently upgrade for monthly fees starting from $29/month of a one-off fee starting from $290 – although UberSuggest seems to change its pricing quite often.
Free social media tools
Key features:
Discover Facebook audiences: Use this tool to discover audience sizes, experiment with targeting options and test persona viability.
Demographics: Age and gender, lifestyle, education, relationship status, job role and household size.
Location and language: Segment audiences based on where they live, where they frequently go, have recently been, are currently travelling in and the language they speak.
Facebook usage: How frequently are people in your target audience logging onto Facebook and what device(s) they are using when they log on.
Page likes: The top Pages people like in different categories, like women's apparel or sports.
Purchases activity: Past purchase behaviour (i.e. heavy buyers of women's apparel) and purchase methods (i.e., in-store, online).
Interests: Find audiences based on their interests – anything from gaming and consumer electronics to travel and exercise.
Life events: Segment audiences by life events, including marriage, children, promotions, moving home and key events that influence consumer behaviour.
Facebook Audience Insights is a free tool built for Facebook Advertising but anyone can use it as an audience planning tool. That said, you're going to get the best out of it if you're engaged in paid advertising on the social network.
The tool allows you to apply Facebook targeting options to any campaign idea and see how large an audience you'll have to work with. This is a great tool for planning campaigns but also useful for checking whether Facebook and Instagram have the specific audiences you want to reach.
Key features:
Social management: Manage your social media accounts from one dashboard.
3 social profiles: Manage three social profiles from Hootsuite's limited free plan.
Schedule messages: Schedule 30 social posts/messages per month on the free version.
1 user: You're limited to one user on the free and Professional ($25/mo) plans.
HootSuite is an excellent social media marketing platform that allows you to manage accounts from one place, gain insights into performance and spend less time switching between different networks.
Arguably, its best feature is the message scheduler, which allows you to schedule posts so you can create them at a time that suits and set them to automatically publish at the key moment.
The free plan limits you to managing three social profiles and scheduling 30 messages per month and paid plans start at $25/month.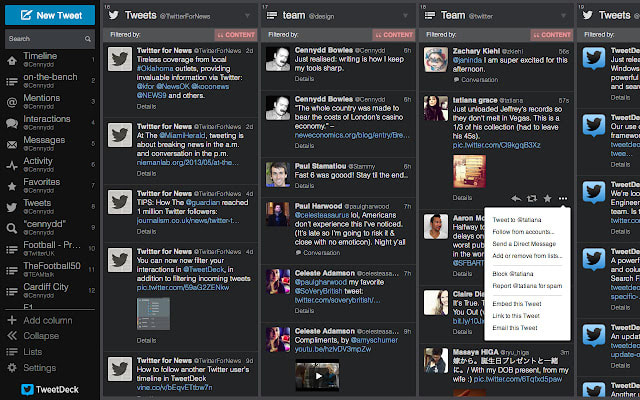 Key features:
Manage multiple Twitter accounts from a single interface.
Schedule tweets: Create tweets and schedule them for posting in the future.
Interactions: Tweet, like, follow and interact from multiple accounts by selecting prior to actions.
Default account: Set a default account for all actions.
Column filters: Arrange and filter tweets into columns for easier access and browsing.
TweetDeck allows you to manage multiple Twitter accounts from a single dashboard and schedule posts. This tool is completely free and you're not restricted in any way – other than the fact it only works for Twitter, of course.
Key features:
Automate tasks: Connect apps and automate a range of tasks between them – for example, automatically share new YouTube videos to your Facebook Page.
Applets: These are IFTTT's simple automation workflows that connect apps, automate tasks and save you a whole bunch of time.
Create 3 custom Applets: On the free plan of IFTTT, you can create three custom Applets of your own.
'Turn on' unlimited Applets: IFTTT has a huge library of existing Applets connecting the most popular apps around and you can "turn on" (use) an unlimited number of these.
IFTTT connects apps together so you can automate tasks. It works in a similar way to Zapier although its automations are a little more simplistic. The reason it makes it onto this list is because it offers the more generous free plan, allowing you to use an unlimited number of existing Applets already available on the platform.
You can also create three of your own Applets before you start paying a monthly fee. At the time of writing, IFTTT lets you choose how much you pay for plans – anything starting from $1.99 for the Pro plan – but I can't say how long this will last.
Key features:
Link shortener: Turn trackable links into readable, shareable URLs.
1k links per month: Create 1,000 links per month using the free version of Bitly.
Unlimited clicks: All Bitly plans allow you to capture an unlimited number of clicks on your links.
Link tags: Create tags to group and categorise your links.
Social posting: Post your links directly from Twitter by connecting to Bitly.
Reporting: Track the performance of your links and optimise campaigns.
Bitly is a link shorter that allows you to turn URLs into shorter, more shareable links. Aside from length, you can also use these shorter URLs to track clicks and engagement on third-party platforms – namely social media networks.
The free version of Bitly allows you to shorten 1,000 links per month and there's no limit on the number of clicks you're allowed to generate from your links. You can also add link tags to add contextual tracking to clicks and traffic from your shared content.
If you need to create more links, paid plans start at $29/month and you can also create branded links on paid versions of Bitly.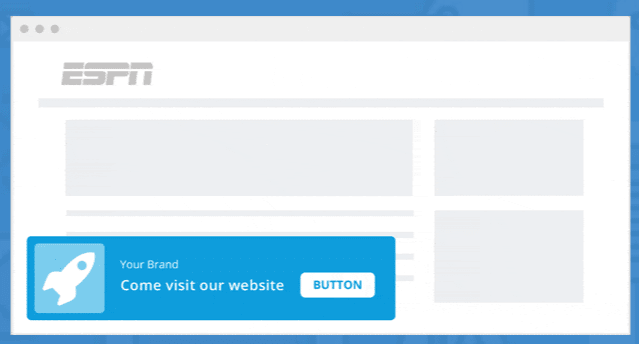 Key features:
Snips: Add unobtrusive CTA pop-ups to pages on your website.
1k clicks per month: You can generate up to 1,000 clicks per month using the free versions of Sniply.
Unlimited links: Create as many Snips as you like on any plan (paid plans start at$29/mo).
Limited customisation: You get basic customisation options on the free plan but the paid plans unlock more freedom.
Analytics: Track the performance of your Snips and optimise campaigns for better results.
With Sniply, you can add CTAs to every page of your website to generate more leads with unobtrusive pop-ups that only take up a fraction of the screen.
You can create an unlimited number of Snips (pop-ups) on every version of Sniply although you are limited to generating 1,000 clicks per month on the free plan.
Paid plans start at 29/month, allowing you to generate more clicks from your Snips and access greater reporting, A/B testing and other features to help you capture more leads.
Build your free marketing tech stack
With the free tool we've looked at in this article, there's nothing stopping you from building a free marketing tech stack that will give you everything you need to put effective growth strategies in place.
Once your business outgrows these free tools, you'll be ready to invest in paid marketing software and take that next big step. Many of these tools we've looked at today offer paid plans that scale with your business and incrementally provide more features as you need them.
Let us know if you think any tools are missing from this list by leaving a comment and maybe we'll add your suggestions.