Marketing teams need more than general-purpose collaboration software to manage winning campaigns. If you search for "collaboration software" in Google, you'll find plenty of tools for team messaging, video calls, collaborative document editing and task management. And, while products like Slack and Trello are great at what they do, they're simply not designed for the more creative and technical aspects of digital marketing – such as campaign planning, predictive analytics and campaign automation.
In this article, we look at the best marketing collaboration software that will help you and your team manage these tasks more effectively. These tools will help you generate better marketing ideas, plan winning campaigns, manage the workloads of everyone on your team and optimise campaigns to get the best results.
What are we looking at in this article?
The bulk of this article includes reviews of the best marketing collaboration software currently available. Before we get into the reviews, we take some time to explain what you should look for in marketing collaboration tools to make it easier to distinguish between the more general-purpose platforms and the ones that will make a real impact on your marketing efforts.
This article includes the following sections:
Once we're done with the reviews of each system, we have a comparison with tables showing how the pricing and features compare and we also discuss the best platforms for performance and usability.
What are we looking for in marketing collaboration software?
As touched on in the intro, we're not here to discuss generic collaboration tools like group messaging or document collaboration that any team can benefit from using. We're focusing specifically on marketing collaboration software that provides specialist features designed for specific marketing tasks.
Here's a summary of some of the key features we want to see from marketing collaboration software and what you should look out for if you're comparing tools.
Marketing planning
As explained in our guide to the best marketing planning software, there's a real lack of tools designed to help marketers with planning campaigns and strategies. Yet, this is one of the most collaborative stages of marketing projects and it can be one of the most time-consuming unless your team is consistently producing winning marketing ideas quickly.
It's easy to find a project management system that helps teams collaborate once campaigns are running but we want to see features in marketing collaboration software that will help teams during the creative stages of campaign planning.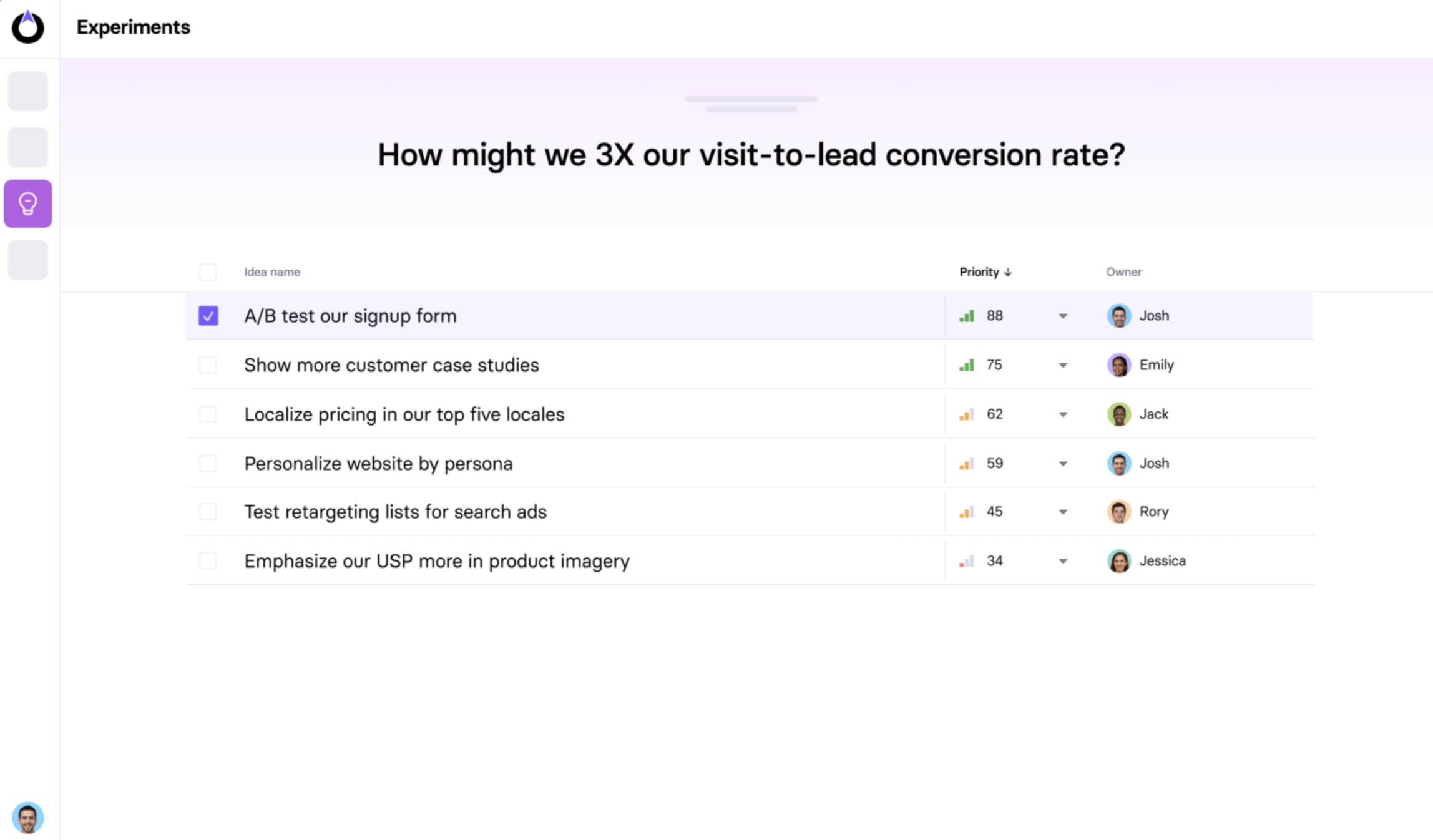 Specifically, we want features that help marketing teams develop ideas faster, prioritise their best ideas and dedicate budget to campaigns and strategies predicted to get the best results. We want collaboration features that make this planning process more efficient and data-driven insights that help marketing teams choose winning ideas with greater confidence and also make better optimisation decisions once campaigns are running.
Team & task management
Once the creative planning stage wraps up, marketing managers have to put together a timeline for campaigns. This maps out the workloads of team members, marketing actions and other tasks that need completing in order to achieve your goals on time.
Effective timelines map out marketing activities, ensuring every task is given enough time, resources are always available when needed and the workload of every individual is manageable.
So we're looking for a visual timeline builder that allows marketing managers to map out campaigns, assign tasks and manage the workloads of both teams and individuals. Many of the platforms we're looking at today have this capability but some of them offer more control over task management than others.
Likewise, one of our recommendations includes a timeline feature designed specifically for planning marketing campaigns while others are geared more towards general project management.
Marketing & team reporting
With collaboration software, you're normally looking for team reporting and productivity insights to get the best out of your team. This is as valuable to marketing teams as any other but it's not enough to simply track the performance of your team.
You also need marketing tracking and reporting features to measure the performance of campaigns and adapt your strategy. Ideally, you want native capabilities to track your marketing goals, KPIs and metrics with data visualisations that help you gain insights from your data. Otherwise, you should look for integrations with tools like Google Analytics or data import tools so you can pull in data from other channels, such as your social media platforms.
Team communication
Team communication is a key part of any collaboration system so this is something we have to discuss with all of the platforms featured in this article. Most of the products we're looking at today support team communication to varying degrees but the depth of features varies greatly from one tool to the next.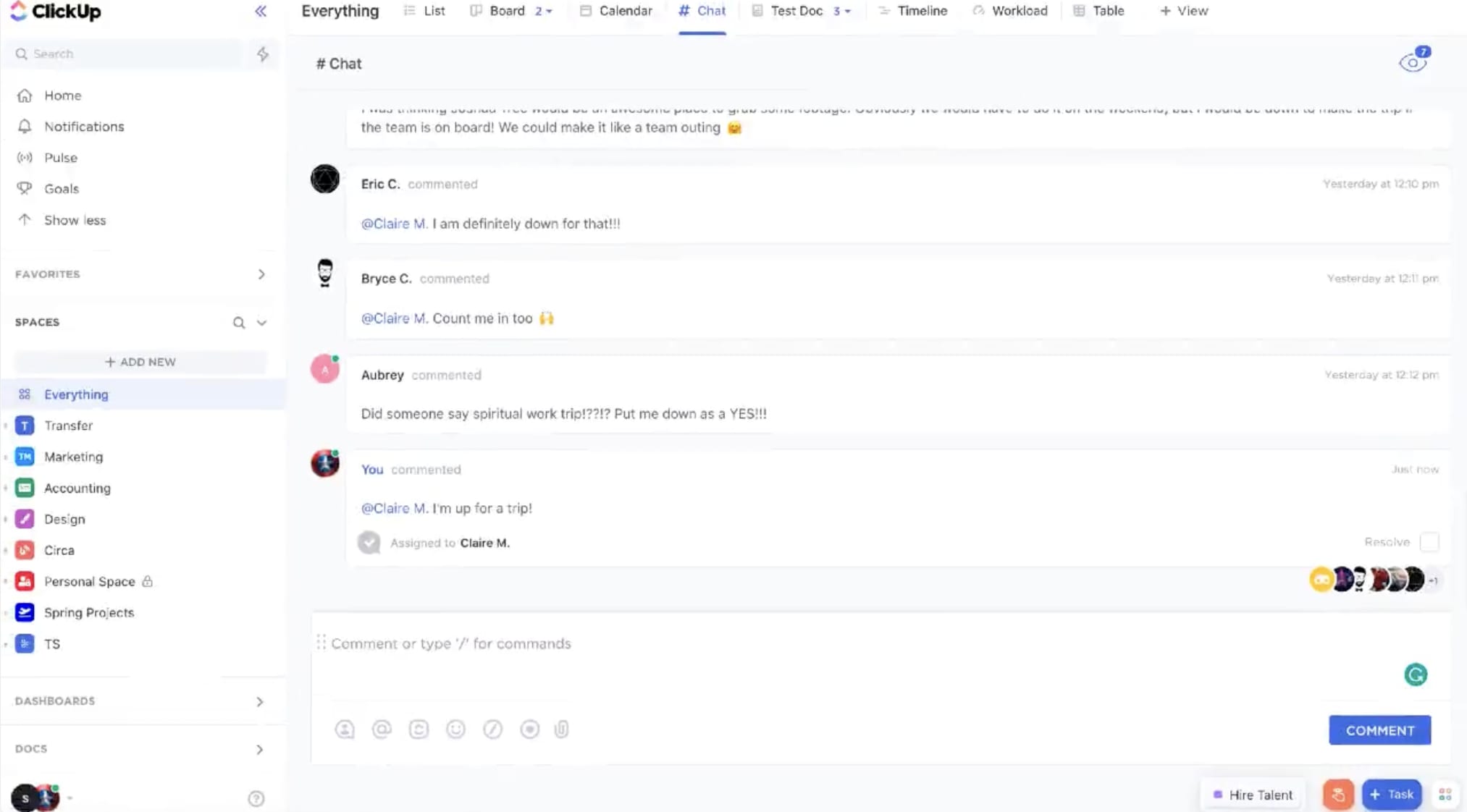 Some support in-app chatting, file sharing and integrated email while others focus more on tagging and comments. A couple of the platforms we're looking at today include their own collaborative document system that allows team members to create and edit documents in real-time – no more email back-and-forths with endless revisions.
We'll explore these features in more detail as we review each software system and explain what you're getting in terms of team communication.
Pricing for teams
As with all software designed for teams, you have to pay close attention to pricing when you're looking at collaboration tools. Most SaaS companies offer multiple plans with different feature restrictions and the majority also price their platforms on a per-user basis, meaning your monthly fees multiply with every member on your team.
At a glance, some products may look like a great deal until you realise how many users you need on the account or you look at the upgrade path and see how your fees are going to increase over time. In our reviews, we take time to discuss the pricing of each platform so you know exactly what you're going to pay and we've also got a pricing comparison section at the end of this article to help you see which platforms really offer the best value.
#1: TrueNorth: Create better marketing ideas as a team
Pricing: $99/month (all features, unlimited users)
In the previous section, we talked about dedicated features for planning marketing campaigns and strategies. TrueNorth is one of the only platforms on the market that provides a collaborative environment for your team to produce better marketing ideas, develop them into winning strategies and make smarter marketing decisions.
The platform takes a data-driven approach to marketing planning and management with intelligent growth projections and campaign simulation features. This allows you to test out marketing ideas before you allocate any budget to them and prioritise campaigns expected to get the best results to maximise ROI.
Predictive technology helps your team produce and develop strategies with confidence and TrueNorth's collaborative ideation system gets you out of the planning stage faster.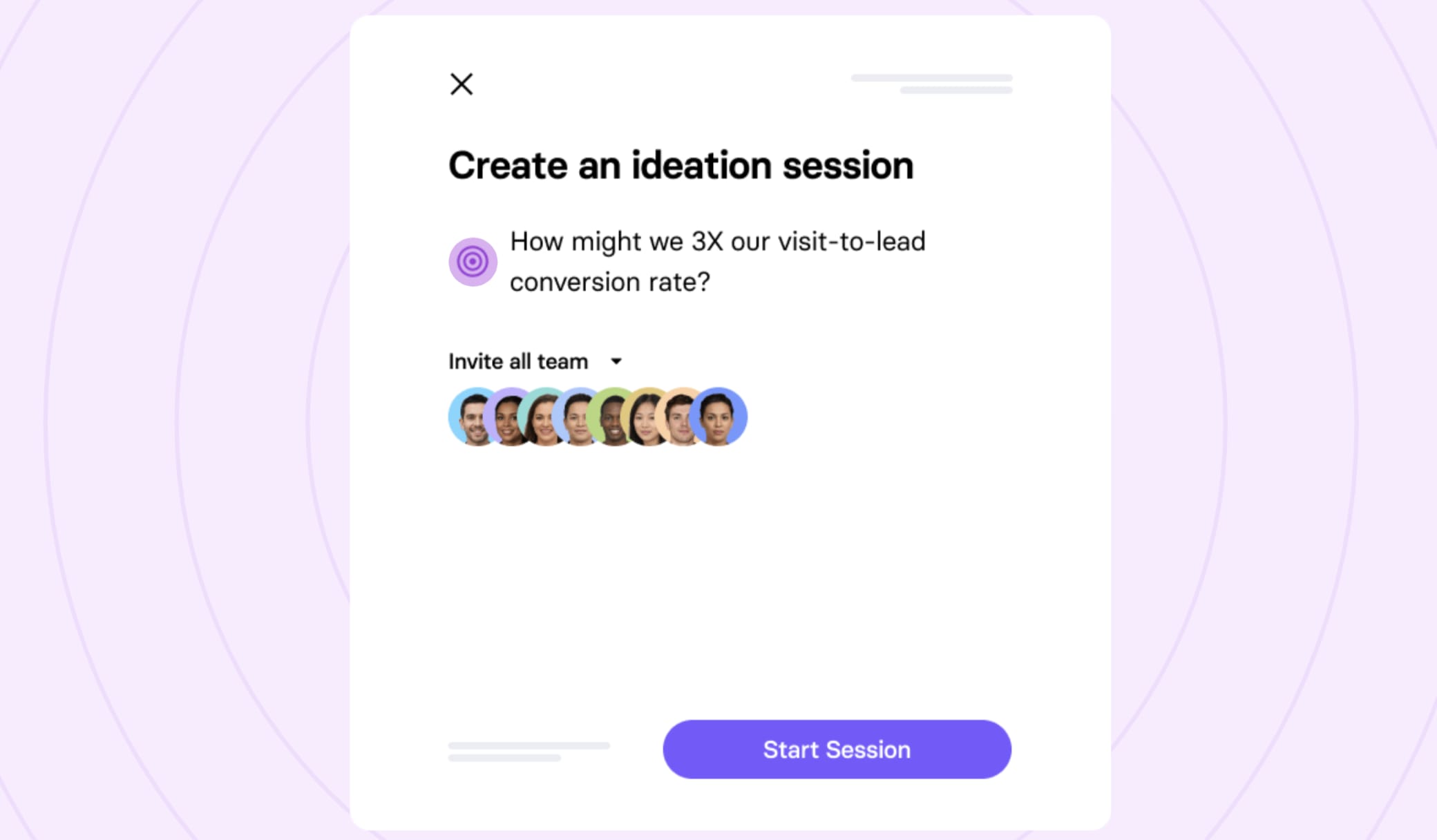 Key features:
Campaign planning: Develop winning marketing ideas faster with built-in tools for each stage of the creative process.
Collaborative ideation: Collect ideas from your team outside of meetings so you're ready to develop the strongest concepts right away.
Marketing timeline: Map out your marketing timeline and assign tasks to get the best out of your team.
Campaign tracking: Stay on top of everything with a single view. All campaigns – whether running now or upcoming – across all channels.
Growth projection: Guide your team to the right decisions with data-driven predictions.
Campaign simulator: Predict the outcome of campaign ideas and select the best strategies.
Campaign reporting: Measure campaign performance vs simulations, make adjustments and resimulate to identify the changes that'll maximise performance.
Prioritise ideas: Quickly prioritise strategies and campaign ideas using the Impact, Confidence and Ease (ICE) framework, backed up by your data-driven campaign simulations.
With its collaborative ideation system, managers can quickly request ideas from individuals and groups of team members for specific marketing goals. For example, you might create an ideation session requesting ideas on how to increase 3X your visit-to-lead conversion rate and invite all of the relevant team members into your session.
Invitees can add their ideas to the session and develop them with teammates through in-app comments.
You're not simply putting together a static list of marketing ideas with TrueNorth, either. With the platform's campaign simulator, you can predict the outcome of campaign ideas and automatically prioritise them, based on those expected to achieve the best performance.

More specifically, TrueNorth prioritises marketing ideas using the Impact, Confidence and Ease (ICE) framework that not only considers performance expectations but also the balance of results and difficulty of achieving them. Data-driven predictions allow you to prioritise marketing ideas quickly and focus your efforts on the best strategies.
TrueNorth also includes a marketing timeline tool for planning campaigns, managing workloads and tracking the contribution of each marketing activity.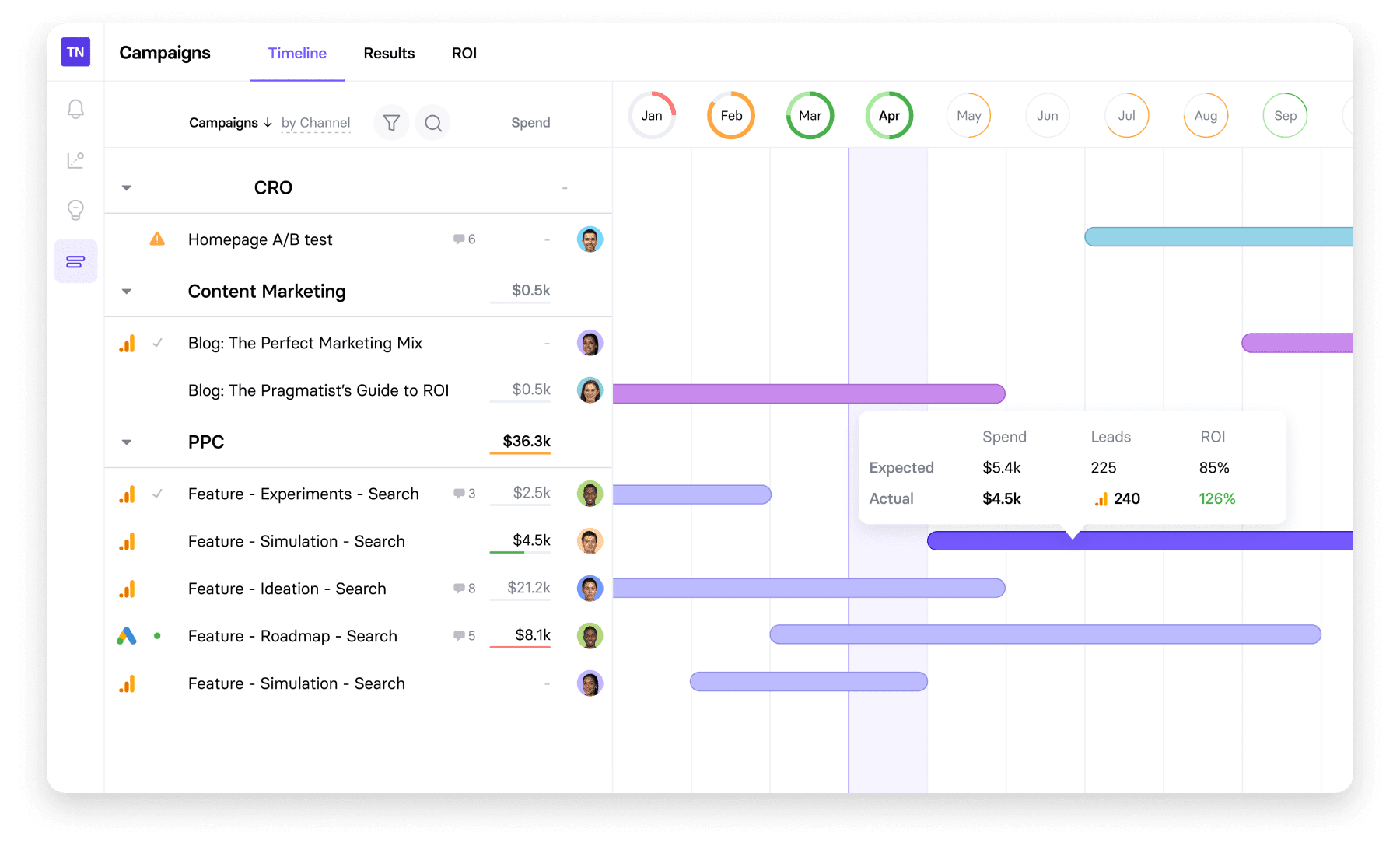 TrueNorth is the only platform we're looking at today that includes a dedicated timeline feature for planning marketing campaigns. A few of the systems we'll be looking at later include project management timelines and other interfaces for planning/viewing different project types but they're not designed and optimised specifically for running marketing campaigns.
TrueNorth is designed by marketers for marketers to remove the inefficiencies of marketing planning and management. It offers a collaborative planning system backed up by predictive technology to help you produce winning campaigns and get them out of the conceptual stage faster.
How much does TrueNorth cost?
Unlike most SaaS products, TrueNorth isn't split across multiple plans with different prices and feature lists. You also don't need to worry about per-user pricing, upgrade costs or any hidden fees. You can use the full version of TrueNorth for free, for 30 days, and you simply pay a flat-rate fee of $99/month once the trial period is over – and this gives you full access to all of its features for your entire team.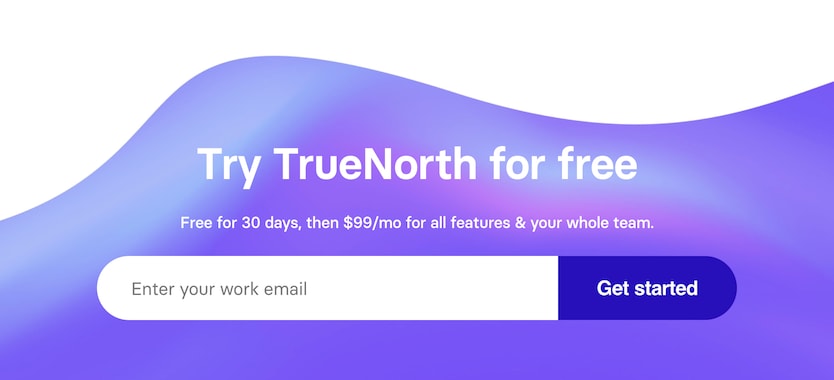 This means you don't need to worry about adding or removing people from your team and your monthly fees constantly jumping around. You also don't have to deal with feature limitations, usage restrictions or upgrade fees once you reach the limit on your current plan – because there are no plans.
This isn't a common pricing model for SaaS products but it makes TrueNorth one of the most cost-effective options for marketing teams. As we discussed earlier, collaboration software isn't much help to individual users so you have to consider how much you'll be paying to cover your whole team – something you don't have to sweat over with TrueNorth.
TrueNorth pros & cons
TrueNorth pros
Collaborative ideation: TrueNorth's innovative ideation system helps your team develop better marketing ideas and put them to the test.
Campaign simulator: TrueNorth's innovative campaign simulator helps you prioritise campaign ideas, choose the best creatives and optimise performance with greater precision.
Simple pricing: For $99/month, you get access to all of TrueNorth's features for your entire team – no hidden fees, user-based pricing or upgrade expenses.
Usability: TrueNorth is optimised to help you launch and optimise campaigns faster without spending unnecessary time fiddling with features and settings in the software.
TrueNorth cons
Marketing focus: If you're primarily looking for a project management system that moonlights as marketing management software, the other options in this list may be more suitable.
No free plan: As part of TrueNorth's simple, flat-rate pricing model, there's no free plan available (but you can try it for 30 days, for free).
TrueNorth verdict
If you're looking for a collaborative system designed specifically for marketing teams to develop and manage winning campaigns, TrueNorth is hard to beat. It's the only platform we know of that provides dedicated tools for collaborating on marketing ideas, putting them to the test and automatically prioritising ideas – so you can get out of the planning stage and into the getting-results stage faster.
#2: ActiveCampaign: Unite your marketing and sales teams
Pricing: From $9/month
ActiveCampaign is the least collaborative platform we're looking at today – at least, in terms of team members working together on the same task. This isn't the kind of collaboration ActiveCampaign is designed for, though. We tend to think of collaboration software as helping team members within the same teamwork on tasks together but extra-team collaboration is just as important for marketing teams.
One of the biggest challenges for modern companies is integrating seamless marketing and sales processes across multiple teams: several marketing teams, a core sales team, customer support, etc.
ActiveCampaign unites these teams through a single system built around a customer management system (CRM) that merges your marketing and sales data. By building data across the marketing funnel and customer cycle, you can deliver targeted marketing campaigns at every stage of the buying process and nurture prospects towards the next purchase.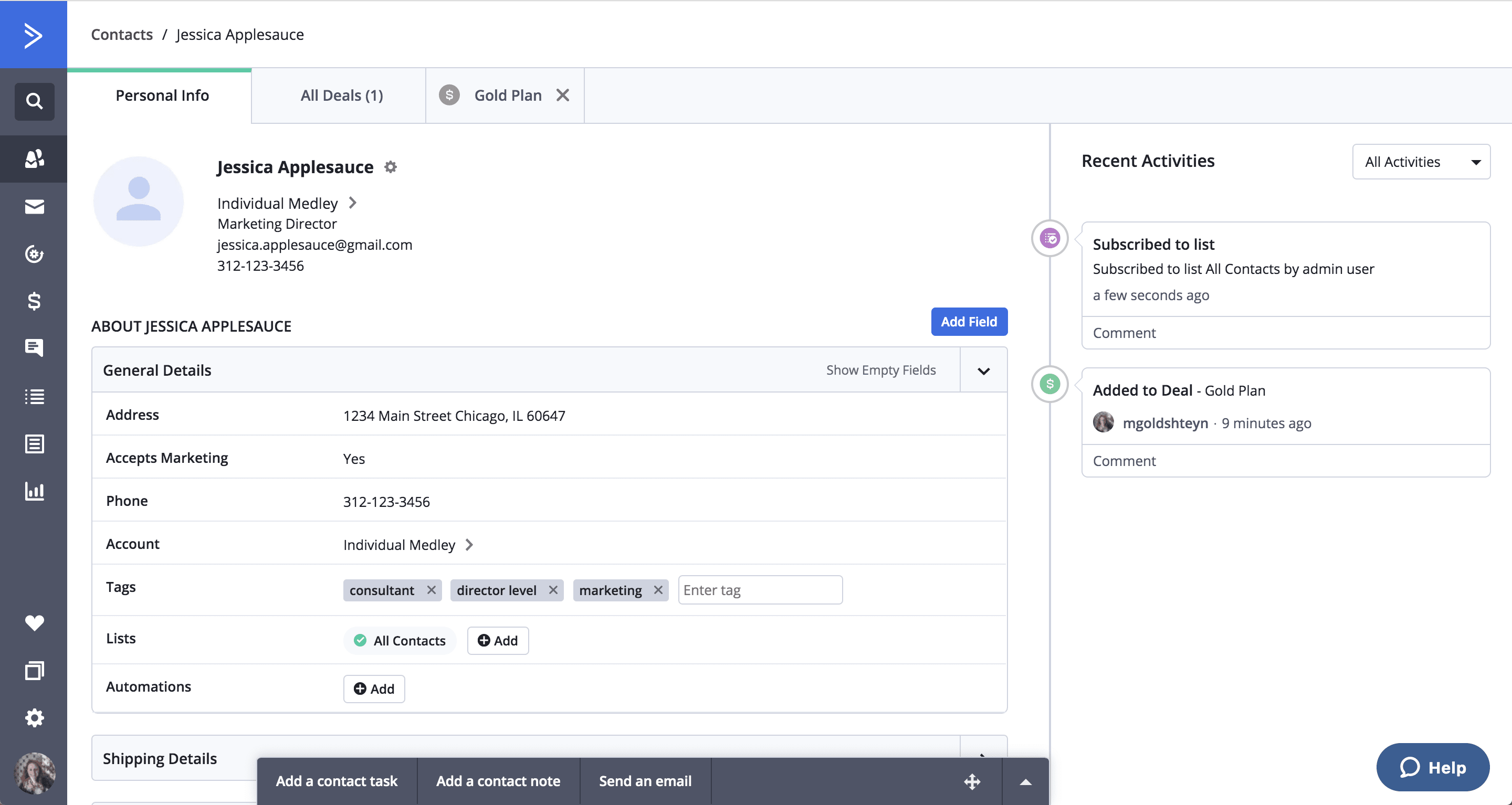 Key features:
Built-in CRM: Manage all of your customer data in ActiveCampaign with its built-in CRM.
Email marketing: Everything you need to manage winning email marketing campaigns – email builder, templates, campaign workflows, reporting and more.
Marketing automation: ActiveCampaign delivers some of the best marketing automation features around.
Lead nurturing: Turn leads into paying customers by nurturing them through the buying process.
Customer cycle management: Manage campaigns at every stage of the customer cycle, from lead capture to the first purchase and beyond.
Predictive technology: Predict lead scores, customer value and send predictive content in your emails.
Website tracking: Build hyper-relevant campaigns by tracking website activity and automatic email delivery.
Personalisation: Create personalised customer experiences across multiple channels.
Marketing reporting: Track campaign performance and optimise results.
With an integrated marketing and sales system, you can eradicate the divide between marketing leads and closed deals. ActiveCampaign automatically updates the status of leads so sales reps always know when they need to step in and when to hold off.
Marketing automation is a key aspect of ActiveCampaign's platform, allowing you to automate entire marketing strategies with segmented lists, lead scoring, customer value predictions and a range of other intelligent features.
The platform's Service Suite also incorporates your customer support team with native email and in-app support, in addition to deal assignment, customer health scoring, dedicated service reporting and plenty more.
How much does ActiveCampaign cost?
ActiveCampaign's pricing model is more typical of SaaS companies than TrueNorth's. As you can see below, there are four plans available with prices starting from $9/month and it's worth noting that ActiveCampaign doesn't quite charge on a per user basis – although team size does matter.
The Lite plan only covers you for one user while the Plus plan increases the limit to 25 users and the Professional plan increases this, once again, to a maximum of 50 users. If you have more than 50 people on your team (keep in mind, this could include your marketing, sales and customers service teams), then you'll have to sign up for the Enterprise plan, which covers you for unlimited users.

The other thing to keep in mind with ActiveCampaign's pricing is that the monthly fees for each plan increase, based on the number of contacts you have in the CRM. So, the pricing shown above covers you for up to 500 contacts on the Lite Plan, 1,000 contacts on the Plus plan and 2,500 contacts on the Professional and Enterprise plans.
The price increases vary across plans as your contact list grows so the best way to see how much ActiveCampaign will cost you is to use the interactive pricing page on its website.
ActiveCampaign pros & cons
ActiveCampaign pros
Marketing automation: ActiveCampaign is the best marketing automation system we've used and far more affordable than similar products.
Built-in CRM: Manage all of your customer data in one place and use it to maximise sales.
Lead nurturing: ActiveCampaign excels at nurturing leads into paying customers and customers into repeat buyers.
Low entry price: ActiveCampaign's pricing model allows small and growing businesses to buy into growth software only enterprise companies can normally afford.
ActiveCampaign cons
Complex pricing: The downside to ActieveCampaign's pricing model is complexity – you have to know what you're signing up for and understand your future software fees.
Learning curve: Given the depth of features available in ActiveCampaign, it's going to take time for your team to get familiar with everything.
ActiveCampaign verdict
ActiveCampaign is the only platform we're looking at today that can integrate your marketing, sales and customer support teams through a single system. It's not collaboration software in the traditional sense (if there is such a thing) but it can solve one of the biggest challenges modern businesses face in closing the gaps between nurturing leads, closing deals and keeping customers happy.
#3: ClickUp: Collaborate on projects, docs & marketing activities
Free plan available; pricing from $5/month
ClickUp is a collaborative project management system that aims to provide a single environment for your team to work together on tasks. This isn't a marketing-centric platform in the same way As TrueNorth or ActiveCampaign but ClickUp offers up more marketing features than you would normally expect from a project management system – eg: sprint planning features, marketing timelines and a range of marketing project templates.
This is also the most collaborative project management system we've tested at Venture Harbour. The native ClickUp Docs app adds a system for your team to create, edit and collaborate on documents in a similar way as platforms like Google Docs without needing to integrate with a third-party app.
Within ClickUp, you also have a built-in chat system for team members to discuss marketing ideas and collaborate on marketing tasks. Like TrueNorth, ClickUp has its own timeline tool, which you can use to map out campaigns and it also supports a wide range of other view formats, including Gannt charts, boards, calendars, tables and plenty more – one of the major benefits of using a project management system as your marketing collaboration tool.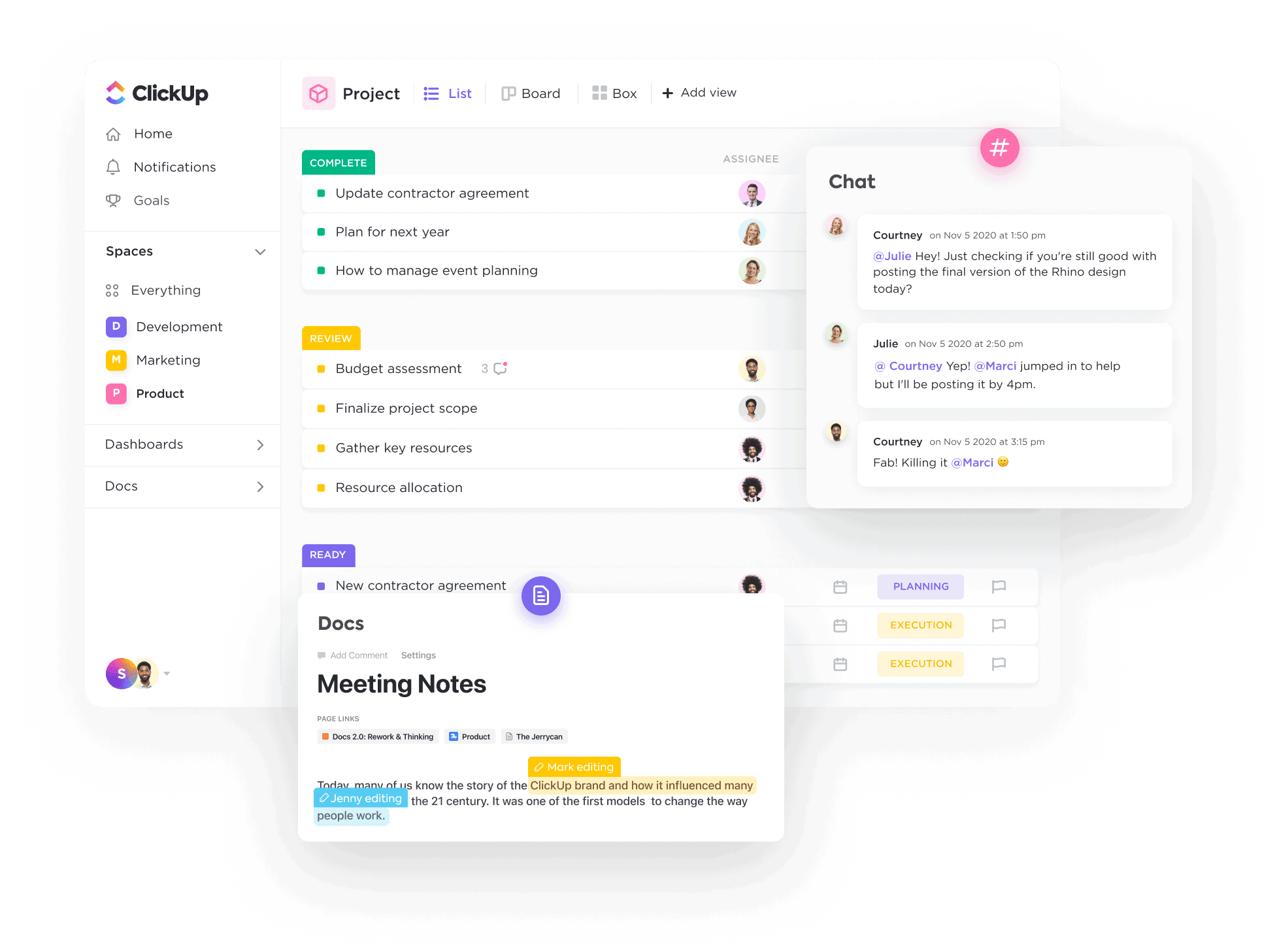 Key features:
Project planning: Plan campaigns and other projects with ClickUp's collaborative system.
Collaboration: Plan and manage projects at every level as a team with email, chat, comments, docs collaboration and more.
ClickUp Docs: Create, manage and collaborate on documents inside ClickUp.
Sprints: Plan and manage marketing sprints with the native Sprint App, available on all plans.
Task management: Create and manage tasks for teams and individuals.
Spaces: Organise teams and departments into Spaces where you can group projects into folders.
Views: Plan and manage your campaigns across 15 different views, including lists, boards, calendars and more.
Reporting: Set goals and track progress with built-in reporting.
Time management: Track time, estimate tasks durations and analyse team performance.
Marketing templates: Plan campaigns and marketing projects faster with ClickUp's library of templates.
Automation: Cut out repetitive tasks using 50+ actions, triggers and conditions with pre-built, customisable recipes.
ClickUp also has a few unique features built into its software that you won't find on any of the other platforms we're looking at today. First, it has a native tool for planning sprint runs, which is technically designed for development teams but perfectly suitable for agile marketing teams. The platform's library of templates also includes several agile project templates to help you plan sprints faster and you can automate repetitive tasks to trim time off sprint management, too.
Another notable feature is in-app video recording, which allows team members to capture screen recordings of anything in the app and send the footage of teammates through the platform's messaging system. You can capture the entire screen, app window or browser tab and add voice notes through your device's microphone to send visual messages or instructions to anyone on your team.
How much does ClickUp cost?
ClickUp offers a free plan for individuals and paid plans start at $5/month per user for the Unlimited plan, which is designed for small teams. This covers you for unlimited tasks, spaces and file storage with additional views and 1,000 automation per month.
The key limitation on the Unlimited plan is that you can only manage one team but you can sign up for the $9/month per user Business plan if you want to manage multiple teams. This plan also opens up more advanced automation capabilities with multiple actions and conditions, plus additional views and increased guest limitations.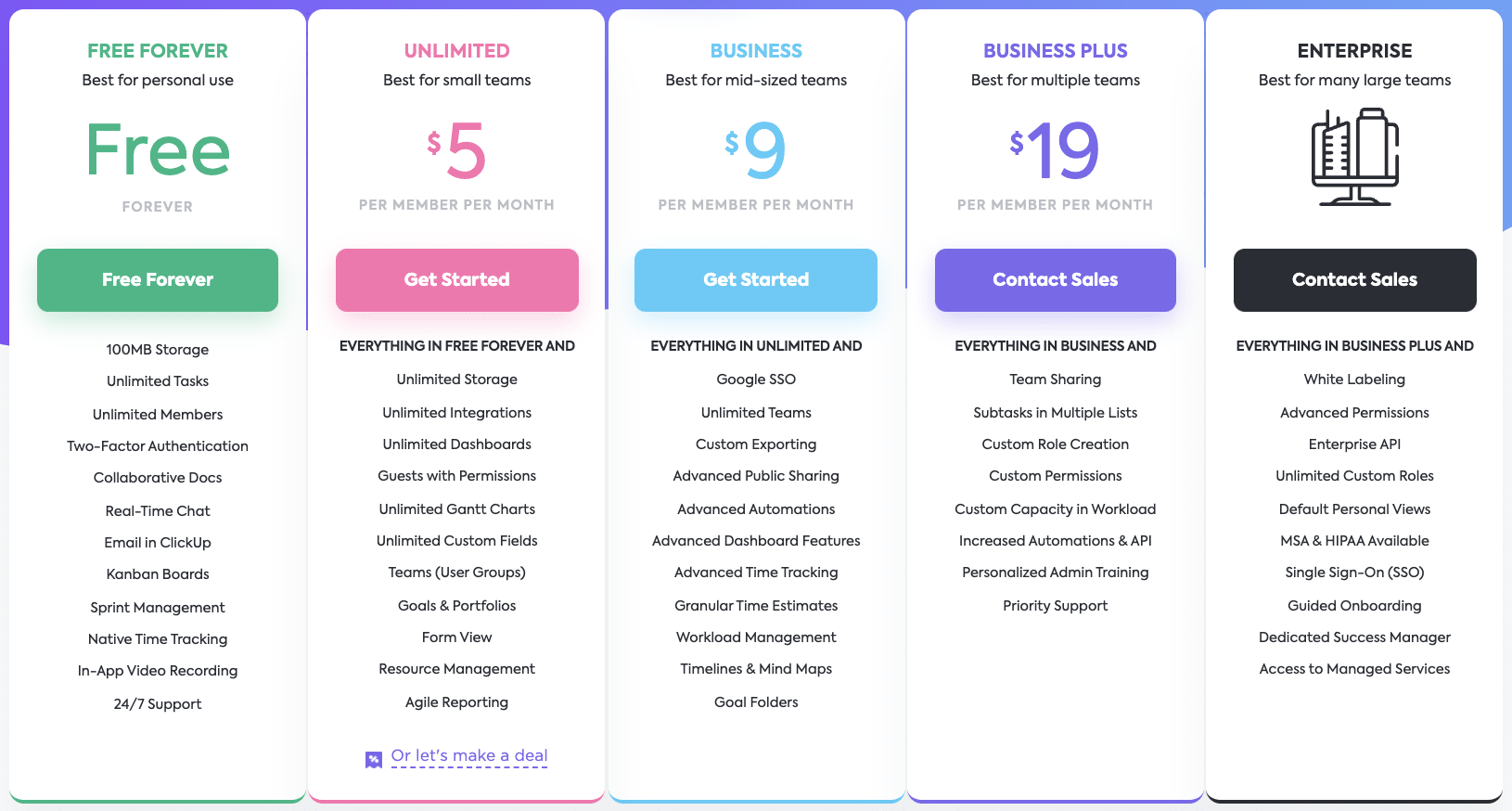 Then, you've got the $19/month per user Business Puss plan, which gets your team sharing, custom roles, increased automation and priority support. Finally, the Enterprise plan includes advanced security features and some additional customisation options, but you'll have to contact ClickUp's sales team for prices on the Enterprise plan.
You can find out more information on the company's pricing page.
ClickUp pros & cons
ClickUp pros
Collaboration: ClickUp provides one of the most collaborative systems we've used without compromising productivity.
Usability: Despite the depth of features worked into its platform and the extent of collaboration tools, the standard of usability ClickUp achieves is impressive.
Marketing planning: While it doesn't compete with TrueNorth when it comes to marketing planning, ClickUp offers more in this regard than the other alternatives.
ClickUp cons
Mobile apps: As good as the web app experience is, the UI design on the mobile apps isn't as intuitive.
Learning curve: The depth of features comes with an inevitable learning curve that you're not going to get from simpler tools like Trello.
ClickUp verdict
ClickUp is the most collaborative system featured in this article, even if it's more of a project management system than a marketing platform. You're not getting the same kind of collaboration features we saw with TrueNorth – ones designed for developing marketing ideas, planning campaigns, projecting results, etc.
Instead, you're getting a comprehensive toolkit that can replace half a dozen apps with task management, team messaging, document collaboration and plenty more. So this isn't a system that's going to compete with or replace something like TrueNorth but more likely something you would use alongside it.
#4: monday.com: Collaborative workload management
Free plan available; paid plans start from £21/month*
Like ClickUp, monday.com is primarily a project management system but it puts more of an emphasis on managing workloads. Over the years, the company has ramped up its offering of marketing features, powered by its existing collaboration and automation tools.
Once again, you get built-in docs collaboration, campaign timelines and team communication features to collaborate on marketing ideas and resources inside the platform. However, monday.com offers more than ClickUp when it comes to asset management, which could be a key feature for social and content marketing teams.
The platform also has more marketing templates to work with, including content calendars, marketing strategies, a social media planner, ad campaigns and plenty more.
Key features:
Project management: Manage projects, including marketing campaigns, product launches and more.
Campaign planning: Plan your marketing campaigns in one organised workspace.
Task management: Manage tasks at the team and individual levels throughout your campaigns.
Workloads: Manage team and individual workloads to maximise productivity without the burnout.
Content calendar: From digital publications to social media, manage your publishing schedules and coordinate all content initiatives in one visual calendar.
Asset management: Upload and manage files, content assets and campaign essentials.
Automation: Automate repetitive work by setting customisable actions in your boards.
Marketing analytics: Import campaign data and track performnce inside monday.com.
Time tracking: Track and monitor the time spent on each task.
Templates: Use and create project templates to get things moving faster.
Collaboration: Send messages, attach files, run video chats and collaborate via digital whiteboards.
The other area where monday.com edges ahead of ClickUp is workload management. The platform includes a dedicated workload view to help team leaders maximise productivity without burning anyone out. You can also manage resources to ensure everyone has access to the tools they need to do their job at the scheduled time.
Then, the platform automatically logs task completions to track the workload of team members, based on how much they're doing in specified times. This allows you to see how close to capacity team members are at any one time so you can assign tasks to people who have space or manage the workloads of people who are doing too much or falling behind.
How much does monday.com cost?
Like ClickUp, monday.com offers a limited free plan although it's available for up to two users who want to collaborate on joint projects. The Basic plan starts from £7/month per user but you have to have a minimum of three users on the paid plans so your fees actually start at £21/month and increase by £7/month for each additional user for teams of more than three people.

Even on the Basic plan, you get a collaborative whiteboard, marketing templates, request forms, asset management and basic project management features. Upgrade to the £9/month per user (starting at £27/month) Standard plan and you also get the timeline view, marketing analytics, task automation, Zoom integration and more.
The Pro plan starts at £42/month for the first three seats and an additional £14 per seat after that. This gets you campaign management, marketing planning features, time tracking, an Adobe Creative Cloud plugin and the full set of project views.
monday.com pros & cons
monday.com pros
Workload management: monday.com prioritises task and workload management as a productivity tool.
Visual simplicity: The interface is a little harsh on the eyes but its visual simplicity communicates information effectively.
Collaboration: The in-app notes, messaging and notification system aids collaboration without being intrusive on individual workflows.
monday.com cons
Time-consuming: While monday.com is excellent for task management, you spend a lot of time creating task lists, structuring projects and updating statuses.
Complicated pricing: The monthly prices displayed on the website are a little misleading because you have to pay for a minimum of three users and the per-user pricing multiplies the total fee.
monday.com verdict
In all honesty, there's not much separating monday.com and ClickUp so the best advice here is to try them both out and see which one meets your needs. ClickUp is the more collaborative system and the usability is noticeably better (more on this later) although monday.com is the stronger platform for managing team workloads.
The marketing templates are a big asset for campaign planning, too, and the collaborative asset management features make monday.com a strong option for social and content marketing teams.
#5: GatherContent: The collaborative system for content marketing teams
Pricing: From $99/month
GatherContent is a collaborative platform that helps content marketing teams create, review, approve and manage content production. It provides a single hub for managing your content strategy, from strategic planning and production to publishing and promotion. Essentially, GatherContent is a collaborative project management system designed for content teams with a suite of specialist tools to help you produce quality content faster.
The system is built around a structure of projects and folders that you can use to organise content production and give everyone in your team access to the resources they need from a single platform. You can plan out your content schedule with briefs and deadlines, create assignments, assign tasks and add everything into GatherContent's built-in content calendar.
From here, you can manage every stage of content production with statuses, identify bottlenecks and assist individuals with any challenges they're facing. Meanwhile, team members can create content within the platform and collaborate on pieces, allowing you to establish a seamless process of production, feedback, editing, approval and publishing.
Key features:
Real-time collaboration: Produce and review your content faster when contributors work on content at the same time.
Content planning: Build your content strategy, develop ideas and put together your roadmap.
Content management: Simplify content production by building a repeatable content creation process.
Templates: Customisable templates make it easy for people to provide any type of content in the correct format, and style.
Content calendar: Visualise your team's editorial schedule for everyone to stay on track.
Content Hub: Bring your team together as you organise, plan and produce content in one platform.
Style guides: Embed your content style guide in your editing environment so authors can easily follow voice and tone content rules.
GatherContent includes a library of content templates for blog posts, web content, landing pages, etc. that you can use to produce content faster. You can edit templates or create your own and save them to remove repetitive steps in your content production process, improve consistency and help new team members get up to pace quicker.
You can also create a set of guidelines for different content types and embed them where team members are producing content so they always have guidance without needing to manually find and open the documentation themselves.
GatherContent helps you create a repeatable process of content production capable of meeting the constant demands of modern content marketing.
How much does GatherContent cost?
GatherContent doesn't offer a free plan and its cheapest plan starts at $99/month but the system isn't priced on a per-user basis. So, if you're signed up for the Start plan, you'll only pay $99/month for your whole team although you're getting a restricted version of the software, limited to managing one project and five components with basic workflow and basic permissions features.

Upgrade to the $299/month Scale plan and you can manage up to 10 projects with 15 components per project, plus the full set of workflow and permissions features. The Scale plan also includes "basic" shareable links for sharing content with people outside of your account and 12 months of revision history to view changes over the previous year.
The $799/month Transform plan covers you for up to 30 projects with unlimited components, unlimited revision history, advanced shareable links (editable), single sign-on and the ability to archive projects.
If you need to manage more than 30 projects in GatherContent, you'll have to contact the company's sales team to discuss pricing on a larger plan.
GatherContent pros & cons
GatherContent pros
Content marketing: A collaborative system designed specifically for content production.
Content collaboration: The most powerful collaboration environment for teams to work on content.
Productivity: Cut out the inefficiencies and delays holding back your content production.
GatherContent cons
Performance: Slowdowns on larger tasks and occasional glitches with UI elements, text entry and other actions.
Expensive for small teams: GatherContent plans are expensive for small teams but the lack of per-user pricing makes it pretty affordable for teams of 5+ members.
GatherContent verdict
GatherContent is obviously a specialist tool designed for content-driven marketing strategies but this focus allows for advanced features few platforms can offer. For teams that rely heavily on content marketing and face the productivity challenges of producing a constant stream of content.
With its top-tier plan costing $799/month, this isn't the cheapest platform around for smaller teams but the company isn't using a per-user pricing model. This means GatherContent is comparatively affordable for teams of five or more members, being equivalent to $159.80/month per user for a team of five signed up to its most expensive plan.
Which is the best marketing collaboration software?
Now that we've had a good look at each marketing collaboration platform, let's see how they stack up against each other. In this final section, we compare each of the products reviewed in today's article on the following three categories:
Pricing
Marketing collaboration features
Usability
For the pricing and features sections, we include a couple of tables so you can easily see how the monthly software fees compare and the key features you'll be getting for your money.
The best for pricing
We discussed the pricing of each platform in the reviews section but it's difficult to compare different platforms when you've got multiple plans and different feature sets to consider. In the table below, you'll see which platforms offer a free plan, the starting price for the cheapest paid plan they offer and the starting price for the most expensive plan available.
| Tool | Free plan? | Starting price | Top plan |
| --- | --- | --- | --- |
| TrueNorth | – | $99/mo | – |
| ActiveCampaign | – | $9/mo | $259/mo |
| ClickUp | Yes | $5/mo* | $19/mo* |
| monday.com | Yes | £7/mo* | £14/mo* |
| GatherContent | – | $99/mo | $799/mo |
Keep in mind that ClickUp and monday.com employ a per-user pricing model so you'll have to multiply those monthly software fees by the number of members on your team – and monday.com requires a minimum of three users on its paid accounts.
In the case of TrueNorth, you simply pay $99/month for all of its features and unlimited team members, meaning you never need to worry about upgrade fees or changing the size of your team from one project to the next. All things considered, TrueNorth is the best-value platform listed above and GatherContent is less expensive than it first appears for teams of five or more members due to the lack of per-user pricing.
The best option for marketing collaboration features
Every platform we've looked at today offers a variety of marketing collaboration features and the decision really comes down to what you and your team need from a platform – or combination of platforms. Here's a quick comparison table of the key collaboration features available on each platform:
| Tool | Marketing planning | Ideation | Task management | Team comms | Docs editing |
| --- | --- | --- | --- | --- | --- |
| TrueNorth | Advanced | Advanced | Basic | Basic | – |
| ActiveCampaign | Basic | – | Advanced | Basic | – |
| ClickUp | Basic | – | Advanced | Advanced | ✔ |
| monday.com | Basic | Basic | Advanced | Basic | ✔ |
| GatherContent | Advanced | Basic | Basic | Basic | ✔ |
As you can see, there's a lot of overlap where platforms offer similar features but they don't all provide the same depth – for example, TrueNorth advanced collaborative ideation features while monday.com offers a more basic set of features for this and ActiveCampaign don't really provide anything at all for this.
The best option for usability
In our final comparison, we want to spend some time talking about usability, which is particularly important for collaboration software and any tool designed to boost productivity. You don't want a system that gets in your way or adds unnecessary UX barriers that extend the amount of time it takes to complete rudimentary tasks.
To analyse usability, we assess the following characteristics of each platform reviewed in this article:
Smooth operation: The software runs smoothly without any lags or slowdowns as you interact with elements.
Navigation: Elements, tools, settings and everything else you interact with is easy to find.
Minimal clicks: Simple actions require no more than 1-3 clicks to complete and more complex actions (eg: settings changes) within a reasonable number of clicks.
Action completions: The quantity of meaningful actions you complete vs time spent interacting directly with the software.
Based on these factors, two of the platforms in this article stand out as the best for usability: TrueNorth and ClickUp. So let's explore what sets these two systems apart from the others.
TrueNorth
TrueNorth is the newest platform featured in this article and it benefits from modern, refined design models. Its interfaces are clean and a simple navigation system makes it easy to find everything you need in the platform. Usability is always a tricky aspect with collaboration software because integrating features like instant messaging and notifications create digital distractions that can interfere with workflows.
To avoid these issues, TrueNorth neglects a universal chat system in favour of limited messaging features to actions that require them – for example, the collaborative ideation sessions.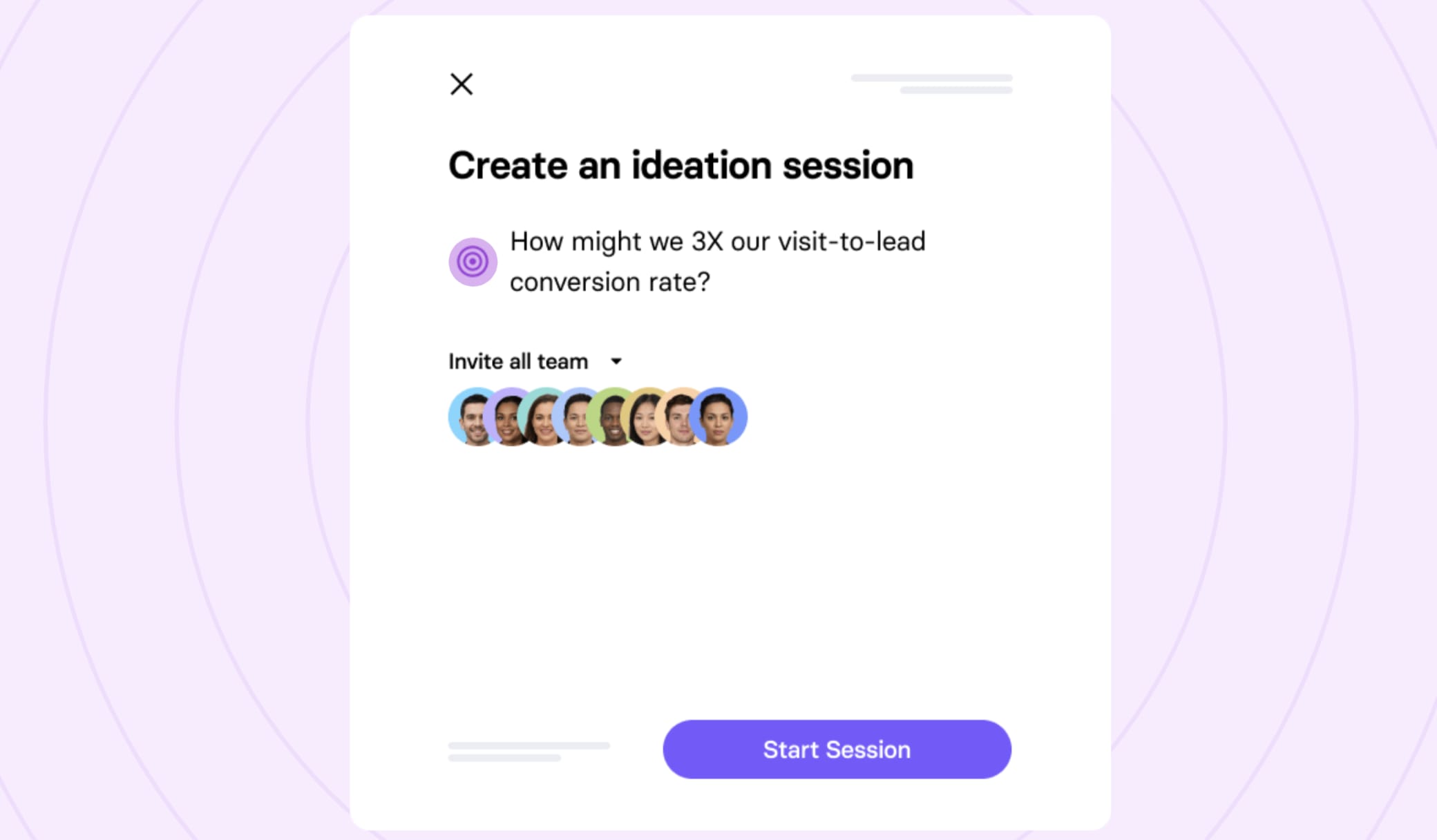 TrueNorth also benefits from the marketing focus of its system, which allows it to simplify key features, such as the timeline tool. Instead of supporting multiple project types, the timeline tool in TrueNorth is purely designed for planning campaigns and this allows it to include advanced marketing features while maintaining a fast, easy tool to use.
ClickUp
While TrueNorth takes a calculated approach with its collaboration features to minimise disruption, ClickUp takes the opposite approach. This is one of the most collaborative systems around, complete with in-app chatting, a built-in documents app, integrated email, smart notifications, reminders and plenty more.
Likewise, the timeline view is the kind of general-purpose tool designed for all project types (unlike TrueNorth's version) which requires added flexibility and, ultimately, complexity. As a project management system, this is true of most ClickUp features, which have to maintain flexibility for different project types: marketing, development, etc.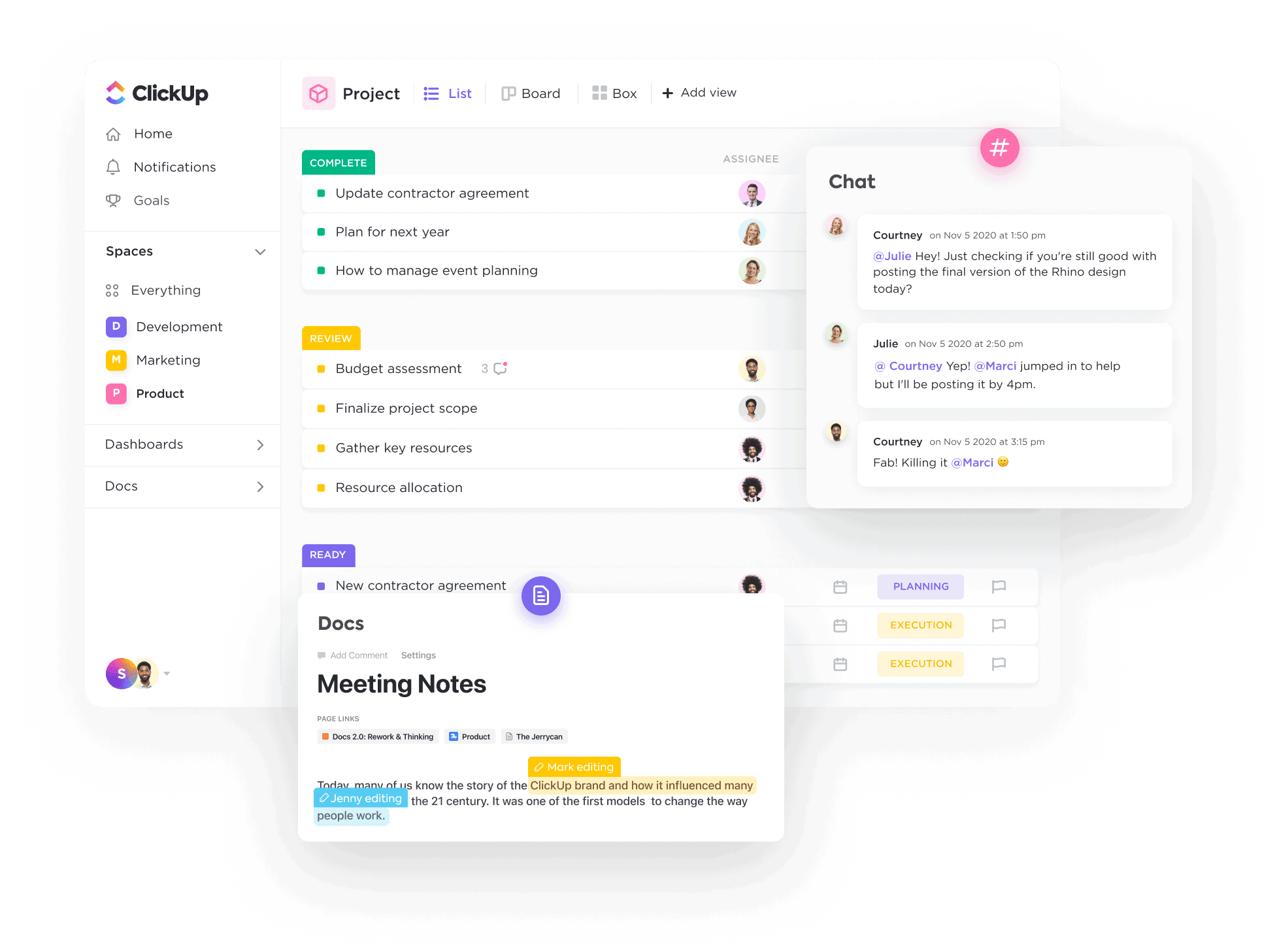 With such a depth of collaboration features and the flexibility required from a project management system, you could almost forgive ClickUp for suffering from some usability woes – at least, in terms of complex navigation or a steep learning curve. However, the platform is impressively optimised to simplify navigation and minimise the number of clicks required to complete actions.
Yes, some tools require a few more clicks to access than similar features in TrueNorth and setting things up takes more time but, considering how much is crammed into this platform, the company has done an excellent job with UX design.
Build better marketing campaigns together
Finding collaboration software that truly helps your team achieve more is difficult. It took us years to find the right combination of tools that not only provide the features we need but also implement them in a user experience that keeps friction and distractions out of our workflow.
Hopefully, we've helped you find the right tools for you in this article – or, at least, help you understand what you're looking for from marketing collaboration software.
The key thing to remember is that, while project management systems generally include a lot of collaborative features, they don't necessarily help with the creative and strategic stages of marketing planning. So, if you're looking for collaboration software that helps your marketing team work together more effectively, you might need separate platforms for planning and management.
For example, at Venture Harbour, we use TrueNorth as our collaborative marketing planning and campaign management system alongside ActiveCampaign to unite our marketing and sales teams and power our automated email marketing strategy.
Now, it's time to test out these tools for yourself to find the best marketing collaboration setup for your team.