One of the most profitable, yet underutilised, blog monetization strategies is to create a paid membership program and drive customers to it.
Why are membership programs so profitable?
Simple — membership programs get you recurring payments. In other words, your customer doesn't just buy an e-book or video training course from you just once. Instead, he's sending money to your bank account every single month (or whatever time interval you choose to use).
Obtaining a customer for £27 per month for 12 months is more desirable than getting a customer for £127 here and now in almost every scenario (plus, it's 255% more profitable). It's also thinking long-term, not short-term…
…which is one reason why most bloggers and Internet marketers altogether avoid getting their hands dirty with a membership program. A lot of us like to see results now, not a few months down the line. As a result, we often miss out on a lot of golden opportunities.
Short-term vision is only one reason why monetizing with memberships isn't used as popular as it should be. The other reason is because people (mistakenly) assume that building a membership program is difficult.
Not. Even. Close. Especially if you use WordPress.
There are a ton of different WordPress plugins that make setting up your first membership program so easy a caveman could do it (apologies to all cavemen present — no offense intended). To dispel the age-old myth that only web techies can create membership programs, we're going to take a look at the 7 top membership plugins for WordPress.

Paid Memberships Pro is a basic, newbie-friendly plugin that combines an intuitive and easy-to-navigate UI with loads of function.
Best of all? It's free. As in, the price tag reads £0. Zilch. Nada. It's even available for download right at the WordPress.org website.
If you're wondering about why a free plugin would be called "Paid Memberships Pro", the answer is simple. PMPro's main marketing slogan is for you to "GET PAID!" from your WordPress website, hence the "Paid" in the name. "Memberships" is in there because, well … I'll let you figure that one out. And the word "Pro" is just effective copywriting.
To start with, PMPro is easy to setup, but it's missing a rather important feature: you can't import a CSV list of members. So if you've already created a successful membership site and want to transfer your program to this plugin … you can't, unless you fancy starting all over again (or you can edit the plugin using this free code from an external developer). You can, however, export your members details and take them with you in a CSV if you ever decide to graduate from PMPro to a more advanced premium plugin.
The plugins supports payments from three popular online payment processors: PayPal, Stripe, and Authorize.net. Since it's free, the developers don't provide any support, although you do get an installation video and thorough documentation. For customer service from the developers or from other PMPro users (via the forum), the cost is $97/year.
The same plan also gets you access to other premium content and add-ons only available to paying users. The next step up is a $697 package, where you can get the PMPro developers to install and configure the plugin for your website, plus up to 5 hours of consultation and custom development. In my opinion, the plan is just plain ludicrous. For a tenth of the cost, you can buy much more functional and customization-friendly premium membership plugin.
If you're on a budget (the type that doesn't allow you to spend anything), then PMPro's free version is what you're looking for.
Starting price: $0
Download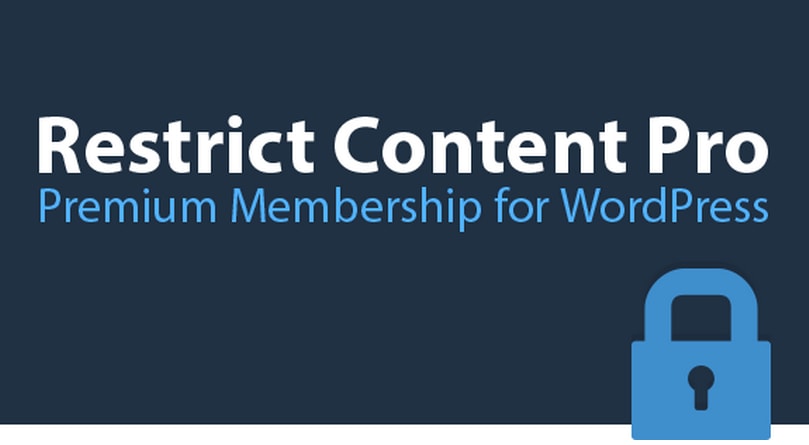 Despite the name, Restrict Content Pro does a lot more than just restricting your content – it's a full-fledged membership plugin. Like PMPro, Restrict Content is relatively easy to configure and requires no coding knowledge at all.
Restrict Content Pro is great for a situation where you already have a ton of content on your blog and you've decided to make the switch to packaging that content as a paid product. Locking down existing pages and posts to be viewable only be registered members is a breeze.
With Restrict Content, you can develop an unlimited number of subscription packages, prices, and levels. Free, trial, and paid memberships are all possible. With a custom dashboard widget, easily see which memberships are the most popular with customers at a glance.
Promotional coupons, sales, and discounts can be activated, for either a percentage off the order amount, or a one-time flat fee decrease. Users pay via PayPal. As an add-on, you can integrate PayPal Pro/Express or Stripe.
Restrict Content Pro includes built-in tracking with clear graphs that display your earnings and your sign ups over custom time periods. All your member data and payment history can be exported in CSVs.
Every step of the way, you'll be helped by the extensive support documentation and introductory videos that explain, in detail, how to configure your new membership program.
The most basic license, for use on one site, is $99. The next step up is a $149 license allowing you to use Restrict Content Pro on up to 5 sites. For an unlimited-license, you'll have to shell out $499.
With prices and functions for all levels of webmasters, Restrict Content Pro is a robust membership plugin worth taking notice of.
Starting price: $99
Download

MemberPress is one of the more popular membership plugins with an immense amount of features.
Just like Restrict Content Pro, you can create an unlimited number of membership packages or digital products. Subscription intervals, pricing, user requirements, and more are easily set with a few clicks of your mouse.
Every time you create a new membership package, MemberPress auto-generates a new pricing box and registration page for the package. Setting up the payment system is totally hands-off too — there's no need to head over to PayPal and code a new buy button or anything of the sort. MemberPress takes care of all that for you the moment you setup your new package. Besides PayPal, MemberPress is also integrated with Authorize.net and Stripe.
MemberPress focuses on a smooth UX, offering a very clear experience for a front-end user. Members can login, view their content, edit their account & billing information, and manage all their subscription details with ease.
Like Restrict Content Pro, MemberPress offers built-in reporting. Unlike the previous plugin however, this one is much more in-depth, tracking statistics such as completed vs. paid vs. failed vs. refunded memberships, overall stats, weekly reports, and more.
The entry-level price is $99 per year, which includes support and updates for one site and user payments via PayPal Express or Stripe. To get priority support and updates on unlimited sites and integration with Authorize.net, it's a more substantial $199 per year.
Albeit a bit more expensive than Restrict Content Pro, MemberPress justifies its price tag with some neat features.
Starting price: $99/year
Download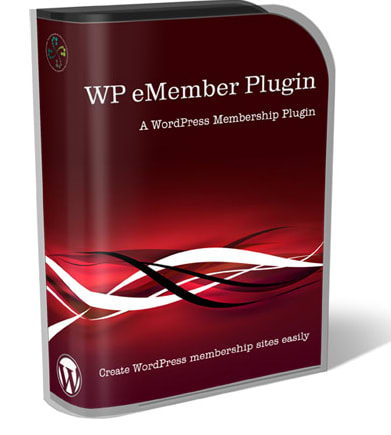 WP eMember is a popular membership WordPress plugin with numerous features and fair pricing.
With this plugin, all your membership content is on-site. Pages, posts, categories, and even comments can be restricted to different membership levels. You can create an unlimited number of unique packages with different pricing schemes and access rights.
One of eMember's more unique features is the ability to display teaser content. In other words, you can choose to display a small portion of premium-level content to basic-level users with the use of a special eMember shortcode. When a user clicks on the more tag (customized with the shortcode), he/she will be prompted to upgrade to a higher membership package to continue reading. It's a great way to give your users a tiny taste of what awaits them in the package the next level up and, by doing so, increase conversions.
If any of your members prefer to digest your content via an RSS reader, eMember has them covered with secure RSS feeds. Unregistered users won't be able to access the feeds, but members will.
You can set your members of a certain package to automatically upgrade to a new membership level after a specific time period. For instance, a free trial user will be automatically upgraded by the eMember system to a paying package after a set interval.
Furthermore, the eMember vendor has included a demo on the sales page for you to preview all of eMember's functions. Two different membership levels can be accessed from the demo.
eMember integrates seamlessly with a few of the top autoresponder services, like aWeber, GetResponse, and MailChimp. The moment members sign up, they'll be automatically placed on your mailing list.
Unfortunately, though, eMember only works with PayPal. No Stripe, Authorize.net, or anything else. You'll also have to go to the trouble of developing a subscription button in PayPal (guide to doing that here). Another downside is that there's very little in the way of tracking and reporting.
The eMember developers keep pricing nice and simple with only one license available, for a one-time fee of $49.95. For that, you get to use it on unlimited sites, lifetime updates, technical support from the creators, and much more.
eMember is definitely one of the better plugins on this list. Not only does it flaunt a huge amount of features, but it's fairly (even cheaply) priced. Comparatively, however, it's not as back end user-friendly. If you're the type who really doesn't feel like getting your hands dirty with code or if multiple payment gateways are a priority, you'll have to look elsewhere.
For nearly all others, eMember is a great membership plugin solution.
Starting price: $49.95
Download

MemberMouse is a professional membership and e-commerce solution. The WordPress plugin works great not only to maintain a membership program, but also to sell digital/physical products.
MemberMouse focuses on customization options and flexibility, while allowing even the most non-techie back end user to be completely comfortable with it. As a result, the developers can make good on their claim that users can go "from zero to first customer in 2 minutes and 30 seconds".
To restrict website content, MemberMouse uses passwords. Access rights can be determined by membership level, membership duration, and even (this is where it gets really cool) referring affiliate. So if you'd like to setup a special membership package that only the readers of one of your super-affiliates' blog can purchase, MemberMouse will accommodate you. Registered users can even gift membership packages to their friends.
Each of your checkout pages for various packages can be customized down to the last detail. A custom shortcode type, nicknamed SmartTags, allows you to send users over to upsells and downsells when they register and pay. Premium content can be drip-fed to users. If you're unfamiliar with the term, drip-feeding is when a certain piece of content is only available to members after a certain period of time. Members are "fed" content drip by drip.
7 different payment gateways — PayPal, Stripe, Authorize.net, BrainTree, ClickBank, Light CRM, and Auth.net CIM — all integrate with MemberMouse.
All this functionality comes at a hefty price tag, however. A starter package comes at $19.95 per month only allowing for up to 1,000 members. Up to 5,000 members — $39.95 per month. Even higher-end plans for 10,000-100,000 member operations range from $59-$299/month, while an unlimited package is a massive $699 a month — comparatively, a rather extortionate price.
MemberMouse was designed for professional online and e-commerce businesses, so it doesn't come cheap. But if you do have the budget, MemberMouse is the best membership plugin money can buy.
Starting price: $19.95/month
Download
WishList Member is one in a line of WordPress themes and plugins from WishList. Going by their customer base of 47,000, assuming that WishList Member is doing at least something right is a pretty good guess.
The plugin allows you to create an unlimited number of membership packages and subscription levels, just like the others in this list. Like MemberPress and MemberMouse, you can choose to drip-feed content to your members with WishList, and you can also set new members to automatically level up from a free trial to a paid membership.
Restricting website content with WishList is simple. With a single click of the "Hide" button, webmasters can set specific pages and custom post types to be viewed solely by users with a specific membership level. Custom secure RSS feeds can also be setup for those members who prefer to read your content inside in their favorite feed reader rather than on-site.
Custom error pages can be developed when users attempt to access content they don't have permission to. You can use these error pages to upsell a higher-end member program to your users.
A "Sneak-Peak" content display (the same concept as what eMember has) shows unregistered or low-levelusers a snippet of premium content. All you need to do to set it up for a specific post/page is use the more tag.
WishList comes with over 30 different training videos plus extensive documentation to push your new membership program in the right direction.
For $97, grab the single-site license that includes updates and support for 1 year. For an additional $200, get the unlimited license that also includes four bonuses: two custom membership themes, "Top 5 Membership Models" audio training, "Plugins That Rock" webinar, and over 300 membership icons. To keep access to support and updates, WishList takes $47/year after your first year. If you're not ready to commit fully, be assured knowing that WishList comes with a solid 30-day money back guarantee.
My opinion? WishList is a just a bit too pricey — the $297 for an unlimited license really isn't justified, especially considering that you need a custom commercial license if you use WishList to develop client websites.
Starting price: $97
Download
7. WPMU Dev WordPress Membership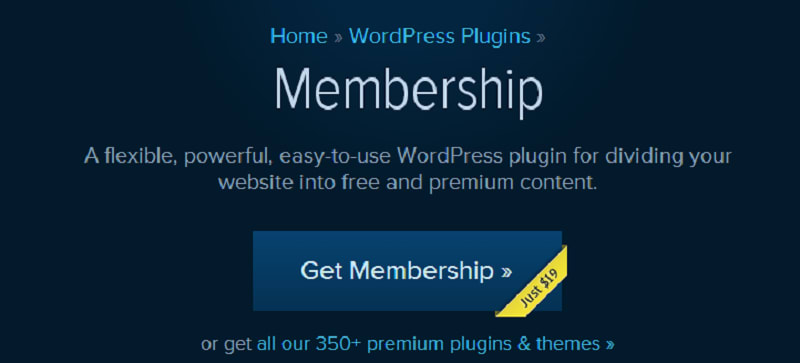 One of the leading online WordPress design and development companies, WPMU Dev seems to have developed a habit of consistently out-performing competitior plugins, with a strong track record. As a result, over 75,000 other WordPress users have gone in for the WPMU Dev Membership plugin.
One of WPMU Membership's most unique features is the drag 'n' drop back end user interface you can use to develop your membership website. The flexible tool makes site customization super simple. A number of different shortcodes allow numerous miscellaneous functions.
Another distinctive feature is the fact that WPMU Membership was built to integrate perfectly with BuddyPress (a plugin developed by Automattic that turns your website into a social network). Using WPMU Membership with BuddyPress, you can start your own paid social network. PayPal Express, 2Checkout, and Authorize.net all work seamlessly with WPMU Membership.
WPMU has an unusual pricing scheme for the WordPress software it sells. You can either get WPMU Membership for $19 (which includes only one month of updates and support), or you sign up to WPMU's own little membership program. It includes access to the 350+ premium themes and plugins they've developed along the years, 24/7 support, updates, and more. This program starts at $19.60/month (if you buy a whole year of membership in one go).
WPMU Membership, when bought by itself, is definitely one of the more expensive options on this list at nineteen bucks a month. Combined with WPMU's membership offer, though, the same sum looks quite inexpensive.
Starting price: $19
Cointent
CoinTent is membership paywall plugin that makes it easy for publishers, bloggers, and news media to monetize their online content.
The WordPress plugin is free, easy to use, and can be installed within a couple of minutes. CoinTent enables websites to sell their content through weekly, monthly, or yearly membership subscriptions.
The plugin also allows publishers to charge micropayments for access to single pieces of content such as an article or video. CoinTent provides the flexibility many publishers need to reach viewers who do not want to subscribe to every site, but are interested in reading specific articles behind a paywall.
Once the WordPress plugin has been installed, publishers can decide how they would like to sell their content and for what price. They can sell their content by selecting which categories of posts to place behind a paywall, or they can restrict their content with CoinTent's shortcodes. In order to access content, readers will be asked to create a CoinTent account and add funds to their digital wallet.
For subscription charges and transactions greater than $2.00, CoinTent charges a service fee of 5% + $0.30. For transactions less than $2.00, CoinTent charges 20%, 15% of which are for the credit card processing fees and the remaining 5% as a small service charge.
CoinTent was made in an era when newspapers are shrinking and online media is struggling to earn money. The membership plugin provides the flexibility many publishers need to monetize their online content without losing readers.
Starting price: $0
Download
Wrapping Up
With any one of these seven WordPress membership plugins at your disposal, setting up and profiting from your very own membership program is delightfully uncomplicated.
Which plugin are you going with?