SaaS companies face a unique set of challenges when it comes to marketing and this means you need a specialist set of tools to overcome these hurdles and achieve your goals.
From turning free users into paying customers, fine-tuning your sales funnel and retaining users to maximise lifetime value, software companies have a long, complex customer journey to optimise.
The good news is that, with the right tools, most of the marketing activities that'll help you achieve these goals can be heavily or fully automated. In this article, we look at 10 must-have marketing tools for SaaS companies that'll help you boost growth through automated lead generation, customer acquisition and retention.
What are we looking at in this article?
In this article, we look at 10 of the most important marketing tools for software and SaaS companies. We're not talking about generic recommendations and you won't find any vague product descriptions in this article.
These are marketing tools that specifically address the unique marketing challenges SaaS companies face across a complex customer journey that's intertwined with product development and customer service.
Here are the tools we're focusing on in this article:
There's little-to-no overlap with these marketing tools, either. It would be pointless for me to suggest generic tools like Google Analytics and then recommend nine other tools that basically do the same thing.
Each of these marketing tools addresses specific problems unique to SaaS companies and I'll be explaining how they help you overcome these challenges.
#1: TrueNorth: Marketing planning, forecasting & tracking for SaaS companies
First up, we've got TrueNorth, which is a relatively new tool, but one that's built from the ground up to help SaaS companies and software teams achieve their marketing goals. The platform helps you "grow without the guesswork" by planning, simulating and tracking campaigns to help you make successful marketing decisions faster.
With TrueNorth, you can calculate the effectiveness of different marketing campaigns before you launch them. This allows you to compare campaign creatives, check that you're on course to hit your ROI targets and launch campaigns with confidence.
Key features:
Calculate ROI: Project the ROI of campaigns before they go live.
Manage campaign ideas: Create and manage campaign ideas from one location.
Project outcomes: Calculate the outcome of campaigns and prioritise them based on the projected results.
Allocate budgets based on the projected results of campaigns for a better understanding of where your marketing investment is best spent.
Optimise budgets: Track spend alongside results and optimise your budgets to maximise performance as your campaigns mature.
Demonstrate ROI: Show stakeholders and executives the impact of campaigns by attributing ROI to the KPIs that really matter.
As we've explained before, accurately calculating the ROI of marketing campaigns is difficult but TrueNorth helps you project the outcome of campaign ideas so that you can be confident of hitting targets before you put any money on the line.
With TrueNorth's predictive modelling, you can optimise campaign ideas before you even launch them to achieve your objectives. So, if that email marketing campaign isn't going to get the results you need, you can fine-tune it, until it reaches your minimum threshold, or ditch it altogether and focus on campaigns with better prospects.
You can also prioritise campaigns, based on their projected performance, to ensure that your marketing budget is being distributed in the most effective way.
With campaigns running live, TrueNorth tracks performance and compares real-world results against its projections. This data constantly improves the accuracy of TrueNorth's predictions and you can compare results to optimise your bids and prioritise your top-performing campaigns.
This data-driven approach to budget allocation helps you maximise ROI and attribute success/failure to the KPIs that really matter. With TrueNorth's data precision, you can showcase the performance of campaigns in the language stakeholders understand: ROI, revenue, active users and customer lifetime value.
#2: ActiveCampaign: The all-in-one CRM, marketing automation & customer support platform
ActiveCampaign is a dozen or more SaaS marketing tools rolled into a single suite of software. We've been using ActiveCampaign here at Venture Harbour since 2016 and we've never looked back. This is a truly all-in-one CRM, email marketing, marketing automation and customer support platform that addresses most of the day-to-day and quarterly challenges SaaS companies face.
With ActiveCampaign, instead of needing hundreds of tools in your SaaS tech stack, the list is instantly cut down to dozens with no compromise on quality.
Key features:
Built-in CRM: ActiveCampaign includes one of the best CRM platforms in the industry, fully integrated with its fleet of SaaS marketing tools and features.
Marketing automation: Automate lead generation, lead nurturing, customer retention and key marketing actions to maximise growth.
Email marketing: Advanced email marketing and automation to convert leads into paying customers, keep paying users engaged and upsell customers to more expensive plans.
Customer support: Keep your customers happy, resolve technical issues and identify user problems adding to your churn rate.
Lead management: Track on-site behaviour, segment leads and deliver targeted messages to automatically nurture them along the path to purchase.
Lead & customer scoring: Score leads to prioritise marketing campaigns and manage customer health scores to keep your users happy.
Personalisation: Personalise email and page content to address the unique needs of different audience types.
ActiveCampaign understands that automation is crucial for SaaS companies to maximise lead generation and customer acquisition but also enabling teams of a fixed size to continue managing their customer base as it rapidly grows.
This is the key to automated growth: significantly increasing user numbers overnight without your sales and support teams being overwhelmed by sudden increases.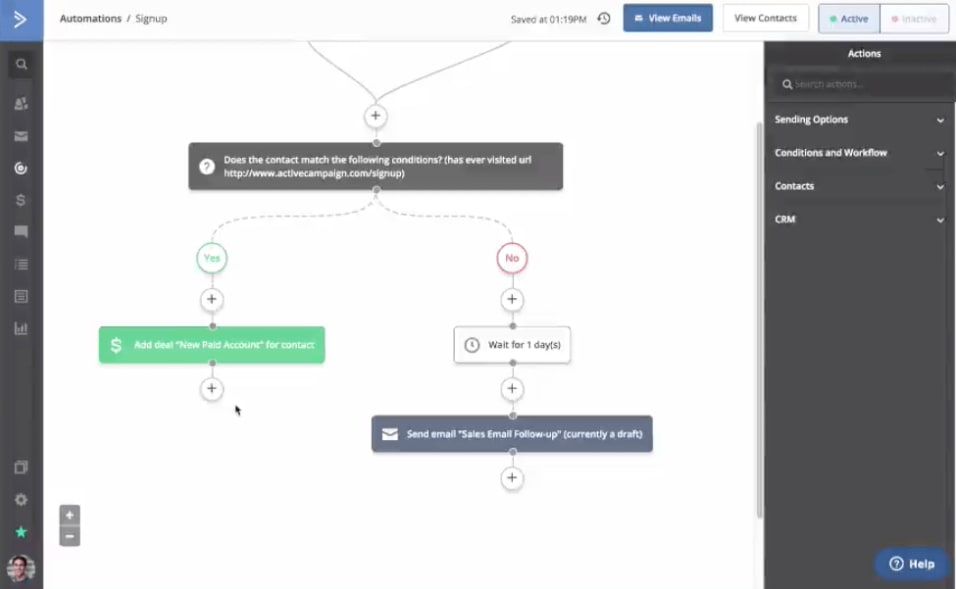 ActiveCampaign provides all of the tools you need to automate lead generation, lead qualification, lead nurturing, customer retention and customer support so the manual input of your human teams is minimised while increasing the effectiveness of your marketing campaigns, sales interactions and customer support cases.
The end result is more leads, more customers and, crucially, more happy customers who are going to keep paying for your software product.
ActiveCampaign's native CRM is the home of your lead and customer data while its innovative drag-and-drop automation builder is the force behind your lead nurturing and customer retention strategies. You can start by using pre-built automation recipes for common campaign goals, such as welcome emails or re-engagement campaigns, or build your own sequences from scratch.
You can automatically qualify and score leads, based on your predefined criteria, and create segmented lists in response to their position along the sales funnel. This allows you to send highly relevant, targeted campaigns to individual users with messages encouraging them to take the next step.
LinkedIn Sales Navigator is a crucial tool for any B2B SaaS company that wants to reach key decision-makers at target companies. In a sense, this is an account-based marketing (ABM) prospecting tool that allows you to identify individuals at the companies you want to call customers.
Where it differs from traditional ABM platforms is that it allows you to pinpoint individuals at an incredibly granular level – so you can target the buyers who make the final call on purchase decisions.
Key features:
Identify prospects: Find the decision-makers at your target companies on the world's biggest professional network.
Advanced search: Use Sales Navigator's advanced search to find new target companies and build your list of target contacts.
Lead recommendations: Customised lead recommendations suggest new prospects for you, based on your previous search criteria.
Real-time updates: Account and lead data are automatically updated in real-time so you know, for example, when people change jobs and your campaigns need to adapt.
InMail Messages: Reach prospects on LinkedIn even if you're not connected.
With Sales Navigator's advanced search, you can narrow down on prospects based on the company they work at, the position they hold and their seniority level to ensure you're reaching people with the right level of influence.
You can use the advanced search function to discover new prospects, too, by searching for users based on their location, the company size they work for, the industry they work in and the language of their profile.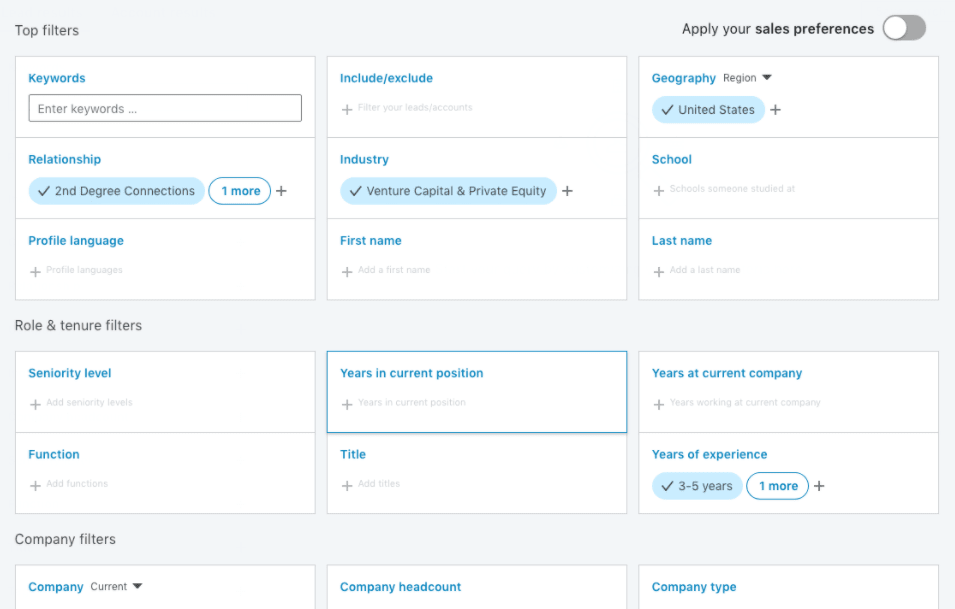 LinkedIn Sales Navigator also recommends lead prospects to you and the more you use the platform, the more relevant these become over time.
Another key feature that sets Sales Navigator apart from traditional ABM marketing tools is that its data is updated in real-time so that you know contact details are accurate without any delay when prospects change roles or move to another company.
This is a big weakness for most ABM and prospecting tools but Sales Navigator is far more reliable, thanks to its direct access to LinkedIn account data.
Finally, one of the best features Sales Navigator offers is InMail Messages, which means you can reach out to prospects that you're not already connected to on LinkedIn.
This is a major boost for SaaS companies that need to reach out to key decision-makers without jumping through all of the usual organic hoops to build connections with people on LinkedIn.
#4: Hunter.io: Find & verify email addresses assigned to company URLs
Hunter.io is another crucial tool for B2B SaaS companies although it can be a powerful asset for software companies outside of the B2B niche, too. Hunter's standout feature is its Domain Search tool that allows you to type in the URL of a company and access a list of all the email addresses assigned to that domain.
You don't get the same level of accuracy or up-to-date data that's available on LinkedIn Sales Navigator but you do get access to a much larger set of data than LinkedIn alone.
Key features:
Domain Search: Find the email addresses of a company by typing in their URL.
Email Finder: Find the email addresses of professionals using their name and company URL.
Email Verifier: Verify email addresses are accurate and active before sending any messages.
Bulk Email Finder: Submit lists of names and domain names to find bulk email lists for your target companies.
TechLookup: Find companies using specific technologies, such as WordPress or HubSpot.
Campaigns: Create cold email campaigns quickly from within the Hunter.io platform.
Email tracking: Track emails sent from Gmail to see when recipients open your emails (or don't), track campaign performance and follow up accordingly.
Chrome & Firefox add-ons: Quickly find contacts from within your browser using the Chrome or Firefox add-on.
Templates: Cold email templates help you create messages and get campaigns running faster.
Hunter understands that email address scraping isn't always the most accurate way to build prospect lists. To overcome this issue, the company has built its own Email Verifier tool that checks your lists to ensure all of the email addresses are accurate and in-use.
You can also find email addresses by typing in the name of prospects and the URL of the company they work for. With the Bulk Email Finder, you can submit a file of names and URLs to automatically generate a bulk list of email addresses and then run these through the verifier to filter out inaccurate and inactive email addresses.
My personal favourite feature in Hunter.io is TechLookup, which allows you to type in a specific software tool, such as Unbounce, and generate a list of companies using the technology.
From here, you can generate email addresses from each company using these tools or head back over to LinkedIn Sales Navigator to find out who the key decision makers are at these companies.
#5: Slack: The communication tool for SaaS teams & remote creatives
Slack is one of the biggest SaaS success stories in history, capped off with its $27.7 billion acquisition by Salesforce in late-2020. While the match-up of Salesforce and Slack has raised a few eyebrows, Slack's continued success deserves all the credit it receives.
For software teams, the tool is an indispensable communication platform that excelled through its own simplicity. This is essentially a messaging app that raised hundreds of millions of dollars in the early 2010s, driven by calculated growth marketing strategies. Now, Slack is the industry standard for workplace communication – an area where Facebook, Google and countless tech giants have failed – while a select few like Microsoft have merely managed to mimic Slack's innovation.
Key features:
Organised communication: Slack enables SaaS teams to organise communications in channels so that information is always accessible to everyone who needs it.
Collaboration: One-to-one and group messaging with instant file sharing remove barriers to online collaboration.
Workflow Builder: Automate routine actions and communications to boost productivity and creative output.
App & integrations: Slack integrates with thousands of apps like Google Drive, Office 365 and Trello so team members spend less time switching between apps, transferring data, copying and pasting, etc.
Search & history: All messages and files are easily found using Slack's built-in search function and history timelines so you can also access the information you need.
For SaaS companies, collaboration throughout the design, development and marketing stages is a convoluted process where departments bump shoulders and teams dynamic can change quite drastically.
Email was never an effective channel for team collaboration but Slack was the first company to truly replace the inbox with an instant messaging format that removed communication barriers, regardless of location – or, at least, it was the first one to take off.
For what it's worth, I feel the key to Slack's success is the fact it was built by a remote team of software developers, for teams of software developers, during a time when remote SaaS was booming, while there was a distinct lack of remote team collaboration tools.
This developer-centric approach means Slack works just as well for teams in the office as it does for remote teams working across locations and the Covid-19 pandemic means this is more important for SaaS teams than ever.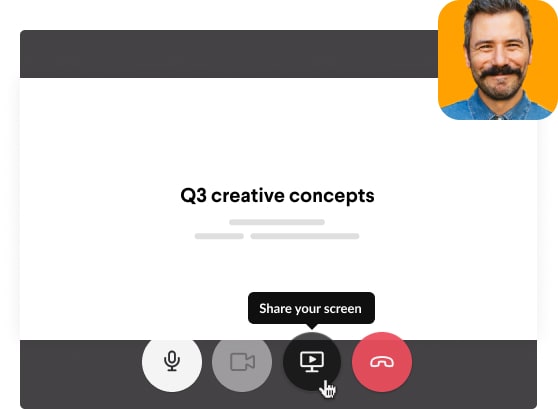 While Zoom is writing all the headlines as the video calling app of choice during lockdowns, Slack has offered the same feature for years, allowing you to call team members, set up group calls and share screens within a matter of clicks.
#6: Wistia: Video marketing made easier for SaaS companies
Video content is crucial for SaaS companies that basically need to make a bunch of code and UI elements look and feel exciting. According to insights from Databox, video ads generate twice as many clicks on social media but software companies have to work hard across every channel to show their products in an exciting way.
Video content is the most dynamic way to showcase your software and Wistia makes video marketing a whole bunch easier with its self-hosted service.
Key features:
Self-hosted videos: Host ad-free videos on Wistia and embed them on your website without hurting the user experience.
Video animations: Bring your SaaS pages to life with autoplay video animations that load quickly to keep your loading times in check.
Software demos: Create software demo videos using Wistia's software and embed them on your website to showcase the best of your product.
Capture leads: Turn video views into leads and email subscribers by adding CTAs to your videos.
A/B testing: Test different videos, placements and customisations to determine which combinations achieve the best performance.
Heatmaps: See how users are engaging with your pages and video content using heatmaps.
Instead of embedding YouTube videos, you can embed your own videos on your website, completely ad-free, and control the way they appear on your page.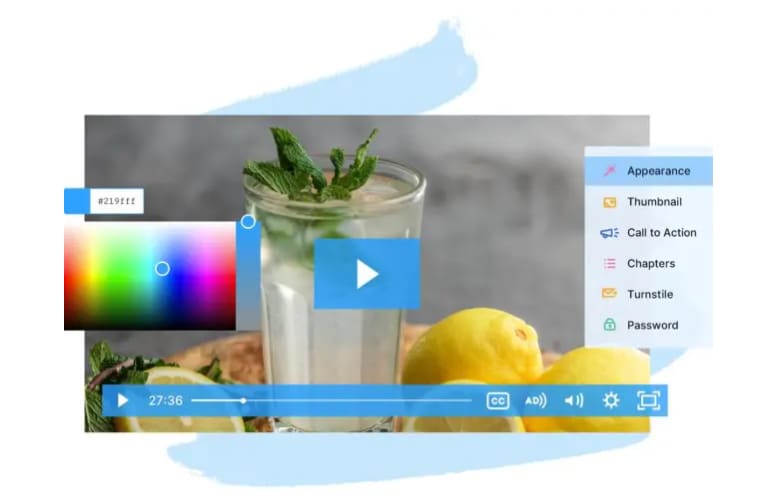 Wistia's embedded videos are great for placing software explainer demos on your website but you can also embed short video animations that automatically play as the user scrolls down the page. This is a great alternative to using GIF images for animations, which can seriously hurt your loading times.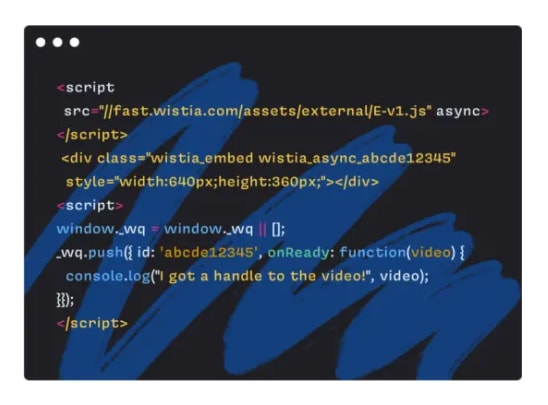 With Wistia, you can use asynchronous loading to increase perceived page speed, which means short video animations – for example, showing features in action on your homepage – don't need to cause any loading issues.
#7: Intercom: Automated customer support & lead generation for SaaS companies
As mentioned earlier, the SaaS customer journey is a long one and the range of interactions with leads and customers is diverse – ranging from first-time visits and email sign-ups to purchases, customer support queries and more.
Intercom helps SaaS companies manage these interactions across the entire journey and compile information that can improve the quality of long-term relationships.
This starts with lead generation, where you can use Intercom to reach out to website visitors with a chatbot widget. Sometimes, asking the right question can inspire action and you can automate your bots to only trigger after a delay or a user's behaviour looks indecisive.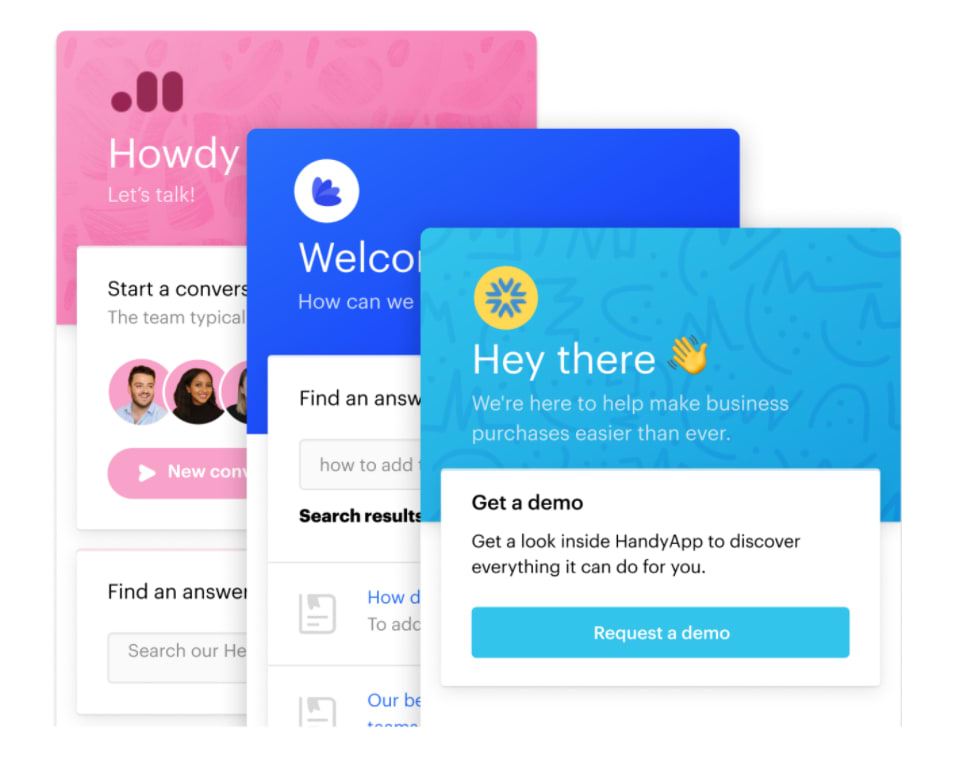 Key features:
Chatbots: Automate the first stage of customer support using on-site chatbots to provide instant responses.
Live chat: Connect users with human support reps at the opportune moment.
Instant FAQs: Use support bots to provide Q&A sessions and deliver specific articles to resolve up to 29% of customer questions.
Connect with website visitors: Shorten the time between intent and purchase by connecting with your website visitors in real-time.
Business Messenger: Engage customers throughout their journey with tours, and messages on your website and in your product.
Product Tours: Guide customers through their first steps, highlight what's new, and give proactive guidance at scale.
Announcements: Share product updates or promotions by email, and drive customers to your website or product to take action.
Lead qualification: Intelligent bots and routing rules let your teams focus on what they do best – so your website visitors get the greatest possible experience.
Intercom is far more than a chatbot system, though. It's a business growth platform that recognises customer retention and acquisition. This is why it's the ideal on-site channel of its kind for SaaS companies: it provides all of the tools you need to capture new on-page leads, but also to nurture your existing customers after the initial purchase.
Intercom can provide the first line of customer service with automated bots and FAQs capable of dealing with up to 29% of user queries. This provides an instant response to every interaction while allowing your human team to focus on the most urgent support cases.
This elevates your customer care system, both in terms of efficiency and quality.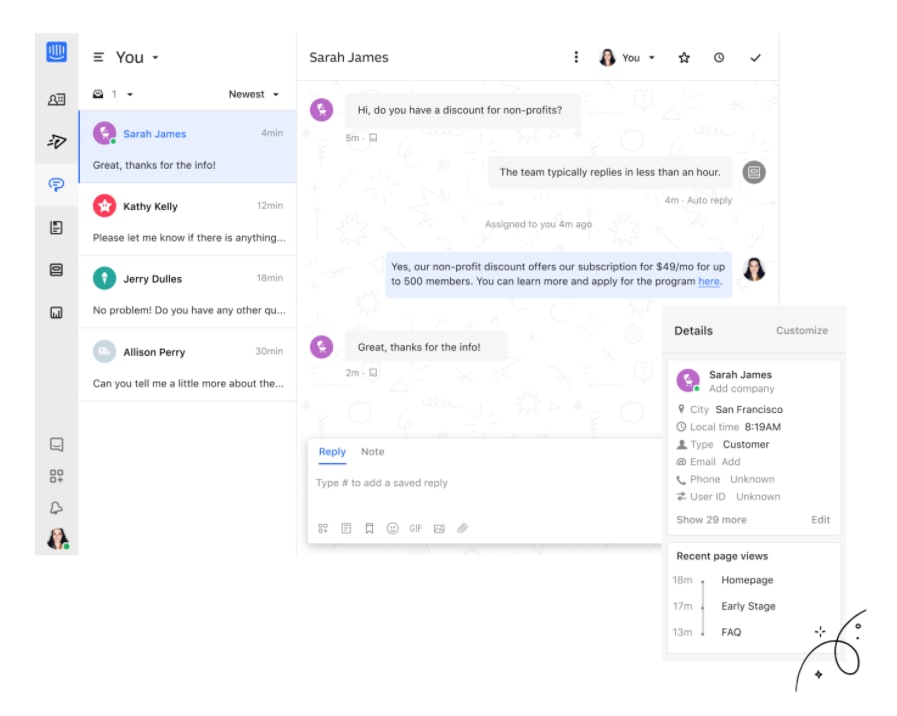 Intercom also has a number of specialist features for SaaS companies to help you announce new products and features, provide product tours and interact with users from within your software product – allowing you to manage the customer experience across the entire journey.
#8: VWO: CRO & customer experience optimisation for SaaS companies
Every SaaS company needs a good set of conversion optimisation tools and VWO offers the vast majority of these in a single platform.
Aside from the usual CRO tools, you would expect for optimising your website, VWO also has you covered when it comes to optimising the software products that are the heart of your SaaS business.
VWO FullStack is the company's software testing and optimisation suite, allowing you to run experiments within your applications without any noticeable impact on performance. While many tools like this can slow down your software or result in unwanted flickering during tests, VWO's server-side technology ensures performance remains on par.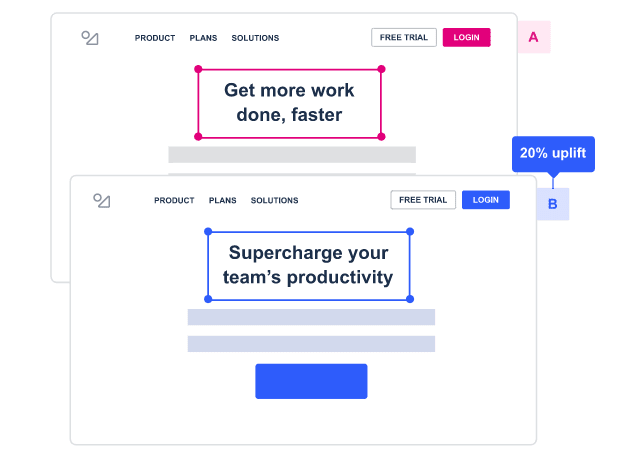 Key features:
VWO FullStack: Optimise your software products and test variations to improve the user experience with VWO FullStack.
Product / feature deployment: Launch new products and features in stages to or different user types.
Onboarding optimisation: Reduce onboarding dropout rates by optimising the steps users have to take between choosing your software product and physically using it.
A/B testing: Run A/B tests, multivariate and split URL testing across your website.
Heatmaps: Gain insight into what users are doing on your pages and optimise them to maximise conversions.
Session recordings: Record video sessions to see what users are doing on your pages and identify UX problems or conversion killers.
Funnel optimisation: Optimise every stage of your marketing funnel to maximise conversions and nurture leads across the buying process.
On-page surveys: Get feedback from website visitors for user insights on key web elements and new changes.
Of course, VWO also offers a full suite of tools for optimising your website to maximise lead captures and convert visitors into software users. You can combine screen recordings with heatmaps and user feedback to gain valuable insights about your most important pages and test variations to maximise performance.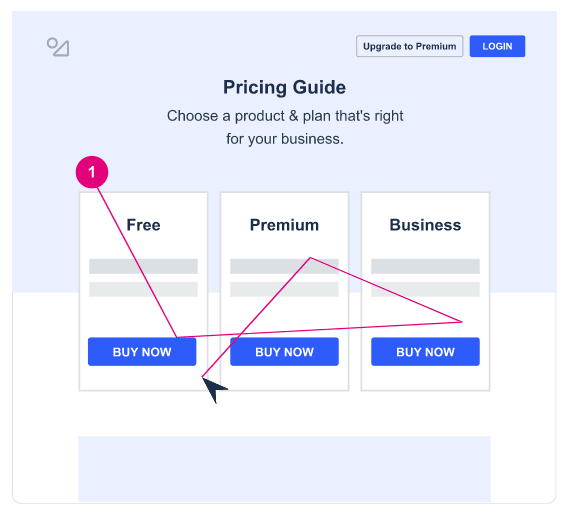 VWO also helps you optimise the sales funnel to nurture leads along the path to purchase, identify any leaks in your funnel and reduce dropouts. There are built-in lead generation tools, too, including hello bars, modals, pop-ups and notifications that you can test on key pages to add incentive at key stages of the funnel.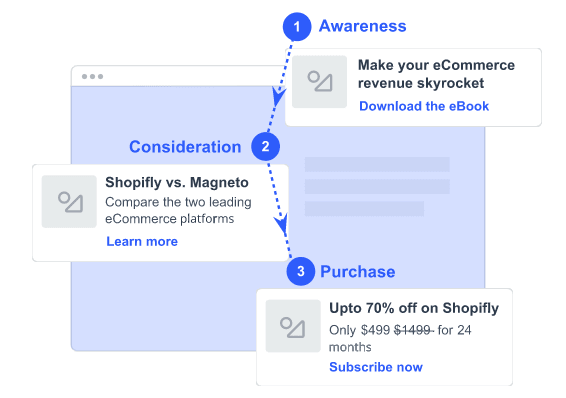 There are plenty of SaaS-specific features available, too. You can use VWO to deploy new products or features to existing products, rolling out in stages or segmenting to different user types. The platform also has built-in testing tools for optimising your onboarding process, testing different pricing strategies and reducing form abandonment.
#9: UserVoice: Customer insights & user feedback for SaaS products
UserVoice is a dedicated feedback management system for SaaS companies that makes it easy to collect feedback from website and software users without adding too much friction to the user experience.
While there are plenty of user feedback software options on the market these days, there aren't so many that cater for SaaS companies looking for a single platform to collect feedback from their software products as well as their websites.
UserVoice is by far the best option we've used to date.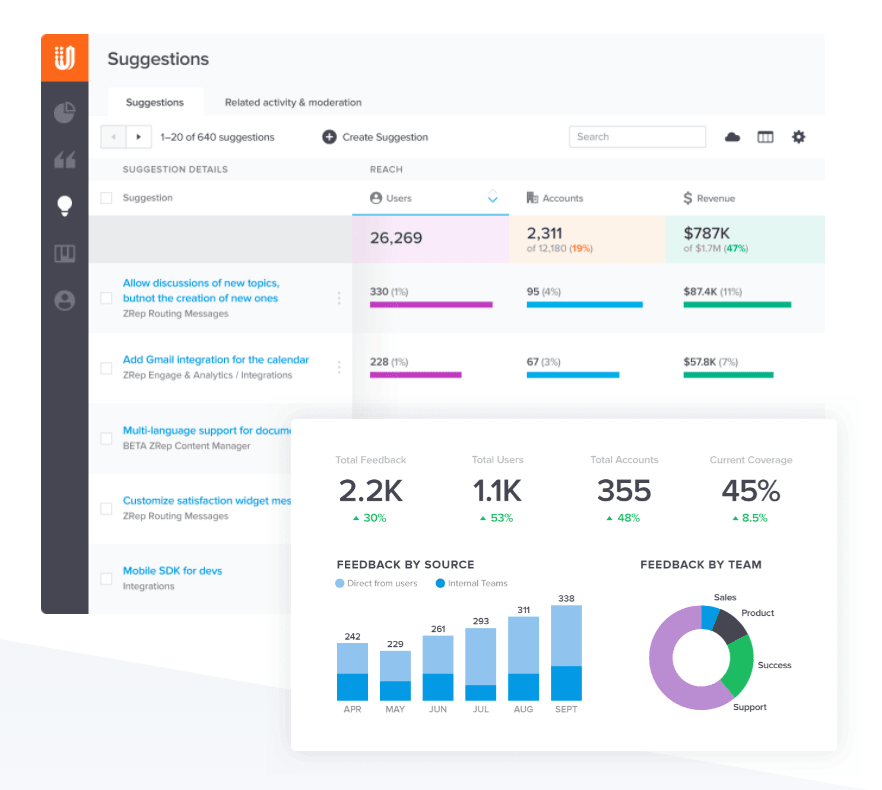 Key features:
User feedback: Collect user feedback across your website and software products.
Turn feedback into insights: Manage user feedback from every channel within UserVoice and generate valuable insights for smarter product, marketing and business decisions.
Prioritise product improvements: Quickly understand customer needs, see customer demand, and prioritise features and product improvements.
Customer segments: Compile data into segments based on different user types and your marketing objectives to understand which feedback matters to your business most.
Product roadmaps: Keep everyone on the same page about product strategy. Create and share an always-up-to-date roadmap across your organisation.
Engage customers: Keep your customers engaged with status updates, reactions and 1-to-1 communication.
While the primary purpose UserVoice is to help you collect feedback from your website visitors and software users, it's the back-end feedback management features that make this such an impressive platform for SaaS companies.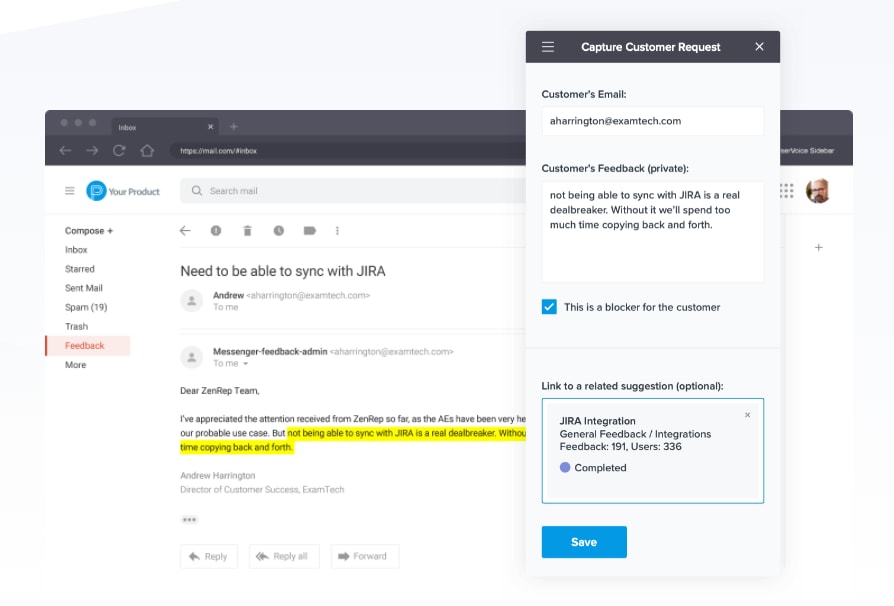 With UserVoice, you can add dedicated spaces for users to leave feedback, knowing that your team will take notice. You can also capture feedback from Slack, Salesforce and Zendesk, bringing all of your data into UserVoice to compile insights and make informed decisions.
Team members can share feedback instantly, prioritise feedback in terms of importance and respond to feedback from individual users.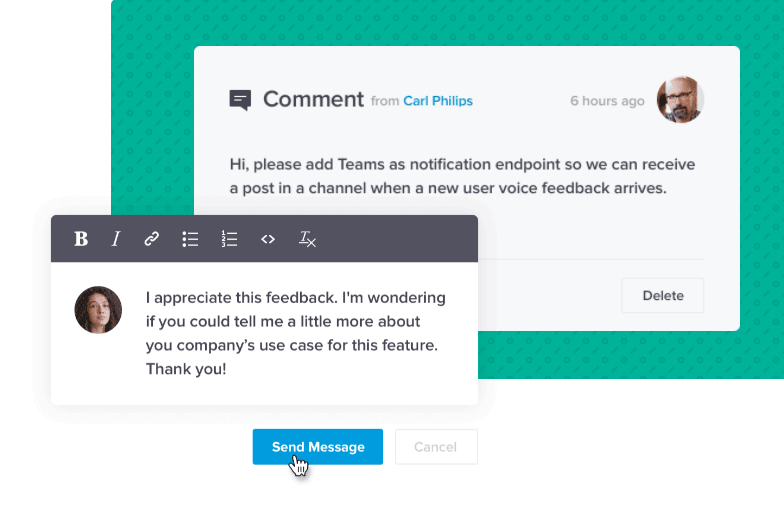 You can also segment feedback by different user types to prioritise the needs of your most important customers. UserVoice also helps you identify users who are at risk of abandoning your software so you can take steps to minimise churn rate and address the most pressing issues with your website, product and customer experience.
#10: Databox: All of your marketing & business data in one place
SaaS companies rely on a lot of data to make informed development, marketing and businesses decisions. Databox pulls all of this data into a single platform so that you can access everyone from one place and create custom dashboards to meet the unique needs of your business.
For example, you can create a dashboard dedicated to customer retention, pulling in data from every relevant source: Google Analytics, your CRM, paid advertising platforms, Intercom and more.
You only pull in the data you need from each source, allowing you to create a concise dashboard featuring the metrics and KPIs that matter most for customer retention, from every relevant channel, and nothing else.
Key features:
All your data in one place: Pull in data from all of your marketing and analysis tools to view and compare insights from one place.
Custom dashboards: Build dashboards using data from multiple sources to compile the insights and KPIs that matter most.
Dashboard templates: Start with dashboard templates and customise them to meet your needs.
Integrate your data: Upload any data, connect an SQL database or send via an API to integrate and visualise your data.
Calculate metrics: Easily calculate new metrics from any data source using databox's drag and drop builder.
Goal tracking: Set, assign and monitor goals across multiple channels from one application.
KPI scorecards: Keep up-to-date with KPIs in real-time with scannable scorecards.
KPI alerts: Receive performance alerts via email, Slack or in-app notification.
Given the complexity and length of the typical SaaS customer journey, it's easy for software companies to drown in data without gaining any valuable insights. Databox brings all of your data into one place and gives you the freedom to create dashboards and reports focused on your marketing goals.
You can start by using Databox's built-in dashboard templates, like the Google Ads template above, and customise them to meet your needs. Once you're comfortable with the platform, you can then build your own dashboards from scratch or combine elements from different templates to gain insights from multichannel reports.
Build your SaaS martech stack
Every tool we've looked at in this article is the best-in-class for SaaS companies, delivering specialist features for overcoming the unique marketing challenges modern software companies face.
Some of these tools service very specific roles, such as Wistia for SaaS video marketing and Databox for bringing all of that SaaS data into one place.
Others are more extensive: TrueNorth for SaaS marketing simulation, planning and tracking; ActiveCampaign for an all-in-one CRM, email marketing, automation and customer support system; or VWO as the comprehensive optimisation platform for SaaS websites and software products.
This means we've covered a lot of ground in this article and, while we've only looked at 10 marketing tools for SaaS companies, these are close to the only ones you'll ever need.