Disclosure: We sometimes use affiliate links which means that, at zero cost to you, we may earn a commission if you buy something through our links.
Marketing today is all about generating targeted leads with a proven potential to buy. Generic homepages don't really cut it anymore and it takes a suite of landing pages to pinpoint specific consumer needs.
Unfortunately, landing pages don't build themselves but the good news is there are plenty of tools to make the process easier for you. Managing and optimising multiple landing pages for better performance can be a full-time job in itself – until you find a platform that helps you maintain everything efficiently from a single dashboard.
As things stand in 2017, there are eight landing page builders I would recommend trying out for every business. Each one has its own strengths and weakness, which I'll be making clear today – so you can choose the ultimate landing page builder for your needs.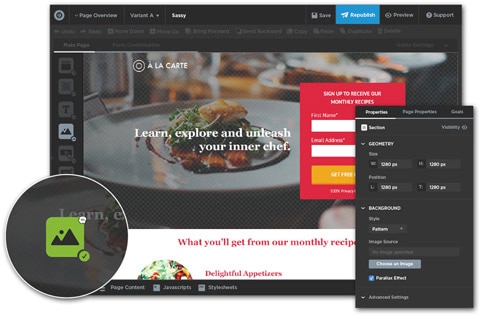 Pros:
Fully featured
Great templates
Powerful, flexible editor
Best A/B testing options among these tools
Unbounce Convertibles (popups)
Cons:
Not the cheapest option
Slight learning curve
Not a tool for beginners
Unbounce is probably the first name that comes to mind with landing page builders. Featuring one of the best drag-and-drop builders in the game, Unbounce may not be a beginner's tool but it is one of the most advanced builders you'll find.
Unbounce is about more than simply building pretty landing pages. It puts all the emphasis on landing pages that convert – the whole point of creating them in the first place. With support for A/B testing, AdWords integration, and visitor stats, Unbounce is probably the best all-around builder around.
As for pricing, Unbounce is one of the more expensive options. You can see the main differences between the packages above: the number of landing pages you can have live at any one time, number of Convertables (popups) you can have running and the ability to create sub-accounts for clients. Aside from that, the main difference is the range of integration with platforms like Salesforce and Marketo.
Essentially, you're paying more to get more with Unbounce and there's nothing wrong with that.
Pros:
Super-fast landing page creation
Great analytics reports
Powerful drag-and-drop editor
Good choice for beginners and experts
Cons:
Not quite as powerful/flexible as Unbounce
No popup options
A/B testing not available with cheapest package
As the name suggests, Instapage is all about speed. You can have landing pages live in a matter of munites by choosing from more than 100 templates. The builder is more basic than Unbounce which makes for faster customisation and barely any learning curve at all.
At the same time, Instapage doesn't quite match Unbounce for customisability but does come with A/B testing functionality and real-time analytics.
Instapage is generally cheaper than Unbouce but you have to pay up for the Optimization package (or higher) to get its A/B testing features, heatmaps and basic personalisation tools. If you're already paying for these features with another platform, the Core package might be enough for you.
Pros:
Unlimited landing pages, social contests and popups
Basic marketing automation features
Lower starting prices
Pricing based on number of leads, not features
Cons:
Not a dedicated landing page tool
Limited customisation
Editor is pretty good, but nothing like Unbounce or Instapage
Wishpond is more than a landing page builder. You can also create social contents, popups and run basic automation tasks with ease. Even with the most basic package, there's no limit on the number of landing pages, social contests or popups you can create. Instead, you're limited to the number of leads you can generate from your Wishpond toolkit each month.
For $49 per month, you can get up to 1,000 leads; $99 per month, you can get up to 1,500 leads and $199 per month gets you up to 10,000 leads.
You can go much further than that, though. You can select up to 1 million Wispond leads for roughly $3,000 per month or call them for a custom package, if you need more.
How to Acquire 4X More Leads
Attend this FREE online training with Marcus Taylor
Attend this webinar
Pros:
Low starting price (see cons)
Another great editor
Quality A/B testing and analytics feature
Cons:
Not all templates are free
Limited customisation
A/B testing not available with cheapest package
Leadpages is the cheapest platform we've looked at so far and it offers more in terms of features at every price point. There are 160+ free templates to work with and the Leadpage drag-and-drop builder is probably my favourite of the bunch. A/B testing isn't available with the Standard package but the $25 monthly asking price makes this great value if you've already got testing through another tool.
The Pro package gets you all the Leadpages A/B testing features and the Advanced option brings advanced integration with Hubspot, Marketo and Salesforce – plus the ability to create five sub-accounts for clients.
Pros:
Rock-bottom starting prices
A/B testing on all packages
Facebook landing pages
Custom code editing
Cons:
Not the best editor
Not the most customisable option
Integration can be hit-and-miss
Lander is designed for smaller businesses and this is certainly reflected in the prices – but not so much in the features. The main difference between packages is the amount of traffic you expect your landing pages to generate.
The Basic package ($16/mo) is only good for five thousand visitors, but remember this is traffic to your landing pages only. So you need to calculate how much traffic your PPC and organic SEO strategies will generate. If you anticipate more than 100k visitors, there are custom packages available, too.
The thing I like about Lander is you can fully customise the code of its landing page templates. This won't appeal to all teams but code-level customisation gives you full control over your pages and faster loading times. A/B testing also comes as standard with every Lander package and you also get dedicated landing pages for Facebook.
Pros:
Unique design features
Unlimited landing pages, traffic, leads, domains and users
Solid editor
Basic automation features
Analytics
Cons:
A/B testing not available with cheapest package
Limited integration with cheapest package
Landigi also sets itself apart from other landing page builders. You can choose from templates or create your own from scratch, but you can also call on the Landigi team to build landing pages for you – an interesting selling point.
You're not limited by the number of landing pages, traffic, domains or anything else. The differentiation between Landigi's two packages are A/B testing, automation and integration options – all of which come with the $49/mo Automate plan.
Pros:
It's free
Super-fast builder
Promotion features
Analytics
Cons:
No A/B testing
Limited customisation
Only suitable for smaller businesses
Launchrock is actually a basic website builder but you can use it to create landing pages for free. This platform gears itself towards entrepreneurs and new startups more than enterprise businesses. Once your page is created you can share them on social and get them discovered by the existing Launchrock audience to boost exposure.
You don't get A/B testing with Lanuchrock but there is a healthy selection of analytics tools to keep track of performance. We're not talking about rich features with Launchrock; instead, you're looking at a simple, free and versatile alternative to paid platforms.
Pros:
Unlimited Landing pages, popups contests and referrals
A/B testing with all packages
Analytics
Promotion features
Cons:
Limited campaigns and visitors
Limited customisation
Limited integrations
Once again, KickoffLabs offers a lot more than landing pages. More specifically, it's designed to help you launch and promote new products/services with a number of features. Aside from landing pages, you can give awards to customers for referrals and run contests.
You also get analytics, A/B testing and fraud protection to prevent fake contest entries and referrals.
Pricing is in the same ball park as the rest of the tools we're looking at today but there's a pretty heavy restriction on the number of visitors and campaigns. Each campaign is essentially a list of leads that can come from multiple landing pages. However, a unique visitor counts as someone who views a KickoffLabs form or triggers an API request.I tend to find you'll reach the visitor limit before you'll max out your campaigns
I tend to find you'll reach the visitor limit before you max out your campaigns but the limitations quickly become apparent either way.
Conclusion
To sum up, if you want the best features and most customisation, Unbounce is still the tool to go for. There is a bit of a learning curve but you can simply do more with it. It also comes with the best A/B testing features offered by any of these tools and quality analytics feedback. And then you have Unbounce Convertibles, which brings popups to Unbounce landing pages (if that's your thing).
If you want less power and more speed, then take a look at Instapage. It's crazy how quickly you can get optimised landing pages up and running with Instapage, even if it doesn't match Unbounce for flexibility. It also doesn't come with native popup features – something to consider (you don't have to use them!).
Wishpond and Leadpages both have their pros and cons, depending on which price point you're looking. Either way, these top four options are all great tools and certainly worth checking out.
As for the other options on this list, they don't compete with the top four as dedicated landing pages tools. But they do bring their own unique strengths and features that might appeal to more specific needs.