Disclosure: We sometimes use affiliate links which means that, at zero cost to you, we may earn a commission if you buy something through our links.
Whether you're looking to capture leads, sign up free trials, or survey your audience, you'll need to build a form. Below are 13 of the best form builders, along with a quick overview of what they're best for.
Let's kick off with the best form builder for creating lead generation & lead capture forms.
1. Leadformly (best for lead generation / lead capture forms)
In 2015, we spent a lot of time building and A/B testing forms for our ventures and clients. While we achieved some great results (in one instance quadrupling a form's conversion rate), we found the process of building lead gen forms surprisingly difficult.
None of the form builders on the market focused on making forms convert well. In fact, most of them just focused on making it easy to build a form, but not making it easy to build a high-converting form.
So, we built our own tool internally called Leadformly. We now use Leadformly forms across virtually all of our ventures and have seen conversion rates as high as 45% for some of our opt-ins and lead capture forms.
I won't go into too much detail about how it works, but the main difference with Leadformly is that you're able to use templates that have been pre-tested for different purposes.
For example, if you're a web agency looking for an enquiry form, or a marketer looking for a webinar signup form, Leadformly has templates that have been optimised and A/B tested for those purposes.
One of the final features worth mentioning is Leadformly's reporting. With Leadformly, you have built-in form analytics, so you can see how your forms are converting, the value of leads they've captured, and how people are responding to your questions.
2. Typeform (Best for surveys & questionnaires)
While Typeform has a large range of templates, where they really excel is in running market research, feedback, and customer surveys.
In fact, you can get a nice survey up and running with Typeform in a matter of minutes – and the end result looks a lot nicer and more intuitive to use than if you used a tool like SurveyMonkey.
Their form builder is nice and easy to use, with all of the features you'd expect. My only criticism with Typeform is that their forms look very 'samey' and monotonous, conforming (pun intended) to a very specific style that isn't suitable in a lot of situations.
If you want to get a survey or customer research questionnaire up and running quickly, check out Typeform here.
3. SamCart (Best for product / checkout forms)
When we launched Leadformly, we kept getting asked whether we did eCommerce checkout forms or not. It seemed as though many marketers were not happy with their checkout forms and didn't know of any good solutions to improve them.
As Leadformly's focus is on lead generation / lead capture, we had to say no – but we found a solution that does an exceptional job of just focusing on optimised checkout forms; SamCart.
Similarly to how we spent a lot of time understand and optimising lead gen forms, SamCart seem to have nailed how to build a beautiful and well-optimised checkout form experience.
If you're looking to reduce cart abandonment and drive more sales through your eCommerce site, check out SamCart here.
How to Acquire 4X More Leads
Attend this FREE online training with Marcus Taylor
Attend this webinar
4. Gravity Forms (Best for payment forms)
In 2015, Gravity Forms got a lot of attention due to some serious security vulnerabilities that were found in their forms. Despite this, they're still considered a good option for building advanced WordPress forms.
One area where Gravity Forms do a particularly good job of is payment integration. If you want to connect your forms to PayPal, Authorize.net, Stripe, or your accounting software, this is relatively easy to do with their plugin. The only thing to bare in mind is that these integrations are only available of Gravity Forms' most expensive plan ($199).
The disadvantage with Gravity Forms is that their forms look quite average. While their features enable you to create powerful forms, they ultimately look quite average – and probably not ideal for anything where conversion rates matter.
A screenshot of the Gravity Forms 'demo form':
5. Ninja Forms (Best for basic WordPress forms)
If you want to build a basic form without having to touch a line of code for your WordPress site, NinjaForms is a good solution. While nothing fancy, NinjaForms is a good 'no-frills' option for getting a generic form up and running.
The main downside to NinjaForms is their pricing, which is extremely confusing. The amount depends on many factors, including the number of forms you build, which features you want to use, and which additional add-ons you need. While their pricing starts at $19, it's possible that price creep will mean that you pay a lot of money for your form over the long run.
If you want to use their advanced features, such as saving user progress, conditional logic, or multi-step forms, you'll end up paying small amounts for each of these additional add-ons. Ultimately, if you're looking to build complex forms, it'll probably work out a lot cheaper using one of the alternatives mentioned in this post.
6. Qzzr (Best for creating quizzes)
Qzzr is a form builder with a specific focus on build quizzes.
Aimed at publishers, agencies and marketers, their quiz-like forms are designed to increase social engagement and capture leads from your social marketing efforts.
If you're a high-traffic publisher, or have a large social following, Qzzr is definitely worth a look.
7. Wufoo (Best for simple contact forms)
If you need a simple contact or registration form, and you're not looking for a well-optimised form, then Wufoo is a nice cheap solution. Their forms may not be the nicest looking, but Wufoo is a well-established brand that's passed the test of time.
JotForm is an easy-to-use form builder that helps you create sleek forms for a variety of purposes. This tool has improved a lot over the years and its newer form templates (they've got more than 10,000 now) are definitely the best of the bunch.
The platform's user interface has improved a lot, too, and it won't be long before you're putting forms together in minutes, once you get a feel for how things work.
Speed isn't really the aim with JotForm, though. Almost everything is customisable and to get the best out of this platform you'll want a solid understanding of form design and the time to customise its themes to suit your needs.
If too much choice is going to slow you down, you might want to look elsewhere.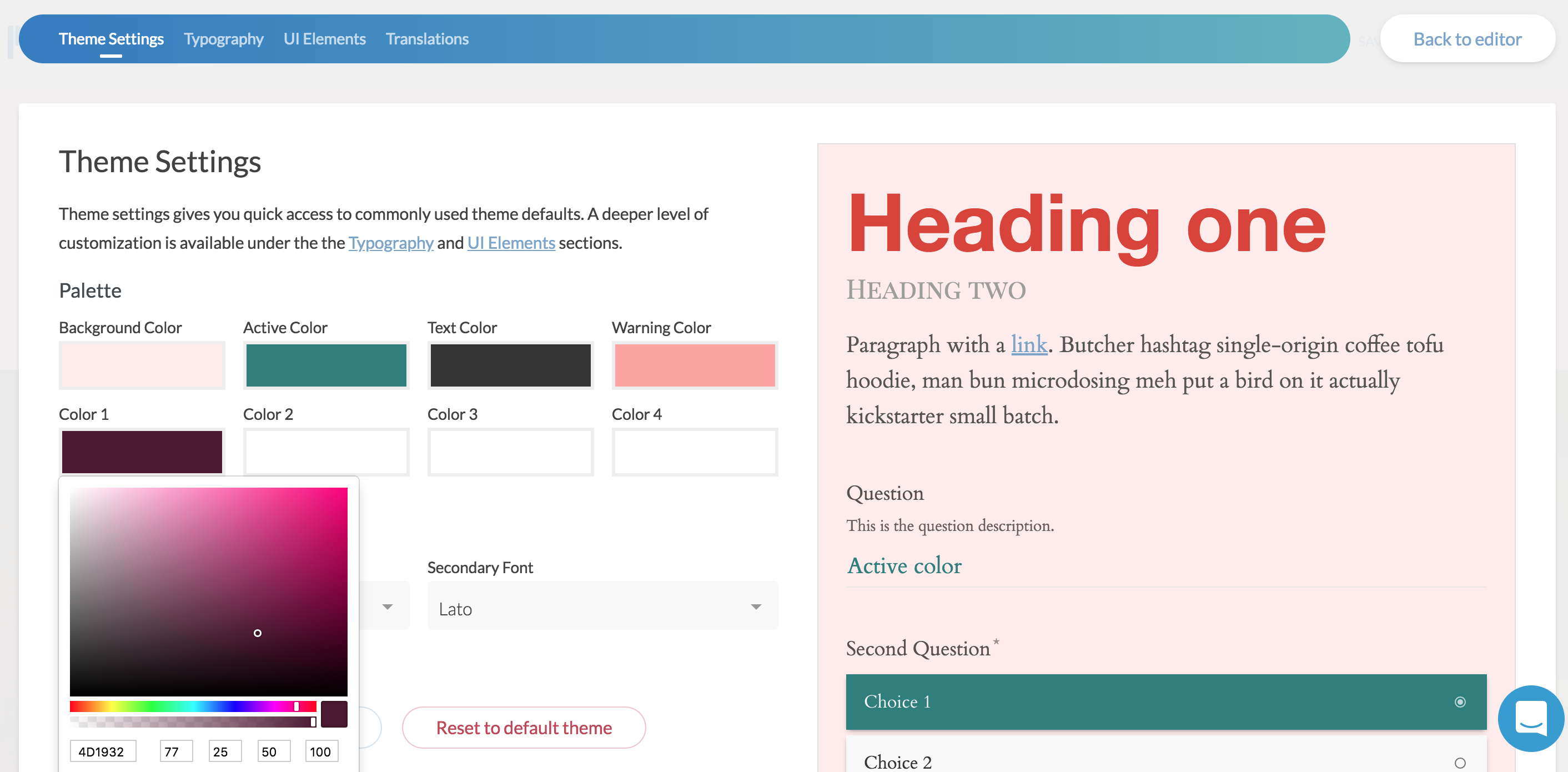 Paperform is a more traditional form builder but it aims to find that sweet spot between speed and customisability. Its user interface is sleek and Paperform has done a decent job of making extensive opitons easy to navigate. The dowside of extensive options is you have to spend time going through them all – only you can decide if this is a productivity issue for you.
There's also a Paperform Agency version if you want to use this tool for your customers.
Google Forms is a free tool you can use to quickly create basic forms and surveys. You won't find a faster way to create web forms and, once you're done, ou can embed them on web pages or direct people to your hosted forms via links.
What you can't do is create anything more than basic forms – eg: payment forms. These aren't really designed for lead generation or converting customers so you'll need to look elsewhere if you want anything more sophisticated than a basic contact form.
It's free, after all.
FormSite is great if you want to publish results from the data you collect via forms, surveys and quizzes. While you can use the platform to create lead gen forms the designs feel a little dated and there's nothing in the way of reports or analytics to get excited about.
As a market research or publishing tool, things are very different. The ability to publish the results from your surveys using graphs and tables is a great content marketing feature and this is the biggest strength of FormSite for us.
So, if you're looking to run market research campaigns and publish results for people to access and download online, FormSite is definitely a tool to look at.
FormGet is a powerful builder that helps you build a wide range of forms, from the most basic designs to more complex versions using conditional logic, notifications and a range of other features.
Visually speaking, FormGet's forms are the most attractive but the performance under the hood is impressive – as long as you know how to use it.
We're glad to say FormGet comes with built-in form analytics with every version of its software (an essential feature in our minds) although it's not particularly extensive – for example, it doesn't tell you which fields users are abandoning. It does integrate nicely with Google Analytics but this still requires you to set up events tracking and other measures we'd like to see as standard with a form builder.
FormAssembly focuses on secure data collection and intelligent design for lengthy forms and surveys. You probably won't be using this to create contact forms or email signups but FormAssembly excels at application forms, surveys and feedback forms.
With its dynamic form settings, you can make it easier for users to fill out complex forms, using conditional logic. You can also create order and payment forms, include file attachments and set up auto-responders to reach out to people once they've completed your forms.
If your forms are painfully long and too large to embed on a webpage, FormAssembly could be the tool to help.
What's the best form builder?
This really depends on the kind of forms you want to build. If you're looking for lead gen forms that get the best performance, start with Leadformly – you'll quickly realise how indispensable detailed form analytics is.
On the other hand, if you're more interested in publishing reports, FormSite acts as a great survey builder and tool for publishing your results. Likewise, FormAssembly could be the choice for you if your forms and surveys are too long even for multistep designs.