According to Content Marketing Institute, 89% of B2B marketers are engaged in content marketing. However, separate research from Backlinko suggests 94% of all blog posts published earn a grand total of zero backlinks.
Of course, backlinks aren't the benchmark of B2B blogging success but you'll do well to find a piece of content that generates leads without a healthy link profile.
Sadly, the post-it-and-they-will-come approach doesn't cut it with B2B blogging. Generating leads from your content takes work and many marketers simply aren't willing to put the effort in. The results are worth it, though, and to prove it we've got 10 B2B blogging case studies that'll help you get there faster.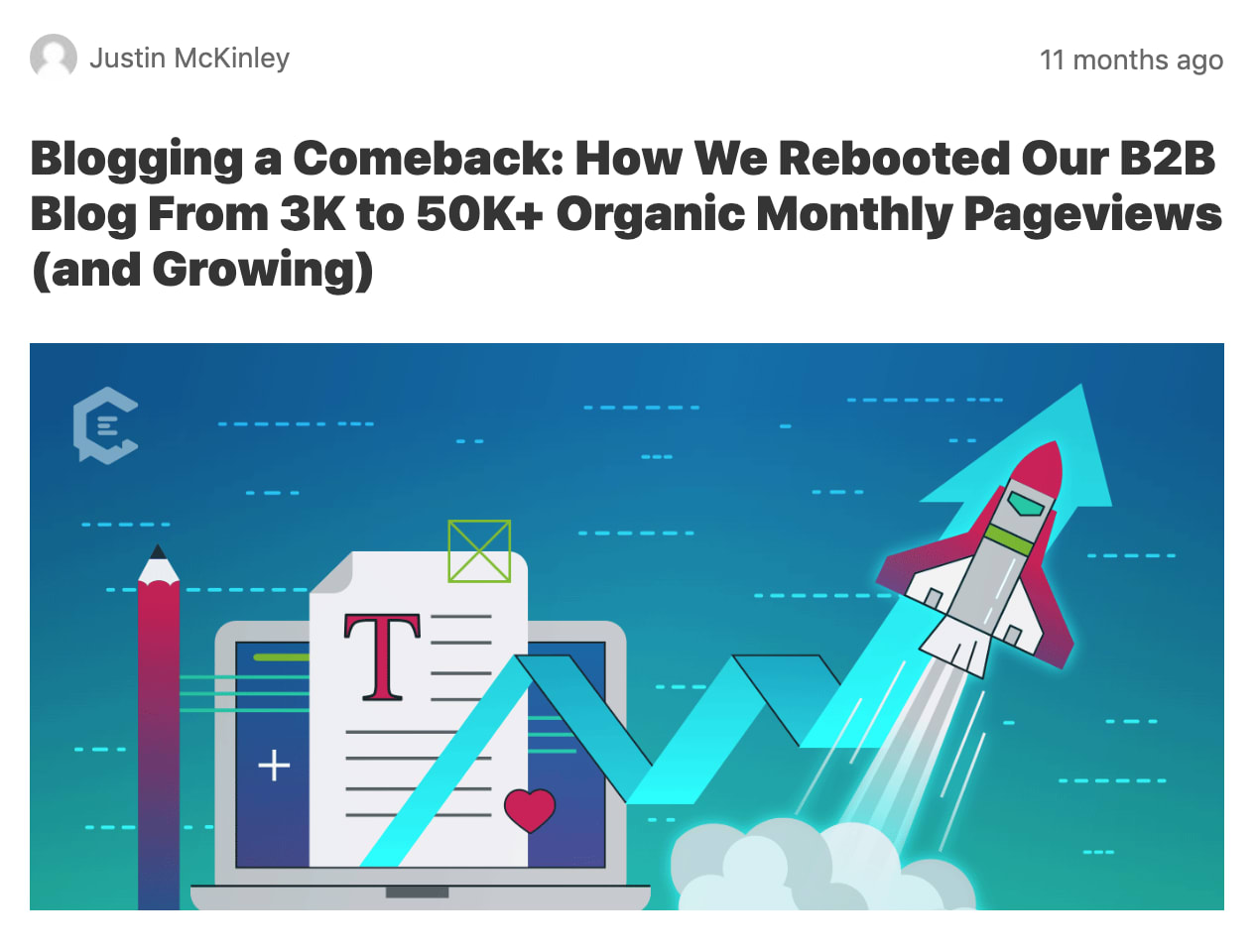 First up, we've got a case study from content marketing software provider, ClearVoice. As Director of Content Marketing, Justin McKinley, says in the write-up, this case study is all about "real numbers. Real strategies. Real timelines" and the results are there for everyone to see.
McKinley guides you through the entire process of how ClearVoice rebooted its blogging strategy and boosted organic traffic from 3K monthly page views to more than 50K and growing.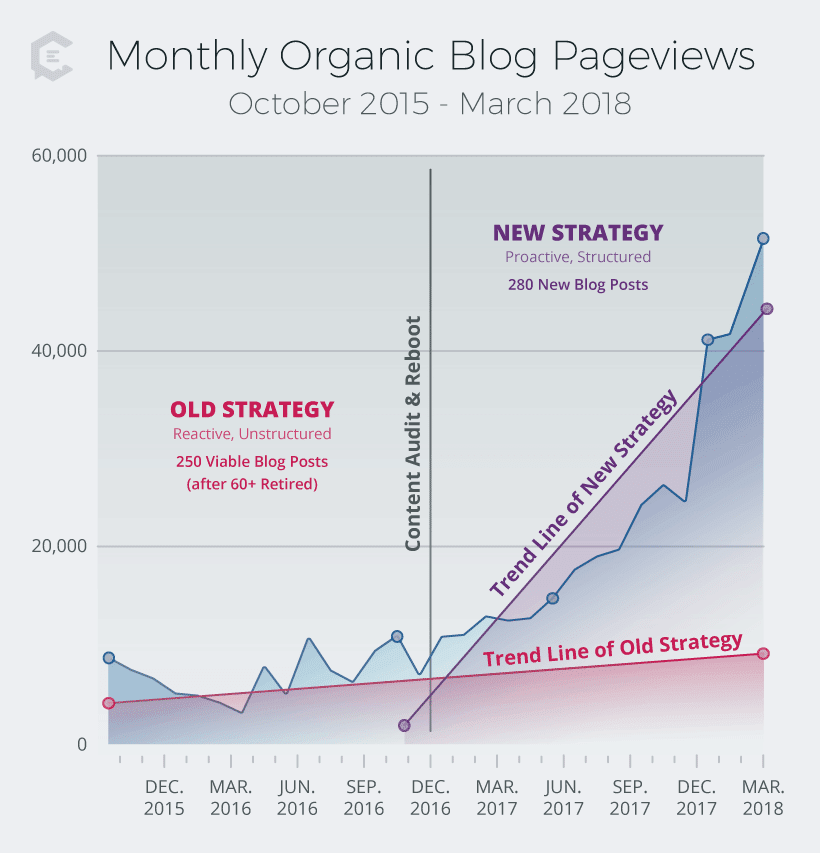 ClearVoice takes a relatively simple, but highly effective data-driven approach by running an in-depth content audit, focusing on six specific content audit points (CAPs) instead of simply looking at broad data.
This allowed the company to confirm the strong points of its previous content strategy and pinpoint the weak points, allowing it to put informed improvements into action. Essentially, its findings pointed to three core principles of content marketing: be more informative, be more original and be more consistent.
Instead of hacks, magic tricks or cheap gimmicks, ClearVoice rethought the fundamentals and put fixes in place where they were needed. The results speak for themselves.
As Buffer's Alfred Lua says, "Every company is a media company these days," and the software knows the same thing applies to itself. Buffer's blog has been a crucial element of the company's success it first launched in 2011 but it's been "a long, challenging journey," Lua admits.
In this case study, the Buffer growth editor shows you how the company increased its blog readership to over 1.5 million monthly visits by overcoming the same blogging challenges every modern B2B brand faces.
Next up we have a case study published as part of Backlinko's definitive guide to white hat SEO. The guide features an in-depth case study showing how Snack Nation rocketed its way right to #1 in Google despite being in a niche that generates depressingly low search volumes.
Facing the prospect of only 10-100 monthly searches for its target keywords, Snack Nation had to find alternative search terms to bolster it SEO efforts and the startup did an excellent job by pinpointing other, relevant queries with much higher search volumes being used by its target audiences.
Even if your core search terms have higher search volumes than Snack Nation's, this case study is an excellent example of how you can significantly increase your traffic and blogging leads by targeting the interests of your target audiences, rather than the most obvious keywords.
#4: Scoro: How We Went From 1.6K Monthly Blog Visitors to 31K in 20 Months
In this case study, marketer Karola Karlson explains how she and her team at Scroro grew organic visits to the startup's blog from 1,615 monthly visits to 31,375 between September 2015 and March 2017.
Karlson gives a no-nonsense account of what worked and what didn't, busting a few "best-practices" along the way – e.g.: guest blogging didn't work for them at all.
Definitely worth a read.
Technically, this is more of a guide than a case study (as you can probably tell from the title), but Crazy Egg has packed so much data and actionable insights into this piece of content that it blows most case studies out of the water.
If you're looking for a step-by-step run through of everything the company has learned about running its highly successful blog since 2006, this is it.
From blogging strategies and technical SEO to earning links and measuring results, Crazy Egg's guide is the first place to start if you want the complete B2B blogging blueprint.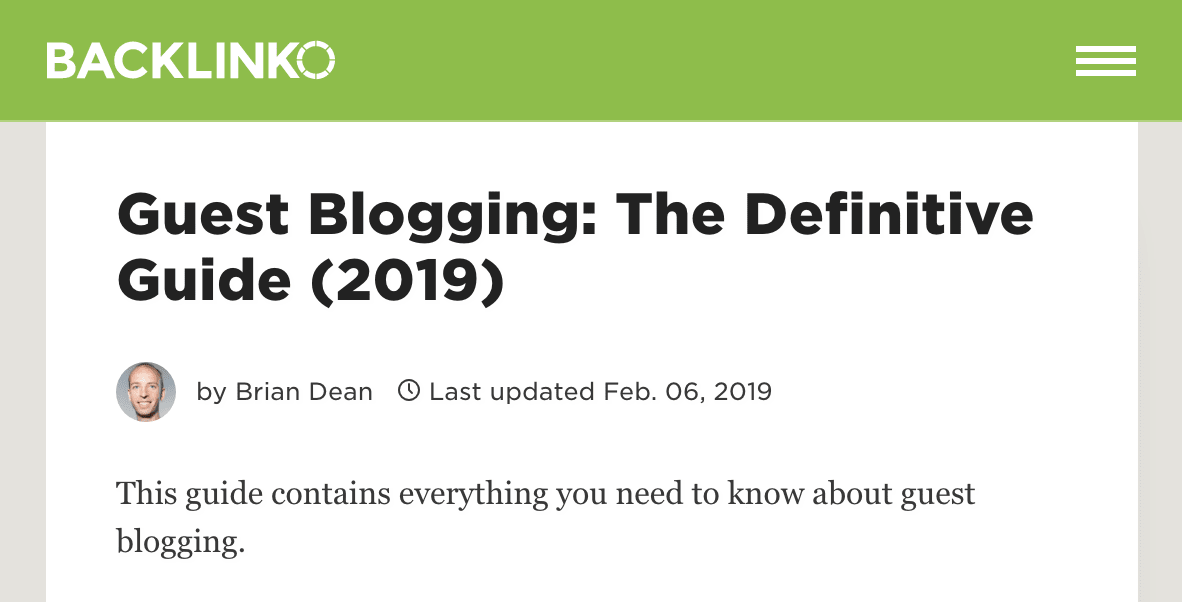 This "guide" is actually a collection of case studies from Backlinko, delving into the specific art of guest blogging in 2019.
While Karola Karlson isn't a big advocate of guest blogging, Backlinko's Brian Dean has enjoyed success with the strategy – albeit more from a branding perspective than a pure SEO tactic (precisely what Karlson suggests in her case study).
If you fancy some of that branding magic, Dean is ready to show you how to find the right target sites, reach out to them and get your content published in front of a much wider audience.
You'll also find some useful insights in the comments section, too, so make sure you keep scrolling down after you've finished with the article itself.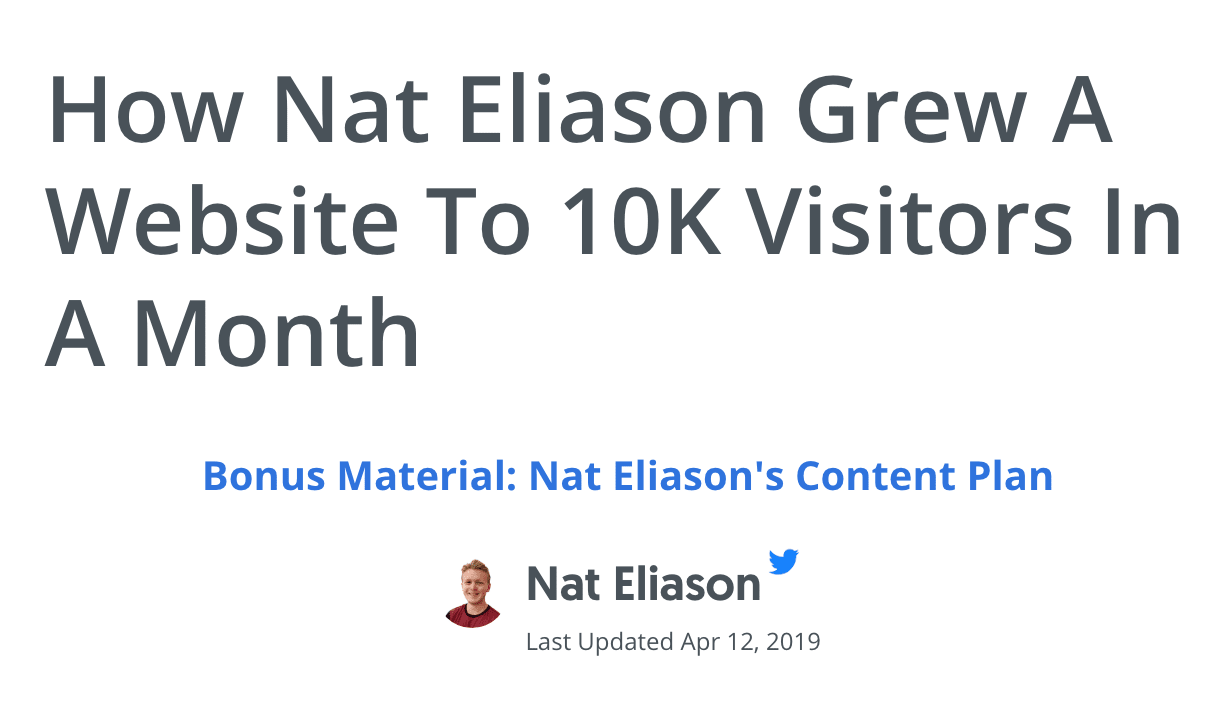 Sumo.com is a pretty good source of case studies (which you'll find in the "stories" section of its blog) and this offering comes from entrepreneur Nat Eliason.
He shows you (in plenty of detail) how he built an audience of 10,000 for a new blog within the first month – by only publishing a single blog post.
No email marketing, no paid advertising – this is is a pure-SEO case study that shows you the power of strategic, optimised B2B content.

This is the same strategy he used to generate more than 50,000 monthly visits for his personal blog. Eliason guides you through the entire process and you can apply this strategy to your entire content marketing efforts to build your own B2B audience quickly.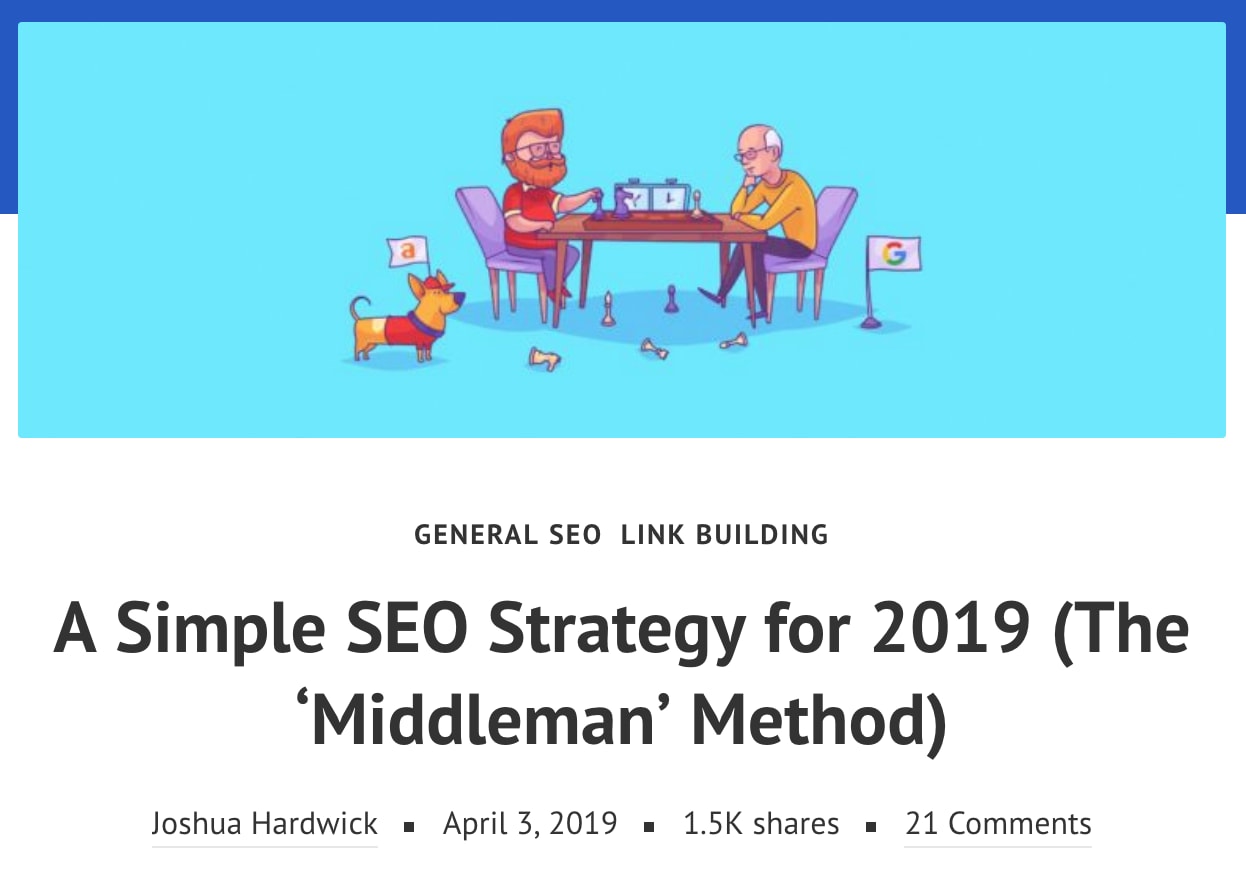 Ahrefs has become one of the biggest authorities in search marketing over the past decade. The SEO software provider has even announced plans to create its own search engine to rival Google but, first, Head of Content Joshua Hardwick is going to show you a tried and tested strategy for significantly boosting organic traffic in this case study.
It's called the "Middleman" method, which aims to get your most profitable pages ranking rather than simply having blog posts, free guides and informational pages taking the top spots in Google.
Hardwick's study uses the case of HubSpot as an example, pointing out that 88% of the company's top 50 most-linked pages are blog posts and free courses – not "money" pages that generate income.
This insightful case study shows you how to overcome this problem and get those profitable pages climbing up the SERPs.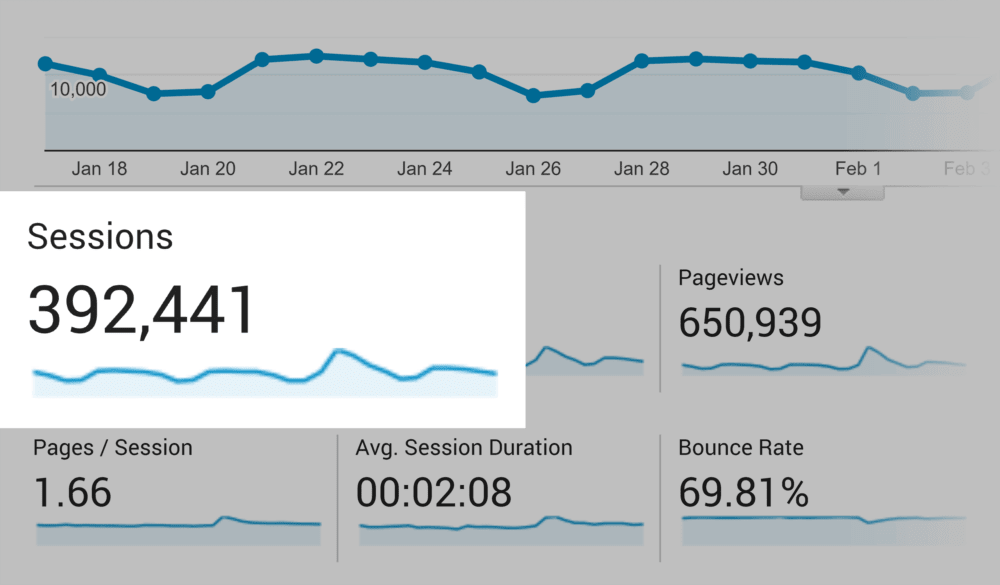 We've got another Backlinko case study for you here and this time Brain Dean is going to show you how the company built an audience of 392,441 visits per month (and growing).
This study aims to provide an 8-step content strategy that you can implement in 2019 to get similar results with your own B2B blog. There's a lot of detail in there and Dean raises some really important points, such as how UX impacts the results of your content marketing efforts.
He also delves into data every step of the way to prove what's getting results and where Backlinko needed to improve while implementing this strategy itself.
One to bookmark, for sure.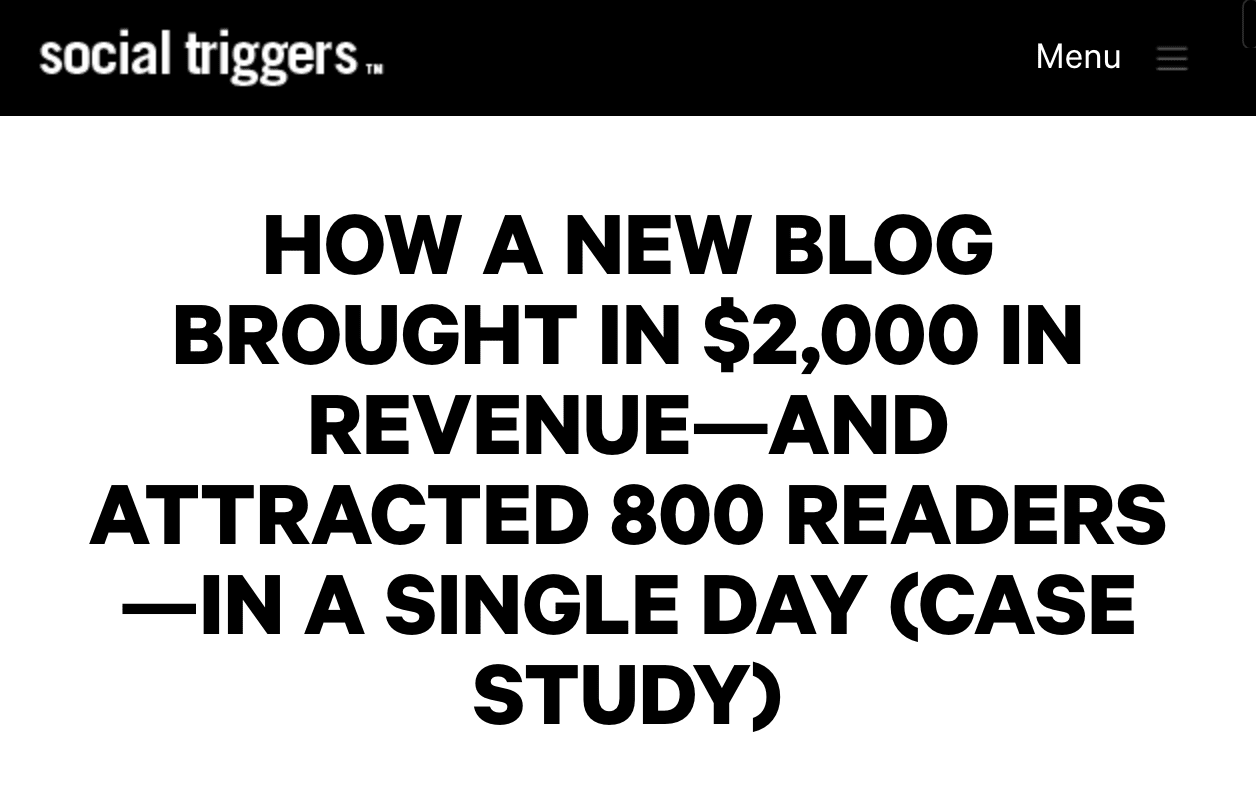 Lastly, we've got this case study by Derek Halpern, published on the Social Triggers blog. He puts it quite bluntly: "It's hard to get readers," especially with all the "fluff marketing advice" that gets banded around these days.
To combat this, Halpern runs you through the drafting technique.
Essentially, the process involves getting press coverage from reporters and bloggers who have shown an interest in your competitors, indirect competitors or industry in general.
The case study features the story of Katrina Pardon, who used the drafting technique to generate $2,000 and more than 800 readers in just one day.
Her previous daily visits were sitting around the 20 mark – not a bad improvement.
Now, it's time for your B2B blogging success story
After reading through these 10 B2B blogging case studies, you should have plenty of inspiration for your crafting your own success story. Be sure to get in touch with us if you try out any of these strategies and hopefully we'll be featuring your case study in one of our articles in the near future.