One of the biggest challenges for marketers in the age of GDPR and other data privacy regulations is personalising digital experiences. The more relevant you can make your marketing messages to individual users, the greater your chances of converting them into customers and convincing them to make ongoing purchases in the future.
GDPR means you can no longer grab hold of user information as you please and use it to personalise experiences across multiple sessions and devices. So, in this article, we're looking at 10 different GDPR-friendly ways to implement personalisation across your sales funnel.
#1: Getting consent from users
GDPR is only a problem if you're not able to get consent from users within the EU and Britain to collect and use their data. If you're able to get this consent, you're free to personalise the consumer journey as much as you need to. This is the biggest change in a post-GDPR world: you need to convince users it's in their best interest to give you access to their data.
In practice, designing non-intrusive consent processes is far more challenging than actually than giving users a good reason to hand over their data.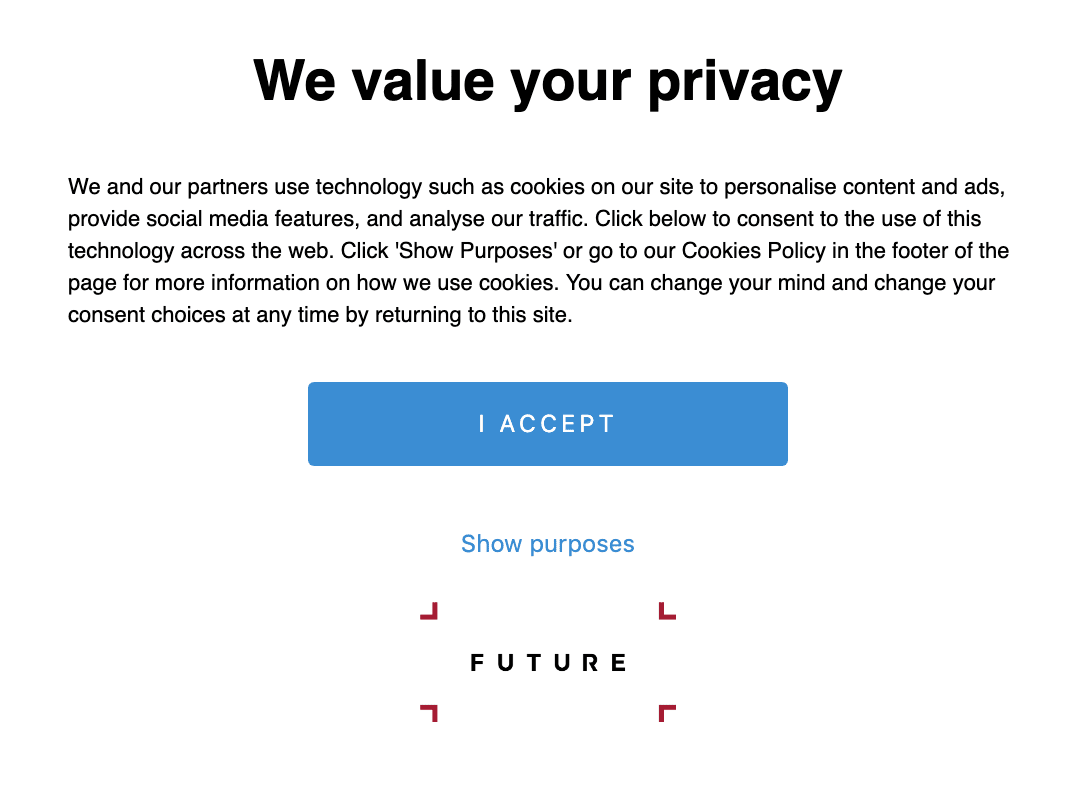 These default consent pop-ups aren't only intrusive, they essentially block users from accessing websites unless they give consent – something that's not GDPR-compliant, if I'm interpreting the guidelines correctly.
Consent should be asked for in a way that's both unobtrusive to the user experience and allows people to access your site, even if they refuse. After all, you've got nothing to gain by blocking people from your website but you may be able to turn them into valuable leads through other strategies.
We use selectable image buttons to make consent more engaging but still give users access to everything.
Too many brands are letting GDPR kill the user experience on their website by implementing obtrusive consent pop-ups and there's no real need to take this approach. Personalisation should enhance the consumer journey, not get in the way of it – but this is precisely what the majority of implementations I'm seeing right now are doing.
#2: Make personalisation a part of the experience
One of the biggest challenges with consent and personalisation is users don't trust brands – and why should they? Cookies, tracking IDs, location data and just about everything else brands have access to are used to bombard people with marketing messages.
Sure, companies love telling people that their data is needed to deliver the best possible experience but this is BS in the vast majority of cases. That data is being used for marketing purposes and, if anything, probably detracts from the overall experience.
If the opposite was true, people wouldn't be so dubious about giving access to their data.
So, instead of giving the usual spiel about how you're going to use people's data to enhance their experience, why not start by showing users how beneficial a truly personalised experience can be?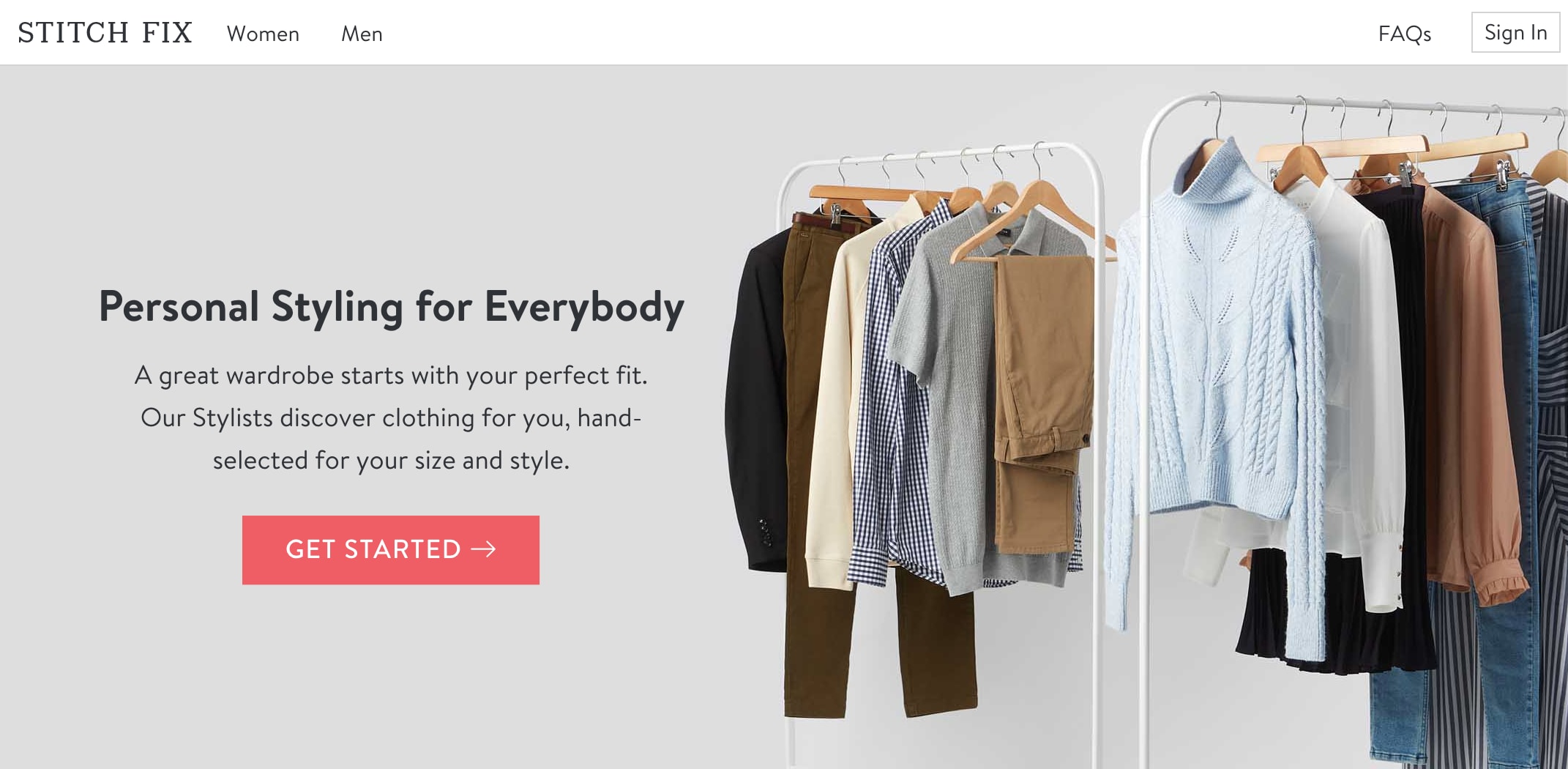 A growing number of brands are building entire services around personalised experiences that start as soon as users land on their website. For example, above you can see the hero section of Stitch Fix's homepage, a company that offers personalised online clothes shopping services.
This instantly normalises the concept of personalisation, shows that it's an essential part of delivering the service on offer and proves that user data is genuinely being used to enhance the experience.
#3: Personalise your blog posts
You don't always need data to personalise experiences and this was a revelation for us here at Venture Harbour. Sometimes marketers get fixated on ideas and lose all sense of creativity when it comes to problem-solving – like the notion that personalisation isn't possible without personal data.
I think it helps to remind yourself what the key question is in any scenario. If you're asking yourself "how can we get the data we need for personalisation?," then you're only ever going to implement methods that rely on data.
If you start asking "how can we personalise experiences without user data?," then you might be surprised by what solutions you come up with.

This is precisely what happened to us when we came up with the idea of a WordPress content personalisation plugin that requires no user data. Instead of showing the same content to everyone, the plugin allows you to tailer the same blog posts to multiple audience types and let them choose which content is relevant to them.
Our WordPress personalisation plugin allows users to select the content most relevant to them.
For example, we can create a blog post covering marketing automation but include content relevant to different types of marketers. Readers can then click which piece of content they want to read and this allows us to deliver more relevant information to them.
Instead of having to read content that isn't relevant to them, users can dive right into what's valuable them and forget about the rest – all without requesting a single piece of data.
That said, this data-free approach to personalisation gives users a taste of what can be achieved with personalisation and this gives us a platform to ask them for data that allows us to deliver an even richer experience. Aside from increasing engagement on our blog posts, we've also seen an increase in people opting-in to our consent requests after implementing this strategy.
#4: Use multi-step forms to get relevant info from users
Instead of presenting users with multiple form fields and those horrible consent options, multi-step forms allow you to create a more engaging sign-up process. We've found this to increase conversions between 300%-700% for multiple ventures and clients and this format has also minimised any negative impact of GDPR compliance.
First of all, we use conditional logic which filters out irrelevant questions based on the answers users have already provided. So we're delivering a personalised experience while people fill out the form and we're carefully choosing our questions to get implicit consent from users.
For example, if people give us their phone number the, of course, they expect that we might call them. In this case, GDPR guidelines don't apply it's obvious what we're going to do with this phone number – as long as we don't use it for any other purposes.
Finally, we ask for consent at the final stage of the form and thanks to a psychological phenomenon known as the sunk cost bias, users are highly unlikely to abandon our forms at this stage because they feel like they'll have wasted their time filling it out to begin with.
All we need to do at this point is make sure our reasons for requesting data are convincing enough.
#5: Request consent after the conversion
In the last point, I mentioned implicit consent when a user gives us their phone number as a means of contacting them. They've already given consent by providing their number for this specific purpose but we would still need to get consent to use it for anything else – e.g.: reaching out to them with offers at a later date.
The same thing applies to email addresses: you don't need explicit consent if users provide you with an email address with the expectation you will use it to contact them (a query or customer service issue, for example).
However, you will need consent to continue using this email address for other purposes. You don't necessarily need to get this consent upon sign-up, though. You could try and get it in the initial interaction and this also applies in instances where users refused to give consent while signing up.
Let's say a potential customer has requested a quote from you but they declined to give consent for you to send personalised recommendations or advice in future emails. You're free to send messages to this person for the purposes of quotation but you can use these exchanges to build a relationship, trust and incentivise them to give consent at a later date.
#6: Create incentive for personalisation
In behavioural science, the Fogg behaviour model illustrates how people's decisions/actions are facilitated by two key factors: motivators and ability.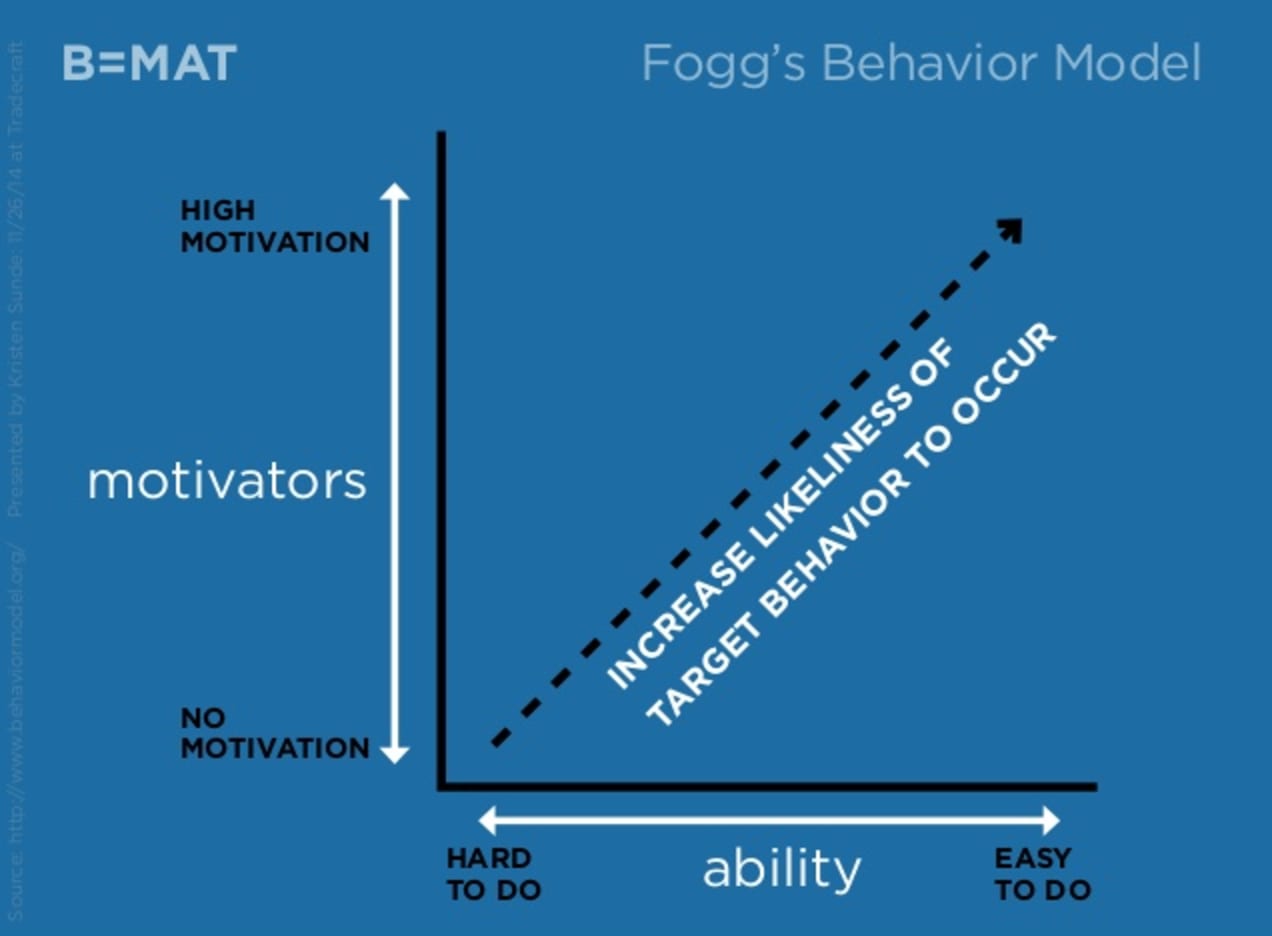 Credit: Kristen Sunde, Slideshare
Essentially, the harder it is to do something, the less likely people are to do it – and this is where the concept of removing friction comes into play. However, the other key variable in this scenario is motivation and the more of this you're able to inspire in people, the more likely they are to take desired actions.
So, as long as your consent process is as intuitive and non-intrusive as possible, the only thing left is to increase motivation.
Create incentive for the personalised experience you're going to provide. Show users the benefits of handing over their data before you ask for consent and give them reason to believe they're genuinely better off giving you access to their personal information.
#7: Get personal with customer service
Personalisation isn't only a tool for generating more leads and conversions. In fact, it's even more important that you're able to personalise the customer experience after they've bought into your products or services.
Customer retention should be one of your marketing priorities because these are the people who are most likely to keep buying from you in the future – and you've already invested a lot in getting their business.
The post-sale journey also provides you with a wealth of opportunities to implement personalisation and get consent from existing customers to use their data. For example, existing customers are going to want to know about your best deals and they can get updates sent right to their inbox.
If that's not enough, you can also provide product recommendations or special offers relevant to their previous purchases. This tells them you're paying attention to what they want from you and doing what you can to give them a little something back.
Not generic money-off deals but special offers that are relevant to their interests.
#8: Use chatbots to personalise sessions
Chatbots and live chat widgets are a great way to personalise individual user sessions without using any data. You simply provide answers, product recommendations or resources based on the info users provide within a contained conversation.
This creates a highly-personalised experience that doesn't intrude on personal information and you're only using info relevant to the individual session.
You don't need to end things here, though.
Once an individual session is over (or, at a relevant point during the session), you can ask for user consent to store this information for future conversations. Explain to users that your bot is always there for them and ask if they would like it to remember what was said in this conversation, which will make future interactions faster and more relevant.
Chatbots are great for using playful language, too, so you can try to make users feel more comfortable with some tongue-in-cheek phrasing. Maybe tell them your bot loves helping customers but its memory can be a little fuzzy sometimes – so why not store their details and conversation history for future sessions?
#9: Behavioural personalisation
We've already looked at some ways you can implement personalisation without using any data and it's important marketers realise there are alternatives. Sure, data-driven personalisation is always going to deliver a richer experience across multiple sessions, platforms and devices.
Not all personalisation needs to be this extensive, though.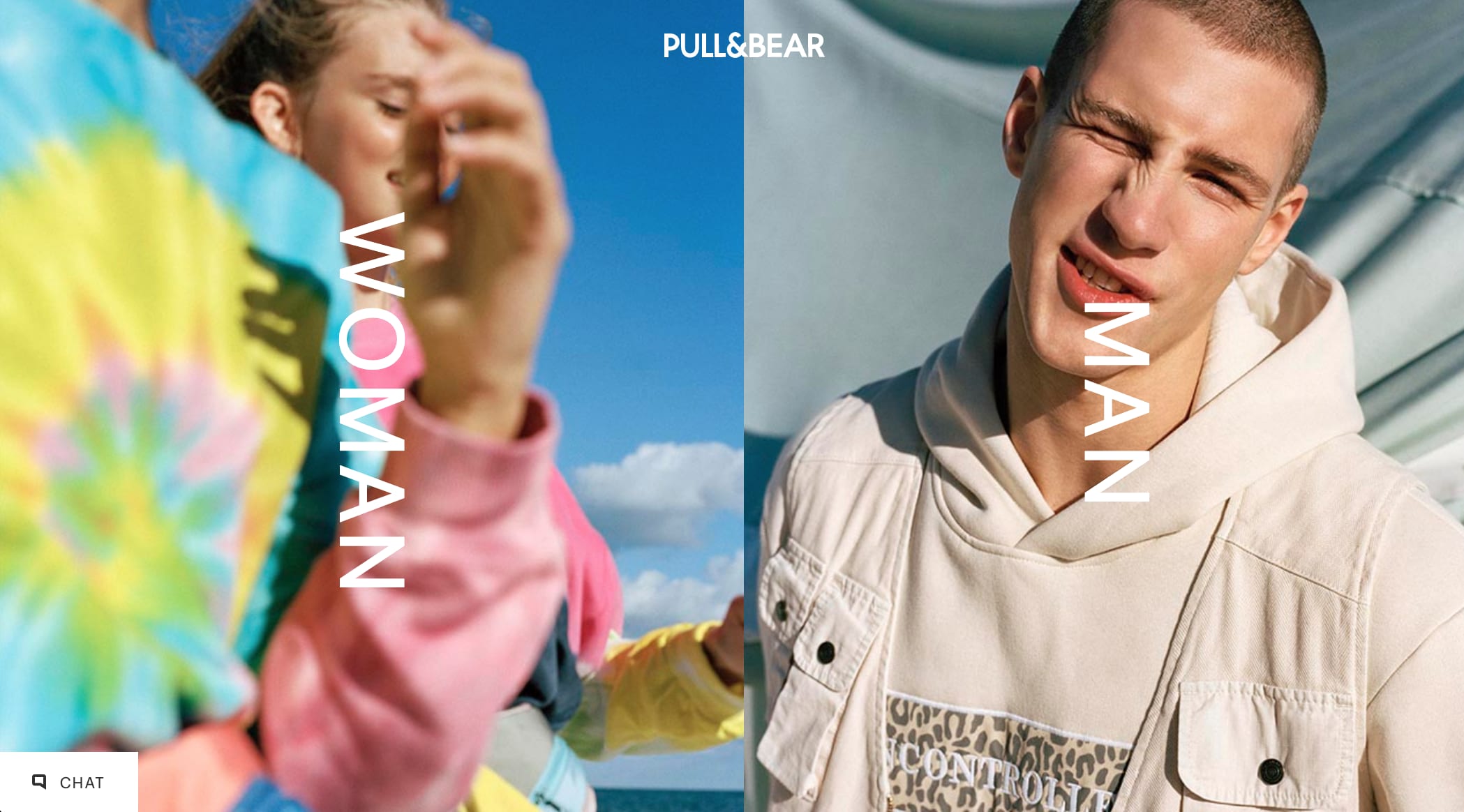 Behavioural personalisation, which adapts the user experience based on user actions within a single session, is something too many brands and marketers are overlooking. In the example image above, clothing retailer Pull&Bear starts the session by asking users if they want to browse women's or men's clothes and the site continues to navigationally personalise the experience from there.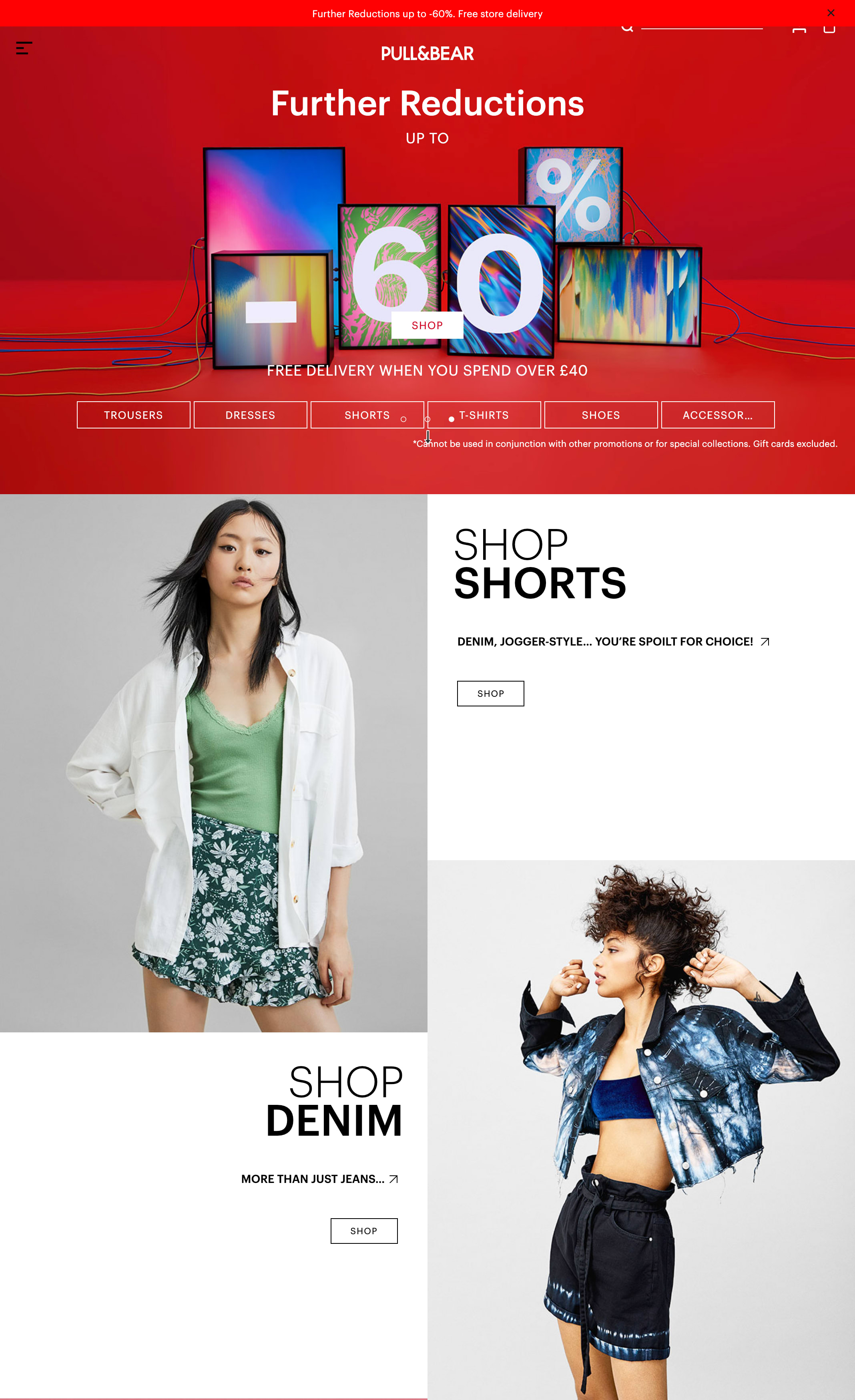 This doesn't require any data whatsoever but it does create a more relevant and personalised experience that's intuitive every step of the way. Pull&Bear does ask users for consent to store their data for future sessions but the experience doesn't rely on this data exchange and users are never denied access to anything for refusing to give consent.
#10: User accounts
Whether you're in the e-commerce game or software business, encouraging users to create accounts and giving them a wealth of customisation options is one of the most powerful personalisation tactics you can employ.
Why do think Shopify users are so reluctant to cancel their monthly subscription plan when they've got thousands of hours worth of playlists saved on the platform.
Are they going to want to go ahead and do that all again on another rival service?
Not likely.
The same thing applies to any kind of software or account-based service. If you create an environment that puts a heavy emphasis on customisation, it becomes very difficult for users to give it up.
It could be a marketing automation suite filled with custom-built workflows or an exercise app filled with years of personal fitness data. Once you achieve a certain level of personalisation, the risk of losing customers to rival brands becomes very small.
Don't let GDPR kill personalised marketing for you
The key message in this article is that GDPR doesn't need to spell the end of your personalised marketing strategies. Yes, you may need to adapt a few things but it's perfectly possible to get the consent you need without killing the user experience and tanking your conversion rates.
Likewise, there are plenty of data-free personalisation strategies you can employ to enhance the experience, improve engagement and boost sales – regardless of whether people give consent or not.