Countless studies have shown that more reviews equal more revenue. One popular study by iPerceptions found that customers are 63% more likely to buy from sites that display customer reviews.
Reevoo also found that displaying product reviews increased online sales by an average of 18%. In reality, the specific percentages are quite arbitrary – all you need to know is that the presence of reviews, and how you present them, can have a significant impact on your website's bottom line.
Best Practice for Displaying Reviews
1. Let customers determine the order of reviews displayed
It makes sense that not all reviews are created equal and that some will have a larger impact on convincing potential customers to buy the product than others. When Amazon realised this, they added a single question that said "Was this review helpful to you?", which sorts reviews from most to least helpful. By using this question to 'self-sort' reviews and display the most helpful ones first, Amazon's revenue increased by $2.7 billion.

2. Split reviews into different categories
While aggregate reviews are useful to get an overview of a product's quality, it's useful for customers to see a breakdown of what previous customers liked and disliked about the product.
As you can see in the example below, in this review of Plus500 users are asked to rate the service in three categories; customer support, tools & features, and fees. As some customers are more sensitive to some of these categories than others, it helps customers see whether the product is likely to be a good fit for them.

As every business is different, you'll want to experiment with which categories to display. If possible, the more product specific your categories can be, the better. For example, if you can display 'battery life' on mobile phone products, but 'start-up speed' on laptop products, I'd predict that this would boost your product page conversion rates.
3. Markup your reviews for rich snippets
By marking up your product page's reviews with Schema.org markup, you'll likely notice an increased click-through rate of your product page's search traffic, resulting in more SEO traffic to your site.

The quality of this traffic is also likely to be very high, as people searching for '[product name] reviews' are likely to be near the point of buying the product. If they land on your site, and the reviews are convincing, they may well buy from you.
4. Ensure your reviews are displayed in the code
One of the great side benefits of having customer reviews is that they make it easier to rank for long-tail search phrases that customers write in their reviews. This is only the case, however, if search engines can actually read your customers' reviews.
Ensure that the review system you're using displays reviews in plain HTML, instead of rendering them with Javascript, Flash, or other languages that are typically not readable for search engines.
5. Encourage customers to write detailed reviews
Generally speaking, the longer and more segmented reviews are, the more useful and influential they will be for potential customers.
While it's important to not over-complicate your review forms, you can nudge customers to write longer reviews by having a minimum word count, and adding extra fields to capture more information from them.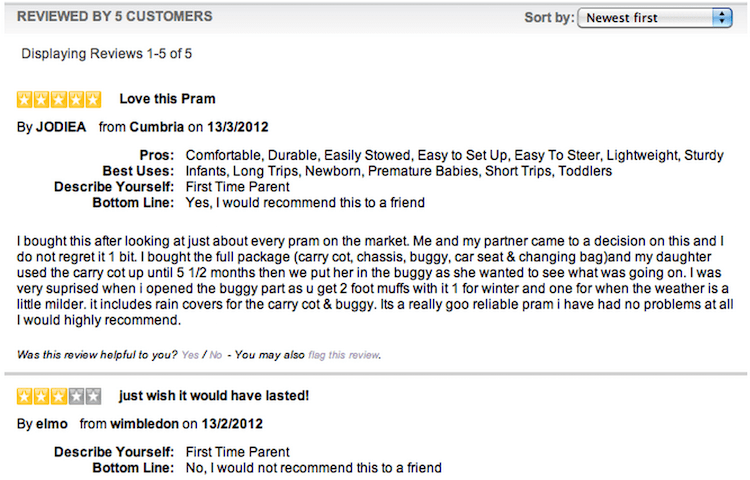 6. Display negative reviews, providing they're authentic
Negative reviews have been found to increase conversions for two reasons. First of all, customers are more likely to trust a site that displays negative reviews, and as such it lends more credibility to the positive reviews.
Secondly, if a product has negative reviews the customer is likely to consider buying a different product on the same site. Providing you're agnostic over which specific products your visitors purchase, showing negative reviews has a positive impact on conversion rates.
That said, too many negative reviews are obviously harmful. In an experiment by Lightspeed Research, they found that three or more negative reviews on a product had a significant impact on influencing the visitor to change their mind.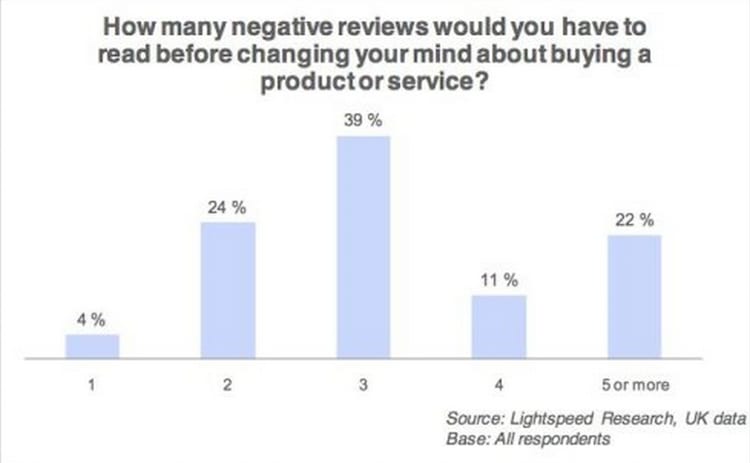 7. Experiment with the layout and design of your review section
There is no right or wrong way to display reviews. There are, however, some designs that are better than others in displaying information that encourages potential customers to buy the product they're interested in.
You should constantly be running split tests on your review section and researching new ways to improve the level of information that they provide.
Best Practice for Collecting Reviews
8. Setup post-purchase email reminders
The best time to ask for reviews from customers is shortly after they've received the product when they're still in the 'honeymoon period'. The best way to do this is by automating an email that encourages them to leave a review using your marketing automation software or transactional email service.
The specific timing of when to ask for a review will vary from product to product, so it's worth running some split tests to see which duration results in the highest number of reviews left.
9. Incentivise customers to review products
I remember being told that the average response rate for non-incentivised review requests is around 0.1%, which means that for every review you read on Amazon, there are around 999 customers who haven't left a review.
One way to significantly increase the rate of reviews left is by offering an incentive. This might be an entry into a competition, a discount coupon, or even a free upgrade.
10. Ask for reviews personally
While this can take a lot of work, it's worthwhile asking for reviews directly from loyal customers or encouraging your customer service team to do so, in a personal manner.
Just a few days ago I received this email from GetResponse, after writing my thoughts on their service. Sure enough, when I've done this kind of personalised outreach in the past the response rates have been relatively high.
In Summary
When it comes to collecting and displaying product reviews it's important to keep an open mind and continually question and experiment with what works.
We've only just scratched the surface in this post, so if you have any other recommendations or experiences worth sharing, please leave them in the comments below.