Bounce rate is a commonly misunderstood metric with negative connotations. When you understand what truly constitutes a 'bounce', it's clear that a high bounce rate is not necessarily a bad thing.
A bounce is defined as a single page visit. If a user clicks on a link to a page on your website, spends five minutes reading that page, and then exits your site, they're a bounce. In other words, a user could find exactly what they're looking for, have a great experience on your website, and still be counted as a bounce.
To put your mind at ease, most of the best blogs in the world have a bounce rate over 80%. So why are we trying to decrease it?
Fewer bounces mean more page views, which may translate into more revenue, more engagement, or a stronger connection with readers. An unusually high bounce rate is also a signal of poor user experience, so it's worth decreasing it to a point where you're sure that your users are 'good bounces', not bad ones.
So how can we lower our bounce rate? Below are 19 tips that will help you get started.
#1 Update your outdated content
Do you still have content on your website from 2001 telling people how to optimise their Myspace page? Yeah, you'll want to fix that. Even in less extreme cases, it's important to keep old high-traffic posts up to date to keep your bounce rate down.
Pro-tip: Do a site search in Google for 'Site:yourwebsite.com YEAR' like in the screenshot below to find all of the outdated content on your website that needs updating.
#2 Don't use pop-ups… unless they're exit-intent pop-ups
In general, pop-ups are awful for the user experience and should be avoided at all costs.
The only case where it's (kind of) okay is when you're using an exit-intent tool like Bounce Exchange or OptinMonster, which use mouse tracking technology to identify when a user is about to bounce, and then shows a pop-up to reduce the likelihood of this.
Larry Kim reduced WordStream's bounce rate from 69% to 40% by installing Bounce Exchange on their site, which he claims also improved his conversions.

While Bounce Exchange's service is very expensive, there are many affordable alternatives like Optimonk and OptinMonster.
#3 Write shorter paragraphs
Our attention spans are getting shorter and shorter, which is why it's important to write concisely and in short sentences.
#4 Check 'double meaning' keywords
One of my old clients sold laboratory space. I was thrilled one day when I got into the office and noticed they ranked #1 on Google for 'labs for sale'.
I was less thrilled when I noticed the surge in traffic had a 94% bounce rate, and my client had been receiving telephone enquiries all day from people wanting Labradors.
When my friend Kevin Gibbons wrote a post on '77 SES London Takeaways', he noticed a spike in low-quality traffic every Friday and Saturday. Turns out he ranked page #1 for 'London takeaways'.
Be mindful of where your traffic is coming from, and cull any sources that are completely irrelevant.
#5 Translate your site for international traffic
One of my current clients receives a lot of traffic from Israel, Japan, and China. Trouble is, his site was only available in English.
I decided to install WPML to translate his site into a few different languages. The result? His bounce rate for international traffic decreased from 81% to 44%.

#6 Make your site search more prominent
In Don't Make Me Think, Steve Krug explains how some people are search-orientated and these users will look for a search box as soon as they enter a site. Don't make it difficult for users to search for what they're looking for.
#7 Make your 404 page more useful
Google explicitly advises that your 404 error page should be useful in helping people find what they were looking for. They also advise using the enhanced 404 widget to include a search box on your 404 page.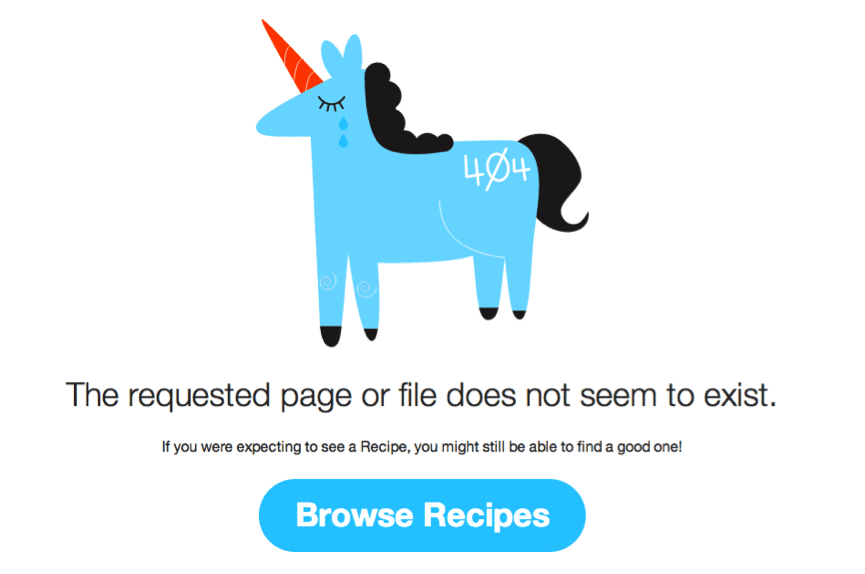 #8 Reduce your broken links
Lots of broken links will cause a poor user experience, driving your bounce rates up. Using the Webmaster Tools crawl error report, or a scraper like Screaming Frog, identify all of the broken links on your site and fix as many of them as possible.
#9 Make all external links open in a new window
For blogs, it's likely that a large portion of your bounces are coming from people clicking on external links in your posts.
If you're using WordPress, there's a plugin that will automatically open all of your external links in a new tab. Otherwise, the easiest thing to do is to simply add target="_blank" in all of your external links.
#10 Improve your page loading speed
57% of users will abandon a page that takes more than 3 seconds to load. I recently wrote a post on how I improved the loading speed of this site by 70.39% in 45 minutes. There are 22 tips in that post that will help you reduce loading times.
#11 Add more internal links
Internal links, like this one to our blog, keep people navigating around your website. Use them to reduce your bounce rate, and help users find what they're looking for without searching.
#12 Improve your copy's readability
The Flesch-Kincaid readability test determines how understandable your writing is for different comprehension levels. There are readability tests that you can use to identify your Flesch-Kincaid score. Alternatively, you can just use the formula as a guide.

The more readable your content, the better the user experience and the lower your bounce rate will be.
#13 Make your navigation intuitive
Simple navigation makes it easy for visitors to find what they're looking for, or at least get to a point where they can easily find out. Don't try to be overly innovative with your navigation – like a supermarket, or a light switch, we prefer things to be how we expect them to be. Strange navigation is just a headache for your users.
#14 Invest in a great design
A good design instills trust and makes navigation intuitive. People don't spend much time on sites they don't trust or find difficult to navigate. Make it easy for your visitors by having a great design to begin with. If you're using WordPress, there are many well-designed WordPress themes you can start with.
#15 Make sure your website's cross-browser compatible
I recently noticed on one of my side projects that the bounce rate in IE and Safari was ~10% higher than that in Chrome. While this is not too unusual, I was curious to figure out why.
It turned out to be a browser compatibility issue. IE users were seeing a page with some broken CSS and HTML5 loading issues. Once fixed, the bounce rate decreased from 68% to 60%.
Make sure you're running regular user tests and browser tests to check your visitors and reaching any roadblocks.
#16 Use an intelligent content recommendation plugin
At the bottom of this post, you'll see the YARRP (Yet Another Related Posts Plugin) recommending a handful of related posts. You'll also see that we're using WP Popular Posts to display our best performing posts in the right-hand sidebar. Both of these plugins reduce bounce rates while helping readers find your best content.
#17 Improving your copywriting
Leo Tolstoy, the Russian novelist, famously wrote, "Everyone thinks of changing the world, but no one thinks of changing himself."
When you write, a relationship is formed with your reader. If you're arrogant or write long paragraphs to transfer simple points, readers will bounce.
Investing in your copywriting skills will not only reduce your bounce rate, it'll lift conversions, click through rates, and how much people enjoy reading your writing.
#18 Split up longer posts into chapters
I'm sure we're all familiar with those 'top 50' posts where you have to click next to load the next page in the countdown. Initially, publishers used this technique to boost advert impressions (one visit became 50 impressions, instead of one). While you may not need to go quite this far, you can reduce your bounce rates by splitting your long posts into a series of shorter chapters.
#19 Make your website mobile responsive
Mobile visitors have even less patience than desktop visitors. Ensure your website has a responsive design to provide mobile users with a great user experience.