Every year, more landing page optimisation tools hit the scene. In one sense this is a good thing because it means you have more options to choose from and it also forces software companies to up their game in terms of what they offer for their asking price.
The downside is this makes it harder to choose your suite of optimisation tools. So today I'm going to run through the short list of landing page optimisation tools I consider must-haves for getting the best performance from your landing pages.
Each of these tools does a different task and I'll throw in some alternative suggestions where I can – or explain why I think my choice is the best tool for the job. So here goes…
#1: Unbounce – The landing page builder
Before you can optimise your landing pages you need to actually build them. Unbounce is still the biggest name when it comes to building custom landing pages without writing any code. It's a great tool for building multiple landing pages (and you do need multiple landing pages) in a time and cost-effective manner.
Having been around for quite some time now, Unbounce plays very nicely with other marketing tools – including WordPress, Google Analytics and just about most of the major email marketing tools available today. This kind of integration is important because it allows you to get third-party insights on your landing page performance and automate as much of the email marketing side of things as possible.
Alternative options: There are some great alternatives to Unbounce so be sure to take a look at Instapage and Leadpages as well – all solid options.
#2: Leadformly – Lead capture forms that convert
Landing page forms are a tricky thing. You need them to convert users but you know most people hate the idea of filling these things out, which presents a real barrier to maximising conversions (the whole point of a landing page).
The best brands spend months and even years fine-tuning their forms to get the best performance and I whole-heartedly recommend doing the same. The only problem with this is you'll be missing out on any number of leads while you slowly improve your design. Wouldn't it be nice if you could start with forms that are already 90% of the way to optimal performance?
Leadformly provides you with a library of web forms that are just that; designed to convert from the moment you embed them into your site. It also provides analytics and customisation so you can make improvements over time, but you'll be getting great results from day one instead of starting from zero.
Alternative options: There are plenty of alternative form optimisation tools out there, but Leadformly is the only one I know of right now that provides you with forms that get results right away.
#3: Crazy Egg – See what works, what doesn't
Much like Unbounce, Crazy Egg is probably the most popular tool of its kind. It combines heatmapping reports for clicks, mouse movements and scrolling to show you what users are getting up to on your landing pages.
A good landing page should have a highly focused message and conversion goal, which means user actions will be very linear – at least if you get things right. This makes heatmaps a great tool for seeing how effectively your landing pages convey their message and steer users to your CTAs, forms and other important elements.
Alternatives: Clicktale and Hotjar are just two of the many Crazy Egg alternatives you'll come across. Try a few of them out and see which one works best for you.
#4: Pingdom – See how fast/slow your landing pages are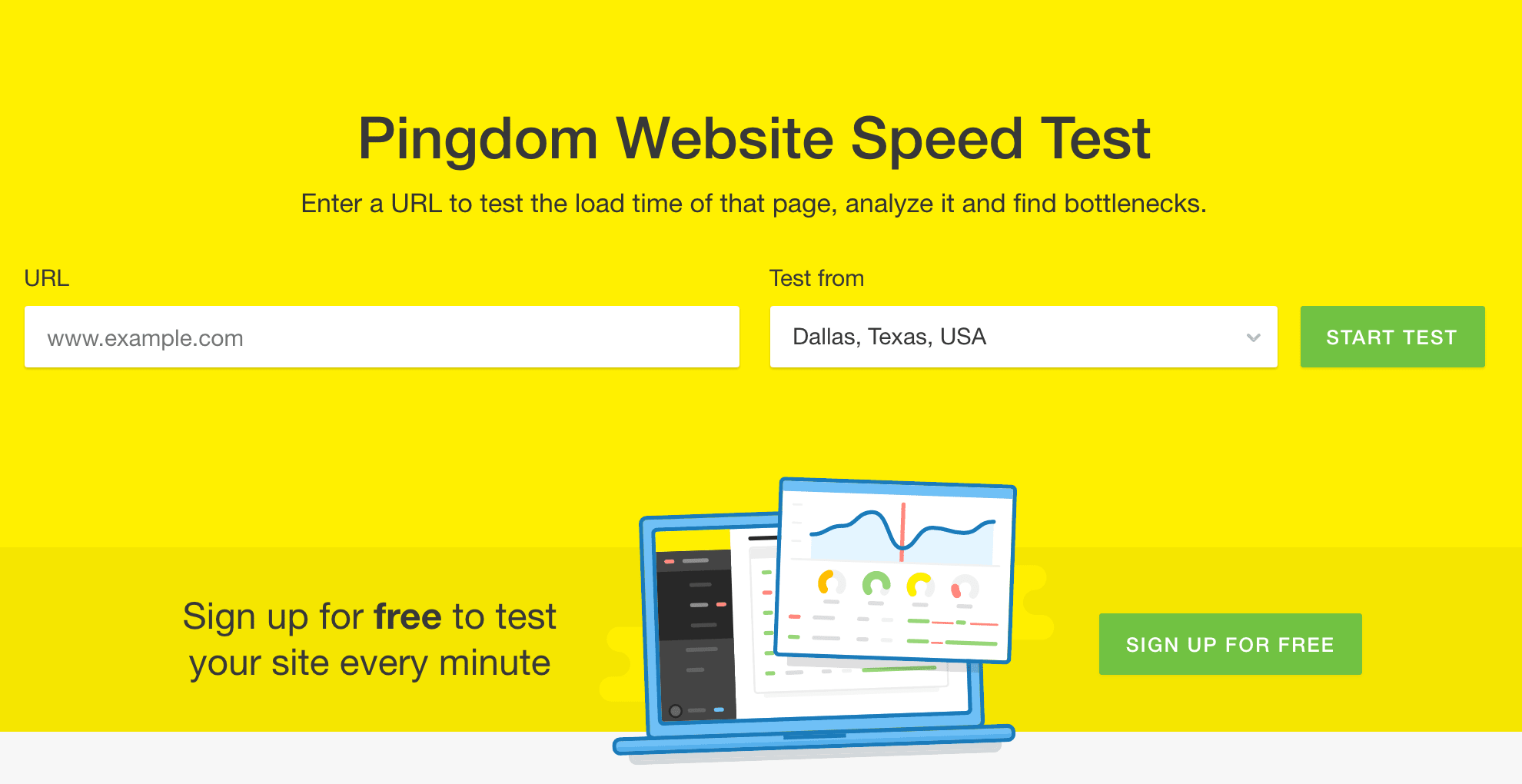 Landing pages are often the first interaction people have with your brand and you want to make sure they're not the last – so don't let slow loading times kill your chance to convert before it's even begun.
Pingdom is a free tool that tests the loading time of any URL you type into the search bar. This is especially useful if you're using tools like WordPress or Unbouce to create your landing pages. You want to know their templates are fast enough right out of the box and be sure your customisations aren't slowing them down.
Seriously, go ahead and try it on your existing pages to see how close to the 2-second loading time target you are. The Venture Harbour homepage came in at 1.69 seconds and this is the kind of result you should be aiming for on your own pages.

#5: Google Analytics – The most powerful analytics tool
Google Analytics isn't perfect (more on that point in a moment) but it's still the most powerful tool of its kind. Sync GA with Google Ads and you've got yourself one hell of a system for tracking landing page performance and setting up remarketing lists to bring leads back to your site after they leave.
To get the best out of Google Analytics you'll probably need a developer to set up things like events tracking and custom metrics but it's a worthy investment. With detailed insights into where your visitors are coming from and what they do on your site, you're not only in a position to optimise your landing pages but also your advertising strategy and other parts of your site for better performance.
#6: Mixpanel – For what Google Analytics isn't so great at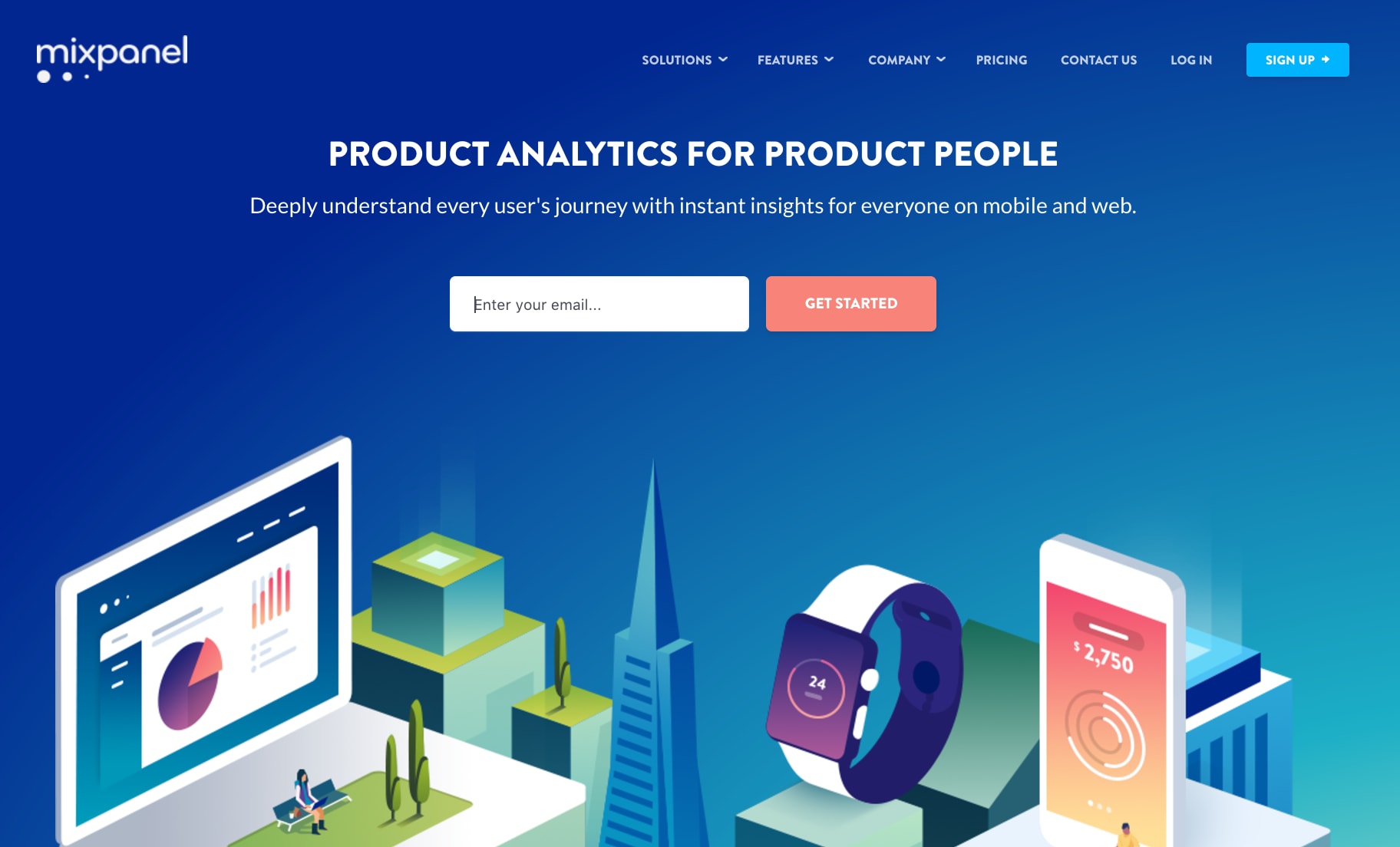 Like I say, Google Analytics isn't perfect and while I'm not saying Mixpanel is the better tool it does beat GA at a few important things. It trumps Google in terms of events reporting, real-time data collection, funnel analysis, retention analysis and segmentation/reporting – one a hell of a combination.
Most of those things can be done with Google Analytics but setting things up on GA takes more time that could be better spent elsewhere. To get the same kind of events tracking on Google Analytics, for example, you have to implement all kinds of hacks, whereas Mixpanel comes with these ready to use. That said, there are countless things Mixpanel can't do that Google Analytics is capable of – so this isn't a replacement for Google's analytics platform, but rather a tool to enhance it.
Alternatives: Google Analytics and KISSmetrics are the obvious alternatives but I always suggest using more than one analytics platform (GA is free don't forget).
#7: Optimizely X – A new kind of optimisation tool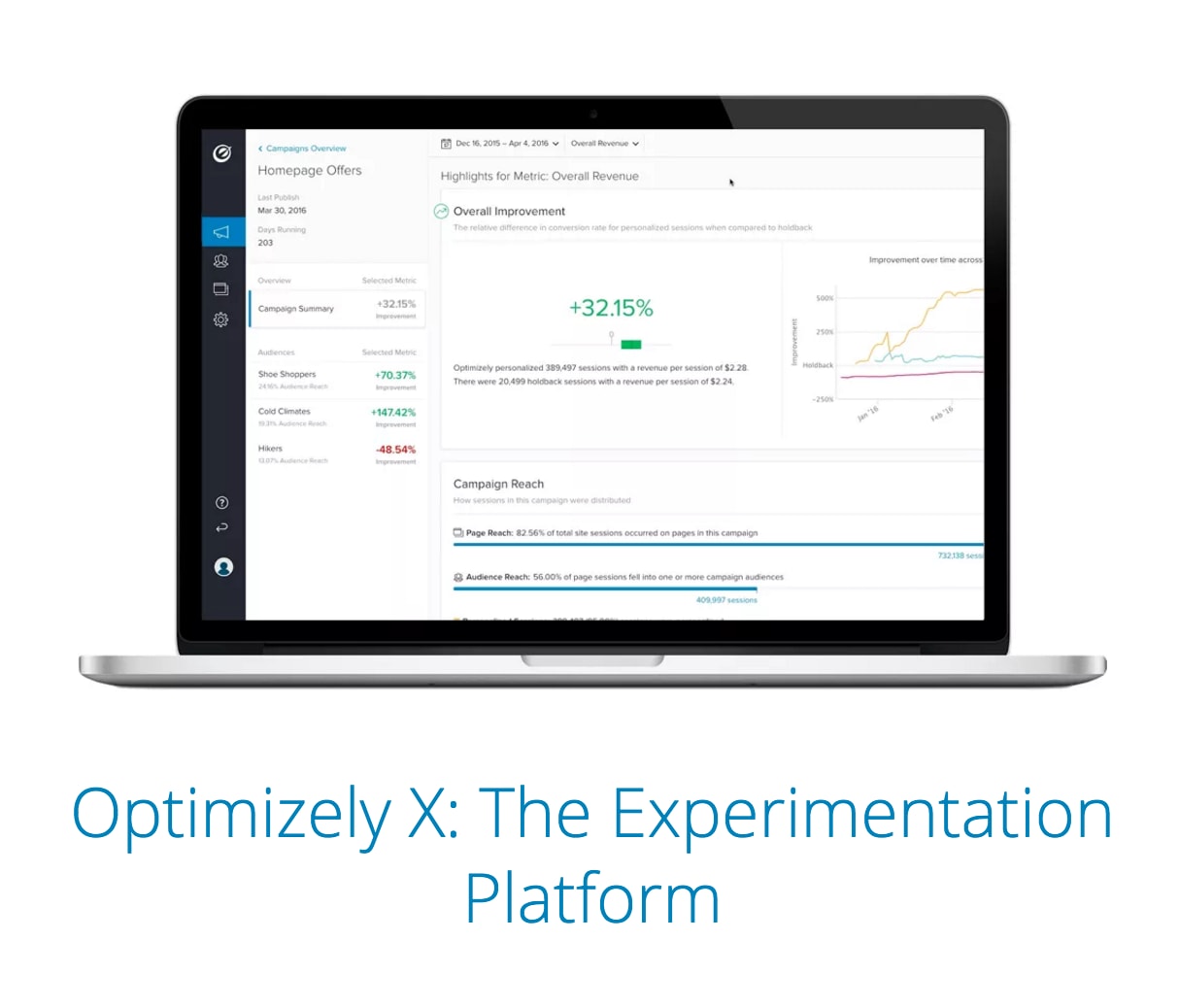 Instead of the usual analytics reporting and A/B testing features, Optimizely X allows you to create personalised content for different users based on their actions. So, for example, your landing page message can be different for first-time mobile users and return visitors who abandoned their cart last time around.
You also dedicated tool for optimising mobile experiences, in addition, the analytics and A/B testing features you would expect from a tool of this kind. But the emphasis is on creating targeted landing pages that meet the specific needs of your visitors and that's a very good thing for maximising conversion – especially for return visitors who might be more tempted by a slightly different message.
Alternatives: Visual Website Optimizer is the closest alternative to Optimizely X I'm aware of, including a dedicated system for delivering personalised content. I'm always on the lookout for new alternatvies though.
So there you have it: the seven must-have landing page optimisation tools for 2017, plus a few alternatives thrown in for good measure. From building multiple landing pages, monitoring their performance and improving results over time, the tools I've recommended today should give you everything you need to make your landing pages the lead generators they should be.