"The marketing mix" aims to provide a complete framework for modern business models and marketing strategies across the entire customer journey.
While there are many variations of the marketing mix, the most common framework consists of seven elements, collectively known as the 7Ps. The idea is that a business can adopt the 7Ps principle and use it as a seven-step framework for building a successful marketing strategy that covers every stage of the buying process.
In this article, we look at how you can use the marketing mix to build a complete strategy, plus a few tips for improving the 7Ps model.
What is the 7Ps model?
The 7Ps marketing model is a framework designed to help businesses build a complete marketing strategy, from start to finish. In theory, a new business should be able to use the 7Ps model to devise an entire marketing strategy from scratch.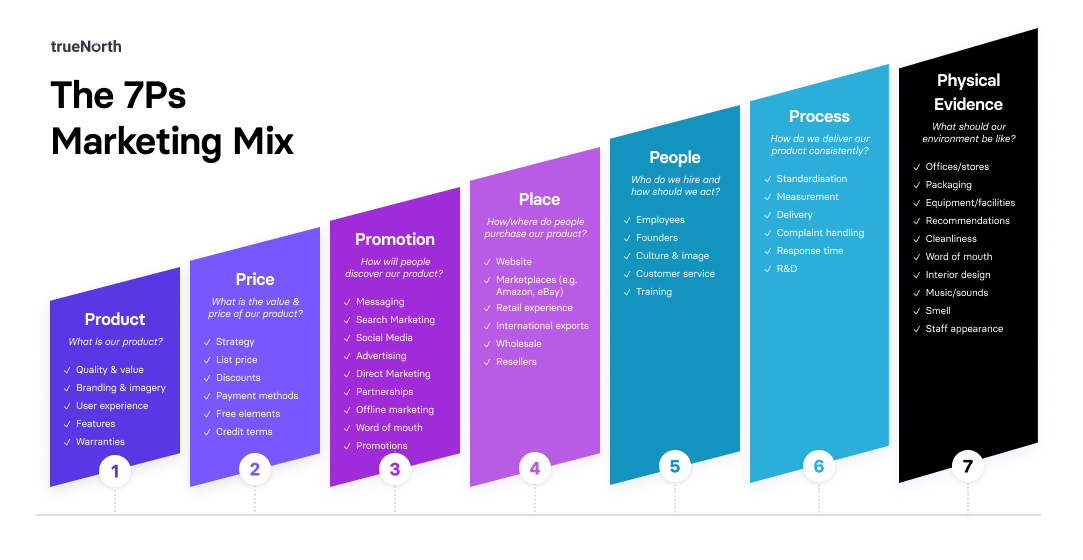 The name derives from the seven elements outlined in the 7Ps model, which all begin with the letter "P":
Product
Promotion
Price
Place
People
Process
Physical evidence
The 7Ps model is an evolution upon the 4Ps model originally founded by E. Jerome McCarthy in 1960, in his book Marketing: A Managerial Approach. The original marketing mix concept was created during a time when the majority of businesses sold physical products and it was updated in the 1980s as more service-oriented businesses started to emerge.
The evolution from 4Ps to 7Ps
As mentioned in the previous section, Jerome McCarthy's 4Ps model was created for businesses selling products to consumers.
As Smart Insights explains:
"The 4Ps were designed at a time where businesses were more likely to sell products, rather than services and the role of customer service in helping brand development wasn't so well known."
The original 4Ps included:
Product
Place
Price
Promotion

These same four elements still exist as the primary components of the 7Ps models. As business and consumer markets have evolved, the application of the marketing mix has adapted, too. In 1981, Bernard H. Booms and Mary J. Bitner expanded McCarthy's model into the 7Ps marketing mix we know today.
While the original 4Ps remain in place, Booms and Bitner added a further three Ps in the mix:
People
Process
Physical evidence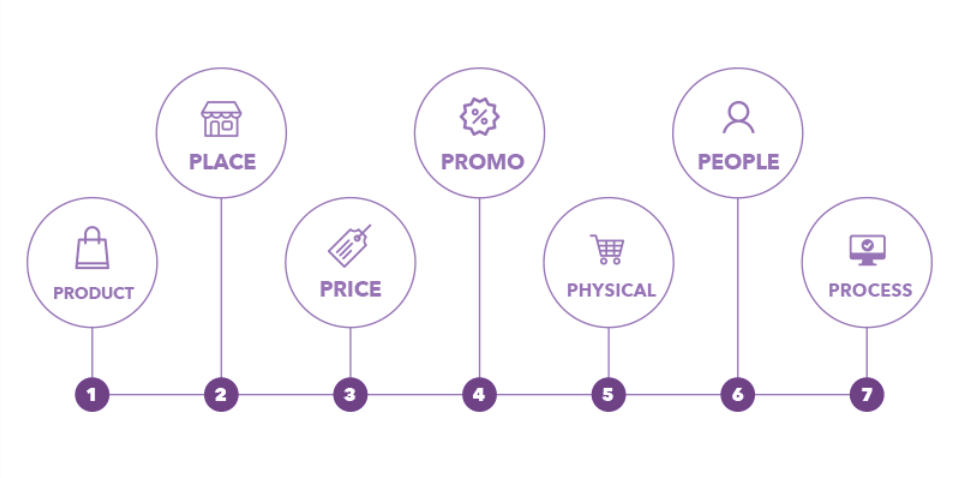 The 7Ps model was created to reflect the emergence of service-oriented businesses where "Product" can mean either prospects or services. The expanded model also increases the emphasis upon customer service, as a result of increased consumer power and competition in every industry.
Like its predecessor, the 7Ps marketing mix has adapted to the evolution of consumer trends and new technologies.
In his book, Digital Marketing: Strategy, Implementation and Practice, digital strategist and co-founder of Smart Insights, Dave Chaffey, refreshed the 7Ps model for the modern digital age.
Some marketers argue that the 7Ps model is outdated but, even in 2021, it's the backbone for business models and marketing theories. In fact, even the older 4Ps model is as relevant today as it was in 1960, even if it doesn't cover the entire marketing mix in the modern, digital age.
This will become more obvious throughout the rest of this article as we look at each of the 7Ps individually and, later, assess whether there are any gaps or weaknesses in the model.
Applying the 7Ps to digital marketing
Now that you understand the basic premise of the marketing mix, let's take a closer look at the 7Ps model that's most widely associated with it today. Let's start by reminding ourselves of what the 7Ps stand for and explain a bit about what they actually mean.
Product: The product or service, including its features, unique selling points and the overall quality on offer.
Promotion: The methods used to promote the product across multiple channels.
Price: The long-term pricing strategy of the product in question, including sales, discounts & deals.
Place: Where people find your product, learn about it and, ultimately, buy it.
People: The people who come into contact with your target customers – both directly and indirectly.
Process: Your methods for delivering the product to customers and providing the best possible experience.
Physical evidence: Tangible items and experiences that tell customers your offer is real – for digital, this can include website visits, confirmation emails, testimonials, customer reviews and more.
Now, it's worth reaffirming the point that the original 4Ps are solid figures in the updated 7Ps model but you will find some variation in the three additional Ps added into this model, depending on where you get your information from.
We're sticking to the original 7Ps model for this part of the article but we'll look at ways you can adapt and expand it even further to meet the needs of your business later on.
#1: Product
The first P in this marketing model is "Product" and this is almost unanimously featured as the first P in all versions of the marketing mix. This is because one of the core principles of this theory is that marketing begins with your product.
At the end of the day, if you've got a lousy product – especially in this day and age – you're going to have a hard time marketing it.
The key elements of the product in your marketing mix can vary, depending on which market you're and who your target audiences are. But, at the very least, you should invest good resources into the following:
Quality: Higher product quality makes everything else you do in marketing and sales so much easier.
Image: This refers to how people see your product and this is what separates products like the iPhone from Android devices or sports cars from cheaper, more practical vehicles.
Branding: Closely linked to "image", this is the brand story you build around your product and how it incorporates with your wider brand image.
Features: The features of your product or service, which should place a heavy emphasis on USPs and benefits for your target customers.
Variants: The different versions of your product or service, who they target and how you differentiate them.
The list could go on-and-on for Product and if you go back to Dave Chaffey's version of the 7Ps we looked at earlier, you'll see this is the longest list in his visualisation.
His list isn't definitive or complete either; it's up to you to decide which items belong on this list for your business. The point is that your product (or service) is the focal point of your marketing strategies and you want to do everything you can to ensure the right level of quality is there.
Take TrueNorth for example. The first thing you see on the homepage is the Product; It's branding (both the name and visual style), product imagery, and a video walking through the product features.
#2: Promotion
Promotion refers to your marketing, advertising and sales activities across all channels. Once again, your channels of choice will vary depending on the nature of your business. For example, a B2B company may prioritise account-based marketing while a B2C company in the same industry might focus more on direct marketing methods.
Above all, you need to be present where your target audiences are active and interested in a brand like yours.
Given the rapid evolution of multi-channel marketing, this is one area where a version of the 7Ps model from as recent as five years ago can quickly look dated.
Here are some key elements to consider:
Multi-channel marketing: The consumer journey takes place across more devices, sessions and platforms than ever before, making it all the more important that you're present on the channels that matter most to your target audiences.
Personalised experiences: The more relevant you can make experiences to individual users, the more engaging your messages become and the more "locked-in" customers are to your brand.
Integrated marketing & sales: Today's brands need seamless integration between marketing and sales strategies to prevent leads getting lost along the funnel.
Lead nurturing: A lot of brands make the mistake of focusing all of their attention on lead generation without dedicated enough resources to lead nurturing – especially customer retention.
Branding: Today's consumers want authentic experiences and brands are scrutinised for their ethical practices, making brand image more important – and fragile – than ever.
PR: Brands don't always give PR the attention it deserves in the digital age but it's an invaluable tool for building, maintaining and even changing your brand image.
Automation: As the digital marketing workload increases, brands need to automate as many repetitive tasks as they can to manage multi-channel campaigns successfully, maintain costs and achieve the fastest possible growth.
There's no doubt that the Promotion aspect of the 7Ps model is getting more challenging with every year that passes, as technology and consumer trends become more complex.
The days of running a few TV ads and blasting out some unsolicited email campaigns are long behind us.
Today's brands need to use the right marketing and sales software to maximise productivity, automate repetitive tasks and manage campaigns across an ever-growing number of channels.
Take a look at some of our software recommendation articles for help with this:
#3: Price
Price is pretty self-explanatory but the mistake companies normally make is underestimating the amount of detail that goes into pricing a single product – let alone an entire range of products or services.
Here's a list of just some of the things you need to strategise:
Positioning: Where do you see your product, service or brand positioning in the market?
Competition: The price of rival products, brand image of rival brands and competing quality of the products on offer.
Justification: As soon as someone spends money on goods or a service, they instinctively spend time trying to justify the expense – and you need to make sure the result is worth the asking price.
Discounts: Discounts should be strategic and planned out to maximise interest, demand and sales – not to clear unwanted items off the shelves.
Credit: Are you going to offer credit options to make large purchases and expenses more manageable for your customers?
Payment methods: Which payment methods are you going to provide your target customers?
Free or value-added elements: Which freebies, value-added elements and incentives are you going to use to sweeten the deal for your prospects.
Value is highly subjective and the happiness of your customers with their purchases is determined far more by emotion than logic. As we've explained before in our articles on cognitive biases, you can influence consumer perception with simple psychological techniques.
A common example of this is software pricing pages where companies start with the most expensive price on the left side of the page. This exploits a cognitive weakness known as anchoring bias where people instinctively set the first piece of information they see as default, meaning any lower prices that follow naturally feel like good value.
#4: Place
Place is the final P in the original 4Ps model and this traditionally refers to the place where customers physically buy products and services. Of course, in the digital age, things are a little more complex and we have to expand the concept of place across multiple channels throughout the customer journey:
Discovery: The "places" both online and offline where potential customers discover your brand and its products/services.
Browsing: The locations where prospects can browse through your offers alongside competitors (e.g.: an online store) or within your own domain (e.g.: a product category on your website).
Learn: Places where target audiences can learn more about your products or services, such as third-party reviews.
Comparison: Where potential customers go to compare your offers against rival brands.
Physical interaction: Any place where prospects are able to physically touch the product or service (if relevant) although this could apply to free trials and demos for digital products, too.
Purchases: Online and offline locations where your customers can purchase from you.
Customer services: The channels where customers can reach out for care after making the initial purchase.
Retention: The channels you use to target customers after the initial purchase to entice further sales.
Place in the digital age refers to every strategic location where potential customers engage with your brand and its product or services – both before and after the sale.
The point is, you need to control these locations, which starts with choosing the right channels of discovery to capture new leads and then nurturing prospects along the sales funnel with targeted interactions.
#5: People
In today's customer-centric approach to marketing, you might assume "People" refers to your target audiences, buyer personas and customers. However, the People in the 7Ps model actually refers to the people within your organisation that interact with your customers – both directly and indirectly:
Marketers: The 7Ps model highlights the importance of hiring the best talent for every position on your marketing team.
Sales team members: These are the people who typically handle the first person-to-person interactions with your customers – and often seal the deal.
Customer service team: The individuals tasked with keeping your customers happy, even when things aren't quite going to plan.
Recruitment: Hiring the best talent starts with having quality recruitment personnel.
Training & skills: The people responsible for ensuring all of your team members encompass the brand ethos and meet your requirements.
Managers: The people with people skills to manage teams, get the best out of everyone and ensure you hit targets.
Chances are, you'll have several other groups or teams included in your People. Here at Venture Harbour, we've got the developers who build and test our products, designers who create the best possible experience for our customers and a pool of freelancers we turn to for a range of different tasks.
Everyone in our team contributes to building and delivering the best product and experiences we can to our customers – and it's important we recognise the value in that.
For more information on how to build and manage a marketing team effectively, you can read our guide:
#6: Process
Process in the 7Ps model refers to your processes for delivering the product or service to your customers, as well as any additional customer service and post-purchase systems you have in place.
At the very least, you should have processes in place for the following:
Customer-end delivery: The customer's process for attaining your product or service, whether it's ordered online and delivered via a courier, bought in-store, downloaded from your website or accessed through an online sign-up process.
Business-end delivery: Your processes for facilitating customer-end delivery and safeguards for resolving any potential issues (e.g.: technical issues preventing online purchases).
Customer service: Your processes, systems and channels for providing customer service beyond the initial sale.
Resolutions: Your processes for dealing with problems that prevent usual delivery systems from completing successfully and instances where customers are unhappy with the process/service received.
Incentives: Measures designed to keep unhappy customers engaged with your brand so you can keep them on board and win them over.
Returns & refunds: Your systems for dealing with returns, cancellations, refunds and any other processes for customers who refuse to stay on board.
Feedback: Your processes for collecting customer feedback and applying these insights to product/service improvements.
T&Cs: The terms and conditions that your customers agree to, specifying your processes and protecting your business in any instance where things don't go to plan.
You have to carefully and strategically build processes for every customer interaction, down to the finest detail. When your primary method of delivering products or services to your customers fails, you need a solid backup plan – and another one for when your Plan B fails, too.
Today's customers have more options than ever and modern businesses need to satisfy these expectations – from delivery methods and payment options to customer service channels and financial guarantees.
If you're doing this properly, you'll be forced to make some difficult decisions and it's not always a question of doing what's best for the customer. For example, you don't want to make it too easy for customers to seek a refund, return items or close accounts. You want to carefully add some friction here and there to provide crucial time for resolving issues and encourage continued use.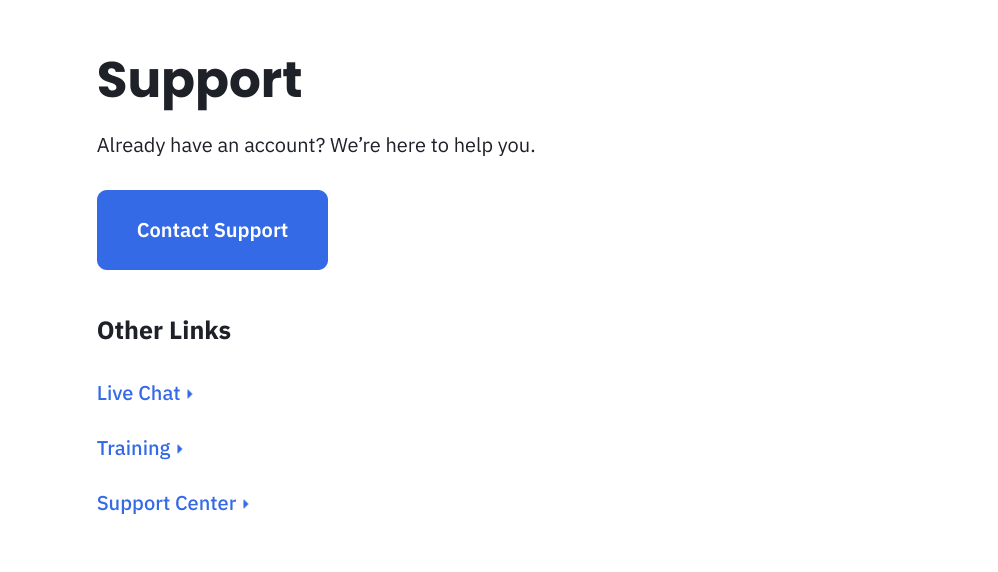 Likewise, your customer service processes need to be effective in terms of keeping customers on your side but they also need to be affordable and it's not always realistic to have an in-house team of customer care staff sitting by the phones every day.
Once again, technology can help you strike the right balance between customer care and profitability – for example, using chatbots to handle the first interactions with customers. Likewise, personalised automated email responses can cut the perceived time it takes for human team members to contact customers directly.
#7: Physical evidence
The final P in the 7Ps stands for Physical evidence and this used to refer to actual physical items and forms of interaction: products, stores, receipts, packaging, bags and other branded items that could be seen and touched.
Of course, these are all forms for physical evidence today but, in the digital age, we have to reconsider our definition of "physical".
So what does physical evidence really achieve?
Well, on one hand, it helps customers feel more confident that they're dealing with a legitimate business before they make a purchase. A company with stores across the country, great products and nice packaging must be doing pretty well for itself and, surely, this wouldn't be possible if they weren't taking good care of their customers – right?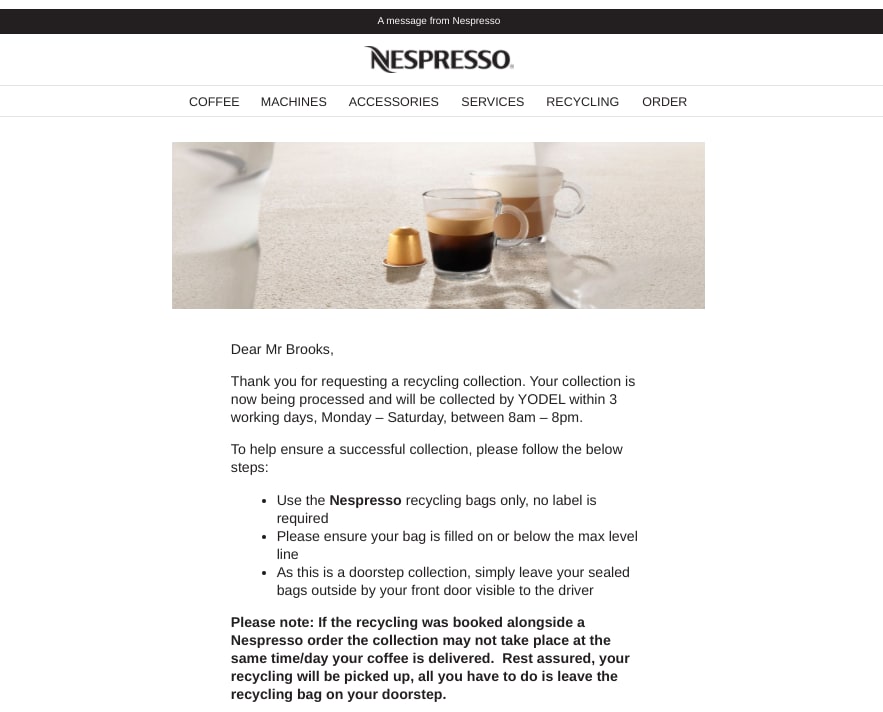 The second key role physical evidence plays is after the initial sale by providing customers with evidence that the transaction took place, their payment was received and their products or services will be delivered.
Places: This was the fourth P on our list of 7Ps and these locations act as physical evidence – whether it's your website, physical stores or trusted third-party platforms.
Third-party evidence: Customer reviews, press coverage in major publications and positive press are especially important in the digital age where simply having a website doesn't provide the level of physical evidence real-world stores.
Online experience: That said, the quality of your website and the user experience it provides are crucial forms of physical evidence in the modern consumer journey.
Feedback: Sales staff provide all kinds of feedback through conversation, facial expressions and body language, which is lost in the online experience. So it's important to design intuitive feedback into the experience – everything from click confirmations and animations to on-page feedback when forms are completed and payments are submitted.
Order confirmation: Whether it's physical receipts or confirmation emails, customers need to know their transactions are successful.
Product packaging: Both the physical and digital packaging/branding of your products or services.
Physical evidence is primarily about easing consumer concerns and purchase anxieties by reassuring potential customers that your business is legitimate, their money is in good hands and the purchase is going to go smoothly.
By providing feedback across the entire customer journey, you can confirm that every little interaction is successful and build reassurance as they get closer to putting their money on the line.
What are the limitations of the 7Ps model?
There's no such thing as a perfect marketing model and, no matter how comprehensive a list we make for each of the 7Ps, there's no way it can cover every aspect of a digital marketing strategy.
In fact, there are various different versions of an 8th P added to the model of seven, depending on which marker you speak to. As Smart Insights explains in this article, "An eighth P, 'Partners' is often recommended for businesses to gain reach online… although some would argue it's part of Place."
Other incarnations of a proposed 8Ps model may include Performance, Productivity, Packaging or a range of other alliterated alternatives for the enigmatic title of the eighth P.
If this debate tells us anything, it's that the 7Ps model clearly has its limitations and there have been plenty of expansions or alternatives proposed in the past.
For me, the glaring omission in the 4Ps and 7Ps models is the lack of reference to the end customer in both of them. In fact, on a broader scale, neither model even makes a reference to market research and ensuring there's a large enough target audience for the product or a demand for it.
I guess you could solve this problem without changing the 7Ps model by simply including customers in People and market research in Product. However, stronger alternatives have been offered in "the age of the customer" while others can be used to expand upon the 7Ps model.
In 1990, Robert F. Lauterborn proposed his customer-centric alternative to the 4Ps model, which we can crudely call the 4Cs:
Customer needs
Cost
Convenience
Communication
This offers a more customer-centric alternative to the traditional 4Ps model that feels a lot more suitable for the modern age. However, there are problems with simply replacing the Ps for Cs.
As we mentioned in the Process section earlier, if you only consider the customer in your delivery methods, you can easily overlook the business management side of things. Likewise, if you think of the customer with your customer service processes, then you can end up creating a system that hurts your bottom line – either by being too generous or overspending on your customer care systems.
While it sounds great to talk about the customer experience as the priority (perhaps it should be), it's not the only factor in a successful business, by any means – or a complete marketing strategy for that matter.
As Hannah Tow suggests in her article for G2, we might be better off extending the 7Ps even further to include the 4Cs, allowing us to look at Price from the business' perspective and also the Cost from the customer's point of view.
Create the model that works for you (and your customers)
The 7Ps model isn't a fixed framework that you have to follow religiously. It's more of a template that helps you consider every aspect of marketing across the entire journey – so you don't overlook key factors like how physical evidence increases confidence and enhances the customer experience.
It's a model that you should scrutinise, adapt and reshape to suit your business, your target audiences and your customers. Whether this means staying relatively true to the original 7Ps, expanding it with the 4Cs or coming up with your own version is entirely up to you.
Just make sure you cover all of the essential bases to avoid leaving gaps in your marketing strategy and the customer experience.
Getting your marketing mix structured & organised
We've broken down a lot of theory, but how do you actually apply this and ensure you have marketing activity across all stages of the marketing mix?
Well, initially you may consider running an audit across all seven areas to identify which areas need attention. From there, you will want to come up with ideas and begin tracking these as campaigns/tasks in whichever tool you use to manage your marketing.
In TrueNorth, for example, you could allocate budget across the 7Ps and even track your marketing activity and results according to the various 7Ps to ensure you are doing enough in each area and to separate the campaigns that are designed to improve each of the seven areas.
While there's no right or wrong way to do it, the key is to ensure you take stock of where you are and have a clear system in place to constantly improve in all areas of the marketing mix over time.