For SaaS companies, the first major conversion goal is signing users up to a free version of a product: free trials, free plans, free tools, etc. This means you pump all of those marketing funds and resources into a conversion goal that generates zero revenue and, then, you have to nurture free users into paying customers before you get any return on your investment.
In this article, we're looking at free-to-paid upselling strategies that'll help you turn more free users into paying customers – a combination of lead nurturing strategies, product optimisation and incentivisation techniques that encourage free SaaS users to upgrade to paid plans.
What are we looking at in this article?
Most SaaS companies run one of three product lead generation strategies designed to capture non-paying users: free trials, free plans or free products (freemium, free tools, etc.). Each of these strategies requires a different approach to upselling free users so we're dividing this article into three key sections:
Free trials: Convert free trial users into paying customers.
Free plans: Upsell free plan users into paying subscribers.
Free products: Upselling strategies for freemium products, free products and free tools.
In each section, we run through upselling techniques that you can implement into the free version of your software, your lead nurturing campaigns and your customer support strategy to maximise the number of free users who upgrade to paid versions of your product.
For each strategy, we look at real-world examples from some of the biggest SaaS companies in the industry and explain how they're used to upsell free users into paying customers.
Upselling strategies for free trials
In this first section, we're focusing on SaaS companies that use free trials to capture leads and showcase their product. In this case, users get to try out the platform for a fixed period of time, which means you have to convince them to make the upgrade quickly.
Here are the upselling strategies we're looking at in this section:
Onboarding optimisation: Make sure free trial signups are getting through the onboarding process and using your software.
Early value: Ensure free trial users complete valuable actions as quickly as possible.
Max. value: Help free trial users get the most value from your software before the trial ends.
Value demonstration: Show users how much value they're getting and will continue to get if they subscribe.
Urgency: Build a sense of urgency throughout the free trial period.
Post-trial follow-ups: Chase up users who cancel or don't subscribe at the end of their trial.
Given the short-term basis of free trials, these strategies prioritise the software experience and maximising value perception as quickly as possible.
#1: Optimise your onboarding process to maximise adoption
The onboarding process is important for every SaaS experience so this applies whether you're running a free trial or not. That said, with free trials, you don't have the time to chase up users who fail to complete the onboarding process and convince them that whatever issue they ran into doesn't reflect the quality of your software product – so you really have to maximise your onboarding completion rate.
We discuss the onboarding completion rate metric in our guide to the essential metrics and KPIs for SaaS marketers – a great resource for measuring the effectiveness of the strategies we're looking at today in this article.
When it comes to SaaS onboarding, you have to choose a compromise between minimising friction and maximising the quality of free users. On the one hand, you can create the easiest onboarding process possible with the aim of capturing as many free trial users as you can.
This is the approach Slack takes with its ultra-easy sign-up system that simply asks for your email address to get started.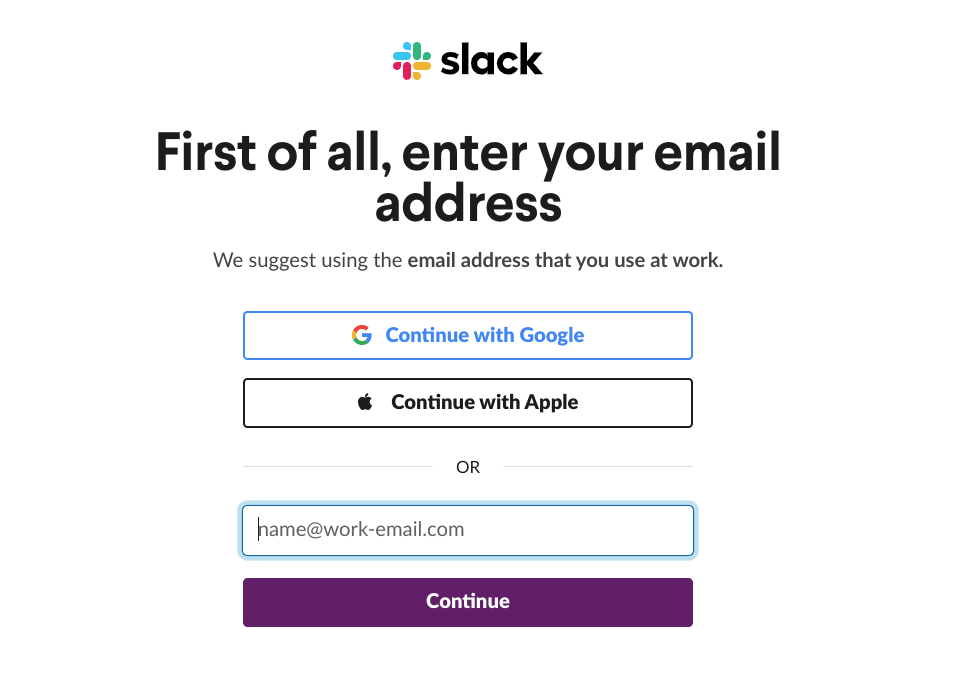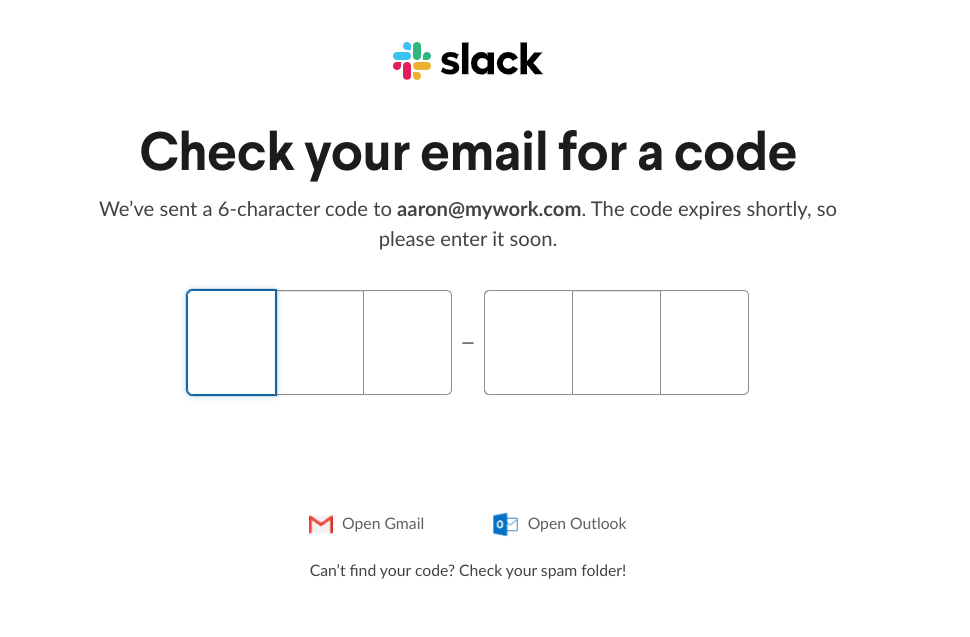 Once you're logged in, Slack guides you through the software to help you get to grips with the platform and start getting value from the software during the first interaction – something we'll discuss in more detail later.
You can add these messages to your own product with onboarding optimisation software, such as Appcues (plenty of other options available), to maximise onboarding completions and engagement during the first session with your software.
Not all SaaS companies take the same friction-free approach as Slack when it comes to onboarding, though. Sometimes, you need to add some strategic friction to ensure you're capturing the right kind of leads with your free trial. For example, you might decide that you only want people from companies of a certain size signing up for your product and decide it's worth confirming this information in your signup form (or any other specified criteria).
Another decision you'll have to make is whether to request payment information at the start of your free trial or whether you're running a no-obligation trial that requires no credit card information.
Again, you'll generally capture more free leads by running a trial that requires no payment details but you may generate more revenue from first payments by requiring credit card details upon signup (keep in mind this has implications on cancellations, renewals, retention and recurring revenue).
Here, you can see Unbounce implements a three-step signup process for its 14-day free trial, requiring users to provide their account details and their billing information before the final email confirmation stage. The company specifies that the first payment is automatically taken upon the completion of the trial and automatic renewals will occur monthly on the same date.
Once users have signed up for the free trial, Unbounce also guides them through an onboarding process that helps them get familiar with the software, using in-app messages and walkthroughs.
Whichever approach you take to onboarding, there are always going to be some users who fall through the gaps and you'll also experience a percentage of users who complete the onboarding process but never log in for a second session. You'll also see usage declines among many free trial users who show enthusiasm during the first few sessions but show less interest during the latter stages of the trial and you should expect a high volume of churn during the free trial period – especially if you've requested payment details like Unbounce.
Email marketing plays a key role in the onboarding process, too, and you can automate campaigns to maximise engagement and reduce churn during this crucial period. For example, when a new user signs up to TrueNorth, they receive automatic follow-up emails to help them complete important tasks they may have missed or had trouble with – such as adding their funnel data into the platform:
This is a key step for new TrueNorth users to complete – one that's crucial for them to get the most out of the product – and these email campaigns increase engagement during the first few sessions, but they also help new users get more value from the product – ie: more reason to pay for it.
#2: Minimise time to value
Time to value is another metric we discuss in our guide to SaaS metrics and KPIs and here's a quick summary of what we have to say:
"Time to value tracks the time between users signing up for your software product and completing the first action that results in meaningful value for them. In other words, this metric quantifies how long it takes for new users to get value from your product."

50 Essential Metrics & KPIs for SaaS Marketers, Venture Harbour
The sooner users get value from your product (and the greater this value is), the more likely they are to upgrade or stay subscribed once their trial comes to an end. Onboarding plays a key role in this and you can use in-app messaging and tutorials to help new users get value from your product during the first session.
However, this is something you also need to approach from a product development perspective – ie: how can you design your product to deliver meaningful value as quickly as possible? Here are some points to consider when analysing your software:
Can the user complete a meaningful action during the first session?
Can the user complete meaningful actions during every session?
Are meaningful actions easy enough to complete?
Are features and tools easy enough to find?
Do micro-interactions/feedback communicate actions and their value?
Does the product provide value while users are inactive?
Does reporting show the value of the software?
For example, during the Unbounce free trial users can create their first landing page using the interactive page builder that guides them through the basics. Even if they don't complete their first landing page, they can save their first effort, create reusable elements or build their own template for future use. So the user can complete meaningful actions during the first session but they require quite a lot of input, so Unbounce has to work hard on encouraging free trial users to build their first landing page as quickly as possible.
Interestingly, the company recently launched its new Smart Builder, which helps new users create their first landing page in no time, using the platform's Conversion Intelligence technology.
With this tool, new users can create their first landing page within a few clicks and start generating traffic from day one – without any design or copywriting skills required. Sure, these auto-generated landing pages aren't going to win any design or copy awards but they're also better than someone with no design or copywriting expertise will come up with on their own.
Crucially, the tool delivers almost-instant value where many users will have spent hours, days or weeks creating their first landing page.
#3: Help users get the most out of their free trial
While optimising time to value helps free trial users experience the benefits of your software as quickly as possible, you need to sustain and build upon this value perception throughout the trial period. Again, in-app messaging is one of the best tools you can use to help new users get familiar with your product and introduce new features and tools to them.
We mentioned Appcues earlier and there are plenty of other options, including Userpilot and Pendo (below) that help you deliver in-app messages to maximise value throughout the free trial and beyond.
Email marketing is crucial for this, too, and you can send automated campaigns to free trial users to help them continue getting value from your product. Earlier, we looked at an example of TrueNorth sending emails to help users get to grips with features/tasks and here's another example from Autopilot that guides users through the steps of more complex tasks: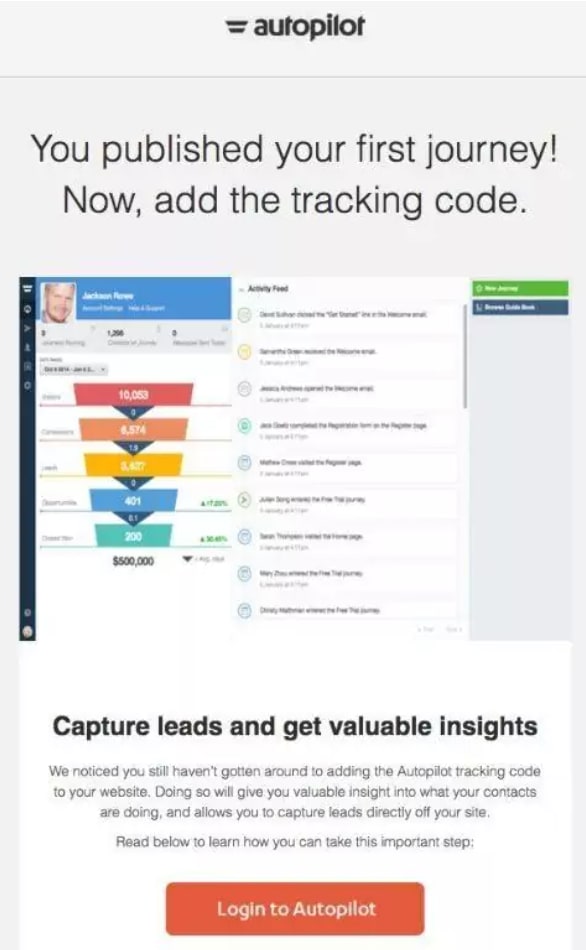 These emails deliver targeted content, based on the actions free trial users take (or don't), encouraging them to complete the tasks you know will help them get the best value from your product and increase the likelihood of converting as a paid user.
To back up all of your product and email strategies, you should have a comprehensive online documentation and support system on your website to help users learn and solve any problems they run into. ActiveCampaign has a "university" of guides, tutorials and support content in the form of articles, videos, documentation and a forum to engage with other users and get advice from moderators.
Having a library of support material helps users get more from your product and also lightens the load on your customer support team by helping users address issues themselves. You can also promote support content in your email marketing campaigns and implement a chatbot on your website (and in your software) to point users towards relevant support material, in real-time, if they run into any problems.
#4: Show free trial users how much value they're getting
With free trial users getting value from your product, make sure they can see these benefits in certain terms. Include reporting features that show the progress users make in numbers and how this value increases with ongoing use. You can also drive engagement through reports showing achievements, task completions and performance stats to show that your product provides measurable value.
Increasingly, SaaS companies are borrowing gamification design concepts from video games to provide users with badges, rewards and unlockable features in return for task completions, high-usage or goal achievements.
Grammarly is an excellent example of this and it also sends weekly progress reports to users via email so they don't even have to log into the software and view the reports for themselves. Users are constantly reminded of how the app benefits them, how much they're improving and what they're going to gain by sticking with the software and upgrading to the Premium version.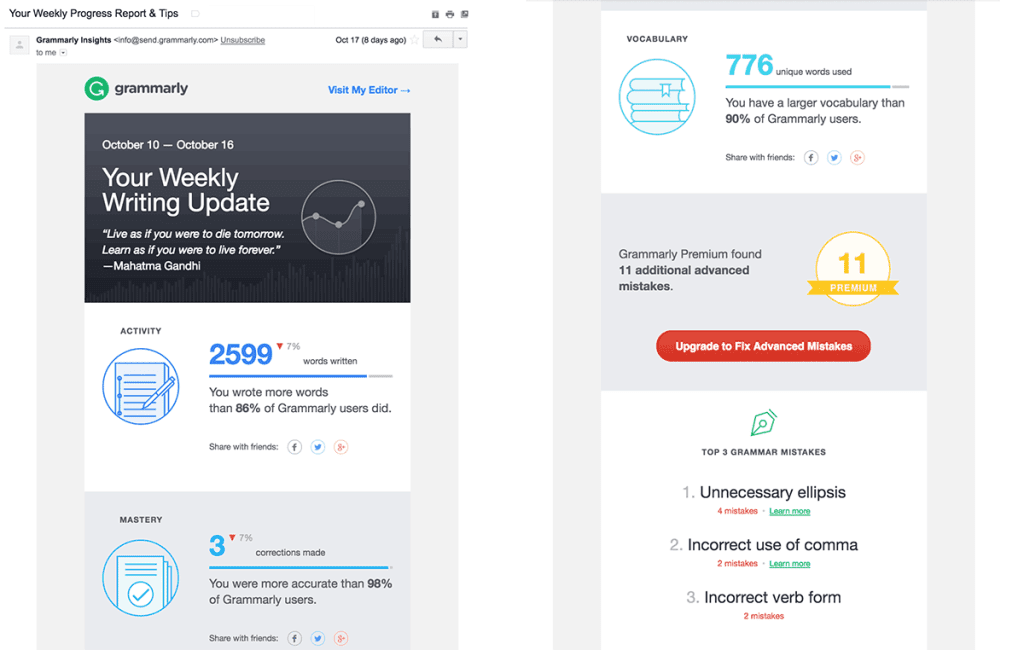 Todoist sends email reports, too, although users are more involved with the software product than Grammarly (which works in the background) so it doesn't need to send weekly reports as constant reminders. Instead, it can send monthly and annual reports, showing what users have achieved and where they can improve results even further in the next year ahead.
Reports and analytics are a great way of showing value in pure numbers but you can show the value of actions in more subtle ways, too. I briefly mentioned micro-interactions earlier and you can use these to visually convey value through interactions, illustrating that user actions have achieved the desired result.
In this demo video from Taskade, you can see how user interactions are visualised with micro-interactions, constantly communicating that actions are contributing to progress and getting more value from the product.
You don't want to go over the top with micro-interactions, to the point where they overwhelm or get in the way of the experience of using your software, but providing subtle feedback can help users understand that they're getting value from your product with every action they complete, even when they're not looking at reports.
#5: Build a sense of urgency as the free trial ends
A key benefit of running free trials is that you can build a sense of urgency in users as the end of their trial period comes to an end. If you've helped users get as much value as possible out of your platform during this period, they're going to struggle with the idea of giving this up more than the monthly subscription fee you're asking for.
As the end of the trial approaches, you can ramp up the urgency even further by reminding them that they need to act now if they want to keep using your platform (unless you're automating payments and renewals).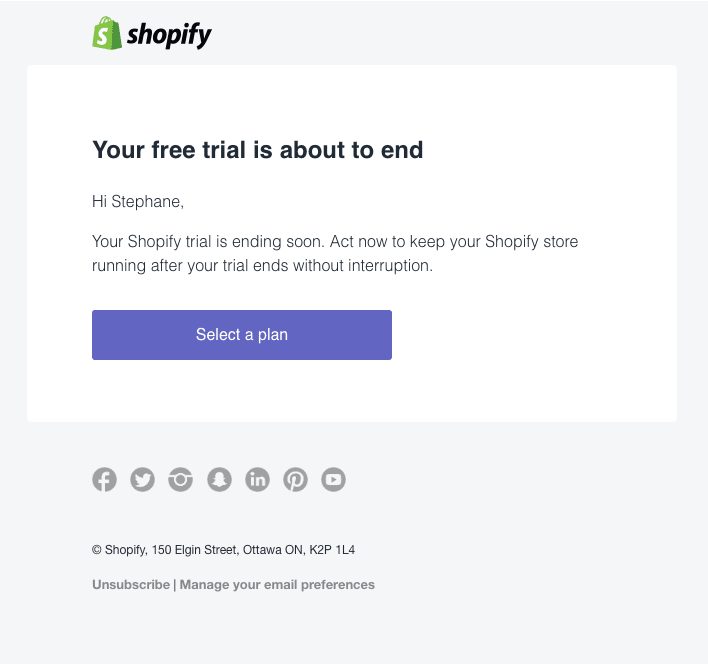 If you're automating the first payment (ie: users need to cancel if they don't want to subscribe), then you don't need to remind them so heavily that the free trial is coming to an end but you should still ramp up the incentive to stay signed up.
Some SaaS companies that automatically take the first payment only notify users at the start of their free trial and – let's face it, some users will forget to cancel – but many remind customers that the trial is coming to an end and explain the next steps – whether it's a payment, free plan or otherwise.
Sometimes, transparency is the best course of action and you have to consider that customers who unintentionally pay for your software are likely to churn at the first opportunity anyway. Your priority is always to increase the perceived value of your product in the mind of users so they make the active choice to upgrade, subscribe or carry on as a paid user.
The length of your trial period plays a key role in creating a sense of urgency and, like most things in SaaS marketing, you have to find a balance here. You need to determine how long free trial users need to get enough value from your product to convince them that it's worth the long-term investment. The compromise is that you want to offer the shortest free trial possible to tighten the sense of urgency to use your product and reduce the time period where users might lose interest in your product or the sense of urgency you've created.
The most common trial periods last seven days, 14 days and 30 days.
It doesn't matter which trial period is most common or popular, though. All that matters is finding the right trial period for your target customers – one that's long enough for them to see the value of your product while short enough to push urgency to intolerable levels at the end of the trial.
#6: Chase up free trial users who cancel or don't subscribe
No matter how effective your upselling strategies are, a lot of free trial users simply aren't going to convert into paying customers. This is all part of the SaaS marketing challenge and you don't have to give up just because free trial users either don't upgrade or cancel before the first payment is taken.
Instead, you should run follow-up campaigns once the trial period is over, giving them reason to subscribe to a paid plan.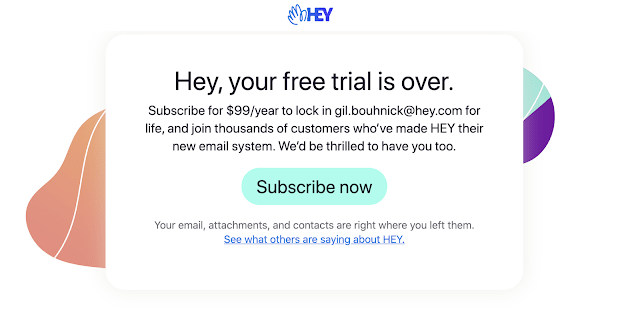 You can automate these campaigns to run once the trial ends and you may get results from sending the same campaign to all ex-trailers. However, you'll often get the best results by creating multiple automated campaigns and targeting them to different segmented audiences with more relevant messages.
For example, users who only logged in a couple of times and never really used your software are unlikely to respond to follow-up campaigns for paid upgrades but they might be tempted back for another free trial. Meanwhile, heavy users who achieved plenty during their free trial may be more responsive to calls for signing up to a paid plan or some extra incentive, such as offering them the first month free if they sign up for a year's subscription.
You can continue to deliver upselling campaigns to users long after the trial period ends, too. For example, you can inform users of new features, affordable plans or other updates that make your product more appealing to them. You can see this from Dropbox, which informs its previous subscribers of updates that make the platform more capable at the same price point.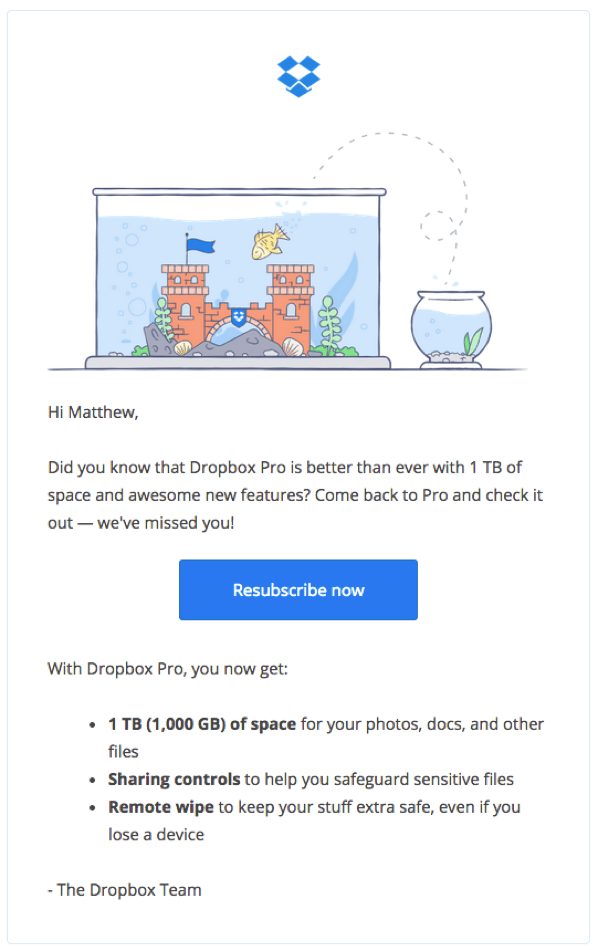 Keep in mind that you don't want to bombard free trial users with emails after the trial ends because they're more likely to unsubscribe if they're receiving messages that offer no value to them. This is another reason why delivering relevant emails to users, rather than sending generic messages to everyone, gives you a better shot at recapturing the interest of free trial users who churned.
Upselling strategies for free plans
In this section, we turn our attention to upselling strategies for SaaS companies using free plans as a lead generation strategy, instead of (or in addition to) free trials.
Here are the strategies we're looking at:
Feature limits: Encourage upgrades by limiting access to high-value features.
Usage limits: Encourage upgrades by restricting usage on your free plan.
Limit customer service: Reserve the best customer service for paid plans.
In-app upgrade prompts: Prompt users to upgrade when they try to complete certain actions.
Feature promotion: Tease free users by promoting paid features and updates.
Power users: Identify the free users most likely to upgrade and prioritise these in your upselling campaigns.
Free temporary upgrades: Give users a taste of what it's like to be a paying cust.
While the strategies in the previous section focused on maximising the value for users during the trial period, this time we're taking the opposite approach by limiting value through various restrictions. Essentially, free trials have the intrinsic restriction of time while free plans have to create upgrade incentives through other means: namely, by showing what can be achieved with the software but falling just short of the needs paying customers have.
#7: Limit features on your free plan
The most obvious way to encourage upgrades from a free plan is to limit features and this is often the least disruptive for the end user, as it's expected that free versions of a paid product would have certain features missing. Features often make compelling upgrade incentives, too, because users are getting something new rather than simply being able to do more of the same.
WIth strategic feature limitations, you can create upgrade paths for products that grow with users as their needs become more advanced – something that's especially effective for B2B SaaS products.
In the screenshot below, you can see a section of SendinBlue's pricing page with the free version on the left and progressively more expensive plans in each column to the right.
SendinBlue's free plan is actually one of the most generous and you have to scroll quite far down the feature comparison page to see so many missing from the free plan. However, the company chooses the features that stand out for users willing to pay for email marketing software, such as A/B testing, a landing page builder and other incentives.
These are features you would have to pay good money for with other software solutions, so the combination of SendinBlue's email marketing software, with no send limit and these features, makes it a compelling option for businesses. And, you can see part of the upgrade path with the quantity of emails users can send and landing pages they can create.
You can see something similar from EngageBay, which also happens to offer a generous free CRM and marketing automation platform, with limited features. In this case, the company includes a landing page builder on its free plan but limits the features of the builder itself, including the number of landing pages users can build.
Feature limitations can be effective but there are several challenges with this approach. First of all, it can be difficult to determine which limitations are most effective at encouraging upgrades from each plan and you'll have to do a lot of testing if you really want to maximise upgrades. Another issue is that some users simply won't sign up in the first place because certain features they want aren't available on your free plan – especially if any of your competitors are offering these features for free. So you have to keep a constant eye on the market, your competitors and user behaviour to determine the most effective limitations.
This can be particularly challenging if you have feature-rich software and several plans that need to incentivise upgrades from the previous one.
#8: Limit usage on your free plan
Limiting software usage has become one of the most common ways to separate plans in the age of SaaS and this can be an effective way to encourage upgrades from a free plan, too. For example, Zapier offers a free plan that allows users to automate 100 tasks per month. There are feature upgrades on each plan, too, but the key differentiation Zapier places at the top of the comparison page is the number of tasks users can automate.
You'll also find a lot of SaaS companies price their plans on a per-user basis, meaning customers have to pay more for every user account required on the system. So your free plan might cover one user (or a small number of users) with customers having to upgrade to cover larger teams – another effective strategy for B2B software.
Some usage limitations are unique to certain types of software. For example, if you're ever in the market for a CRM or email marketing software, you'll often find plans are priced on the number of contacts you store on your system or the number of emails you can send.
If you take a look at the page for MailerLite, the free plan covers users for up to 1,000 subscribers and 12,000 emails with pricing reaching as high as $1,915/month for up to 600,000 subscribers and 7.2 million emails with custom pricing available for users with higher demands.
Again, there are some feature differences between the free plan and paid plans but not a great deal and MalierLite's pricing is largely determined by usage.
The great thing about usage limitation is that users who truly need to upgrade will reach their limits and have little choice other than upgrading. This relies on need rather than the more emotional leverage of feature-driven upgrades but you can combine the two if you want to exploit both triggers. Usage limits also allow you to open more features up for your free plan, which means users can get a more accurate picture of what paid plans have to offer.
#9: Limit customer service on your free plan
Another common way to encourage upgrades from free plans is to offer the bare minimum in customer support. Again, this is justifiable on the basis that you're not making any money from free subscribers but there's an even better justification: paying customers deserve the better support options – especially those paying for your most expensive plans.
Essentially, your free plan acts as an indefinite free trial for new users to get familiar with your software and also provides an option for non-professional users who are never going to buy into a paid product. Your paid plans are for more serious users and the pricier plans are designed for professional, business and enterprise use so it makes sense that the latter enjoy premium customer support.
This works as an upgrade incentive, too, because serious users who need flawless performance require rapid responses to any issues they encounter. This is particularly effective for business software where users rely on your product to make money or get through the working day. These customers lose money when they experience issues with your product so they're willing to pay a little more for the added insurance of having premium support, even if they don't need the other features on offer.
#10: Use in-app prompts to encourage upgrades
We've talked about in-app messaging several times already in this article so I'll keep this one short. The only point I want to make here is that you can use these in-app interactions to prompt upgrades when users try to access a premium feature or reach a usage limit.
This isn't reserved for B2B software, either. Here, you can see a prompt inside Spotify when a free user "discovers" a premium offer, such as skipping too many tracks, trying to create a playlist or download a track.
Spotify doesn't make these features inaccessible in its app; it allows users to navigate the software in the same way as paid users and hits them with these upgrade prompts when they try to do something reserved for premium plans.
HubSpot also does this with its free software options, prompting users to sign up when they try to access a feature reserved for paid plans.
The danger with this strategy is that you can frustrate users if they're constantly trying to access features and getting hit with upgrade prompts. As I've said several times in this article, you have to find a balance between encouraging signups and not hurting the experience of using your product that free users might give up altogether.
#11: Promote paid features to free users
You can tempt free users to upgrade by promoting paid features in email marketing campaigns – both existing features and new ones as they roll out. With existing premium features, you'll have to show the value they add with stats, case studies and other demonstrations that show free users they'll benefit from gaining access to these features.
Try leveraging the fear of missing out by highlighting how your other customers benefit from the features in question.
For new features, you can simply inform free users with announcement emails introducing new features as they roll out – as you can see in this example from Mailchimp: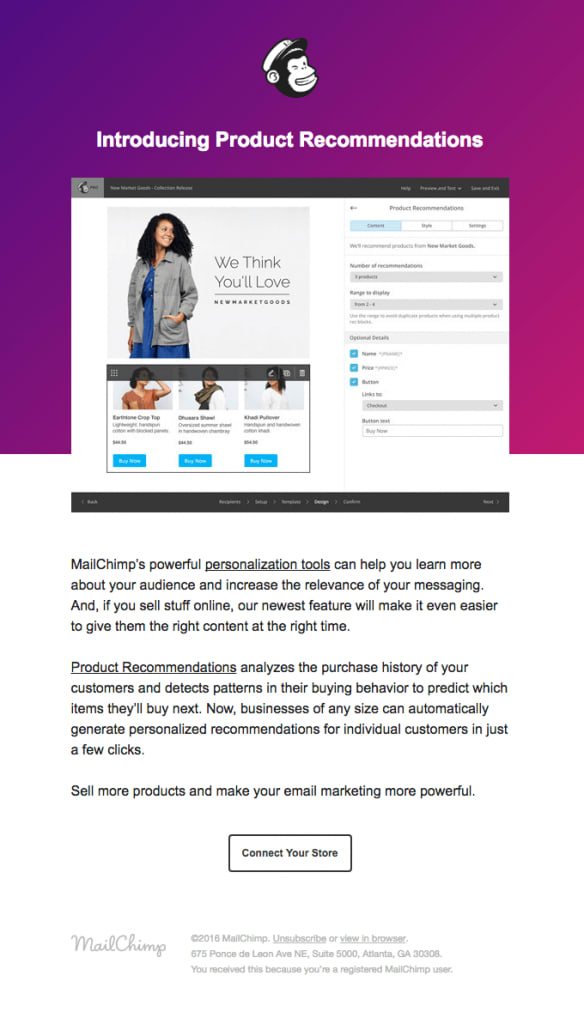 You can also promote premium features inside your software with in-app announcements and prompts with messages like: "Hey! Did you know you could [feature description] on our Basic plan?".
Another strategy worth exploring is giving free users temporary access to premium features. This gives them time to get familiar with the feature and start getting value from it, only to face the prospect of losing it unless they upgrade to a paid plan. It hurts to lose something we've come to enjoy and this leads nicely into our next strategy for encouraging free-to-paid upgrades.
#12: Identify your power users (who are most likely to upgrade)
As I mentioned earlier, sending generic messages to all users can get results but you're always going to achieve more by delivering targeted messages to users, addressing their needs with greater relevance. The point of this targeting is to maximise the likelihood of recipients responding to your message and upgrading to a paid plan.
Taking this concept further, you can exploit the access you have to user session data to identify usage patterns that indicate how likely free users are to upgrade. With a software analytics platform like Mixpanel, you can identify power users who are getting the most out of your free plan and also have the most to gain by upgrading.
You can prioritise these users in your upselling campaigns and tailor your messages to acknowledge how much they're achieving with the free plan of your software while showcasing what they'll have to gain from the upgrade. You can delve deeper into this data, too, to see which users are going in heavy with specific features and may benefit from certain pro features, which you can use to inform the feature promotion campaigns we discussed earlier.
Mixpanel is a great analytics system for software companies and you'll find plenty of other great tools in our top recommendations for SaaS CRO and analytics tools.
#13: Offer users a free (temporary) upgrade
One of the most effective strategies for upgrading free users to paid plans is to give them a free upgrade – for a short period of time. Let's say you give free users a free month on your Pro plan, giving them a whole month to use pro features, get used to the premium experience and enjoy the benefits of a more powerful software tool. When this month comes to an end, free users have to go back to the bare minimum service and miss out on all of the added value they've gotten used to.
The bar of expectation has been forced higher and the plan these users are signed up to no longer meets their expectations.
The only way to satisfy these needs and recover the extra value they've been enjoying for the past month is to upgrade to the Pro plan. You'll find people are quite resistant to losing something they've gotten used to having and feel a sense of ownership over, which is why this strategy is so effective.
This strategy pairs perfectly with a pricing strategy that uses a free plan to generate leads and then hits free users who don't upgrade within, say, the first six months with a free upgrade to push them over the edge. Alternatively, you could target power users (as covered in the previous section) or users who show usage patterns that suggest they could be tempted to upgrade if they're given the extra emotional push.
Upselling strategies for freemium products, free tools, etc.
In this final section, we're looking at upselling strategies for freemium products, free software and free tools. For these types of products, the vast majority of your users are paying nothing at all and you have to convert enough of these people into paying customers to turn a profit.
Some of the biggest names in SaaS run freemium software or use free products for lead generation and we've got four strategies to discuss:
Free tools: Use free tools as a lead generation strategy for upselling/cross-selling to paid products.
Monetise usage: Provide free software but monetise usage to generate revenue.
Monetise resources: Provide free software but monetise resources.
Ad-free upgrade: Run ads in the free version of your software and offer a paid upgrade to remove ads.
The psychology of upselling free users on these types of products is very different from free trials and free plans where there's typically more expectancy that users are trying out software they'll end up paying for. With freemium products and free tools, most users probably expect to use the software for free indefinitely so you often have to invest a lot in lead generation to build enough of a user base to hit the volume of paid users required to make a profit.
Then, you have to actually give these users enough reason to make the jump from free to paid software.
#14: Use free tools as an upselling/cross-selling strategy
HubSpot's most popular product is its 100% free-for-life CRM platform that acts as a lead generation strategy for getting businesses signed up so the company can promote its paid products. So, in this case, the free product acts as a gateway into the HubSpot network of paid software and the genius behind the company's marketing strategy is that its paid products enhance the capabilities of its CRM.
While most of HubSpot's competitors charge for their CRM and include email marketing, automation and other features as an all-in-one package, HubSpot offers up a quality CRM that costs absolutely nothing. It also offers free plans for its marketing, sales and customer support products (with heavy feature and usage limitations) but the upgrade incentives come thick and fast once business owners realise they need more advanced features.
HubSpot is targeting large businesses with its paid products but its free CRM attracts users of all businesses sizes and, being one of the biggest names in marketing software, almost every other platform on the market integrates with HubSpot. So, even if companies want to use the free CRM and integrate with cheaper alternatives to HubSpot's paid products, they're still signed up to the HubSpot experience.
As these businesses grow, their needs become more advanced and budgets increase, which means they could be more likely to sign up for HubSpot's paid products to get a fully integrated, all-in-one solution. This allows HubSpot to play the long game with lead nurturing, upselling and cross-selling campaigns – and it's in a good position as a market leader charging enterprise-level fees for its paid products.
#15: Monetise usage of your free product
If your free product is the product (unlike HubSpot), then you have to explore other ways to monetise your offering, either through paid plans or other means. One effective way to do this can be through monetising usage and we touched on this earlier while talking about usage limitations as an upselling strategy on free plans.
However, you have to be more careful with limiting usage on a product that's meant to be free for most users and Google Drive is a perfect example of this. Google entered the market offering a free, cloud hosted alternative to Microsoft Office that charged businesses and consumers alike.
Google offers paid business versions of Drive but the basic version is open to everyone for free. Even still, Google monetises the free version of its software by giving users 15GB of free storage and charging for additional storage once users inevitably exceed the limit.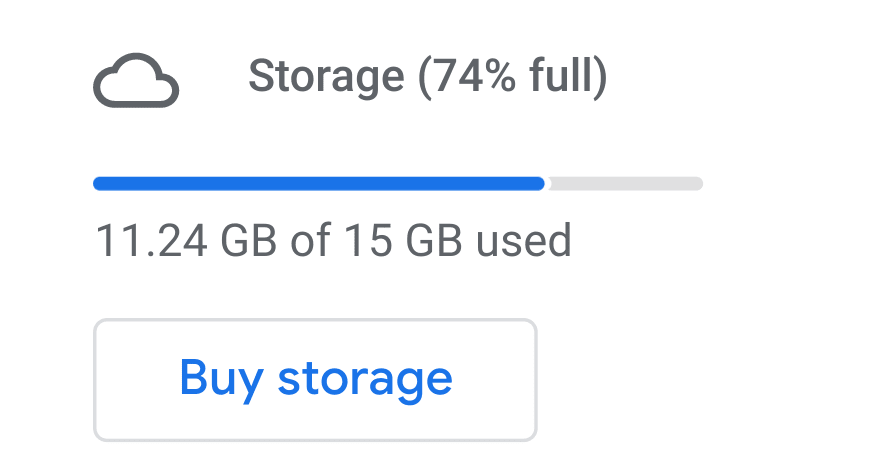 Google has enhanced this monetisation strategy by handing out two years' worth of free storage to users who buy Chromebook laptops and other Google devices. I remember testing out the first Pixelbook and getting 100GB of free storage for two years, which I quickly used and exceeded. Before the two years were even up, it was too much hassle to move my files elsewhere and I was paying for additional storage, purely for the sake of convenience.
I'm confident that, even if I hadn't exceeded the 100GB of free storage by the time the two-year offer ended, I would have paid to keep whatever space I was using rather than move everything over to another solution that I would have to pay for anyway.
As we've established through several examples in this article, it's difficult to give something up once you're used to having it – especially if it's something that feels tangible, measurable or quantifiable.
#16: Monetise the use of resources in your free product
Similar to the concept of monetising usage, another approach you'll find many SaaS companies take with freemium or free tools is charging for certain resources. For example, Canva offers a capable graphic design tool aimed at people who don't want to deal with the complexities of professional design software.
Canva's free software gives open access to almost all of the tool's functionality while the paid version offers a small set of advanced features that allow users to resize designs and save PNGs with transparent backgrounds – among other things. For basic needs, not having these features may be mildly inconvenient but invaluable to more demanding users, such as social media marketers who want to create professional-looking graphics quickly.
Aside from offering a paid upgrade option, Canva monetises the free version of its software through images, videos and other resources that are only available through a Pro membership. Previously, free users could pay for these resources individually, even without a Pro account, but the company seems to have changed this strategy slightly.
Canva still allows free users to access thousands of images, videos and other resources for free but many of the higher-quality resources are reserved for paying users. So, even if free users aren't concerned with the paid features reserved for the Pro plan, they might be compelled by getting access to the paid resources available through the platform.
#17: Run ads on your free software (with ad-free upgrades)
One of the most common strategies for monetising freemium software is to run ads on the free version and then charge for a paid, ad-free upgrade. This is the key strategy employed by Spotify and it's more effective with consumer-aimed SaaS products, especially content apps where ads fit seamlessly into the experience.
Spotify doesn't only rely on ad-free streaming as the selling point of its Premium plan, though. It also offers several Premium features that enhance the experience of using the app, including unlimited search, unlimited track skips, the ability to create playlists and download tracks for playing offline.
The ad-free experience is a key part of the Premium upgrade but it's enhanced by other capabilities that turn the app into an open search platform for music and podcasts – a personal library for saving your favourite music and receiving personalised recommendations, driven by Spotify's AI recommendation engine.
Turn more free users into paying customers
In this article, we've looked at some of the most common upselling strategies used by SaaS companies to turn free users into paying customers. As we've established, you have to take different approaches to upselling free trial users, free plan subscribers and freemium users who all have different needs and intentions when they sign up. Another key takeaway from the strategies that we've looked at today is that you have to design your products in a way that encourages upgrades – you can't simply rely on email marketing campaigns asking users to upgrade.
Each of the examples we've looked at in this article considers the mindset of free users and how you can establish the balance between delivering enough value to keep users engaged with your free offering while also holding enough back to incentivise the paid upgrades.
As always, we'd love to hear any feedback you have on the strategies we've discussed in this article – especially if you think anything else should be added to this list.