Email marketing is the most important digital channel for SaaS companies, covering the whole customer journey with one-to-one interactions. From lead generation and lead nurturing to customer retention and support, email is the only channel that fuels growth across the entire sales funnel, bringing all of your marketing strategies together.
In this article, we explore the best email marketing strategies for SaaS companies that'll help you capture more leads, turn more of them into paying customers and maximise revenue from everyone using your software.
What are we looking at in this article?
This article is all about email marketing for SaaS companies so each of the strategies we're looking at has been selected specifically for selling software.
While many of the strategies featured in this list are suitable for all business types (especially B2B companies), we've chosen these as the most important email marketing tactics for SaaS and we'll be looking at specific examples and use cases for software companies.
To emphasise how these strategies cover the entire customer journey, we've grouped them into the following five categories:
Email automation: Basic and advanced email automation strategies to help you manage more leads without resources bottlenecking growth.
Lead nurturing: Turn more leads into paying customers and keep existing customers paying for longer.
Engagement: Keep customers using and paying for your software.
Revenue / customer value: Maximise revenue from every customer and build growth from a strong base of recurring revenue.
Financial & payment: Maximise successful payments and recover lost revenue.
This article is ideal if you're looking for strategy/campaign ideas to improve your email marketing efforts or you want to build a better understanding of the role email marketing plays across the SaaS customer journey.
Before we delve into our first group of strategies, let's quickly discuss the tools you'll need to implement everything we're looking at in this article.
What tools do I need to run these strategies?
With the focus of this article squarely on email marketing, you don't need too many software tools to implement these strategies. In fact, with an all-in-one CRM and email marketing system like ActiveCampaign, you pretty much get all of the tools you need to manage a complete email marketing strategy, including some of the best automation technology in the industry.
So our list of required tools for this article is nice and short:
Marketing planning (TrueNorth), email marketing (ActiveCampaign, pretty much covers everything in this article), anything else?
Marketing planning: A single platform for planning, collaborating and managing campaign ideas.
Email marketing: A complete email marketing system with key features including email automation, list segmentation, and a built-in CRM.
Subscription management: A platform for managing and testing subscription plans and payments – including dunning features.
CRO toolkit: A system for testing and optimising your email campaigns.
Now, let's take a quick look at the role each of these tools plays in your email marketing strategy and why they're so important.
Marketing planning software
A lot of work goes into the planning, running and optimisation of each campaign and you need a single platform to bring all of this effort and data together.
We use TrueNorth to plan, prioritise and optimise our email marketing campaigns. The platform makes it easy to set goals and define milestones to ensure campaigns are on track every step of the way.
You can also simulate campaign ideas to predict how well they'll perform before you launch anything or invest resources into ideas that might not work.
By setting milestones, you can ensure that short-term targets are hit and you're always building up to achieving your wide campaign goal. The simulator also allows you to tweak budgets and resources to see what you need to change to improve results or get the most out of your available budget.
Email marketing software
It might be stating the obvious that you need email marketing software to implement the strategies we're looking at in this article but a platform like ActiveCampaign is so much more than an email tool.
As an all-in-one email marketing, CRM and automation platform, ActiveCampaign provides all of the tools you need to create fully automated email campaigns that nurture leads across the customer journey.
SaaS companies need the best automation technology for every stage of the cycle – from account creation and onboarding to customer service and retention.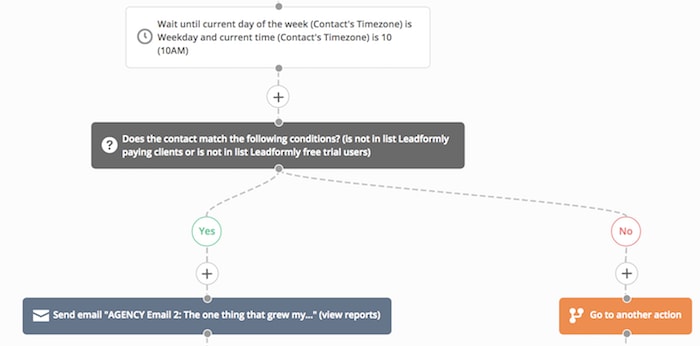 With a built-in CRM, you can manage customer data throughout this journey, automatically update statuses and deliver email campaigns that address their changing needs.
ActiveCampaign also automatically updates lead and customer scores to help you prioritise leads and nurture customers that show the danger signs of churning.
The platform is designed with SaaS companies in mind and you can find out more about the system's capabilities for software sellers on this page.
You'll also find plenty of helpful information in our ActiveCampaign review and the best alternatives in our list of the top all-in-one email marketing, automation and CRM platforms.
Subscription management software
A quality subscription management platform makes it easy to create and test plans to maximise conversions and revenue from SaaS customers. A good should also include features to help you recover failed payments (customers' card details may change between subscriptions).
Dunning campaigns – which is one of the strategies we look at in this article – is the process of sending follow-up emails in the event of failed payments while automatically processing payment re-attempts.
We use Paddle to manage subscriptions for our productivity software, Serene, and the platform includes advanced dunning and revenue recovery features to help you maximise successful payments and customer retention.
Here's a quick summary of the other features that make Paddle such an important tool for us:
SaaS subscriptions: Paddle offers extensive subscription features specifically designed for SaaS companies and software products.
Managed payments: Instant access to established international banking infrastructure for easy payments in every country and currency.
Billing models: Smart subscription logic helps you create recurring, metered, on-time and other billing models in a matter of clicks.
Upgrades & downgrades: Manage customers with ease as they upgrade or downgrade from plans.
Free trials & freemium: Manage free trials, free plans and freemium strategies within Paddle.
Integrated checkout: Take payments by card and PayPal using Paddle's built-in checkout.
Invoicing: Create and send invoices to customers automatically.
Automated sales tax: This platform calculates, files and remits your software sales taxes on your behalf – based on your customers' location.
End-to-end dunning: Paddle automates dunning across the entire customer journey to recover lost revenue.
Paddle Data Core: Advanced data capture and reporting for insights on your business performance and your rivals.
Managed support: Paddle's excellent support team helps you set up your payment strategy, deal with any technical issues and handle tax compliance for you.
In terms of email marketing, automated dunning campaigns is the most important feature but you'll also want to pay attention to how your subscription management platform handles payment re-attempts.
For example, Paddle uses different payment processes to prevent you from building up a bad reputation (through multiple failed payments) with one processor.
We also use Chargebee as our subscription management platform for Leadformly and you'll find plenty of alternative options in our review of the 10 best subscription billing platforms for SaaS companies.
CRO toolkit
The final software tool you're going to need for the strategies in this article is a CRO toolkit to help you test and optimise campaigns. With ActiveCampaign, you can track the performance of email campaigns and optimise your strategies but you'll need a separate toolkit for optimising your website, which is where all of the most important interactions take place.
For example, you want to optimise your sales funnel to nurture leads along the customer cycle and optimise landing pages to maximise conversions and email sign-ups
At Venture Harbour, we use VWO as our main CRO toolkit.
The platform strikes a good balance between running advanced A/B tests while simplifying the process enough to help you rapidly deploy new tests and capture insights.
We use VWO to test variations of our most important pages for each product: homepages, pricing pages, landing pages, etc.
We can track user behaviour to see how they interact with our pages and ensure the key elements (e.g.: CTAs) are getting the attention they need. For example, we can check users are engaging with the plan descriptions and feature lists on our pricing pages and test variations to increase sign-ups.
We can record sessions and use heatmaps to see where users are clicking, session recordings to see what users are getting up to and collect feedback directly from users to remove conversion barriers.
Again, you'll find plenty of alternative CRO tools in our summary of the top A/B testing tools.
Now, let's get started with our first set of email marketing strategies.
Email automation strategies
First up, we're looking at email automation strategies that allow you to handle more leads with your existing resources. This is crucial for automating growth, maximising productivity and preventing resources (e.g.: the size of your team) from bottlenecking growth.
We've got four strategies in this section, covering basic and advanced email automation:
Auto-responders: Respond instantly to email interactions (e.g.: sign-ups) or after a set delay.
Drip campaigns: Send automated email sequences with messages delivered at preset intervals.
Dynamic email automation: Advanced email automation that sends messages in response to user actions.
Personalisation: Automatically tailoring email messages to individuals recipients to maximise relevance incentive to take action.
Getting a solid grip on email automation will improve the effectiveness of every strategy and campaign you run.
For more insights on the power of automation, take a look at our 30+ Marketing & Sales Tasks You Need to Automate and 10 Best Email Marketing Software & Email Automation Tools.
#1: Email autoresponders
The key feature in email automation is autoresponders, which automatically send emails to users as soon as they complete an action. So, when a new user signs up for a free trial or customers raise a support ticket, they get an instant response in their inbox.
This is crucial for interactions where users benefit from instant responses and, as we've explained before, studies show that leads turn cold within hours – so quick responses are crucial.
For example, in the image below, you can see an email sequence we've created in ActiveCampaign where we send an email to users who request access to our productivity platform, Serene.
As soon as users request access, the sequence begins and automatically sends out an email to them to start the onboarding process. As you can see in the image above, we've set a five-minute delay on the automatic response and you can use these delays so that your email interactions don't feel overly automated to recipients.
Basic email auto-responses are relatively static with a user performing an action that triggers a fixed response – for example, someone submits their email address to download a research paper and they're instantly sent a download link.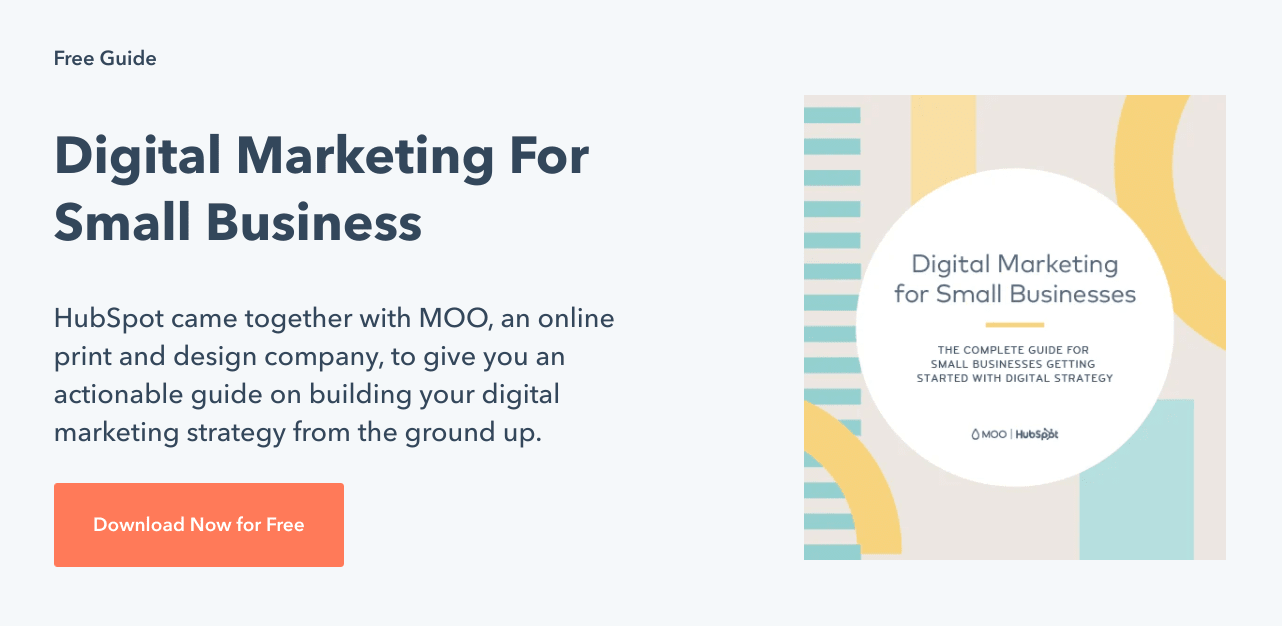 In other cases, auto-responses accompany the start of an email sequence like the onboarding process for Serene we looked at earlier. Another example of this is when someone signs up for your newsletter. They sign up to receive your email content and they're added to your newsletter sequence with a welcome/introductory email sent out instantly.
Another crucial role autoresponders play for SaaS companies is customer support. By automating the first interaction after users raise a ticket, you can direct customers to relevant support material and other resources that could help them before your team is ready to get in touch (this works more effectively if you segment tickets and send personalised recommendations to match the nature of their issue).
#2: Drip campaigns (basic automation)
The next step in email automation is drip campaigns where sequences deliver emails at set intervals over time. Let's say you're running a 30-day free trial to generate leads for your software product. When a user signs up, they go through the onboarding process and start using your application but your goal is to convert these users into paying customers.
So you don't sit back and let them use your product for 30 days, just hoping they find enough value in it to upgrade to a paid plan when their trial ends. Instead, you might create a drip campaign that sends out guides every few days to help them get the best out of your product and, in the final week of their trial, start promoting the benefits of upgrading to a paid plan.
You'll also want to notify them before their trial period ends and give them incentive to upgrade if they want to keep using your product.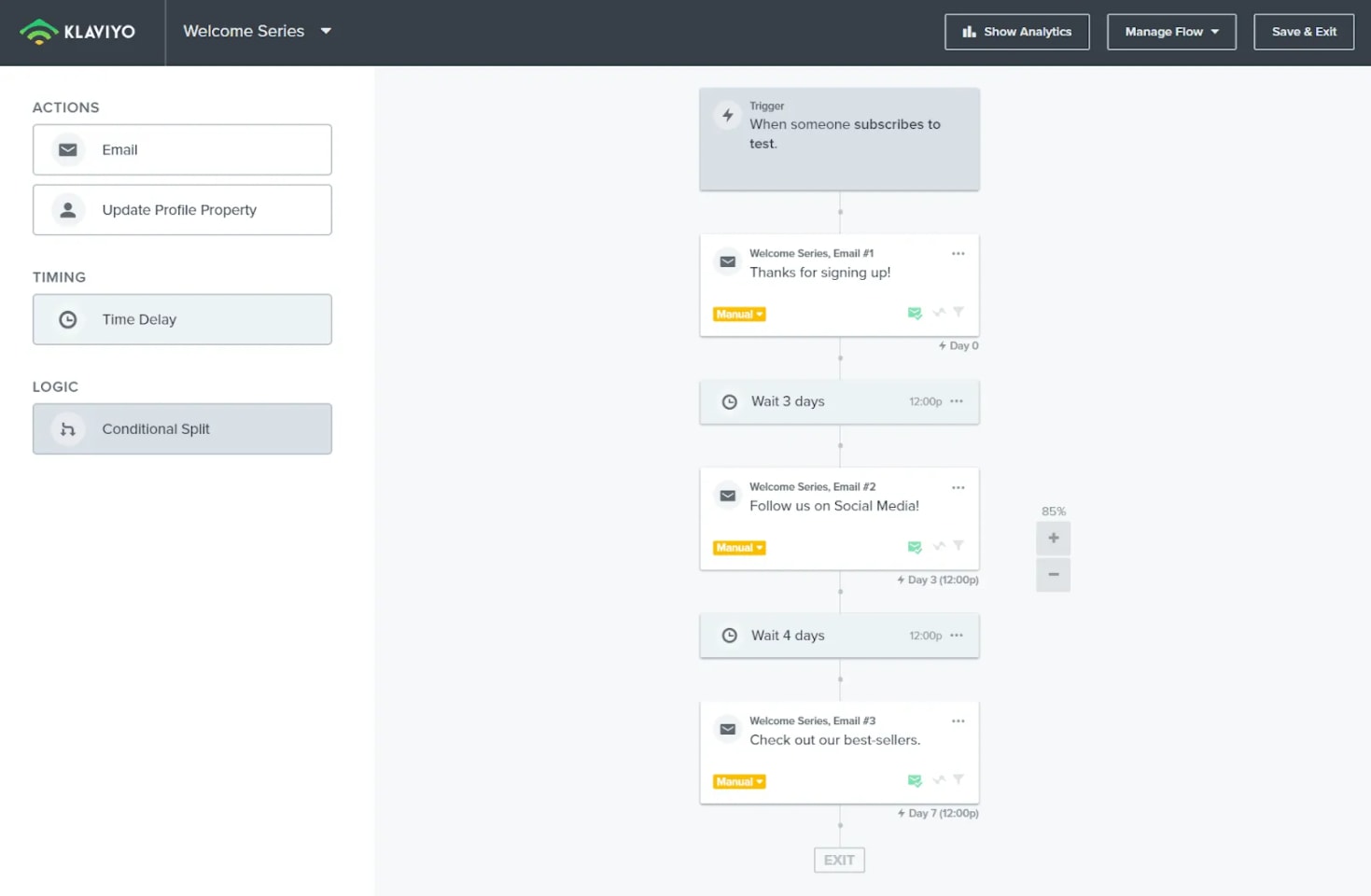 Likewise, for existing customers, you could create drip campaigns that send out guides periodically to keep them engaged and incentives to upgrade to more expensive plans.
The key thing to understand about drip campaigns is that they're static sequences. So you pre-define the messages sent out and the intervals between them and they run as soon as the trigger action is performed.
Drip campaigns don't respond to user actions after the initial trigger event, although some email marketing platforms allow you to set an exit event, which stops the drip sequence when a user completes the desired action – e.g.: they upgrade to a paid plan and this removes them from the drip campaign we discussed earlier.
Here are some other situations where drip campaigns are useful for SaaS companies:
Customer support: Once your support team closes a ticket, a drip sequence is activated asking customers for feedback.
Onboarding: If users fail to complete the onboarding process, a drip campaign can bring them back for another try.
Account verification: If users don't verify their account at the first asking drip campaigns can send out follow-up prompts to remind them.
Welcome campaigns: Drip campaigns can help new users get to grips with your software product.
Engagement: You can use drip campaigns to send out period content to keep users engaged.
Loyalty & rewards: You can reward customers for loyalty as they continue to use your product.
Dunning: These drip campaigns prompt customers to update their payment details or manually make a payment in the event of failed payments.
Due to the static nature of drip campaigns, they're best suited for linear processes and set time periods, such as free trials or scenarios where you need users to complete a specific action – e.g.: leaving feedback or making a payment.
While a lot of companies use drip campaigns as a lead nurturing strategy, they're not dynamic enough to respond to the complexity of modern SaaS customer journeys.
Luckily, there's a more dynamic alternative for lead nurturing.
#3: Dynamic email automation
Dynamic email automation uses advanced workflows that respond to a range of user and customer actions. Basically, you create email campaigns designed for leads and customers at different stages of the consumer journey and audiences with different interests, moving them from one email list to the next as they complete actions progressing through your sales funnel.
For example, you can send targeted emails to users based on the pages of your site they visited to prioritise the features they're most visited in. Once they sign up for a free trial, you can use session data to move prospects onto lists and incentivise paid upgrades based on their usage behaviour.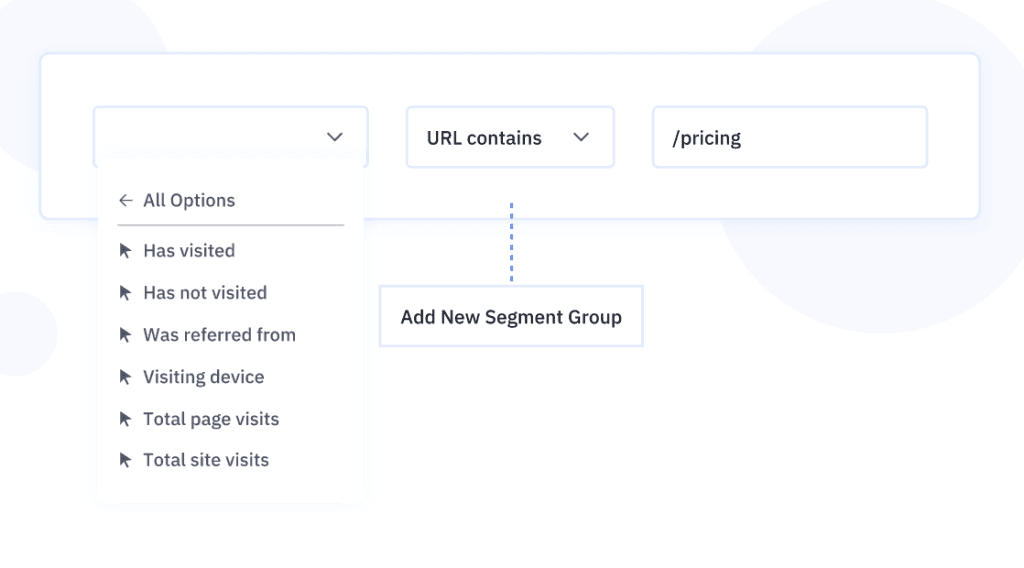 You can also use dynamic email automation to qualify and score leads/customers to prioritise the prospects most valuable to your business. For example, you can place prospects on lists based on their Net Promoter Score (NPS), which measures the loyalty of individual customers.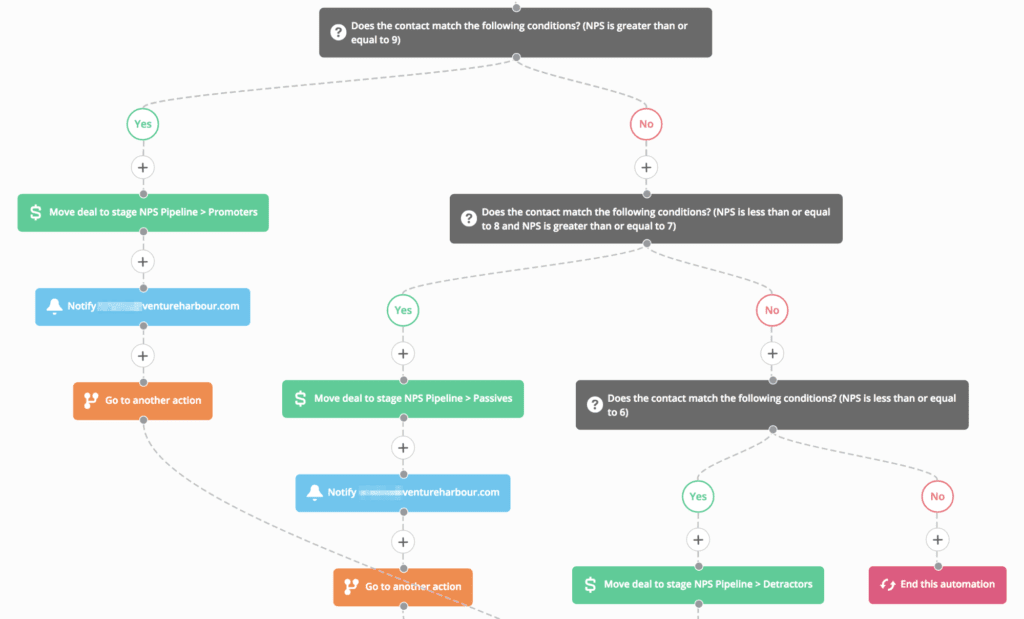 From here, you can create strategies for customers whose loyalty scores drop over time or try to incentivise low-scoring customers to boost the average NPS across your customer base and increase subscription renewals.
Dynamic email automation is the most important email marketing feature for SaaS companies, allowing you to create advanced, targeted and responsive email campaigns that react to the changing interests of your leads and customers.
For more ideas on what you can achieve with dynamic email automation, take a look at our 30+ Marketing Automation Workflows You Can Implement Right Now article and you'll also find the best email marketing platforms to create advanced automation campaigns in the following articles:
#4: Email personalisation
The biggest problem with marketing automation is that it's easy to lose that genuine connection with individual prospects. The key characteristic of email as a channel is that it connects you with people one-to-one but this is impossible to maintain at scale.
Luckily, email marketing is a data-centric strategy and you can use this to inject some personalisation into your automated campaigns.
Most email marketing platforms allow you to personalise emails using recipients' names so you can address them directly and many allow you to congratulate customers on their birthday – just keep in mind that a bunch of other companies are probably flooding their inbox with birthday wishes.
Birthdays are a good opportunity to keep customers sweet with a little gift or reach out to leads with a promotional offer to encourage sign-ups. For example, you could tempt prospects by offering the first month of an annual subscription for free to celebrate their birthday month.
After all, they deserve more than a day to mark their birthday and, by allowing them to sign up at any time of the month, you can ramp up the incentive to convert before the offer runs out at the end of the month.
Best of all, you can tell leads about this offer before their birthday month begins so your email isn't lost in the mix of all the other birthday emails they receive.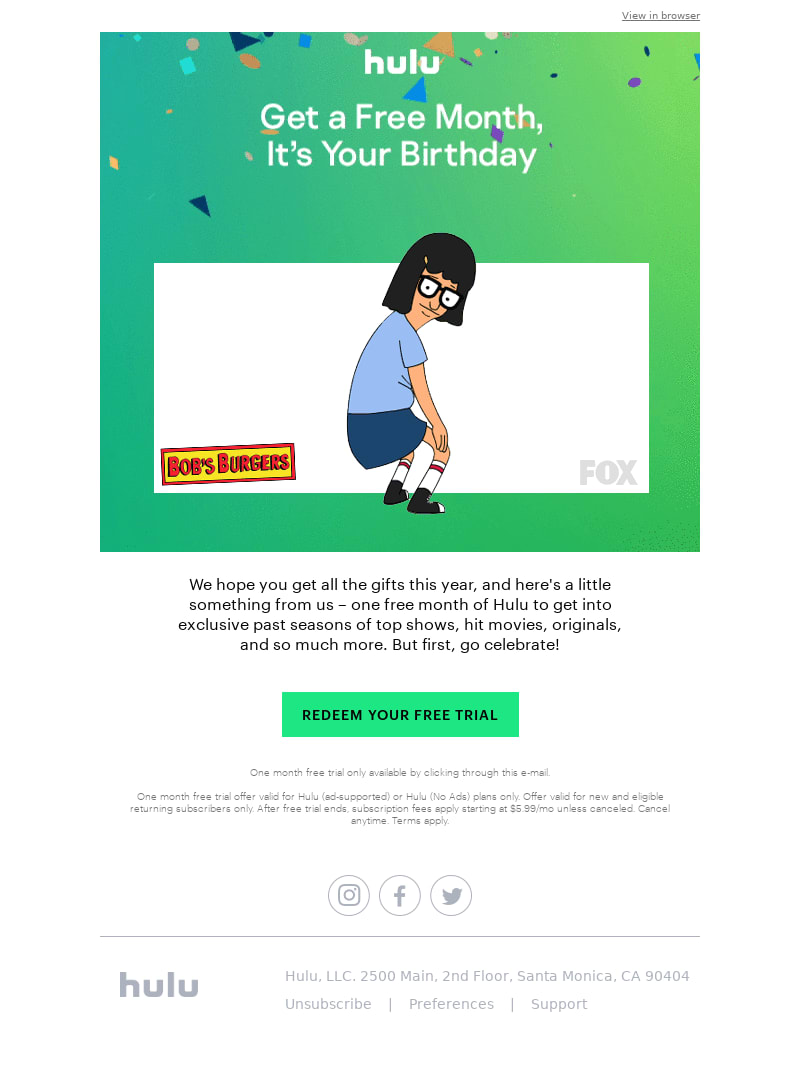 Moving beyond the basics of personalisation, SaaS companies are in the luxurious position of having user session data to bring into the mix. One of the most effective personalisation and engagement strategies (which we look at in more detail later) is to send users reports, stats and performance data illustrating how much they've achieved with your product.
This demonstrates the value they're getting from your software as an individual and you can take this further by incorporating this with upselling campaigns to encourage upgrades to paid plans or more expensive plans.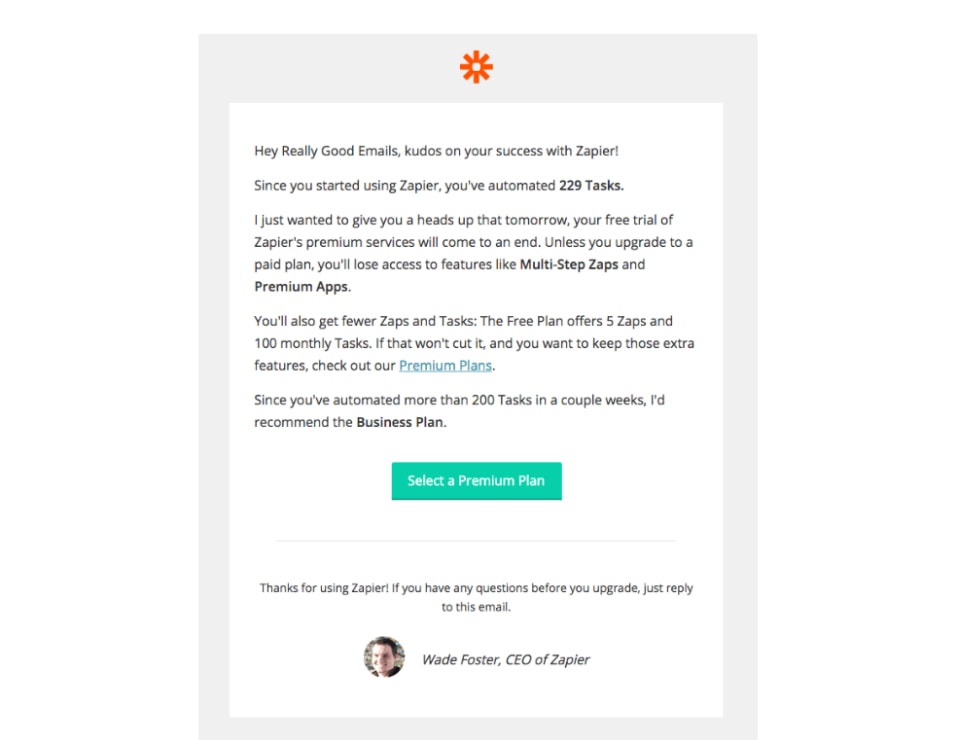 You can also leverage user session data to send customers user guides and tips related to how they use your product. For example, let's say you're selling marketing software and the platform encourages your customers to set marketing goals for every campaign.
You can send helpful guides to these users designed to help them achieve these marketing objectives, which improves the results they get from your product, gives them reason to keep using it and makes those performance report emails look all the more impressive.
Another great way to improve the customer experience through personalisation is to tap into data from customer support tickets and send follow-up messages checking that their issues were resolved, that they're no longer experiencing problems and pointing them towards relevant content that might help them avoid similar problems in the future.
The big challenge with personalisation is to maximise relevance and nurture meaningful relationships without coming across as creepy. The advantage for SaaS companies is that you can use session data in place of personal information to gain a deeper understanding of the needs each customer has and deliver highly targeted email campaigns without any unwanted creepiness.
Effective personalisation is unbeatable but, when it goes wrong, it fails spectacularly – as these examples show:
For more tips on effective personalisation, you can also take a look at this article:
Lead nurturing strategies
In this next section, we focus on nurturing leads along your sales funnel and turning prospects into paying customers. Capturing quality leads is expensive so you have to turn as many of these as possible into customers so that you can maximise ROI.
Luckily, email is the perfect channel for nurturing leads through every stage of the sales funnel and customer journey – the highest ROI channel for marketers.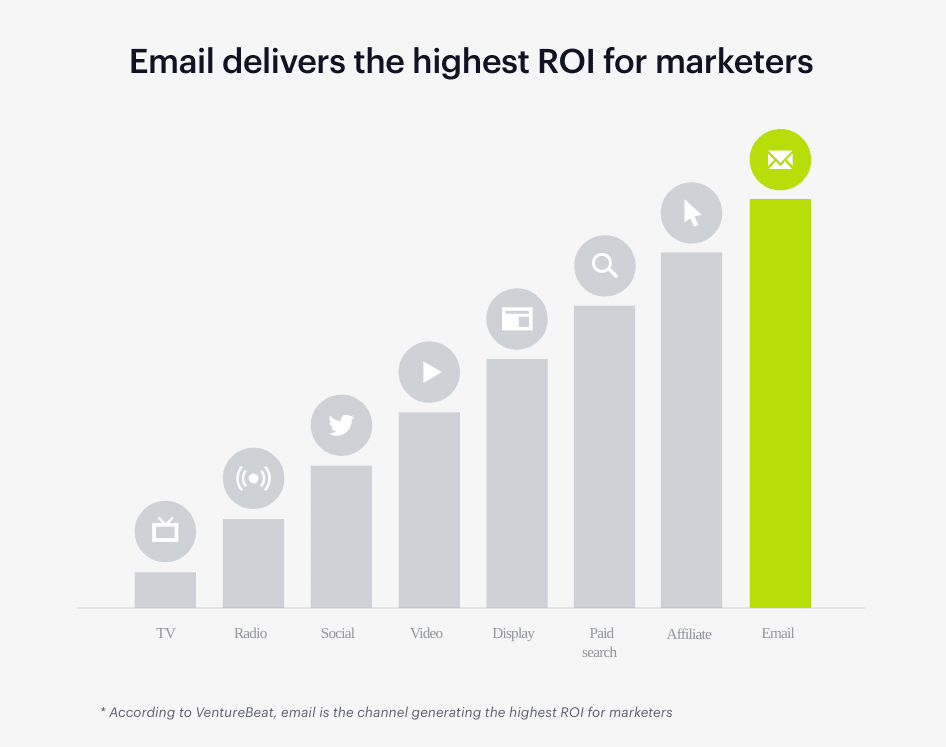 In this section, we're looking at four lead nurturing email strategies to turn prospects into paying customers at every stage of the SaaS customer cycle:
Onboarding: Guide new users through the sign-up and implementation process to stop valuable leads slipping away at the onboarding stage.
Funnel campaigns: Guide leads across your sales and marketing funnels.
Free-to-paid upselling: Convert free users into paying customers.
Customer retention: Keep customers paying for your software product.
With onboarding and free-to-paid upselling campaigns, you're targeting the two key moments where users buy into your software product. While funnel and customer retention campaigns cover the broader cycles of turning leads into paying users and, then, keeping them signed up to paid plans.
#5: Onboarding sequences
Onboarding sequences are crucial for ensuring new customers complete the sign-up process and start using your software without complications. The last thing you want, when a new customer commits to your SaaS product, is onboarding issues getting in the way of the sale.
Depending on the nature and design of your software products, the onboarding process can range from relatively simple to eye-wateringly complex and it's your responsibility to remove every unnecessary complication that could cause new customers to abandon.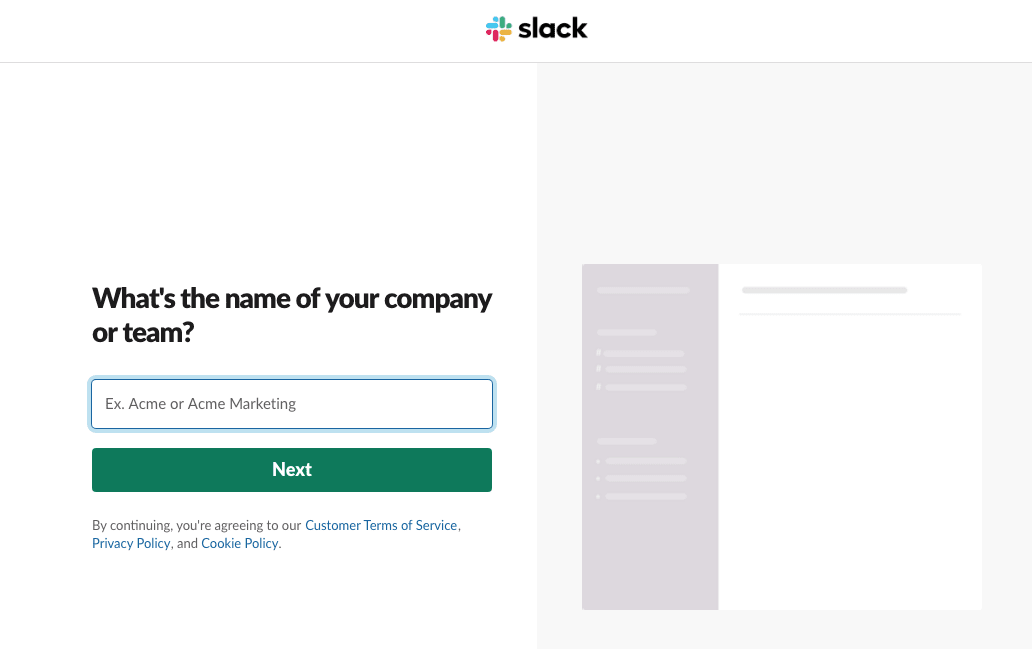 Slack is famed for its frictionless onboarding process, which allows new users to set up an account in seconds, but this approach only works for companies running open freemium models where maximising user numbers (most of whom will be free users) is the priority.
For most companies, the onboarding process is (and needs to be) more complex so your email sequence will look more like this:
In the sequence above, new users who create an account are sent a welcome email that asks them to activate their account. Users that fail to activate their account are placed on a drip campaign that works through several steps designed to bring them back, increase incentive and help them complete the onboarding process.
Users who activate their account complete the first step of onboarding and they're guided through the remainder of the process with an automated email sequence. Upon completion, a customer cycle sequence begins to keep them using the platform, encourage upgrades to a paid plan and contribute more value through further upgrades and/or referrals.
In the real world, the first interaction will look something like this:
When I create a new Dropbox account, an autoresponder sends an instant onboarding email encouraging me to "complete my setup," which helps me set up my account, encourages me to download the desktop and mobile apps, and gives me a gentle nudge to upgrade to a paid plan.
The company gives me every prompt it can to ensure I complete the setup process and starts planting the seeds for upselling campaigns from the first interaction.
#6: Funnel campaigns
By funnel campaigns, I'm referring to any lead nurturing email marketing campaign designed to move prospects from one stage of the sales funnel to another.
At this point, you might be thinking that all lead nurturing campaigns aim to move prospects from one stage of the funnel to another but this isn't the case. Yes, most lead nurturing strategies are designed to progressively move leads across the buying process but many simply aim to keep them within the funnel:
Engagement campaigns
Re-engagement campaigns
Churn rate optimisation
Feedback capture
Review requests
Rewards
Funnel campaigns specifically aim to move prospects from one stage of the buying process to the next – both before and after the initial purchase.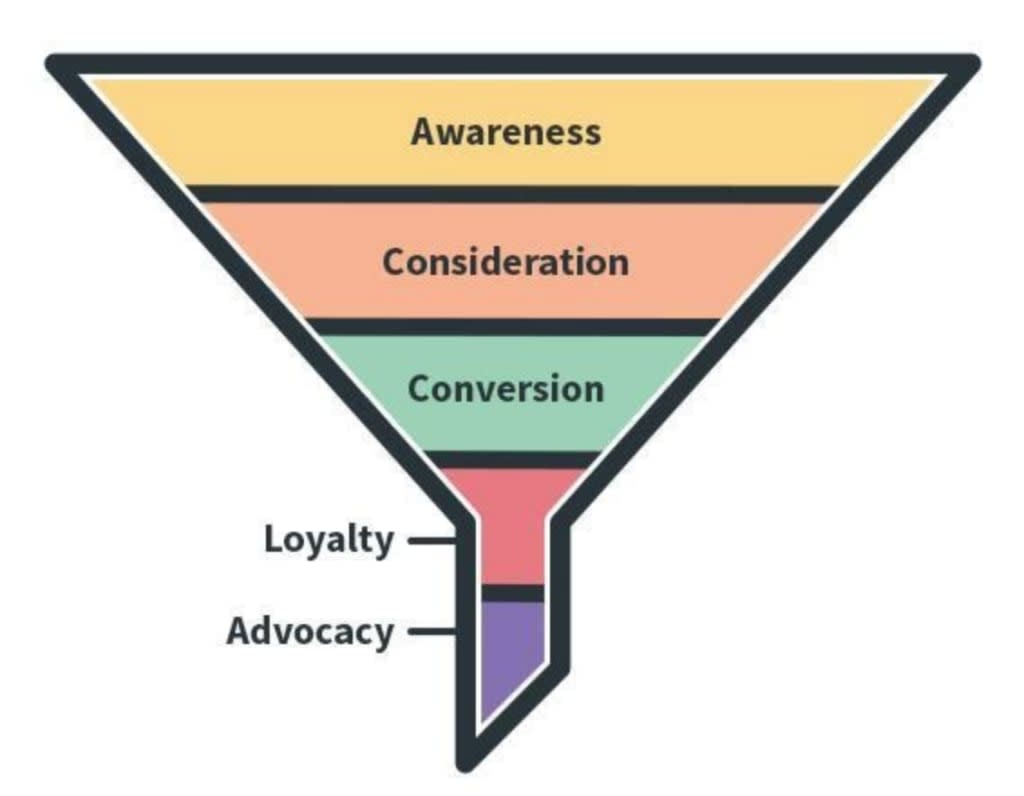 When a user first discovers your product and clicks through to your website, they enter the top of your sales funnel, which is commonly referred to as the awareness stage. Here, your funnel campaigns are designed to move prospects from awareness into the consideration or conversion stage.
To do this through email marketing campaigns, you first need to capture users' email addresses through a lead generation strategy. This can be challenging at the top of the funnel when purchase intent is lowest and convincing users to complete a form and hand over their personal information is a big ask.
Some of the best SaaS lead generation strategies involve using free tools to capture qualified leads and then target them with email campaigns urging them to sign up for a paid product.
Crazy Egg is a perfect example of this where the company offers free heatmaps on its homepage. The company has been running the same CTA copy for years because it's so effective: "Make your website better. Instantly"
That's a compelling CTA that any website owner is tempted by and the form requests a website URL instead of an email address. This is a cunning strategic choice because providing a URL is required to receive the heatmap so the action is 100% relevant to the offer.
Once users type in their website URL, they're asked to provide their email address and create a free Crazy Egg account and this might upset some people who are expecting to get an "instant" heatmap.
The thing is, they've already taken action and made it to the second stage of this lead generation strategy. They've already made it this far and users who are tempted by the product are more likely to continue rather than turning back (take a look at our article on the psychological phenomenon called sunk cost bias to find out why).
You'll also find plenty of other lead generation strategy ideas for capturing email addresses at the awareness stage in this article:
Once you've captured these leads, your funnel campaigns have to pinpoint the current needs and expectations of prospects at this stage of the buying process. Early on, they still need help with choosing the best product to buy and they're almost certainly looking at rival alternatives so your goal is to position yourself at the front of the queue.
So you might target them with product reviews and best-of articles or guides on how to get the best out of a software product like yours, highlighting the unique features of key selling points of your platform as an advantage of choosing your product.
We use ActiveCampaign's website tracking and advanced email analytics to target audiences based on the actions they take on our websites and how they interact with our email content.
We create segmented email lists for every key action along the sales funnel – page visits, product views, video views, email opens, link clicks, etc. – and attribute these actions to increasing purchase intent as prospects move along the sales funnel.
For example, we can create a segmented list for people who visit the same feature page multiple times and send tailored content to them, demonstrating what they can do with this feature. Or, we can target prospects who clicked a CTA button without completing the conversion and ramp up the incentive to help them finish the job.
If we go back to the funnel illustration we looked at earlier, you'll also see the funnel continues after the conversion stage.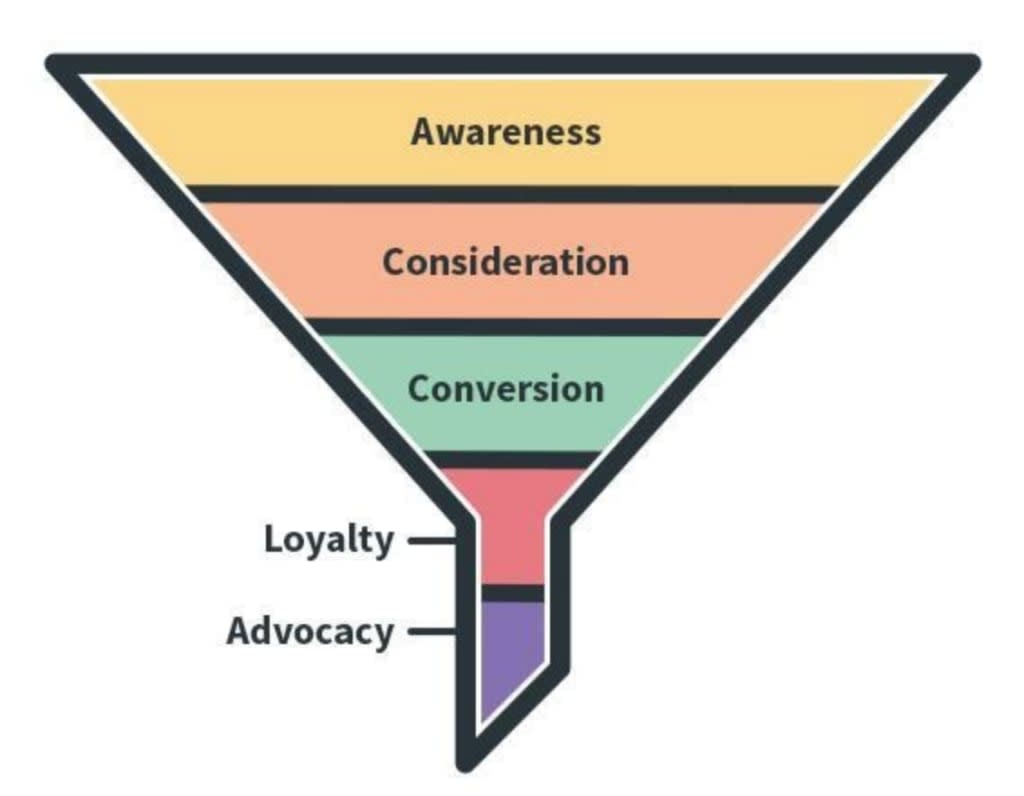 This is true for all businesses but especially important for SaaS companies targeting recurring revenue. In fact, your most important lead nurturing campaigns target existing customers to ensure they keep paying, renewing and (better yet) upgrading to higher plans.
We'll look at this in more detail shortly as we explore customer retention strategies for SaaS companies and, later, when we look at different email strategies for maximising revenue and customer value.
#7: Free-to-paid upselling
Whether you're running free trials, demos or a full-blown freemium model to capture leads, one of the biggest hurdles for SaaS companies is turning free users into paying customers.
Depending on the nature of your product, free users may add value to your growth strategy. They can promote your product, attract investment and help you collect more user data to optimise your product. So it's not necessarily a case of trying to nurture every free user into a paying customer.
You may need to take a more targeted approach.
For example, platforms like Slack and Zoom are free to use for participants, team members or whatever else you want to call them. Both companies make their money from paying businesses that use the platforms as communications and collaboration tools but this experience wouldn't be possible without the free team members.
If we take a look at Zoom's pricing page, it's pretty obvious how the plans are differentiated for paying customers (businesses, managers, team leaders, etc.).

Each of these features is an opportunity to turn hosts using the free version of Zoom into paying customers. However, the company can still target participants who are never going to pay for the upgrade themselves with upselling campaigns.
For example, Zoom could promote the recording transcripts feature to participants with messages focusing on how this feature benefits them rather than the host. With platforms like this, pressure from multiple participants can be an effective way to encourage paying hosts to upgrade their plan.
In the case of Zapier, the company sends out emails to free users showing them how many tasks they've automated using the platform, which demonstrates how much value they're already getting from the free plan.
This creates leverage for the company to promote the benefits of upgrading to a paid plan by showing how much increased value they'll receive – more than enough to justify the relatively insignificant monthly fee.
If you're running a freemium model of any kind, then free trials are your primary lead generation and upselling strategy. In this case, you need to ensure your trial showcases the benefits of your product effectively and you don't want to leave users to their own devices here.
Help them discover the best of your platform by pointing them in the right direction of the features that matter most. Keep in mind that your goal is to upsell free users to paid plans so you want to highlight the features that aren't available on the free plan and demonstrate the value of upgrading.
In the example below, you can see an email from Airtable sent to users signed up to a free trial of its Pro plan:
This email is doing two key things. First, it's reminding users that they've only got seven days left on their free trial, which creates a sense of urgency – not only to use the trial while they still can, but also to make a decision before the trial ends.
Next, the email encourages the recipient to use the premium features available on the Pro plan because these are the selling points that their decision will be made around.
There's a CTA button deep-linking into the product itself and a list of related/supplementary features to highlight the benefits of the Pro plan.
I don't know if Airtable is doing this but you can also feed user session data into this strategy to promote features individual users haven't tried yet or help them get more out of the features they're already using most.
#8: Customer retention
With paid users signed up, the majority of your email campaigns targeting customers aim to keep them paying for your software and renewing subscriptions
Most of the email strategies we're looking at in the remainder of this article will help you achieve this so there are plenty of examples focused on this stage of the customer cycle – the one that matters most to SaaS companies.
We've looked at this in detail before, too, in the following article:
There are four main pillars to an effective SaaS customer retention strategy and email marketing has a role to play in all of them:
Product / service strategies: Promoting the best of your product and services to keep customers engaged and informed – including upcoming features, updates, etc.
Customer experience (CX): Messaging and content that improves the experience of using your product(s).
Incentivisation: Giving users reason to want to keep using your software product.
Customer support: Solving issues, keeping customers happy and showing them why they'll struggle to get a better service elsewhere.
There are hundreds of strategies and thousands of campaigns you could run across these four fundamentals and you'll have to test out different ideas to find the right combination that works.
Don't be afraid to try strategies that aren't always associated with the SaaS customer cycle either. There's no rule that says you can try, for example, a coupon scheme that rewards customers with a free month, a month's upgrade or a discount if they renew their subscription.
Also, make sure you tell customers about the improvements you make to your platform. If you optimise your product to make it faster, tell your customers that the experience has been improved for them, as Asana does in the example below:
Do the same for updates, new features and any other changes. For significant updates and changes, also provide customers with guides, tutorials and other content to help them get to grips with new features, interfaces or anything else that might include any kind of learning curve.
Another crucial customer retention strategy for SaaS companies is churn prevention.
Earlier, we looked at how onboarding can prevent churn during the sign-up and implementation stage but you have to be more proactive in preventing churn after customers are already signed up and paying.
The best way to manage this is to use a platform that scores the health of your customers, using in-session data and behaviour to calculate the risk of churn.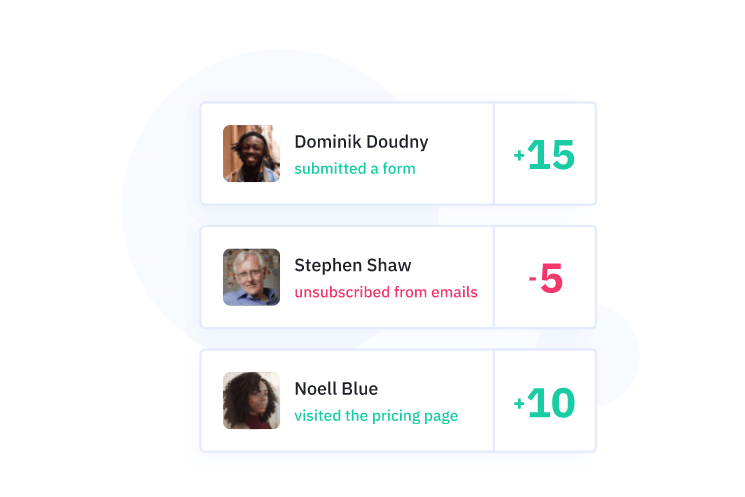 This allows you to reach out to customers before the risk of churn becomes too high to overturn. For example, if users are logging in less frequently than normal, you can deliver re-engagement campaigns designed to bring them back to the platform (we'll look at these in more detail later).
Likewise, if customers aren't making use of a key new feature that's just been rolled out, you can send messages showcasing the benefits of the feature and why they should be using it.
Alternatively, you may have a group of customers who are still using your software but complete fewer goals, hit fewer targets or generate less revenue attributed to your software over time. You want to react to this by reaching out to them – either with content to help them get things back on track or by getting support staff to contact them directly and see how they can help.
Engagement strategies
To maintain recurring revenue, SaaS companies have to keep customers using their software products and engaged with the platform – otherwise, they slip away and the sustainability of your revenue stream suffers.
You need to be proactive when it comes to keeping users engaged and we've got four key strategies in this section that will help you do this:
CX content: Content that helps your customers get the best out of your SaaS product and services.
Value demonstration: Emails that show users how much value they're getting from your software.
Celebration campaigns: Automated emails that celebrate the milestones of your customers.
News & curation: The classic newsletter campaign that keeps leads and customers alike engaged.
These strategies are especially effective when you combine them with email personalisation (which we looked at earlier) to keep your customers engaged, based on their interests and experience with your product.
#9: Customer experience (CX) content
We touched on this as a SaaS customer retention strategy in the previous section and it's a crucial technique for keeping customers engaged with your software.
Engaged users are more likely to keep using your software product and renew when their current subscription comes to an end. Likewise, customers who engage with your software less become more likely to churn by cancelling their subscription or choosing not to renew.
The best way to keep customers engaged and excited about using your software product is to help them get the best results from it. So whatever problem your product solves, you need to help customers solve these problems to an extent they don't feel like they can live without it.

Your email marketing strategy should include campaigns that aim to create the best customer experience for each user by providing content that helps them maximise the value of your software.
Send them blog posts, guides and tutorials to help them achieve more and increase the complexity of guide or ambition of goals over time to help customers achieve more as they become more familiar with your platform.
You can also integrate this with your upselling campaigns to show customers what they could achieve by upgrading to a more expensive plan.
#10: Value demonstration
If you're sending the kind of customer experience content we discussed in the previous section, you're helping users to maximise the value of your product. Hopefully, this value will be pretty clear and they'll show your platform the appreciation it deserves but SaaS companies don't leave this kind of thing to chance.
You need to show customers the value of your product in numbers and, earlier, we looked at Zapier doing this as part of its upselling campaigns for free users.
In this email, Zapier is telling free users – in precise numbers – how many tasks they've automated without paying anything at all. And, in the same message, it explains how much extra value these users will get by upgrading to a paid plan.
You do the same thing for paying customers, too, by regularly showing them the value they get from your product.
Grammarly is excellent at doing this with weekly writing updates sent to users' inboxes, filled with activity data, achievements and improvements they've made while using the tool.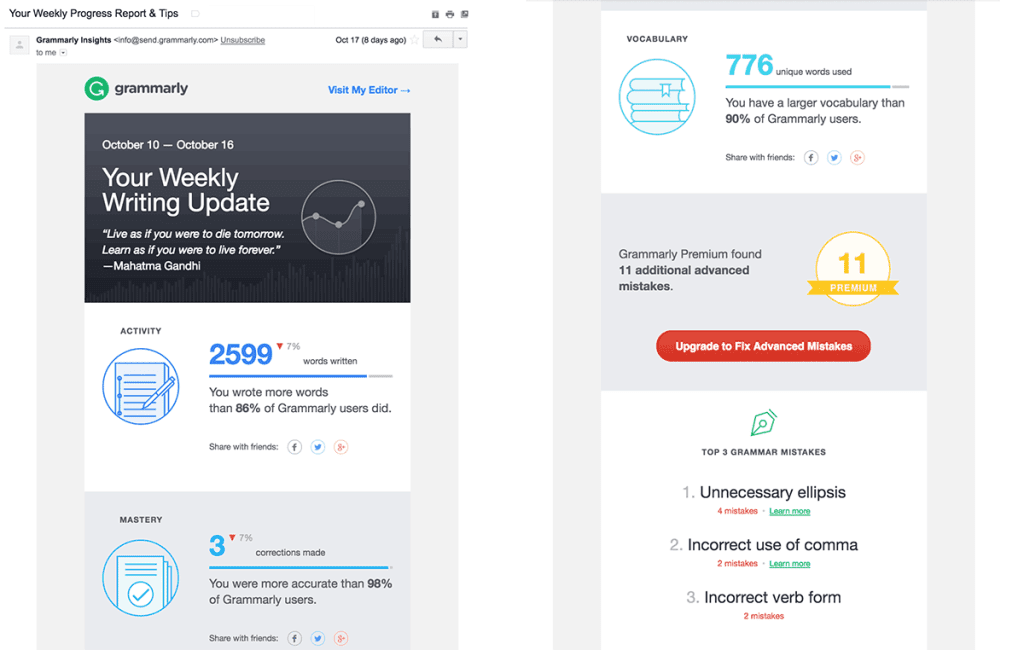 Grammarly takes this even further by comparing users' session data with other users to create a sense of competition, incentivise further use and gamify the experience.
Todoist is another company that shows its customers the value of its products with regular reports, including annual productivity reports that demonstrate how much they've achieved with the platform over the past 12 months (ie: what they achieve with a year's subscription).
By showing your customers the value they get from your platform (in numbers), you leave little doubt in their mind that the monthly software fees are nothing compared to the ongoing benefits they receive in return.
You can also use this data to show customers what they'll miss out on if they don't renew their subscription. The fear of missing out (FOMO) is a powerful engagement and retention tool.
You might also want to experiment with reports that show existing customers what they could achieve by upgrading to more capable plans.
#11: Celebration campaigns
Earlier, we talked about email personalisation as a key tactic for SaaS companies and many of the strategies we've looked at in this article use personalisation to various degrees.
We also touched on celebration campaigns earlier, as an example of email personalisation, and this is a great way to keep customers engaged and nurture ongoing relationships with them.
The most obvious example of this is sending personalised emails to customers on their birthday and we talked about ways that you can make birthday campaigns more meaningful earlier.
Taking this further, you can also celebrate other landmarks that are unique to the relationship between you and your customers.
Grammarly offers up another great example here with the emails it sends out to customers who have been using the tool for a year. Celebrating anniversaries (or Grammarversaries, as Grammarly calls them) is a great opportunity to celebrate users' time with your product and keep them engaged.
You can also use these campaigns to upsell customers, as Grammarly is doing in the email above, which is sent to free users to encourage paid upgrades.
By teasing users with a 40% discount, Grammarly can position this offer as a "gift," even though they're not really giving users anything at all – quite the opposite, in fact.
Anniversary and other celebration campaigns are the perfect way to reward customers or tease them with similar offers.
You're not limited to celebrating annual or calendar events, either. You might celebrate users achieving landmark events with your platform – e.g.: hitting certain revenue targets, completing a certain number of tasks or clocking up a specified number of hours using your software.
Each celebration is a recognition of your customers' investment in your product and another opportunity to show them the value they get from it while incentivising further use.
#12: News & curation
Creating a constant supply of email content is time-consuming and, while you can automate email delivery, there's only so much of the content production process that you can automate.
So it helps to have a mix of campaigns that are quick to create and deploy but also effective with your target audiences.
Newsletters are a great way to deliver content of interest to your customers, especially news that's important to their business and relevant to your product. You can choose how much of this news content you cover yourself and how much of it is curated from third-party sources.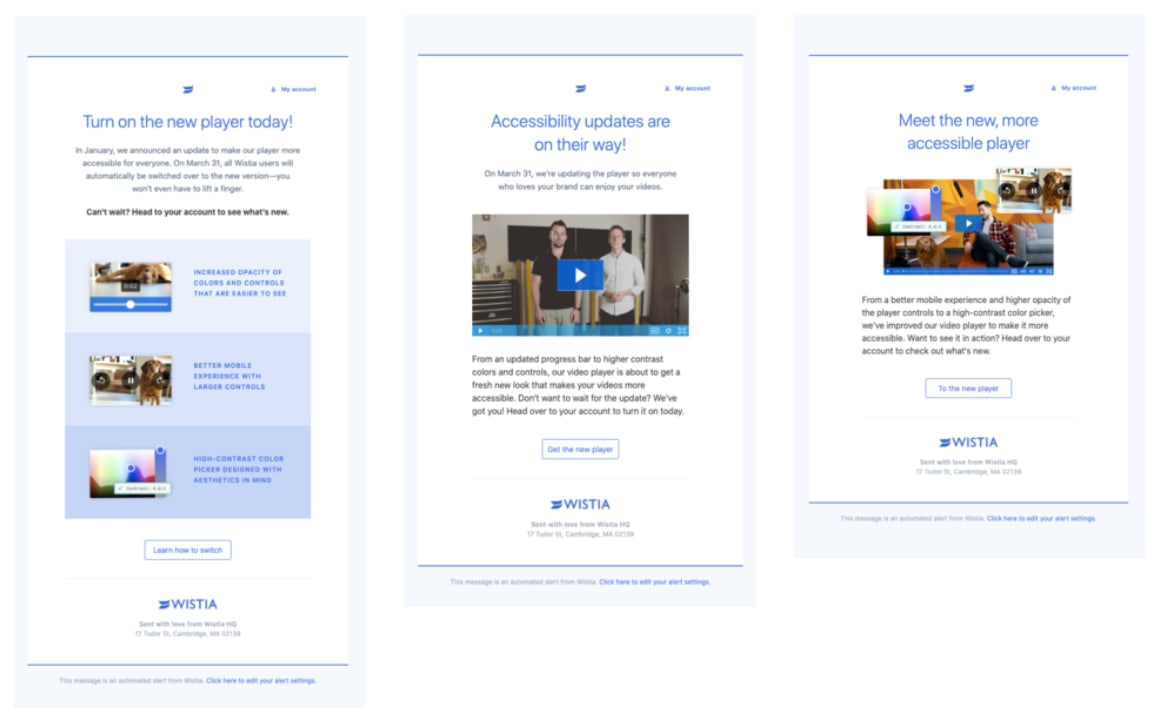 You can create non-news content from other sources, too, such as blog posts, studies, research papers and other content formats that are of use to your customers.
Your own blog is another source of content that you want to promote through email campaigns, as well as any surveys, reports and in-depth content you create.
Remember that product updates, new features and announcements all count as news as well. You may also want to speak to existing customers to feature quotes, insights and experiences that are interesting to other users while also allowing them to get involved in the community built around your product.
Revenue & customer value strategies
In this section, we focus on maximising revenue and the lifetime value of each customer. This starts with encouraging users to spend more but you should also address issues that may cause them to spend less or stop using your software products altogether.
Here are the email marketing strategies we're looking at in this section:
Upselling & cross-selling: Bump customers up to more expensive plans (upselling) and encourage them to buy other products (cross-selling).
Re-engagement campaigns: Get customers using your software again, engaging with emails and interacting with your brand once they show signs of losing interest.
Referral campaigns: Get your existing customers to bring new ones in for you.
Customer feedback: Improve customer relations and your product by collecting feedback from the users who matter most.
With these four strategies, you can maximise revenue from every user, win new customers and reduce churn by re-engaging users before they cancel their subscription and fixing any issues that could lead to further churn.
#13: Upselling / cross-selling
We've looked at various examples of upselling campaigns already in this article – particularly, upselling campaigns designed to encourage free users to upgrade to paid plans.
Upselling is also a key strategy for SaaS companies to maximise customer value by bumping users up to more expensive plans. You can do this through usage feature-based pricing models but email marketing also allows you to incentivise upgrades through more emotional means.
The same goes for cross-selling, too.
Before we look at this in any more detail, let's quickly remind ourselves of the difference between upselling and cross-selling.
Upselling: Encouraging customers to purchase a more profitable product or service than their usual/recent purchases.
Cross-selling: Encouraging customers to buy additional products or services, based on their previous purchase decisions.
So, upselling encourages users to sign up to more expensive plans while cross-selling campaigns aim to get users buying into additional products, add-ons or other purchases.
For example, here we've got an upselling email from Evernote encouraging users to sign up to the Premium or Plus plan with a special offer incentive.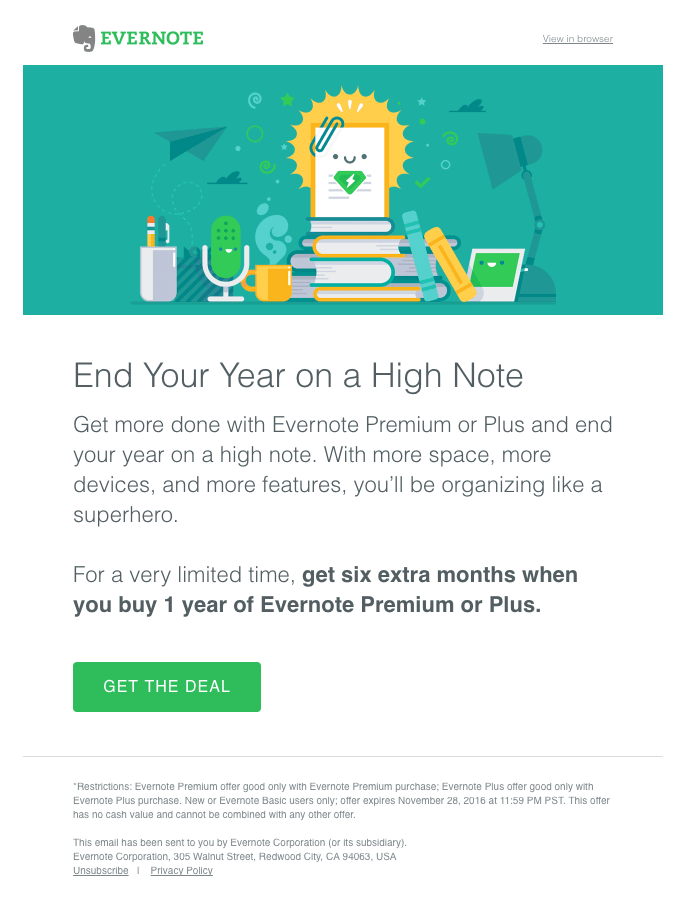 For SaaS companies, cross-selling is important if you sell multiple products and this can include other SaaS products or add-ons, plugins and tools around your primary product.
HubSpot is the perfect example of a company that needs to excel at cross-selling with multiple products that overlap across the marketing, sales and customer service elements of modern business.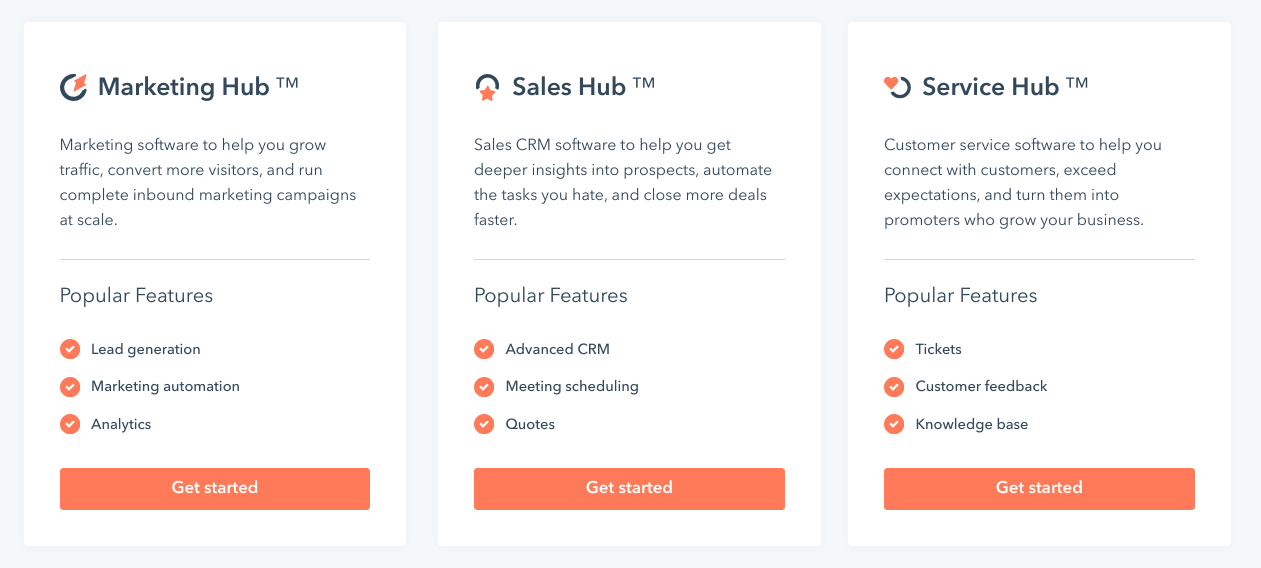 Any company that signs up to one of these products is going to benefit from the others and HubSpot sweetens the deal by offering bundles to include multiple products and custom bundles for customers to combine whichever products they need.
If you only have one core product, you can still use cross-selling campaigns to promote add-ons, plugins or other extras, including pay-per-use features.
For example, Pipedrive promotes two add-ons to enhance the functionality of its CRM.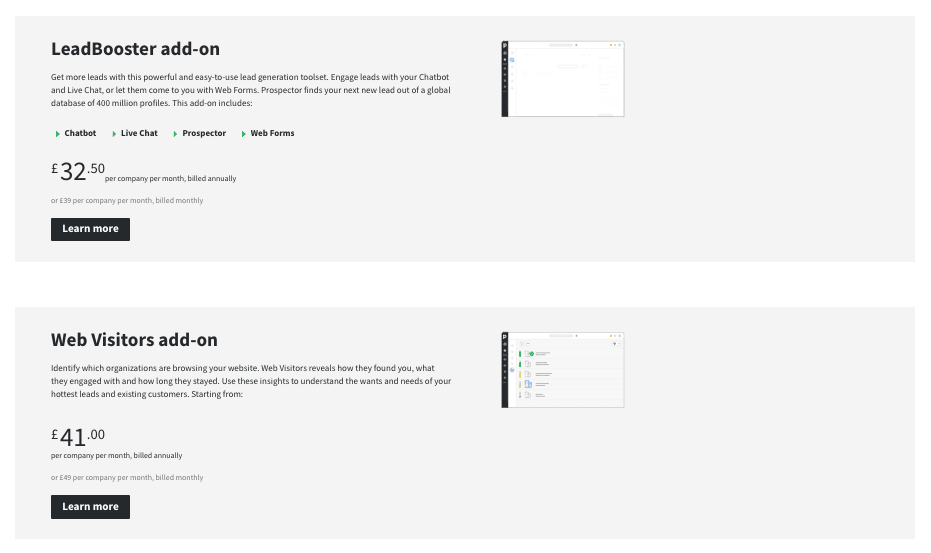 Irrespective of which Pipedrive plan customers are signed up to, the company can promote paid add-ons through cross-selling campaigns showcasing their benefits. The challenge is finding the right balance that maximises customer revenue without making them feel short-changed by having to buy into new features.
You also have to keep a keen eye on your competitors to make sure they're not offering a better list of native features without the need for any add-ons – a strategy that typically works best with enterprise-grade features.
#14: Re-engagement campaigns
A big problem for many SaaS companies is that engagement with their product declines over time. New customers use the product quote a lot in the early days but the interest wears off and they spend less time using the software, which often leads to non-renewals or cancellations.
This is particularly problematic for consumer-focused SaaS products where the software isn't a constant presence or benefit to people's lives.
On the other hand, B2B SaaS companies may have an easier time of maintaining engagement if their product becomes an integral part of their customers' workflow. For example, a company using accounting software isn't simply going to ditch the software and start doing everything manually – they're either going to continue using their current software or switch to another platform.
Either way, the need remains.
This isn't necessarily the case for a product like Skillshare, for example, that might be nice to have but rarely an essential part of people's lives. Let's face it, how many people have started learning something and given up after a few classes or study sessions?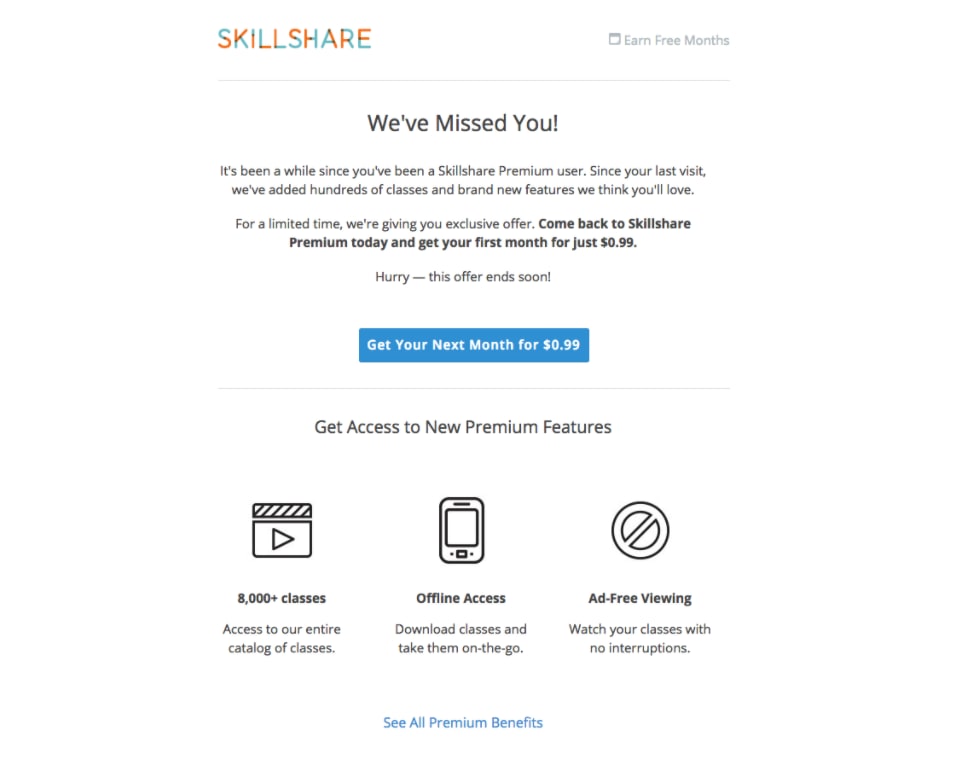 A company like Skillshare has to work much harder than our imaginary accounting software provider to keep paying users engaged. Of course, the company is well aware of this and it knows that a large number of users are going to lose interest over time and, for others, interest may fluctuate.
Re-engagement campaigns aim to bring users back when they start to lose interest by giving them incentive to log in and start using your platform again.
We've already looked at a couple of examples from Grammarly and the company is back again with an excellent example of re-engagement emails, which we previously featured in our article on the best B2B lead generation strategies.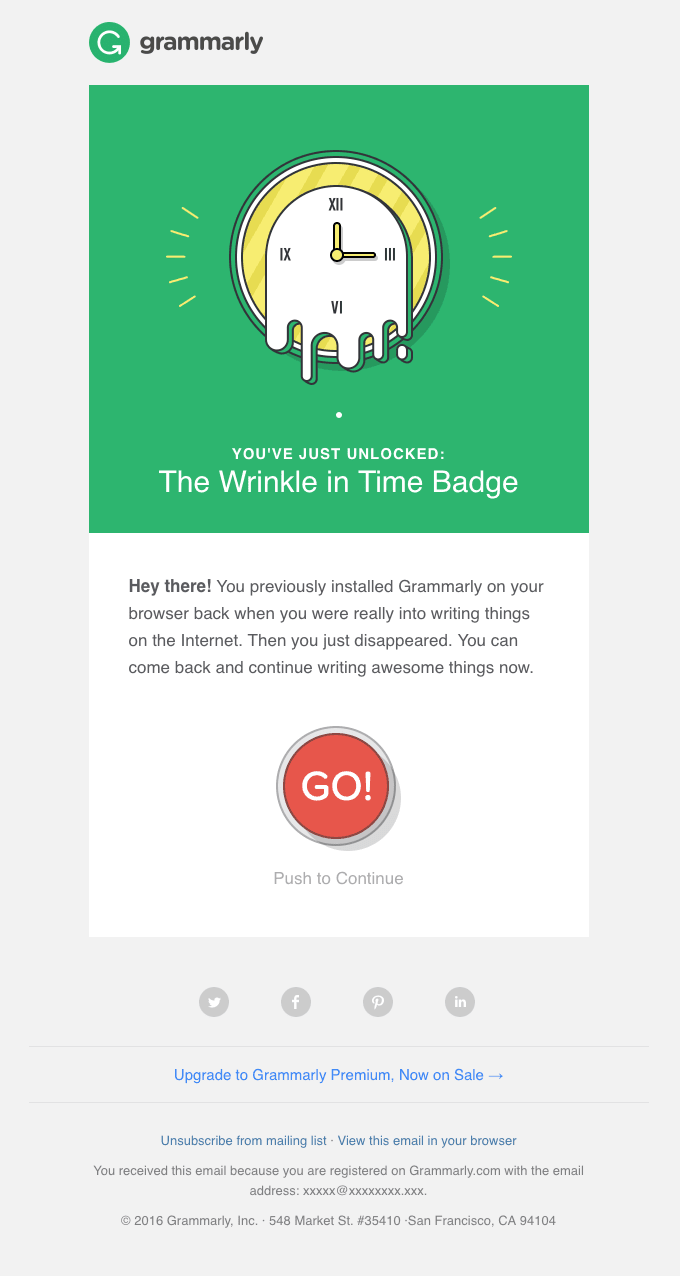 In the email above, Grammarly takes a tongue-in-cheek approach twitho reaching out to users by gamifying engagement with the unlocking of The Wrinkle In Time badge. There's no pushy messaging here or attempts to lure users who are already unengaged with an upgrade to a paid version of a product they're barely using – just a gentle nudge to remind them why they signed up to the free version.
You can apply re-engagement campaigns across the entire SaaS customer cycle and here are some key stages you'll want to cover:
Onboarding: Encourage users who fail to complete the onboarding process to try again.
Early adoption: Campaigns for users who sign up but never (or barely) use your product.
Usage decline: Increase engagement for customers who are using your product less regularly than before.
Fluctuations: Offer incentive for customers during periods where usage fluctuates.
Purchase frequency: Offer incentive for customers who are buying less frequently than usual (if this applies to your platform).
Renewals: Ensure that engagement, use and value perception are at their highest ahead of subscription renewal dates.
A comprehensive re-engagement strategy covers every stage of the customer cycle where usage and value perception may decline. The complexity of this cycle is depends on the nature of your product and the role it plays in your customers' lives.
As mentioned earlier, engagement and re-engagement are typically more difficult for B2C SaaS products but this isn't always the case – and some products are equally aimed at B2C and B2B audiences.
Take the following example from Wave.video, which covers the early adoption stage we listed above: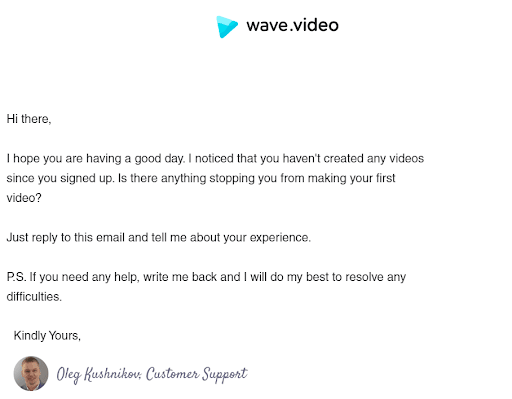 Here, the user has signed up to the platform but is yet to create a video (the only purpose of the software) so the company reaches out with a friendly email to ask if there's any way they can help – again, no pushy messaging.
The further along the customer cycle engagement starts to drop, the stronger you can get with your incentivisation. For example, in the email below, Avocode addresses an issue with its product that was known to negatively impact engagement.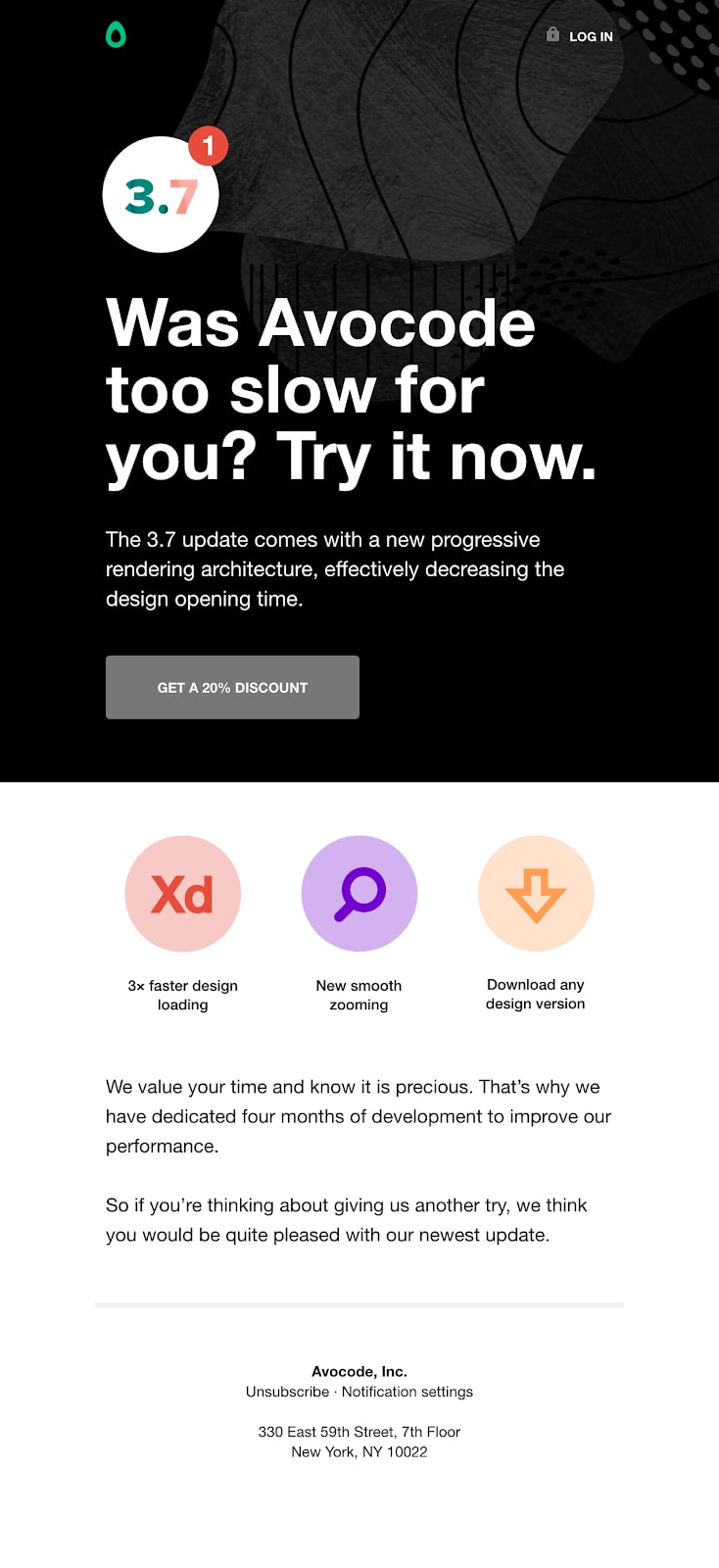 The company doesn't beat around the bush here, either. It straight-up asks recipients if the platform was too slow for them and encourages them to try it again after its team spent four months optimising the software to improve speed.
Not only that but the company is offering a 20% discount to win these customers back.
By addressing an issue directly, being honest with users and specifying how much hard work has gone into improving the product, customers who were excited enough to try the product in the first place are more likely to respond to an improved platform and promotional offer.
Another powerful opportunity to run re-engagement campaigns is announcing new features and updates that can spark new excitement, keep customers using the product and bring unengaged users back to the platform.
Here's an example from Todoist, which sends out personalised product and feature updates to users, showing off all of the new things they can do when updates and features are rolled out.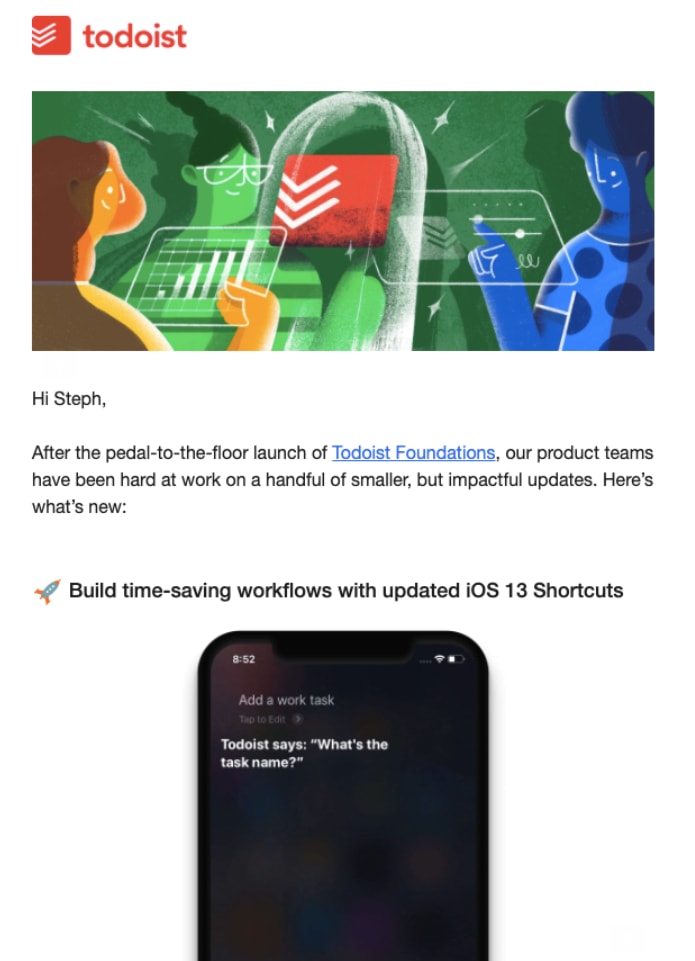 In this example, Todoist kicks off the email with news about new features for iOS 13 and there's an opportunity here to personalise the email to maximise relevance. You can showcase iOS 13 features to users who access your software on an iPhone but focus on the Android app for those using other mobile devices.
The more relevant you can make these emails to individual users, the greater your chances of re-engaging them.
#15: Referral campaigns
Some of the biggest names in SaaS built vast user bases off the back of successful referral campaigns. We've covered this before in this article: What is Growth Marketing? With 30+ Examples, Tactics & Hacks, where we explain how Dropbox drove 3900% growth in just 15 months and PayPal hit a 10% daily growth rate through their referral campaigns.
Not all referral marketing strategies are quite as successful as those but this is an effective growth strategy in several ways:
Expansion: Your existing customers are encouraged to introduce new users to your platform.
Engagement: By getting your customers involved in a referral programme, they're more engaged with your company.
Loyalty: By rewarding customers for referrals, you can build loyalty and stronger relationships.
Exponential growth: Successful referral programmes can drive exponential growth by successively rewarding new customers to introduce your product to yet more users.
You don't necessarily need to reward users with huge incentives, either. While PayPal literally paid users to introduce new customers in the early days, Dropbox simply rewarded free users with more storage space for every new referral.
In the case of Webflow, the company has run referral programmes in the past where users could gain beta access to its e-commerce platform by referring new users – and the more they refer, the faster they get access.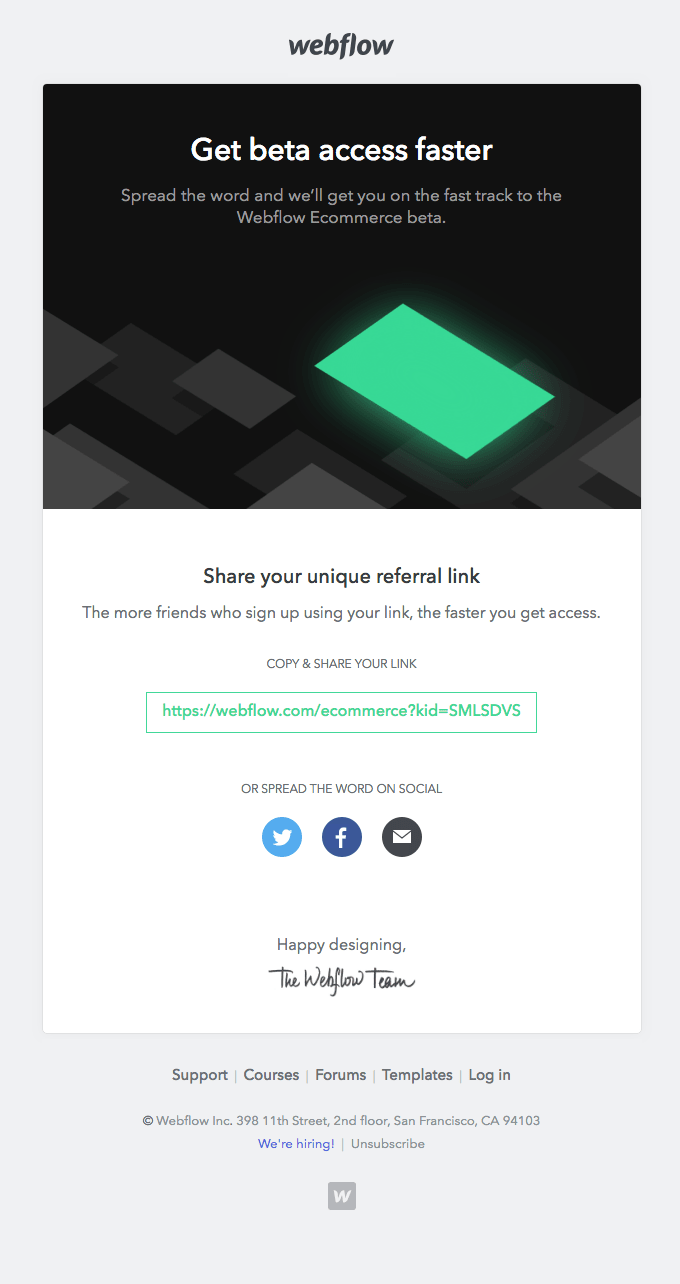 One of the most interesting referral programmes we've seen in recent years comes from Setapp. The company runs a 7-day free trial for users to get a feel for the platform but users can extend this free trial to up to six months by referring new customers.
Free trial users get six invites and extend their trial by one month for each referral.
Not only does this referral campaign introduce the platform to new users but it also keeps free trial users engaged for longer, giving them more time to develop a connection with the product.
Don't be afraid to get creative with your referral campaigns, especially when it comes to rewards. Also, keep in mind that growth doesn't have to be the only goal of any referral strategy. You can use these campaigns to build loyalty, increase engagement, develop a community and encourage existing users to get more involved with the product.
#16: Feedback collection
User feedback provides invaluable insights for optimising your software, identifying churn causes and improving the service around your product. Getting feedback from users can be tricky, though, as you're asking people to take time out of their busy day to fill out a form with no immediate incentive.
It helps to have an established relationship with customers by the time you request feedback and communicate the benefits for them – a better product for everyone.
If you can show your customers that their feedback really makes a difference, they're more likely to see value in leaving some.
In the example below, Slack tries to make users feel special by telling them they've been chosen as "one of a small set of people" to provide feedback about the platform.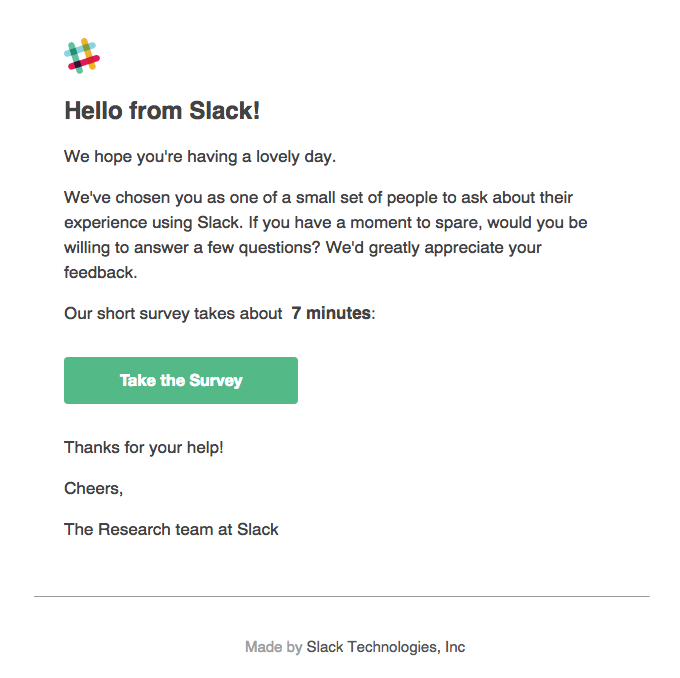 Aside from appealing to their ego, this approach also suggests that they've been selected because their feedback really matters – so the sense of importance and worth is building nicely here.
I'm pretty confident these emails aren't sent to a "small" group of Slack users and I'm sure many recipients are no more convinced than I am. Even still, Slack has the benefit of a huge user base so, even if it only manages to collect feedback from a relatively small sample size, this can generate plenty of valuable insights.
Twitch takes things even further by offering a reward in exchange for feedback submission. The email below starts by specifying the purpose behind this request and the long-term benefits for the user – improved service and support.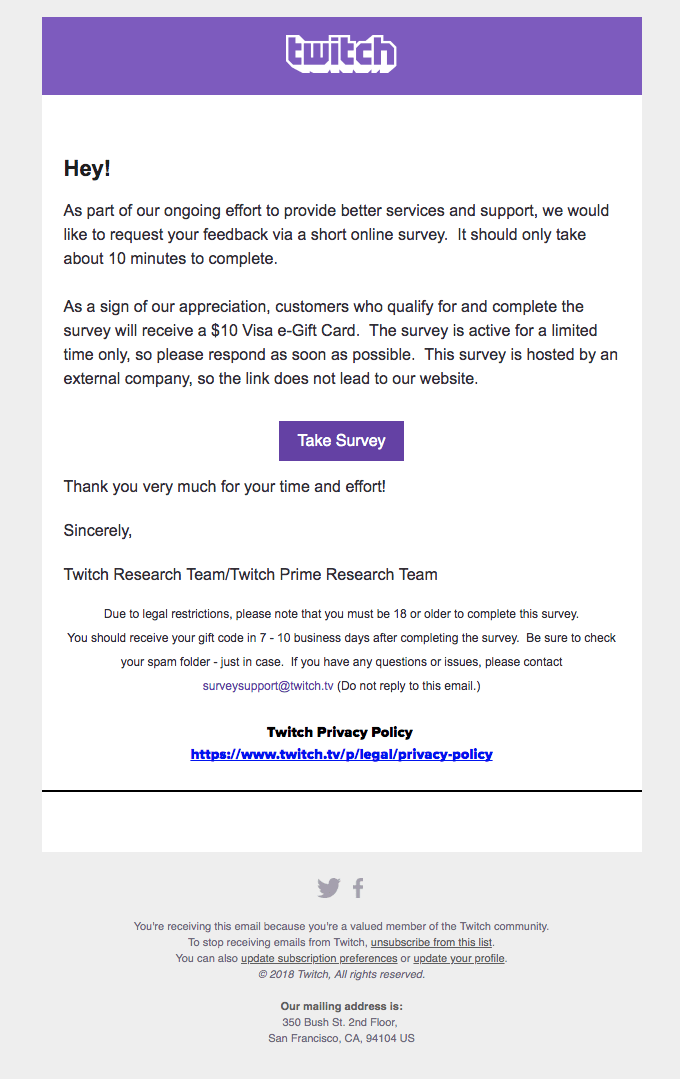 The company then ramps up incentive with an immediate reward of a $10 Visa e-Gift Card. Of course, offering an incentive like this should entice more users to leave the feedback you're looking for but rewarding every user can be an expensive strategy.
One alternative is to put participants into a raffle draw with one or several prizes that everyone who submits feedback has a chance of winning.
Financial & payment strategies
In this final section, we look at three email marketing strategies for SaaS companies to maximise successful payments and recover lost revenue in the event of failed transactions:
Transactional emails: Allow users to make payments via email messages.
Subscription renewal notices Give customers notice about upcoming subscription renewals to reduce the risk of payment failures.
Dunning campaigns: Chase customers up in the event of failed payments and recover lost revenue.
Successful payments are the foundation of subscription-based software where your business relies on repeat payments – whether they're monthly, annual or both.
#17: Transactional emails
Transactional email is a feature that doesn't get enough attention and many email marketing software providers gloss over this vital feature of SaaS companies. While there are thousands of email marketing platforms out there, few of them provide solid transactional email features.
For example, even with a comprehensive system like HubSpot, you can send transactional emails (at an extra monthly cost) but these emails won't reach users if they unsubscribe.
Transactional emails should be protected from unsubscriptions to ensure these messages reach the recipient and you have the best chance of getting paid.
We use Sendinblue specifically for its transactional emails and, as you'll see in our best transactional email services article, it's by far the best platform we've used.
You can send up to 300 emails per day on the free version of Sendinblue and paid plans start as low as $25/month, allowing you to send more emails and access to advanced features.
We use ActiveCampaign as our primary email marketing platform and Sendinblue handles all of our transactional emails. This kind of setup works well for us as Sendinblue is nowhere near as advanced as ActiveCampaign for 90% of our email marketing needs but it's still the better platform when it comes to transactional emails
#18: Subscription renewal notices
Subscription renewals are the most important conversion for SaaS companies after the initial sign-up. To maximise recurring revenue, you have to compel users to renew those contracts and we've looked at plenty of strategies you can use to keep customers excited about your product.
Now, we're talking about renewal notices to tell customers their subscription is coming to an end. Chances are, you're running subscriptions on an auto-renew system so the primary purpose of renewal notices is to inform your customers that a payment is about to be taken.
This isn't just for the sake of courtesy, either. A lot can happen in a year and giving customers notice that a payment is about to be taken gives them the chance to update their payment details if they're using a different card or account now.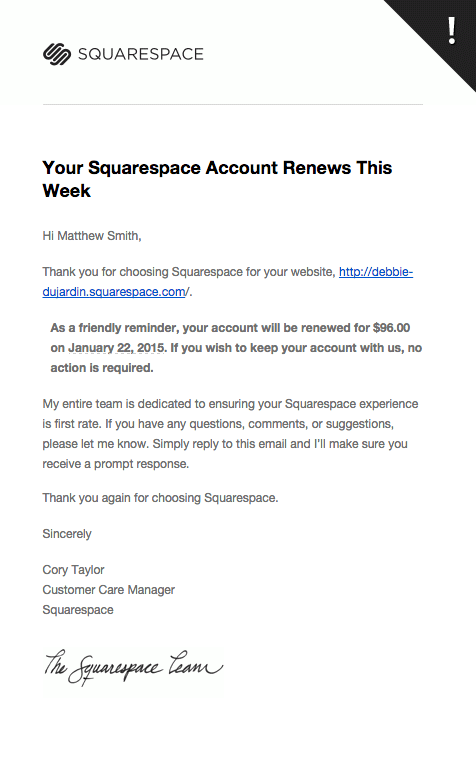 At times, you'll also need to update users about pricing or product changes and you can do this mid-way through subscriptions or use renewals to announce them. With price increases, you need to justify the increase if there's any doubt that a significant number of customers will refuse to renew.
You can use new features, updates and other changes to justify any price increases and subscription renewal notices can be a great time to show users all of the exciting things that are coming up – whether prices are changing or not.
#19: Dunning campaigns
Failed payments are a problem every SaaS company has to deal with, especially when you're charging customers for a year's subscription up-front.
A lot can change in a year, including credit cards and payment details, so you need a system in place for chasing up failed payments to recover as much of the revenue you're owed as possible.
Hopefully, the renewal notices we talked about in the previous section will remind most customers to update their payment details, if needed, but dunning campaigns chase up payment failures with email notifications and automated reattempts.
We covered dunning extensively in our article looking at the best subscription billing platforms for SaaS companies and this is a key feature of any payment/subscription management tools for software companies.
The image below shows an example of a dunning email automatically sent by Paddle, one of the platforms we review in the article linked to above.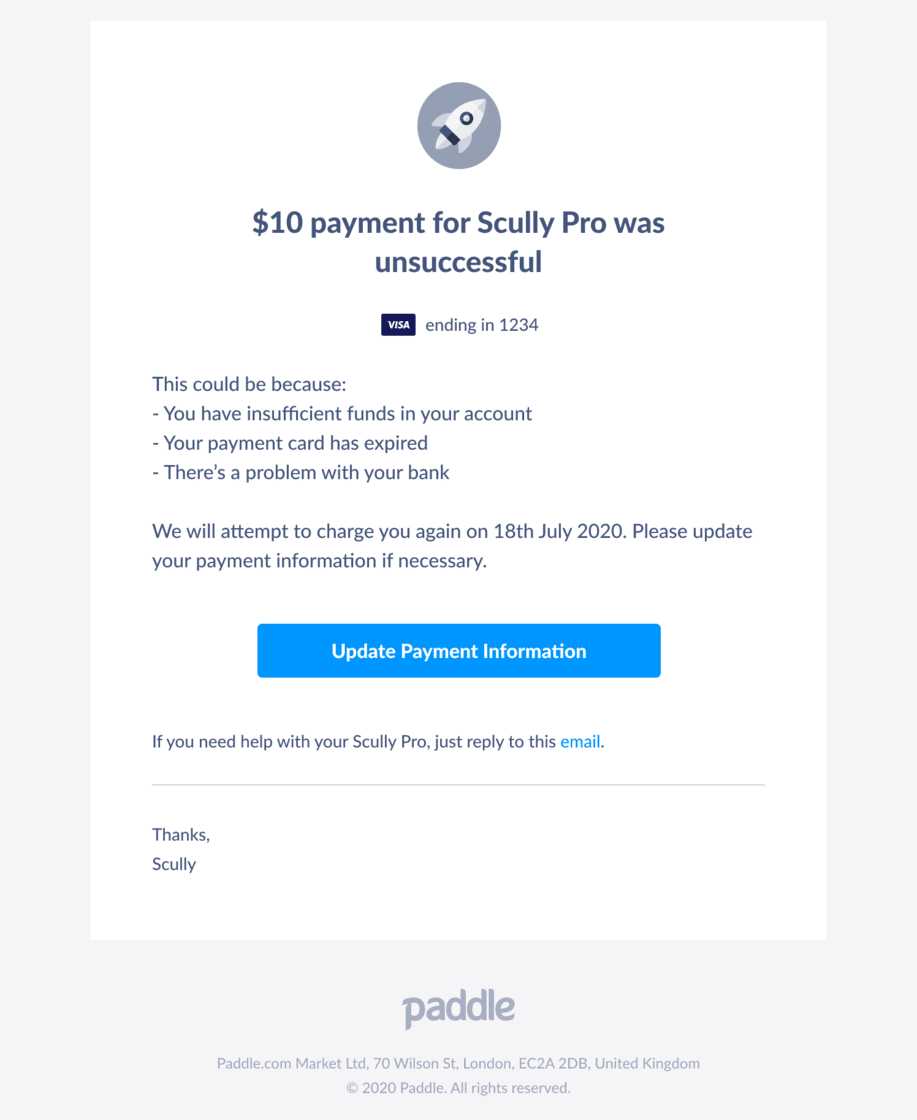 These emails are automatically sent out to users as soon as a payment fails, asking users to update their payment details. You can also schedule several payment reattempts and it's a good idea to inform customers of when you're going to attempt the next payment, as shown in the example above.
Some platforms, such as Paddle, use a technique called "waterfall" payments to run reattempts through different payment processors, which prevents you from running up a bad reputation due to successive failures and rules out the (very small) risk of technical issues getting in the way.
With the right platform, you can fully automate dunning campaigns and update customer account statuses as soon as payments are cleared – as well as suspend or cancel subscriptions if your final payment attempt fails.
Again, if you're in any doubts about this, take a look at our in-depth guide on subscription platforms for SaaS companies.
Bringing it all together
The email marketing strategies we've looked at in this article span across the entire SaaS customer cycle, starting with lead generation and guiding prospects through to repeat payments and maximising revenue.
All of these techniques deserve a place in your email marketing strategy and there's plenty of room for experimentation with each campaign.
All that's left now is to bring it all together and optimise each strategy and optimise each campaign to maximise results for every conversion goal across the customer cycle.