Planning a marketing campaign in the modern digital age has never been more complex. User journeys are split across a growing network of channels and the number of interactions across the average sales funnel is growing every year.
At the same time, consumer trends and user expectations are changing at a faster rate than ever. This means that, by the time you've planned that next campaign and you're ready to launch, the interests of your target audience are already elsewhere.
The key to effective marketing campaign planning is reducing the time it takes to turn your best campaign ideas into live, working strategies – and this guide will show you how to do it.
What are we looking at in this article?
This article is an in-depth guide covering everything you need to know about planning marketing campaigns. As we're delving into a lot of detail here today, we're breaking the article up into several sections so it's easier to navigate:
You can click on the blue link text above to jump ahead to any section and you might want to bookmark this page so you can save it for future reference.
The second half of this article focuses on planning, running and managing marketing campaigns but, before we get to that, we've got some background information to discuss. After quickly clarifying what a marketing campaign is, we'll go into more detail by talking about the different types of campaigns you might need to plan and what you need to have in place before planning your next one.
At the end of this article, we also have a section looking at some of the best marketing planning tools that will help you plan more effectively and get new campaigns launched faster.
What is a marketing campaign?
A marketing campaign is a coordinated sequence of marketing actions designed to achieve a specific marketing goal. The defining characteristic of a campaign is that it has a start date and an end date (or a sequence of goal targets in place of an end date).
Marketing campaigns are all about achieving goals within a specified time frame and setting objectives or milestones to hit at each step.
Don't take my word for it, though. Let's take a look at a couple of definitions from HubSpot and Marketo to see what they have to say. First up, here's a definition from HubSpot, published in its ultimate guide to marketing campaigns:
"Marketing campaigns are organized, strategized efforts to promote a specific company goal, such as raising awareness of a new product or capturing customer feedback. They typically aim to reach consumers in a variety of ways and involve a combination of media, including but not limited to email, print advertising, television or radio advertising, pay-per-click, and social media."

The Ultimate Guide to Marketing Campaigns by Allie Decker for HubSpot
Next, we've got another definition from Marketo's comprehensive guide to marketing campaigns and you'll see a lot of similarities with the first once published in the HubSpot guide:
"A marketing campaign is a strategic sequence of steps and activities that promote your company's product or service, with a specific goal in mind. Campaign efforts may involve a range of media, such as radio, television, in-person events, and digital media. You must select and vet the marketing approach that will work best for your campaign."

A Comprehensive Guide to Marketing Campaigns by Marketo
What separates a marketing campaign from a marketing strategy is the coordinated sequence of marketing actions, planned out with a specific time frame and schedule to achieve the campaign goal by a planned deadline.
By definition, marketing campaigns are a type of marketing strategy but not all strategies are as specific with their goals or planned out to a precise time frame. For example, a company may have several strategies in place to increase revenue every year, including multiple campaigns per year with specific revenue targets to hit by the end of Q4.
Marketing campaign types
There are many ways to categorise marketing campaign types and we can't cover every type of campaign in one article. However, we can discuss the three most important characteristics of campaign types and explore these in more detail.
Generally speaking, there are two ways to approach marketing campaign planning. Most commonly, you'll start with a goal and select the best marketing channels to achieve it so you can develop a coordinated campaign. However, in some cases, you may be working with a single channel or running channel-specific campaigns within a broader, multichannel marketing campaign.
For example, a marketing team may be tasked with promoting the release of a new product and given free rein to create a multichannel campaign across search, social and more. On the other hand, an SEO team may be tasked with increasing traffic by 35% by the end of the year through one channel: organic search.
To make matters more complex, one goal-oriented campaign can include several channel-specific campaigns. Let's say you're planning a new brand awareness campaign and you identify SEO, PPC, email and CRO as the key channels.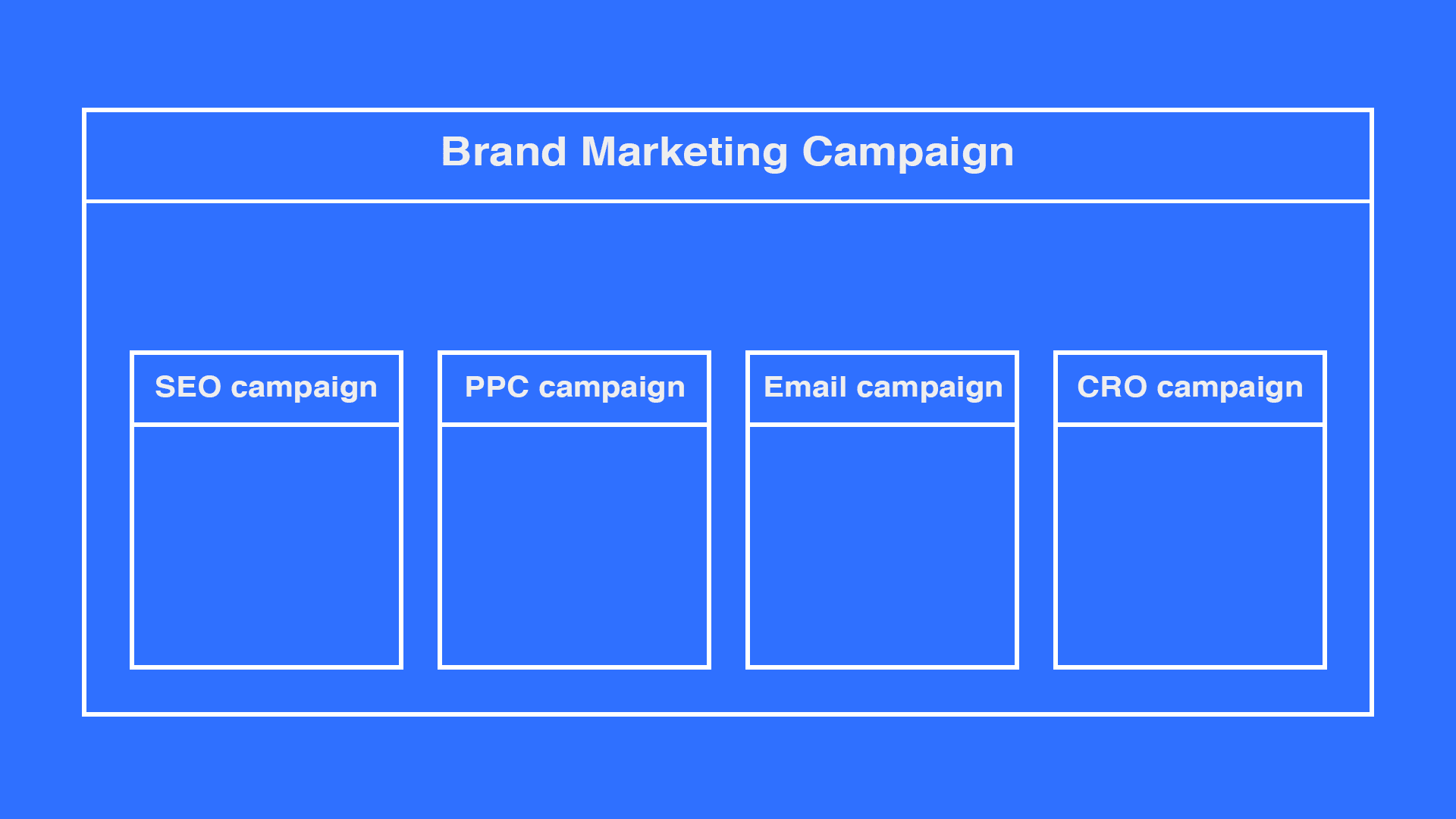 You'll run campaigns within each of these channels (potentially more than once) and end up with a nested campaign structure as illustrated above.
Let's take a look at some other examples of goal-oriented campaign types.
Goal-oriented marketing campaign types
Goal-oriented marketing campaign types broadly revolve around a specific type of goal to achieve. When you hear marketing teams talk about branding campaigns or customer retention campaigns, these are goal-oriented campaign types.
Here are some other common examples:
Product release: A campaign promoting the release of a new product.
Product marketing: An ongoing campaign that promotes an existing product.
Brand awareness: A campaign designed to make more people aware of a brand and its story.
Rebranding: A campaign that redefines the brand image of a campaign within their target audience – or a new one entirely.
Special promotion: A campaign that promotes a time-limited deal or special promotion.
Seasonal campaign: A campaign promoting seasonal products or services.
Lead generation: A campaign designed to capture more leads across one or more marketing channel.
Customer acquisition: A campaign designed to win new customers.
Customer retention: A campaign designed to increase the percentage of existing customers who keep buying from you.
Much like the example we looked at above, each of these goal-oriented campaign types requires activity across multiple channels. So, once again, you would manage several channel-specific campaigns within the broader campaign.
For example, a product release campaign may have the goal of securing 700+ pre-orders ahead of launch, running multiple SEO, PPC and email marketing campaigns to hit this target.
Channel-specific campaign types
Channel-specific campaigns types don't specify any inherent marketing goal (this is up to you) but they do naturally relate to certain online interactions. With goal-oriented campaign types, you're deciding what you want to achieve while the channel-specific campaigns determine interactions you're targeting to make this happen.
If you're running an SEO campaign, this is because you've chosen to target the organic search habits of your target audience. Likewise, if you're running an email marketing campaign, you're targeting the inbox of people who have previously completed some type of conversion goal – anything ranging from an email signup to a product purchase.
Here are some other examples of channel-specific campaign types:
Organic search campaigns
Paid search campaigns
Content campaigns
Social media campaigns
Paid social campaigns
Email marketing campaigns
CRO campaigns
Referral campaigns
Customer review campaigns
These campaigns target specific interactions – such as user searches, social media engagement or review reads – that act as a key step towards completing your marketing goal. When it comes to SEO and PPC campaigns, the initial interaction is between users and a search engine but your aim is to replace the search engine as the medium of interaction with your website.
The attributable action for this is a click through to your landing page, at which point, users start interacting with your page content and, in most cases, your marketing goal is for them to complete some kind of a conversion goal.
Marketing campaign durations
While this isn't a campaign type, per se, it's an important element to consider when planning any marketing campaign. By the time you complete a new campaign plan, you should know exactly how many days the campaign is scheduled to run for.
However, at the start of the planning process, you're not going to know exactly how long a campaign will need to run to achieve your goal. That being said, you should have a rough idea of how long the campaign will run for and there are four broad durations to consider:
Short-term campaigns: Run for up to 180 days (~6 months).
Mid-term campaigns: Run for 180-365 days (~6-12 months).
Long-term campaigns: Run for 365+ days.
Ongoing campaigns: Run continuously without an end date.
The campaign ends when you stop dedicated resources to it or when you achieve the campaign goal, whichever is the latter. Ongoing campaigns are the ones where you keep resetting the goal or continue dedicating resources, such as a conversion optimisation campaign with no fixed end date. These are campaigns that you know will run for the duration, not campaigns that you simply haven't decided how long to run.
What do you need to plan a marketing campaign?
A marketing campaign plan is a specific, detailed roadmap of how you're going to run the campaign in question and a resource you'll follow (and, potentially, adapt) throughout its duration.
Campaign management isn't spontaneous; it's planned, calculated and strategically thought out. Everything marketing action your team conducts should come straight out of the plan you put together before day one of the campaign.
To create a detailed roadmap that guides your team throughout the campaign, your plan needs to include the following key details:
Goals: Specific, measurable and achievable campaign goals with a completion date.
Objectives/milestones: Targets you need to hit at each stage of the campaign to achieve your goal on time.
Attribution: A system of attributing marketing actions to goals and objectives/milestones.
Audience insight: Data-driven knowledge of your target audiences.
Channels: A list of the most suitable marketing channels for achieving your goal.
Budget: An approved budget for the whole campaign.
Personnel: The right team of individuals for your campaign, including the channels and marketing tasks involved.
Methodology: A marketing management framework that helps you achieve goals in shorter time frames.
Tools: The right tools for running every part of your campaign.
At the very least, you need all of these above included in every campaign plan and you'll often need to add further details to plans for individual campaigns, depending on the goal and the resources you have available. For example, if you're running a campaign that's heavily involved with product development or other departments outside of marketing, you may need to plan out methods of collaboration between designers, developers and your team.
Other optional elements you may add to your campaign plans could include case studies and insights from similar previous campaigns.
Campaign goals
The first step of any campaign plan is to define your goal or goals and we cover this in plenty of detail in our ultimate guide to marketing strategy. Venture Harbour CEO Marcus Taylor also discusses the importance of setting goals properly in his marketing plan for agile marketers.
If you're not crystal clear on what your business goal is – stop. Trying to do marketing without a clear goal is like starting a race without knowing where the finish line is.

A Marketing Plan for Agile Marketers by Venture Harbour CEO, Marcus Taylor.
According to a study published by CoSchedule, marketers are 376% more likely to report marketing success if they set goals while a mere 6% of marketers who set goals say they rarely achieve them and an even smaller 3% never achieve them.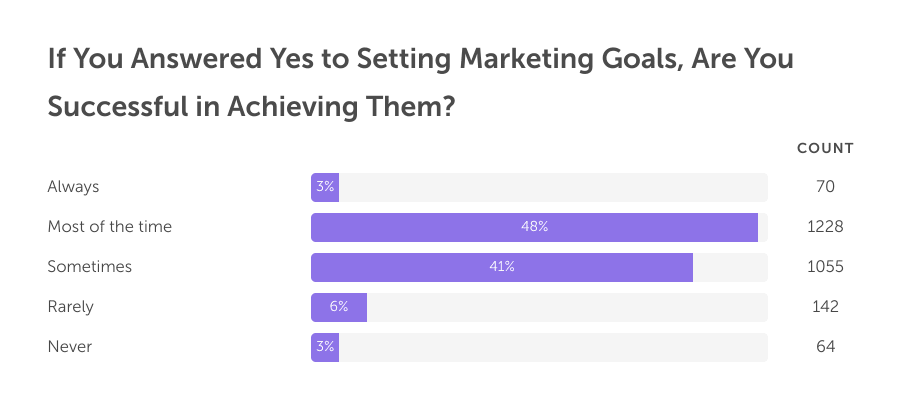 There are plenty of methodologies for setting marketing goals and this SMART goal framework is one of the most popular.
Specific
Measurable
Achievable
Relevant or realistic
Time-bound
That acronym tells you the four key characteristics every marketing goal should have and, yes, I'm aware there are five letters in SMART. It's just that the relevant or realistic aspect is always a bit redundant as relevance means nothing without context (relevant to what?) and realistic is too similar to achievable.
However, the following four characteristics are essentials for every campaign goal:
Specific: Campaign goals should include specific, numerical targets.
Measurable: You need the ability to measure the fulfilment of goals.
Achievable: Goals that are both ambitious and achievable.
Time-bound: An end date to achieve the campaign goal.
If your campaign goals are vague, unrealistic or don't have an end date nor the means to measure the achievement of goals, you're setting yourself up for problems.
The achievable characteristic is an interesting one, too, because you need to set goals that are ambitious enough to maximise the positive impact on the business while being realistic enough for your campaigns to demonstrate success.
This balance is one of the biggest marketing campaign planning challenges you'll face and historical campaign data is your best asset here.
To address this challenge, many marketers have adapted the SMART framework so that the A stands for ambitious and the R stands for realistic:
Specific
Measurable
Ambitious
Realistic
Time-bound
I would argue this is the stronger format to follow for setting marketing campaign goals and this is what we use at Venture Harbour to ensure we're striking the right balance in goals that are both ambitious and achievable.
We use a marketing management system called TrueNorth to plan and manage our campaigns and the platform includes a powerful feature for maximising the ambition of our goals while keeping them achievable. TrueNorth's campaign simulator allows us to forecast the performance of campaigns during the planning stage so we can predict outcomes and set goals more effectively.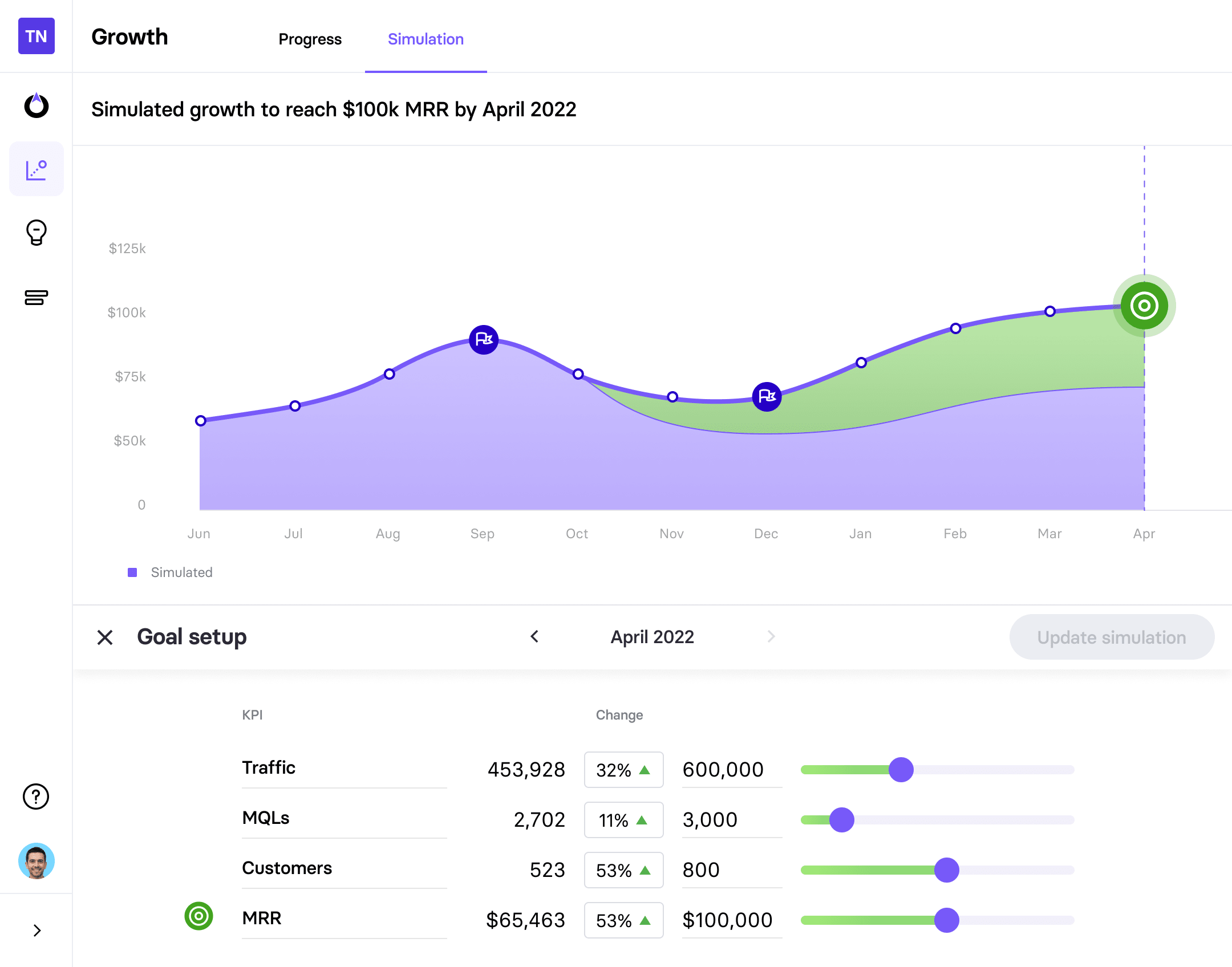 Using this simulator, we can use historical performance and resource availability to set performance parameters and see what we'll need to hit in order to achieve specific goals. For example, if we set a campaign goal to increase revenue, we can instantly calculate how much we'll need to increase traffic by, how many more leads we'll need to generate and how many new customers we'll need to win to hit specific revenue targets.
If all of these targets are realistic, we know the campaign goal is achievable based on our existing marketing performance.
From here, we can change the campaign parameters to increase the ambition of our goals and determine whether the outcomes remain achievable. For example, we might want to see what happens if we double our PPC traffic and see what impact this has on our campaign goal vs the increased ad spend.
With this tool, we can maximise the ambition of our campaign goals without crossing the line of achievability.
Campaign objectives/milestones
Campaign objectives or milestones place a series of targets throughout the campaign that you need to hit in order to achieve your goal.
I feel like I'm adding this into every article recently but there's a lot of confusion about the differences between marketing goals and objectives so here's a quick summary to make sure we're 100% clear on this:
A marketing goal is a broad, long-term result you want to achieve, such as increasing revenue, reducing customer churn, increasing engagement by 40%, etc.
A marketing objective defines the specific, measurable actions marketers must complete to achieve specific goals. For example, if your goal is to reduce customer churn, one objective might be to increase email open rates by 30+%.
In other words, the campaign goal is the big win you're aiming for at the end of your campaign while the objectives/milestones are the targets you need to hit along the way to achieve your goal. For example, if you're looking to increase conversion rates by 6% by the end of the year, you might set objectives for increasing conversion rates by 0.85%-1% every month until the end of Q4.
This is overly simplistic but without hitting the monthly objective targets, you're not going to fulfil the campaign goal on time.
Attribution systems
As stated in the section on setting marketing goals, you need the ability to measure the achievement of goals and objectives/milestones throughout the campaign. This starts with identifying the right KPIs and metrics to measure success and this is another topic we cover in plenty of detail in the following articles:
Once you've identified the KPIs and metrics that measure the performance of your campaign, you have to establish an attribution system capable of crediting every marketing action for their contribution towards your marketing goals and objectives.
This is more difficult than ever in today's multichannel, multi-touchpoint world of digital interactions.
The fact is, people don't simply type in the URL of a company and buy from them directly – not very often. Consumer journeys are filled with searches, content, ad clicks, email opens and a range of other interactions and most of them don't result directly in a conversion.
For example, a user might discover your brand in an article published on another website and click through to your website before heading back to the original article. Later on, they might search for your brand name, click on a PPC ad and get added to a remarketing list, which shows them display ads as they continue to browse the web. In a month's time, they might type your brand name into search once again, click through to your website and sign up for an account before making their first purchase.
In this imaginary journey, the last search is the only interaction that generated a conversion but plenty of other actions deserve credit for their contribution:
The article this user first clicked through from
The first brand-name search
The first add click
The remarketing ads (even if they didn't click, these ads kept the brand name in their minds and enabled them to make the next branded search)
The second branded search
The organic CTR from the second search
The homepage visit that won the conversion
If you take any of those interactions out of this journey, the final conversion likely disappears and this is a big problem if you, for example, pull the remarketing campaigns for not winning enough clicks when they're keeping the brand name and message alive in people's minds until they're more motivated to take action.
Attribution systems are vital for understanding how your marketing activities contribute to valuable actions, even if they don't win the conversions themselves, so you can reach prospects at every step of the consumer journey and guide them from mild interest into paying customers.
Audience insights
One of the biggest influences on the success of your marketing campaigns is the depth of understanding you have about your target audiences. Vague messages get you nowhere, especially when your rivals are all competing for attention with the same people by addressing their needs with greater relevance.
If audience insight isn't one of your strengths, take a look at our article, Target Audience: The Art & Science of Finding Your Ideal Buyers, published by our CEO, Marcus Taylor.
"Generalised campaigns fall flat. Targeted messaging that appeals to your audience's preferences, interests, and behaviours will convert better because it connects with people and triggers their need to purchase, eliciting an emotional response. Emotional connections lead to sales. People buy with their hearts, not with their wallets."

Target Audience: The Art & Science of Finding Your Ideal Buyers by Venture Harbour CEO, Marcus Taylor
As Marcus explains in the same article, there are three key types of audience insights you need to get on top of to deliver relevant messages:
Demographics: Describe the attributes of your target audiences (age, gender, etc.).
Pshychographics: Describe the interests of your target audiences.
Behavioural: Describe the online behaviours of your target audiences.
Demographics data is useful for narrowing the scope of people you want to reach and defining buyer personas based on their characteristics. However, this type of data is limited when it comes to identifying the kind of emotional responses you need to elicit in prospects to inspire meaningful action.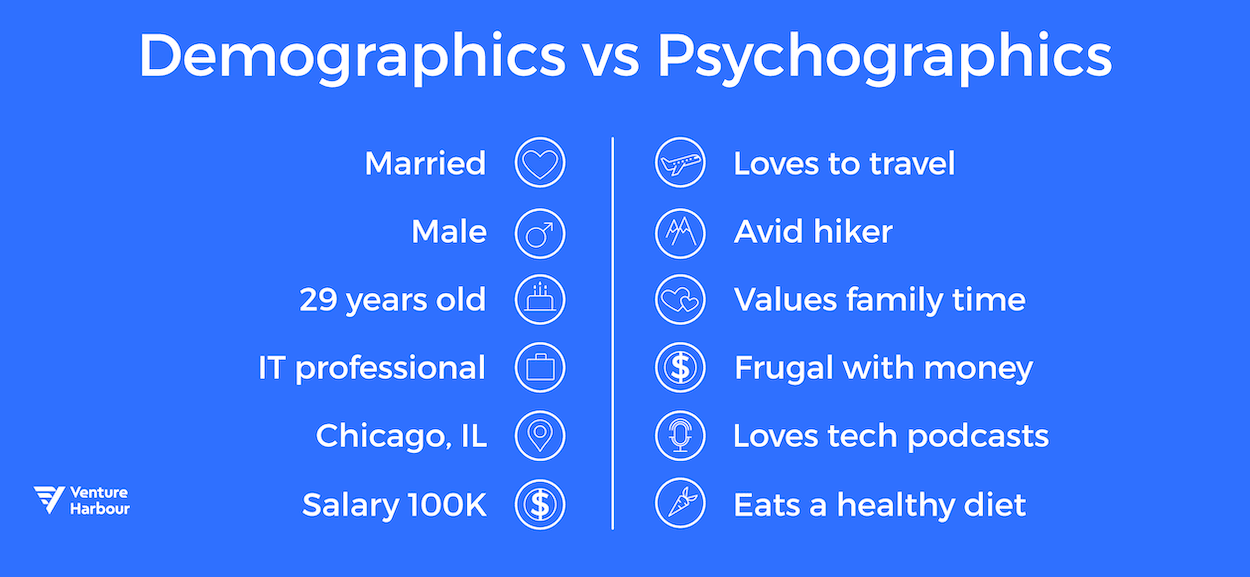 This is where psychographic data comes in to specify the interests of your target audiences and identify emotional triggers that you can use to develop high-impact messages.
You can use both types of data together, especially if the characteristics of your audiences are quite niche – eg: high-earning business buyers, as opposed to general consumers.
When it comes to demographics data, you'll want to identify the following as a minimum:
Age
Gender
Location
Employment
Family status
Education level
Income
Psychographic data is more complex but it's also more rewarding and you'll want to answer the following questions to gather this:
Where do they hang out online and offline?
What social media profiles do they engage on?
What are their interests outside of work?
What media do they consume daily?
What do they like to do in their free time?
What are their passions?
These are the insights that help you craft messages targeting the emotional triggers that inspire purchase decisions and the key insight missing now is provided by behavioural data, which helps you determine where and when to deliver these messages.
In the case of behavioural insights, you're looking to identify the online actions your target audiences take throughout the buying process so you can deliver your messages at the key touchpoints.
If we put this into a list of questions, it would look something like this:
What are their online buying behaviours?
Where do they spend their money?
How do they purchase products? Online? Brick and mortar?
Do they typically join loyalty programs?
Do they engage with brands on social media?
Are they repeat buyers?
Do they analyse a lot before making a purchase?
To get these insights from all three data types, you can run surveys ahead of running your next campaign, delve into your existing customer data or source third-party data from external sources. Better yet, you can combine all three sources to build a more reliable dataset, which is important if you're using any AI modelling to predict user behaviour as this relies on data volume and quality.
Marketing channels
Once you've established your goals and done your audience research, you should be ready to choose the marketing channels for your campaign. If we go back to the list of behavioural questions we asked in the previous section, you can see how this data is important for choosing the channels and platforms to prioritise in your marketing campaigns:
What are their online buying behaviours?
Where do they spend their money?
How do they purchase products? Online? Brick and mortar?
Do they typically join loyalty programs?
Do they engage with brands on social media?
Are they repeat buyers?
Do they analyse a lot before making a purchase?
This is another topic we cover in our ultimate guide to marketing strategy where we discuss the following channels in detail:
Organic search
Paid search
Social media
Website
Referral content
Email marketing
Marcus also runs through his process for selecting marketing channels in his guide to marketing plans for agile marketers. He says "the best performing marketing teams tend to focus on one core channel at a time rather than trying to do a bit of everything."
He suggests spreading your budget across several channels and then prioritising the top-performer as early as possible to maximise fast returns. Then, once you start to saturate performance on your first channel, you can spread your budget across other channels to identify the ideal long-term mix.
Here's a preview of how this process works across three phases:
Maturity
Description
Strategy
Budget allocation
Phase 1
We haven't found our one core marketing channel that drives exceptional results.
Invest a small amount of budget in a wide variety of channels to identify one channel that drives disproportionate results.
100% on experimentation
Phase 2
We have found our one core marketing channel that drives exceptional results.
Focus intensely on that one channel until you see diminishing returns.
~90% on core channel

~10% on experimentation

Phase 3
We have saturated our core marketing channel and are seeing diminishing returns
Slowly diversify your channels, adding one or two new channels that you can double down on, while strengthening your one core channel.
~80% on core channel

~20% on experimentation

Keep in mind this process is designed for agile marketing teams that need to get fast results. It's certainly not the only approach to building a multichannel strategy but it's worked well for us here at Venture Harbour and it's a great way to maximise resources for smaller, more agile teams.
Of course, selecting channels is only part of the process here, too. Within most channels, you've either got multiple platforms to choose between or several sub-channels to think about.
In social media, you got half a dozen or more social networks to choose from and you've got both organic and paid social to consider. Likewise, within referral content, you've got outreach/guest blogging, affiliate marketing, influencer marketing and several other sub-channels that you can engage in.
Again, we cover all of these in detail in our ultimate guide to marketing strategy so take a look at that article if you need more help with choosing the right channels for your next campaign.
A campaign budget
You can't plan a marketing campaign without knowing how much you have to spend so you need a specific figure before you sit down and put any campaign ideas together. Depending on your setup, stakeholders may set the budget for each campaign or you might be given a certain amount of budget for each channel or a total marketing spend that you can allocate as you choose, provided the performance justify your decisions.
Whoever is setting the budget for your next campaign, it's important that every expense. It's fine to plan a content marketing campaign for $10,000 but does that cover all of the work involved in planning, producing, publishing and promoting all of the content in your campaign plan?
Likewise, getting feedback from customers sounds like a great way to improve a product but have you accounted budget for designing and implementing your feedback strategy, testing it to maximise feedback submission and handling the data you collect: collating, processing, extracting insights and putting your feedback into actionable steps?
It's always easier to underestimate the cost of a campaign than overestimate, especially when budgets are set by stakeholders who don't understand the day-to-day expense of marketing campaigns or even marketing managers with large teams who spend more time delegating than overseeing marketing actions directly.
There are three key steps to managing campaign budgets effectively:
Budget setting: This determines how much you have to spend on the entire campaign.
Budget allocation: This allocates specific amounts of the budget to each channel, marketing action, etc. (SEO, content creation, social media, etc.).
Budget optimisation: An ongoing process of adapting budget allocation to put more funds into top-performing channels to maximise ROI.
Budget optimisation takes place after the campaign is running and you have enough performance data to redistribute marketing spend. However, the first two steps above should be clearly outlined in your campaign plan.
We cover all three of these steps, in plenty of detail, in our guide to setting, allocating and optimising marketing budgets.
A campaign team
Each campaign should have a specified campaign team that combines the talent you need to achieve your goal. Generally speaking, you want this team to be as small as possible without lacking any of the skills required to fulfil your campaign goal. Smaller teams can respond faster to changes, especially performance factors when the campaign is running, and they're also easier to manage.
In other words, you don't necessarily need the whole marketing team working on every campaign.
For example, if you're running a search marketing campaign (organic and paid), you might not need much input from social media and email marketing – if any. Yes, organic content probably needs promoting on social and email newsletters but you can automate most of this with little-to-no input from individuals.
You can also keep your teams lean by outsourcing certain marketing actions that don't require a full-time team member.
In McKinsey's Agile marketing: A step-by-step guide, David Edelman, Jason Heller, and Steven Spittaels outline the following team structure for agile marketing where the core team is made up from a combination of in-house and external talent with an extended set of team members from other departments.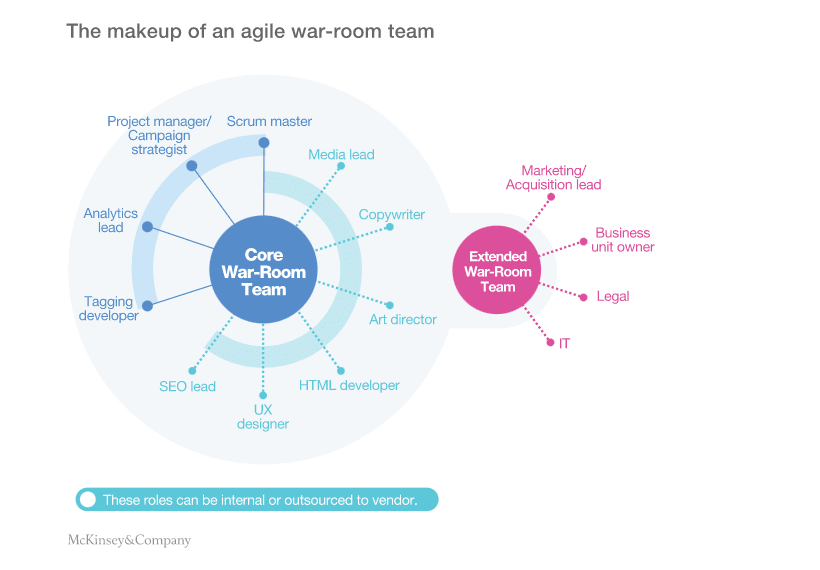 This is one of many approaches you can use to structure your campaign teams but the key point is that you're being selective about who works on each campaign. In our guide to marketing teams: how to structure and manage them, we explain how to structure marketing teams at the company level and how this differs from the team setup at the campaign level.
When you're putting together a team for your next campaign, you're choosing how to go from a company-level structure that might look like this: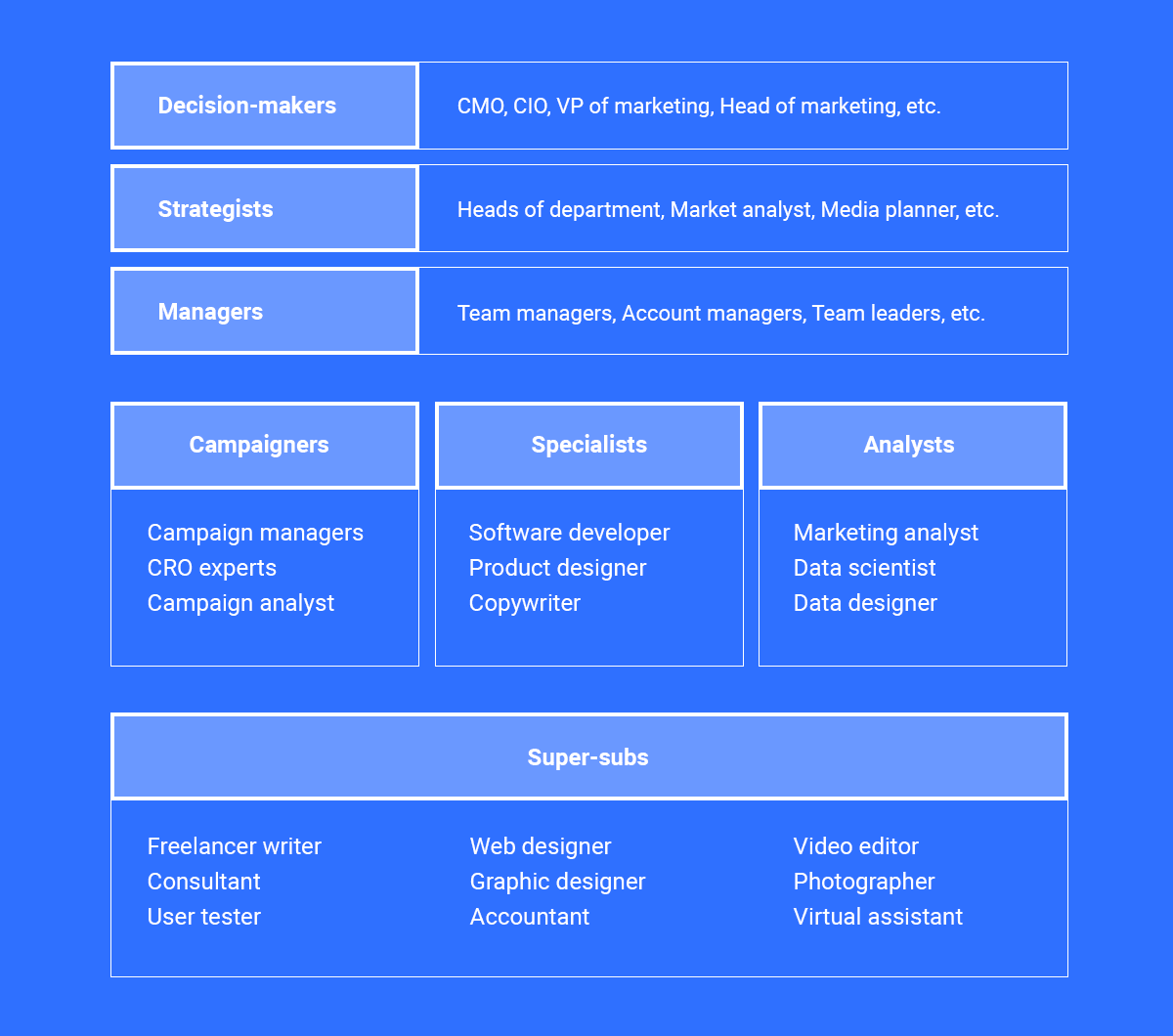 To a more selective team of individuals who are going to work on the next campaign – something that looks more like the war room set up visualised in the McKinsey graphic above.
These concepts come straight out of agile marketing methodologies where small, agile teams are the key asset to getting fast results. You might want to take a look at our guide to agile marketing for a more in-depth look at this and you'll find more info in our five-step marketing plan article, both of which discuss agile marketing teams.
Also, you might want to take a look at these:
You'll find plenty of information on building a campaign team in those articles, as well as the McKinsey article we linked to above but the basic principle is that you're putting together a concentrated team of individuals for each campaign.
If you're following any of the established agile methodologies, your teams should include 5-11 people in your core team. These are the people who are working on your campaign every day or most days throughout the duration of the campaign, not necessarily including individuals from other departments or external talent who chip in, as and when needed.
To sum up, you're doing the following three things when you put your campaign team together:
Creating a tiered system for your agile marketing team
Building a core team of in-house / permanent talent
Outsourcing activities to agencies or freelancers
Even if your company doesn't engage in agile marketing at the team level, adopting an agile methodology for campaign planning and management is a great way to launch campaigns and get results faster.
A marketing methodology
As concluded in the previous section on building a campaign team, adopting an agile marketing methodology will enhance every aspect of planning and managing your campaigns. Agile marketing methodologies are designed for the intense demands and pace of modern marketing, adapted from the original agile methodologies developed by software teams in the 1980s.
There are three key methodologies widely used by agile marketing teams to replace the static frameworks many larger teams still use.
The Scrum methodology: This is an adapted version of the original agile methodology first used by software teams in the 1980s.
The Kanban methodology: An adapted version of a project management framework first used by Toyota in the 1950s.
The Scrumban methodology: A hybrid Scrum-Kanban framework that aims to combine the strengths of both methodologies.
We're going to cover each of these methodologies in more detail in the next chapter of this article when we discuss campaign management. For now, the key point is that every campaign plan should be structured around a marketing methodology, even if it's not one of the three agile methodologies listed above.
The right campaign tools
We've spent a lot of time in this article talking about having the right personnel and marketing processes in place for planning campaigns. However, it's equally important to ensure you have all of the right tools in place before you start a campaign if you're going to achieve your goal on time.
Every team member should have the tools they need for every marketing action, ready and available to them when needed. This starts with having the right tools in your tech stack, to begin with, and also having the necessary user accounts for every individual who needs them, as well as the required user permissions so nobody is held by a lack of access to the tools they need.
You also need to ensure the tools you have are capable enough to do the job, which means having all of the required features and the required level of quality to help your team members complete tasks as effectively as possible.
With dozens, hundreds or thousands of software options available for almost every task imaginable, choosing the right combination of tools is a real challenge for today's marketing teams. Getting the features you need is one thing but getting them all built into the smallest number of software tools possible (simplicity and pricing are both important factors here) into a system that's both effective and easy to use is an ongoing challenge.
You need a toolkit that makes it easier to complete tasks, not one that creates unnecessary hurdles with convoluted processes, weak integration and poor usability.
To make matters even more complex, your demands can change over time – sometimes, from one campaign to the next – and this means you have to constantly reassess your needs and your current setup. You need to do this every time you plan a new campaign to ensure you have the right tools available before the campaign begins.
We know how difficult it is to build the right toolkit and we've spent years refining ours to the point that we rarely need to make major software changes anymore. After almost a decade of testing, comparing and selecting software tools, we've got a system that meets all or most of our needs for every campaign type we run. Even still, we assess our tool kit every time we plan a new campaign, even if it's to simply confirm that our current step meets all of our needs for the campaign.
If that's not the case, we have to look at alternative options and, in several cases, we've built our own software tools where we've been unable to find suitable options from elsewhere. In fact, this is how TrueNorth was born after an unsuccessful search for an all-in-one campaign planning and management tool revealed a gap in the market.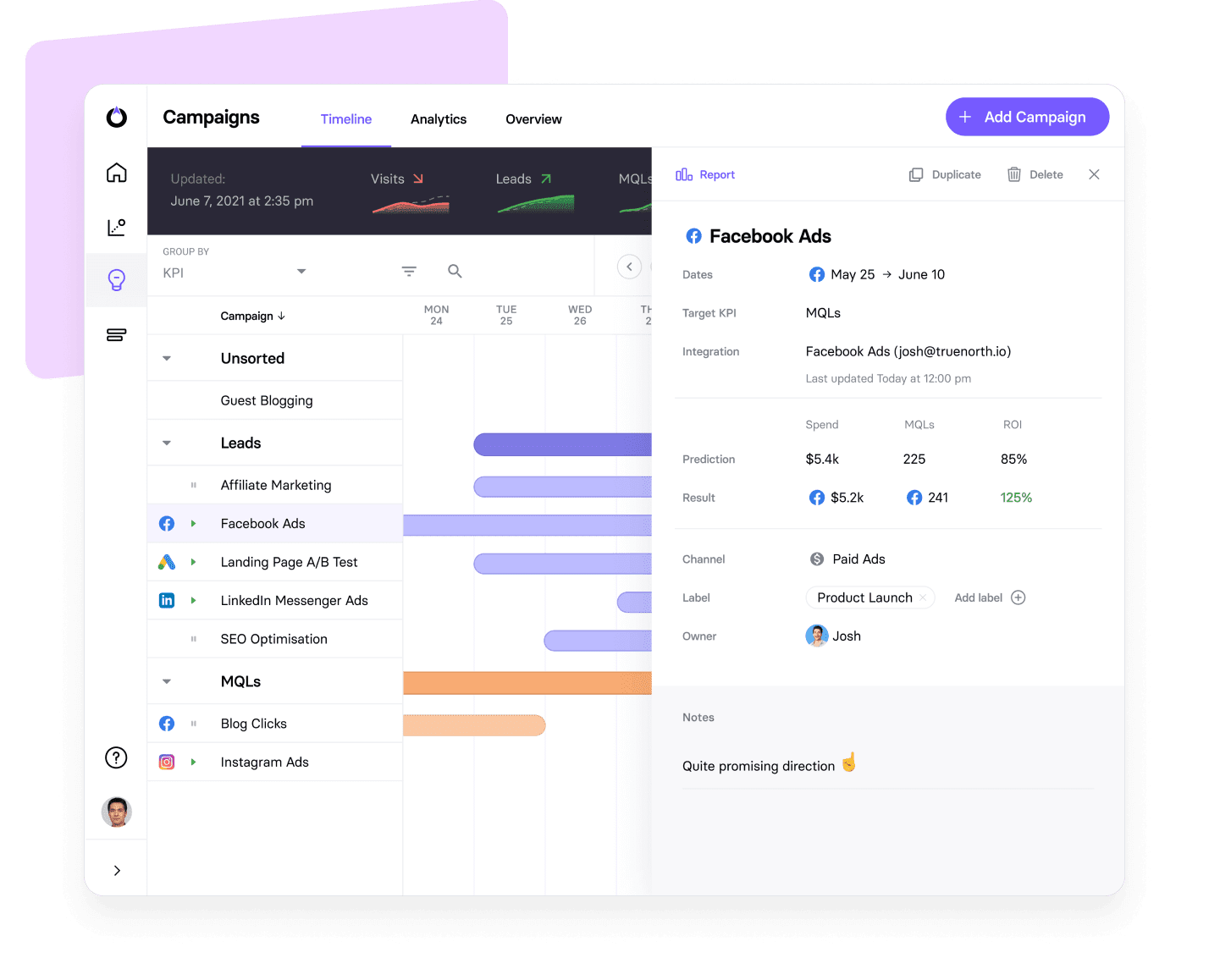 Initially, we developed TrueNorth to meet the internal needs of our marketing department but we quickly realised we wouldn't be the only company that needs a campaign planning and management tool of this nature. So we developed the platform for public release and refined the experience to simplify marketing management even further.
Having spent many years trialling software tools for every aspect of our marketing strategy, we've got plenty of experience when it comes to selecting and comparing marketing tools. You'll find plenty of guides, lists, comparisons and recommendations on our blog page to help you choose the best tools for each strategy.
Here are some examples of what you'll find:
We've got plenty of other resources to help you choose the right marketing tools for your needs so check out the category pages on our blog. You can also follow us on social to see our latest content or save our blog page to your favourite RSS feed app.
How to manage your next marketing campaign
Earlier, we summarised some of the most common agile marketing methodologies that will help you plan and manage campaigns more effectively. In this section, we're going to take a closer look at these and the more traditional, non-agile marketing methodology, commonly referred to as the waterfall.
We'll explore the pros and cons of each methodology so you can choose the right framework for each campaign during the planning stage.
First, here's a quick summary/recap of the methodologies we're looking at in this section:
The Waterfall: A sequential, linear framework that moves from one campaign stage to the next.
The Scrum: An agile methodology consisting of intense sprints running for 5-21 days with daily targets/goals.
The Kanban: An agile project/resource management framework that prioritises tasks and processes.
The Scrumban: A flexible combination of the Scrum and Kanban methodologies.
There is no perfect methodology and none of the above will be the ideal choice for every type of campaign, although the Scrumban methodology is generally the most flexible, making it more adaptable and suitable for the widest range of campaign types and marketing teams.
Don't be afraid to switch between methodologies, depending on the requirements of individual campaigns or mix elements of different methodologies to suit the needs of your marketing team.
The traditional Waterfall methodology
The most widely used marketing methodology is commonly referred to as the Waterfall but many teams instinctively use it without ever feeling the need to refer to it by name. In many ways, this is the most obvious and logical approach to campaign management because it centres around the concept of completing one stage of the campaign before moving on to the next.
As humans, we simply find this type of methodology easier to conceptualise and manage but it's not always necessarily the most effective framework when it comes to getting results. While the Waterfall is easy to contemplate, it's often too rigid for the complex needs of modern marketing teams.
Let's think about content production for modern marketing campaigns as an example. Today, marketing teams can't expect to produce all of the content for a campaign before publishing anything because there's simply too much content to create and the lag between production and return is long enough as it is.
You want to hit the publish button on the first round of content as soon as possible while your team continues to plan and produce ongoing content. You also want to retain the freedom to respond to content performance on the fly so you can produce more of what's working and rethink or adapt what isn't.
So, instead of a linear process like the Waterfall methodology, it makes more sense to adopt a more cyclical approach that allows you to plan, produce, publish and review in quick, repeatable cycles – in other words, you need a more agile framework.
The Scrum methodology
The Scrum methodology is the original agile framework developed by software companies during the 1980s and, later, adapted to meet the needs of marketing teams. if you're looking for a system that allows you to plan, build, deploy and review in quick cycles, this is the agile methodology for you.
If we go back to our content production example in the previous section, the Scrum methodology allows us to plan, produce, publish and review bursts of content in fast cycles. As a result, we're constantly producing content and reviewing performance to learn what works and what doesn't, which we can feed into the next round of content production so we're constantly improving results.
The Scrum methodology is defined by a series of intense routines called sprint runs. These sprints generally last anywhere between 3-21 days with carefully planned schedules centred around daily goals, sprint goals and campaign goals. Every marketing action and goal has a specified end date and you manage sprints in a cycle of execution and review to learn from the latest round of marketing activity and apply these lessons to the next round.
This responsive methodology is ideal for campaigns where you need to adapt quickly or results are expected to be volatile.
Let's be honest, this is the case for most modern marketing campaigns where the response from your target audiences and the subsequent performance of individual channels/strategies require you to adapt your approach, even slightly.
These intense demands are precisely why the Scrum methodology was adapted for marketing teams and remains the most common approach to agile marketing.
The Kanban methodology
The Kanban methodology actually predates the Scrum but it was adapted into an agile framework retroactively, as it naturally meets an important set of flexibility needs modern marketers have – and a completely different set of needs than the Scrum methodology addresses.
Essentially, the Kanban is a visual project management system that organises tasks and adapts ongoing workflows to achieve goals more effectively. The methodology is defined by the visual Kanban Board that groups tasks into categories, such as "To Do," "Doing" and "Done".
If you've ever used project management software like Trello, you'll find many of them are built around the Kanban Board principle.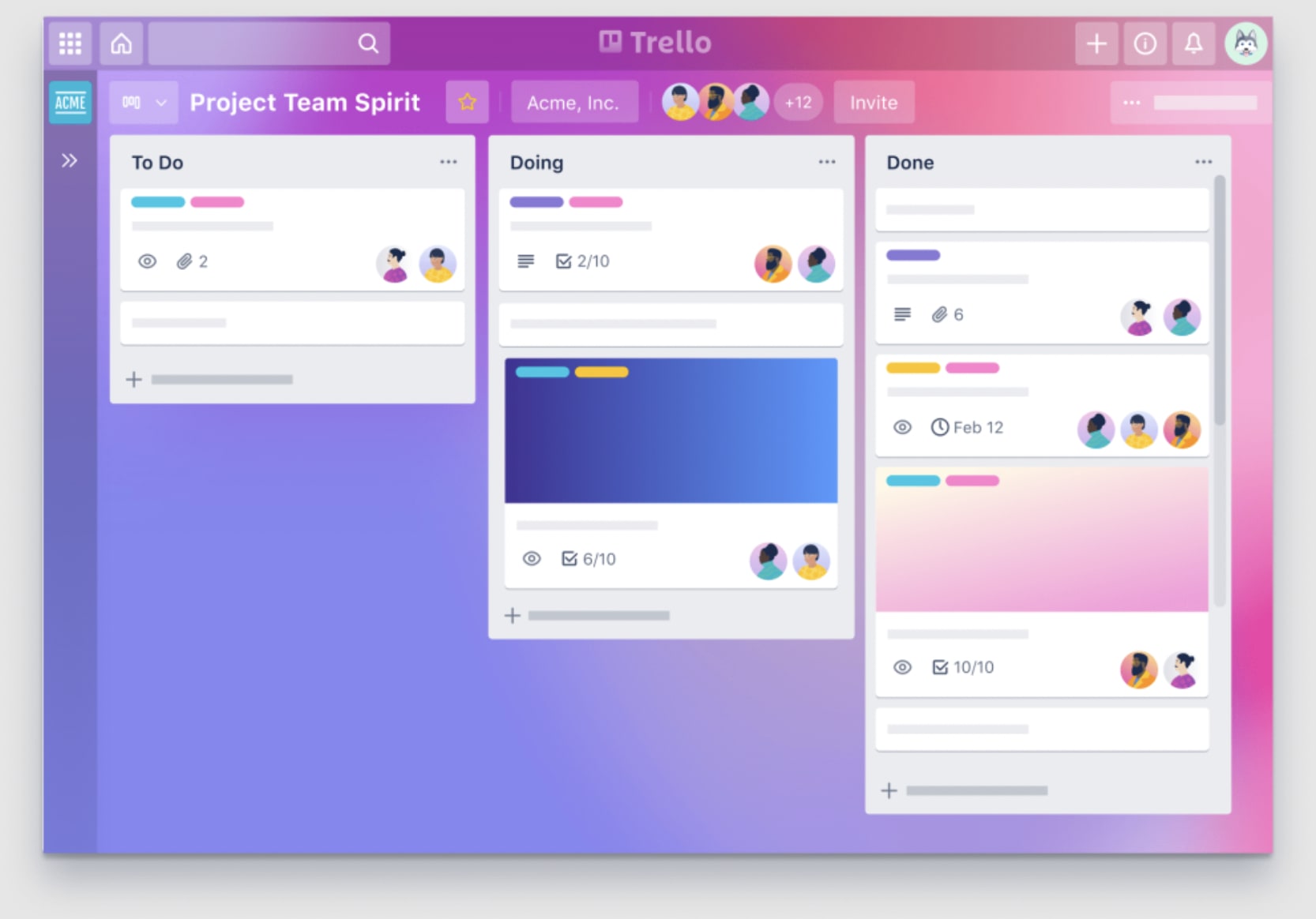 Where the Sprint methodology caters for campaign goals with specific end dates, the Kanban alternative is better suited for ongoing campaigns where the goal has no deadline or the targets are constantly changing.
For example, if you're running an ongoing conversion optimisation campaign where the goal is to continuously improve conversion rates, the Kanban methodology may be more suitable. In other words, this campaign has no end date and you're constantly reassessing your conversion targets, based on previous performance.
Here's the description of the Kanban methodology we published in our guide to agile marketing:
"Whereas Scrum uses an iterative cycle of short sprints to prioritise and complete stories, Kanban is continuously in execution. Kanban involves creating a central storyboard with swimlanes for stories in different stages; typically, requested, in progress and completed. New stories are added to the storyboard continuously, and the entire storyboard is in a constant state of review."
If your campaign goals can't fit into the format of sprint cycles lasting 3-21 days, the Kanban methodology is a good alternative to consider.
That being said, you'll often find campaigns require a mixture of short-term and long-term goal achievements and this is where the Scrumban methodology aims to address the needs of marketing teams that require elements of both Scrum and Kanban frameworks.
The Scrumban methodology
The Scrumban or Modified Scrum is a hybrid of both Scrum and Kanban methodologies, combining elements from both to address the complex needs of modern marketing teams. Most implementations of the Scrumban methodology involve more Scrum and Kanban (hence the Modified Scrum name) but one of the key benefits of the Scrumban is that you can implement more or less of the Kanban methodology, depending on the specifics of each campaign.
Essentially, the Scrumban largely revolves around the Scrum sprint run framework of intense cycles. In the visualisation below, you can see a Scrumban system that respects the traditional Waterfall methodology by incorporating several sprint runs into each stage of the campaign.
The system also pulls in storyboard tasks from the Kanban Board and utilises status swimlanes to aid task management.
With the Scrumban methodology, you can incorporate as much of the Waterfall, Scrum and Kanban methodologies as you need and optimise your processes over time to find the right mix for each campaign. Generally speaking, the Scrum methodology has the biggest influence on this agile framework but you can implement other methodologies to varying degrees until you develop a system that works for your team.
This flexibility means the Scrumban or Modified Scrum is the most suitable methodology for the majority of marketing teams, for the majority of campaign types.
Marketing planning & campaign management tools
We've mentioned a couple of marketing planning and management tools already in this article, which will help you plan and run campaigns more effectively. We've talked about TrueNorth as an all-in-one marketing management system and Trello as a Kanban-focused project management tool but there are several other platforms that deserve some shine in this section.
Here's a quick preview of the tools we're looking at:
Each of these tools has something unique to add to campaign planning and management so let's take a closer look at what they have to offer.
TrueNorth: The intelligent marketing planning & management system
TrueNorth is the only complete campaign planning and management system that acts as the HQ of all your marketing efforts. The platform helps your team come up with better campaign ideas through meeting-less ideation and collaboration tools to conceptualise and develop campaign ideas faster.
You can test ideas and project the outcome of campaigns using TrueNorth's innovative campaign simulator that forecasts results before you dedicate any budget and resources to marketing actions. This helps you pick the best campaign ideas and prioritise them based on ROI, priority and difficulty.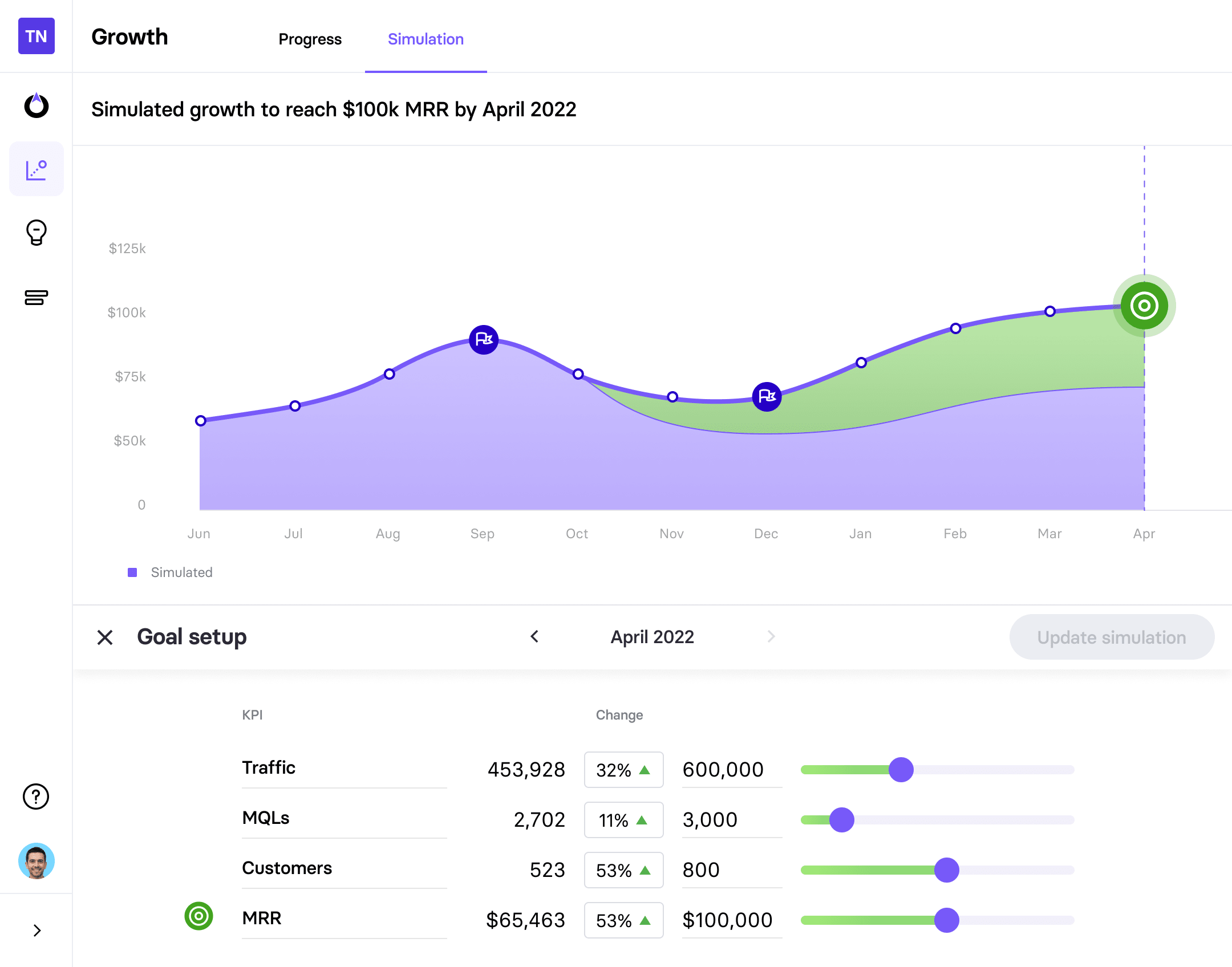 The simulator also provides reliable benchmarks for campaigns ahead of launch, allowing you to set realistic milestones that need to be hit at each stage of the campaign in order to achieve your goals.
Once campaigns are live, you can track performance against your predictions to see which strategies are hitting targets and optimise under-performers to improve results. You can also adjust campaign goals and other parameters to see how changes impact performance projections – so you can set more ambitious targets for high-performing campaigns and see what needs to change to get under-performers back on track.
Key features:
Simulated funnels
Pre-launch planning and ideation
Agile framework
Workflow and campaign templates
Analytics dashboard
Unified dashboard
Team collaboration
Automated workflows
Marketing playbooks
Prioritisation framework
Software integrations
TrueNorth is designed by agile marketers for agile marketers and the intense demands today's teams face. The platform helps you turn campaign ideas into working strategies faster and prioritise your marketing efforts based on performance. By simplifying the marketing campaign planning and management processes, you can get results faster and ensure your budget is always distributed to maximise ROI.
CoSchedule: Marketing calendar & marketing process optimisation
CoSchedule is a project management toolkit for marketers with a heavy emphasis on content marketing projects/campaigns. As the homepage says, the company promises to help you "publish more content to generate a higher ROI by increasing your existing team's productive work capacity."
It aims to do this by offering two core products: its Marketing Calendar and its Marketing Suite.
The Marketing Calendar Acts as your project management system, loosely based on the Kanban board concept. The drag-and-drop interface makes it easy to assign tasks to team members and change the status of tasks on the fly.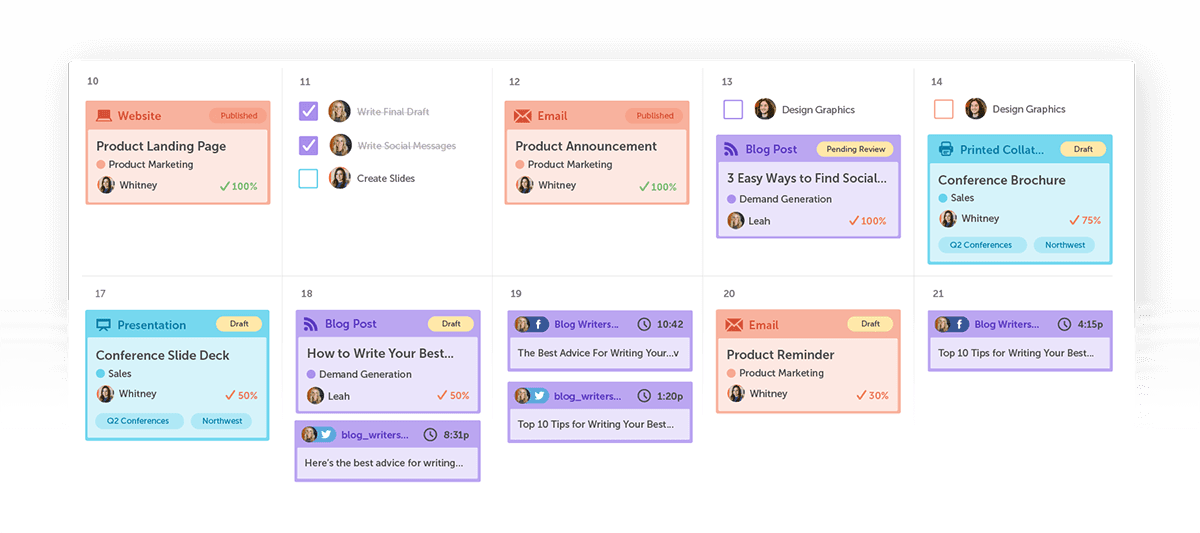 The Marketing Suite is a more comprehensive offering, including four individual products for managing marketing projects: Calendar Organizer, Content Organizer, Work Organizer and Asset Organizer.
Key features:
Workflow and campaign templates
Unified dashboard
Social publishing and scheduling
Team collaboration
Automated workflows
Software integrations
Digital asset management
CoSchedule is a highly-collaborative platform designed for agile marketing teams but it's somewhat limited in terms of its focus on content marketing. It excels at this particular niche but it's not the best planning or management tool for other campaign types.
Monday: Flexible project management for agile marketing teams
Monday.com is a project management platform for collaborative teams, not specific to marketing planning or campaign management. The system centres around managing team and individual workloads by creating, assigning and grouping tasks to relevant projects.
The standard table view is based around the traditional spreadsheet concept but the drag-and-drop interface makes it easy to customise project views and edit columns. You can also manage projects in several other views, including timelines, Kanban, calendars and more.
You can speed up project management further with workflow automation to save time on repetitive tasks and reduce the risk of human error – eg: automatically adding leads to task lists as email enquiries arrive.
Key features:
Marketing calendar
Gantt charts
Kanban boards
Workflow and campaign templates
Analytics dashboard
Unified dashboard
Team collaboration
Automated workflows
Software integrations
Monday.com doesn't offer much in terms of dedicated features for campaign planning and management but it's one of the most effective project management tools on the market and it doesn't take much work to customise/adapt it to centralise your marketing actions.
Airtable: Collaborative project management & campaign planning
Airtable is another project management tool but this one puts greater emphasis on collaboration and streamlining processes. Aside from TrueNorth, it's the only tool we're looking at in this section that includes dedicated features for planning and managing marketing campaigns although it lacks the simulation and forecasting features of TrueNorth.
Even still, Airtable helps your team collaborate on campaign ideation, manage deliverables at every stage and streamline your creative processes, such as content production.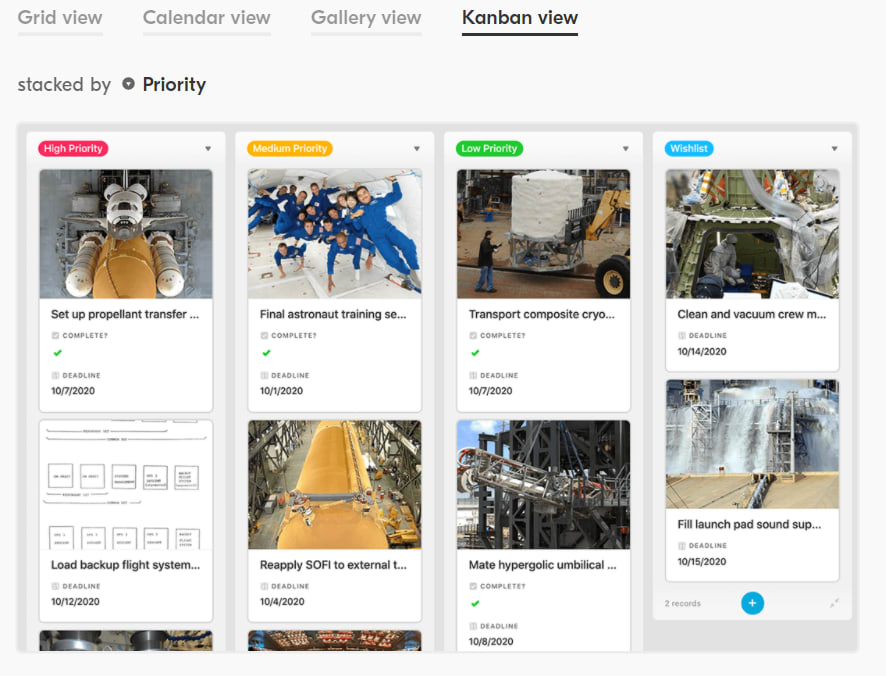 Airtable also offers several templates for managing different types of projects and campaigns, including content operations, a social media calendar and a product launch template.
Key features:
Gantt charts
Kanban boards
Workflow and campaign templates
Analytics dashboard
Unified dashboard
Team collaboration
Automated workflows
Software integrations
Marketing features aside, Airtable is primarily a project management platform and one of the most capable tools of its kind – not to mention one of the most flexible. For agile marketing teams that regularly switch between methodologies, Airtable has you covered for every campaign type and the platform compliments TrueNorth's campaign planning and management system perfectly.
Trello: The Kanban project management platform
If you're looking to integrate a Kanban-inspired project management tool into your marketing stack, Trello offers up a flexible adaptation upon the classic format. Trello boards encompass all of the strengths of Kanban boards while Trello cards provide the freedom to manage projects, tasks and workloads without limits.
You can assign tasks, set deadlines, create checklists, add attachments, set reminders, add comments and chat with team members in real-time.
In true Kanban spirit, tasks statuses keep the whole team updated on progress and help team managers to prioritise tasks and workloads across ongoing projects/campaigns.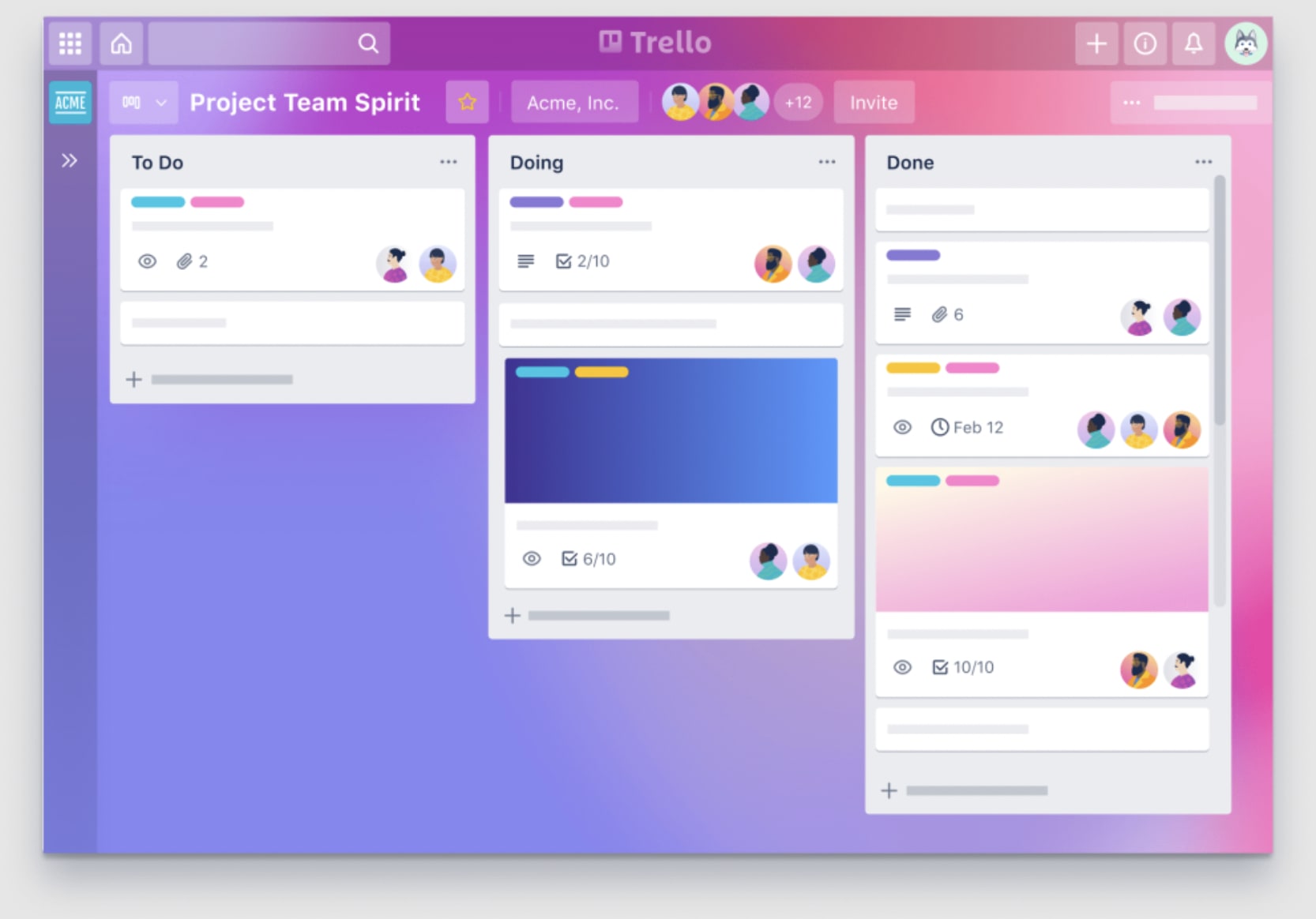 On the face of things, Trello is a relatively simple system and far less intricate than Airtable but it packs substance underneath its deceptively simple UI.
Key features:
Project management
Task management
Kanban-style boards
Group board collections
Project calendar
Project views: Dashboard, Timeline, Workspace & more
Workflow automation
Free plan available
Trello may be based on the traditional Kanban board principle but it offers several project views, which supports campaign management across all of the methodologies we've looked at in this article. The Timeline view is designed specifically for marketing sprints and the Scrum methodology while the default Workspace view is ideal for Kanban projects and the ability to switch between the two (among others) is ideal for campaigns running on the Scrumban methodology.
Get results faster with better campaign planning
Everything we've looked at in this article is designed to help you get results faster by planning your marketing campaigns more effectively. The ideal approach varies from one campaign to the next but we've looked at the key marketing processes, agile methodologies and planning frameworks to help you turn ideas into results faster.
Effective marketing campaign planning is the pillar of top-performing strategies and this guide has covered all of the key steps to planning campaigns designed to achieve bigger goals.